The recent contract drama surrounding top-level running backs has put the position's value back in the spotlight, but it almost makes finding RB talent in the 2024 NFL Draft more important for teams. Especially at the RB position, it's all about maximizing the value of a rookie contract. The 2024 NFL Draft class may allow teams to do just that.
Ranking the Top RBs in the 2024 NFL Draft
10) Jo'Quavious Marks, Mississippi State
He's a prospect who has almost no hype to this point in the 2024 NFL Draft cycle, but fellow PFN scout Dalton Miller was right to throw Jo'Quavious Marks' name into the ring for our updated top 10 running backs. Marks has a brand of versatility that can scarcely be reflected by the rest of the 2024 group, and he's quietly a perfect fit for the modern NFL.
The 5'10", 205-pound Marks notched a career-high 582 rushing yards in 2022 — not an overwhelming number — but his high-level receiving ability has shined in Mississippi State's offense. He caught 83 passes for over 500 yards in 2021 and 60 passes the year before. To be clear, Marks is a speedy, shifty, and urgent back with good contact balance, but his two-phase value only compounds his appeal.
9) Carson Steele, UCLA
Carson Steele first made waves when he made the Feldman's Freaks list in the summer of 2022, with a documented 405-pound bench and 615-pound squat. Then Steele rumbled for 1,556 yards and 14 touchdowns on 286 attempts in 2022. Now he heads to UCLA via the transfer portal — the same offense that helped Zach Charbonnet become a top prospect.
At 6'0″, 215 pounds, Steele is a rocked-up runner with golden locks who's incredibly hard to stop once his legs wind up. He attacks vertically with ruthless energy and consistently rolls through first contact. Steele also has the necessary lateral twitch to make initial tacklers miss before accelerating into space. He's already broken out, but he can rise even higher at UCLA.
8) MarShawn Lloyd, USC
USC was a hot destination for incoming transfers this offseason, and one of those transfers was former South Carolina running back MarShawn Lloyd. After registering 573 rushing yards and nine scores in 2022, along with 176 yards and two touchdowns as a pass catcher, Lloyd is primed to be a breakout player in Lincoln Riley's explosive offense.
Lloyd is a dense and compact back at 5'9″, 212 pounds, with a low center of gravity. That built-in leverage grants him good contact balance, but on top of that, he's an exceedingly high-energy mover with wicked foot speed and a barrage of cuts in his arsenal. As he showed at the spring game, his combined ability to make defenders miss and nullify tackles can be an asset.
7) Bucky Irving, Oregon
The Oregon Ducks have a loaded backfield for the 2024 NFL Draft. Bo Nix is PFN's current QB3 behind Caleb Williams and Drake Maye and projects as a potential first-round pick. And alongside him, Oregon has Bucky Irving — an insanely talented runner who racked up 1,058 yards and five scores on the ground last season.
Irving averaged almost seven yards per attempt in 2022 and also added 31 catches for 299 yards and three scores to his stat line. At 5'10", 194 pounds, Irving isn't the most imposing back upon initial viewing, but he catches defenders off guard time and time again with his spry short-area burst and dangerous elusiveness in space, and he's surprisingly physical for his size.
6) Blake Corum, Michigan
Few running backs were more productive than Blake Corum in 2022. The Wolverines star put up 1,463 yards and 18 touchdowns on 247 carries. Granted, he had a Joe Moore Award-winning offensive line to help him out. But along the way, Corum proved his own merits as a 2024 NFL Draft prospect. He should do it again this season.
Corum may only be 5'8″, but he's rocked-up with an extremely dense 210-pound frame. At that size, he's an urgent runner with good vision who can press upfield behind blocks before using his explosiveness and energy to divert into space. There's room for him to show more as a receiver, but Corum has exciting tools as a threat on the ground.
5) Donovan Edwards, Michigan
Corum was more productive than Donovan Edwards, but there's an argument to make that Donovan Edwards has more upside as a 2024 NFL Draft prospect. Ultimately, they're both prospects who may garner consideration in the early-round range, but Edwards' versatility and eye-catching efficiency — both on the ground and through the air — is tantalizing.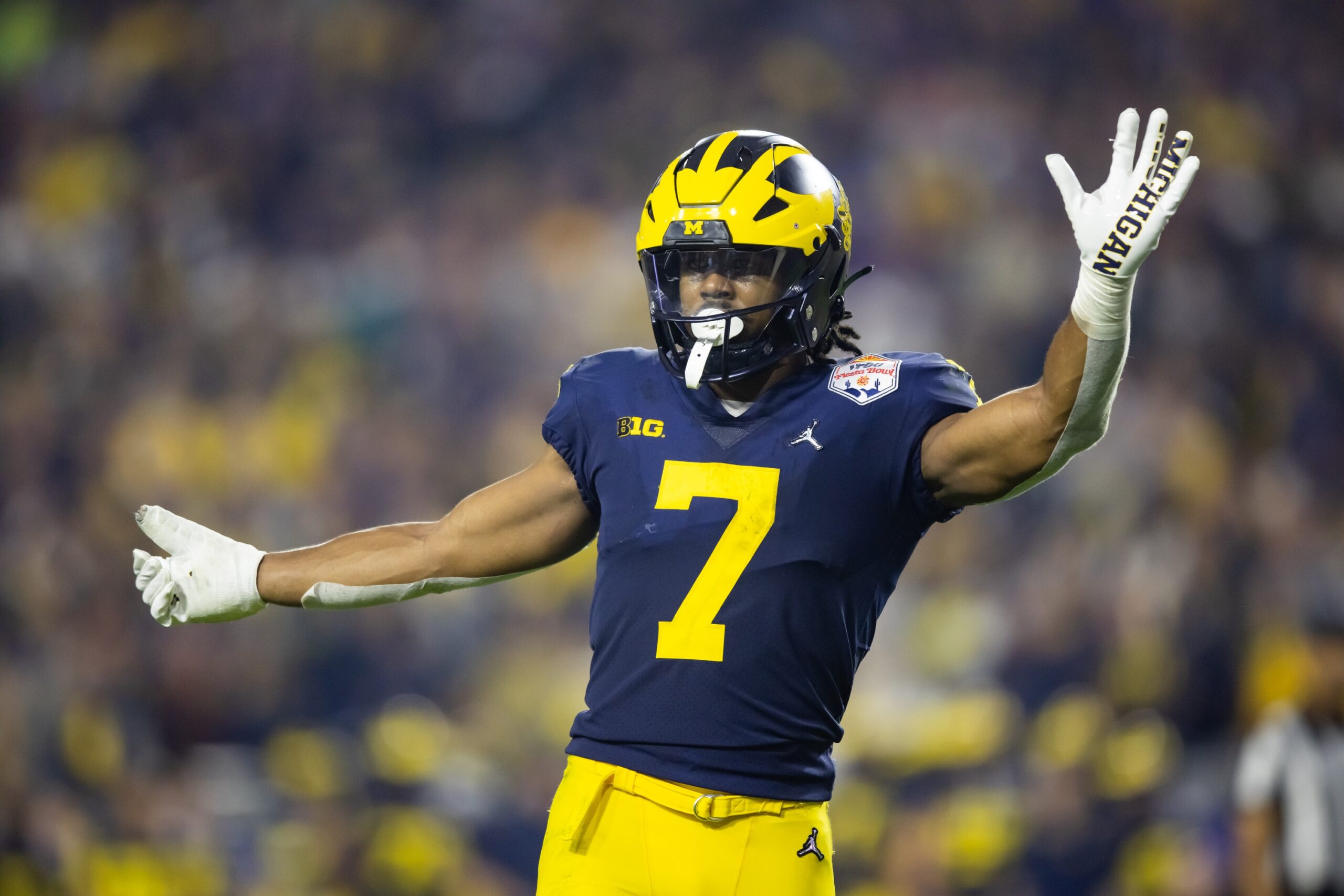 The 6'1″, 204-pound Edwards put up 991 yards and seven scores on 141 carries in 2022 and also brought in 200 receiving yards and two scores. He's a powder keg of an athlete with instant explosiveness, and that ability to stress defenses vertically at a moment's notice makes him a danger any time he has space. And if you meet him with physicality, he has the density to bounce away, too.
4) Trey Benson, Florida State
Volume backs will never go extinct in totality, even as the NFL trends more toward a modern, more dynamic era. Teams pass to get the lead, and they run to stay ahead. Having a back who can shoulder the load like Trey Benson is valuable. After rattling off 154 carries for 990 yards and nine scores in 2022, Benson is very much a potential early-round prospect in 2024.
Benson, who stands at 6'1″, 215 pounds, runs a bit upright at times, but he's especially proficient at getting downhill and making quick work of seams as a north/south runner. He's more linear than laterally flexible, but his contact balance and leg churn can be overwhelming, and he possesses a baseline level of foot speed and micro-mobility to supplement his long-strider gait.
3) Will Shipley, Clemson
It might catch you off guard to learn that Will Shipley was a five-star recruit. He's only 5'11", 205 pounds — not undersized, but not a tank, either. So what makes Shipley such a compelling RB prospect?
As unoriginal as it may sound, his natural running ability is up there with the best — not just in the 2024 NFL Draft but in the 2023 class as well.
In the process of amassing 210 carries for 1,182 yards and 15 scores in 2022, Shipley showed off some of that ability. He's a snappy runner with rare short-area instincts who can dart back and forth between minuscule lanes on his way to the second level. His hip flexibility is absurd, but Shipley doubles as an elite athlete with burst and speed in the open field.
2) Raheim Sanders, Arkansas
Raheim Sanders is like if a Rock'em Sock'em robot learned to run. There's almost no other way to describe it. His running style appears unorthodox at times, but it served him well in 2022. Sanders put up 222 carries for 1,443 yards and 10 touchdowns last year, averaging 6.5 yards per carry. He also added 28 catches for 271 yards and two scores to his total.
He's versatile, and at 6'2″, 227 pounds, Sanders is a freight train in the open field. He runs with a tight but combative aura, constantly fighting off would-be tacklers with stiff-arms and bouts of domineering physicality. And as his nickname "Rocket" conveys, Sanders has the lateral burst to find lanes and the long-strider explosiveness to wash through congestion and find his way to pay dirt.
Who Is the Best RB in the NFL Draft?
1) TreVeyon Henderson, Ohio State
There is no Bijan Robinson in the 2024 NFL Draft class, and there might not be an RB close to the Texas product when next April rolls around. But right now, TreVeyon Henderson has a case to be the preliminary RB1. His 2022 campaign was less productive, largely on account of a torn ligament in his left foot, but now healthy, he can rebound in 2023.
2021 is when Henderson exploded onto the scene with over 1,500 total yards from scrimmage and 19 total TDs. When healthy, his on-field explosiveness is just as drastic as his statistical emergence. At 5'10", 214, Henderson's ability to offset and send defenders lurching with his lateral twitch while maintaining vertical speed is unique and deadly, and he moonlights as a modernized receiving threat as well.
Honorable Mentions
Braelon Allen, Wisconsin
Blake Watson, Memphis
Devin Neal, Kansas
Audric Estimé, Notre Dame
Treshaun Ward, Kansas State
Trey Sanders, TCU
Noah Whittington, Oregon
Roman Hemby, Maryland
Nathan Carter, Michigan State
Jabari Small, Tennessee
Listen to the PFN Scouting Podcast
List to the PFN Scouting Podcast! Click the embedded player below to listen, or you can find the PFN Scouting Podcast on iTunes, Spotify, and all major podcast platforms.  Be sure to subscribe and leave us a five-star review! Rather watch instead? Check out the PFN Scouting Podcast on our Scouting YouTube channel.