We're more than halfway through the NFL Pro Day circuit, and the NFL draft is only a month away. Quarterbacks have already switched teams, and more signal-callers will more than likely be on the move soon. Today's mock draft will be my most aggressive, with teams doing whatever they can to secure the players that fill their needs. As always, we'll use the Pro Football Network Mock Draft Simulator for our rankings and team needs, so let's dive right in!
2023 First-Round NFL Mock Draft
1) Carolina Panthers (From CHI): C.J. Stroud, QB, Ohio State
When the Carolina Panthers traded into the first overall spot, everyone knew it was for a quarterback. The question of which one ran the gamut of all four of the top signal-callers as they went through their pro days, but it seems to be narrowing towards Ohio State's C.J. Stroud.
Stroud is the best touch passer in this draft class and, when unpressured, is one of the best quarterback prospects we've seen in some time. He has some issues under pressure, but the Panthers would only be taking him here if they believed they could manage that or coach it out of him altogether.
2) Houston Texans: Bryce Young, QB, Alabama
The Texans missed out on the top pick, but they may still get the player they were likely targeting anyway. Bryce Young will have questions about his size and ability to hold up to punishment until he proves it's not an issue. But I believe the Texans will value his skills as a passer more than the risks.
For a team that has struggled more than most in the past few years, a hard reset is needed. A player like Young, when coupled with the Texans' massive free agency investment, might be the shot in the arm they need to compete in the AFC South.
3) Detroit Lions (From ARI): Anthony Richardson, QB, Florida
Compensation: Two first-round picks and two second-round picks.
Trading into the top five is not cheap, and the Lions would likely be paying a fair premium to beat out the other teams attempting to move up. That said, two firsts and two seconds seems downright cheap, considering how well Brad Holmes has capitalized on his investments.
Anthony Richardson is the most athletic QB in NFL history, taking that crown from former MVP Cam Newton and former All-Pro Daunte Culpepper. Like Jared Goff's two seasons in Detroit, Richardson started off with a rough stretch with turnovers but finished strong down the stretch. He finished the 2022 season with only two interceptions over six games, to 12 touchdowns through the air, with another four touchdowns on the ground.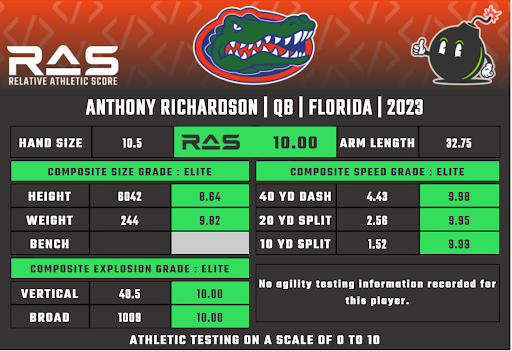 4) Indianapolis Colts: Will Levis, QB, Kentucky
Back-to-back-to-back-to-back quarterbacks is not something that happens often, but the need for QBs is at an all-time high in 2023, and the Colts have finally stopped kidding themselves into thinking they can get by with any veteran they like. Will Levis would be getting a lot more hype if he wasn't in the same offseason as Richardson and Stroud.
The former bested him so much in testing that Levis simply opted not to bother, while the latter put on such a show at the Combine that his own strong showing seemed muted. Levis pairs top-tier athleticism with a very strong arm and has the kind of ceiling that should get Colts fans excited even if the floor is lower than they'd like.
5) Seattle Seahawks (From DEN): Will Anderson Jr., EDGE, Alabama
The biggest beneficiary of the early run on quarterbacks is Seattle, who sits back at five and takes the best overall player in this 2023 NFL Mock Draft. Will Anderson Jr.'s combination of strength, athleticism, and technique has made him a force of nature these past few seasons at Alabama. The Seahawks haven't had a defender with the potential to be this dominant since Jacob Green and Cortez Kennedy shared a field together.
6) Arizona Cardinals (From LAR via DET): Tyree Wilson, EDGE, Texas Tech
After moving back, the Cardinals take Texas Tech's Tyree Wilson at pick 6. The Cardinals' pass rush has been anemic for several years, and now with J.J. Watt retiring, there's very little to be excited about in that defensive front. Former first-rounder L.J. Collier won't be enough, and he doesn't bring anywhere near the kind of athleticism that Wilson boasts on a play-to-play basis.
MORE: 100% Free NFL Mock Draft Simulator
While we wait on Wilson's pro day to confirm those talents, you can check out his tape and see it jump out at you the moment the center begins to move the ball. Wilson is an explosive, powerful pass rusher, and that's dangerous to anyone attempting to block him.
7) Las Vegas Raiders: Jalen Carter, DT, Georgia
While their track record of actually managing players with off-field concerns isn't exactly stellar lately, I think it's hard to argue that the Las Vegas Raiders have any reason to lean away from their willingness to take risks for the type of talent that players like Jalen Carter represent.
Carter's tape speaks for itself, and with the legal matters now settled, the Raiders only have to do the kind of due diligence that would make them comfortable that the lethargic performance Carter put on at his pro day and rumors of his lack of motivation are either temporary or manageable. If so, this could be a Hall of Fame level of player.
8) Tennessee Titans (From ATL): Paris Johnson Jr., OT, Ohio State
Compensation: 11th overall pick and two second-round picks.
The draft has gone pretty well for Tennessee so far, but they have to be getting a little antsy at the players they're hoping fall to them and the teams picking ahead. The Falcons, on the other hand, have several options, and teams in front of them are unlikely to pick all of the players they could target.
This allows the Titans to move up for a reasonable price of 11th overall and a pair of second-rounders. Mike Vrabel likes players who fit the identity he's created as a coach, and Paris Johnson Jr. packs the kind of violence in his hands to make this kind of match a no-brainer.
Johnson has plenty of athleticism to work with. Although he mostly skipped testing this offseason, he plays with such ferocity that his athletic ability is often a secondary part of how he puts opponents in the dirt.
9) Chicago Bears (From CAR): Broderick Jones, OT, Georgia
With Chicago trading out of the No.1 pick, they're showing a level of support for Justin Fields that many of us suspected even before the rumors they might draft a QB popped up. It's time for them to double down on that philosophy and use some of those draft resources to get Fields the protection he needs to develop as a passer.
Broderick Jones has nearly 35" arms. He uses both that length and his impressive athleticism to bully opposing pass rushers nearly every play. That length can be valuable when you have a quarterback like Fields, who likes to move his pocket. Jones' athleticism can be immensely helpful when Fields is on the run.
10) Philadelphia Eagles (From NO): Christian Gonzalez, CB, Oregon
Christian Gonzalez's athletic profile is eerily similar to Jalen Ramsey's. And anytime you can draw comparisons to an All-Pro, you have to get a little excited.
Putting Gonzalez in the Eagles' defensive backfield makes sense on many levels, but Philadelphia — more than most — has to understand that their defense springing leaks was a big reason they didn't bring home the Lombardi in 2022. Gonzalez is a versatile defender who should be able to thrive behind the Eagles' fearsome pass rush.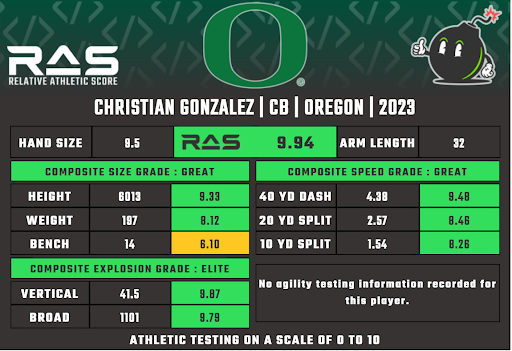 11) Atlanta Falcons (From TEN): Myles Murphy, EDGE, Clemson
Atlanta made the trade down, knowing that the likelihood one of the top two remaining defenders would still land to them, and that gamble paid off. Myles Murphy is a physical, rangy defensive lineman who is prized for his athletic ability. Though we weren't able to see that athleticism in testing, you can pop on any game from Clemson and watch him explode out of his stance and burst into the backfield, either around or through whoever has the unfortunate task of blocking him.
12) Houston Texans (From CLE): Jaxon Smith-Njigba, WR, Ohio State
Once you've got your new franchise signal-caller, you need someone he can reliably target or can protect him. In this case, the Texans target the former, picking up Ohio State's Jaxon Smith-Njigba.
Smith-Njigba clowned evaluators who said he lacked athleticism by posting some of the best agility testing in Combine history and would go on to post a respectable, if not blazing, 4.52 seconds in the 40-yard dash at his pro day. JSN's route running and hands are both big reasons he wins, so the athleticism was mostly just a huge bonus to an already elite prospect.
13) New York Jets: Peter Skoronski, OT, Northwestern
Aaron Rodgers is coming to New York to be one of the best quarterbacks they've had in their history, and if he plays up to his best, then that's exactly what they'll get. To help facilitate that, the team brought in some of his favorite players, and I think they'll bring in even more.
They'll also need to prioritize protection since Rodgers quickly gets unhappy when he's on the turf. Peter Skoronski is a polarizing prospect in the class, with some determined to label him a guard rather than a tackle. Still, most agree that his relative athleticism and technique put him above most tackle prospects. The Jets can expect him to have a starting job immediately.
14) Arizona Cardinals (From NE): Devon Witherspoon, CB, Illinois
Compensation: Pick 18, a second-round pick, and a future fourth-round pick.
Flush with resources and glowing after nabbing Wilson, the Cardinals look to bolster their defensive unit even further by trading up and selecting Devon Witherspoon out of Illinois. One of the best man corners in the draft with the athleticism and versatility to line up in any formation in any way, there's very little you can find with Witherspoon that isn't positive.
He's not the biggest corner, but we've seen guys Witherspoon's size come in and light the NFL on fire, provided they have the kind of athleticism he's shown on tape.
15) Green Bay Packers: Dalton Kincaid, TE, Utah
With 1,400 yards and 16 touchdowns over the last two seasons, there's a lot to like in Utah's Dalton Kincaid. He's likely the best tight end in a class that is being heralded as the best TE class in decades, and that's no fluke.
Kincaid didn't test, as he's recovering from an injury he suffered at the end of his final season. But he would have almost certainly tested well enough to meet the Packers' sometimes lofty expectations of their draft prospects in that regard.
MORE: Pro Day News and Rumors — Dalton Kincaid Did Not Test for Utah
With Rodgers departing, the Packers need to do whatever they can to make life easy for Jordan Love. Getting him a security blanket who is a mismatch for linebackers and safeties alike is a safe bet.
16) Washington Commanders: Isaiah Foskey, EDGE, Notre Dame
The Commanders have invested several resources into their pass rush, and while it looked pretty formidable for a little while, it hasn't been able to hold up over time. Drafting Isaiah Foskey is a good start to remedying that problem.
Washington has shown that they're trying to get more athletic up front after signing Cody Barton and Abdullah Anderson, so picking up one of the most athletic edge rushers in recent memory plays into the same trends they're already showing. With 28.0 sacks over his collegiate career, Foskey has had no shortage of good play to warrant a high selection.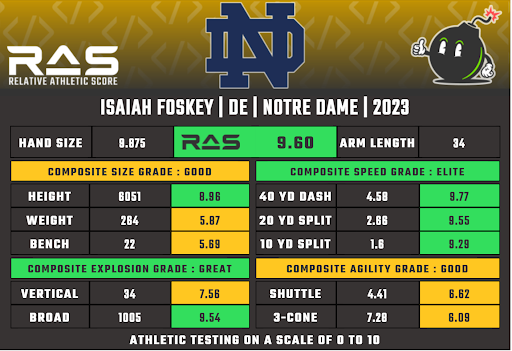 17) Pittsburgh Steelers: Jalin Hyatt, WR, Tennessee
The current trend in the NFL is speed on the outside, speed on the inside, and speed everywhere. Meanwhile, the Steelers are looking to keep pace in the AFC North. After picking up Kenny Pickett and Pat Freiermuth in 2022, Pittsburgh can expand their arsenal with Tennessee speedster Jalin Hyatt.
While he hyped up his 40 a bit more than he needed to, Hyatt's 4.4 at the Combine is still in the 94th percentile, fast enough to burn most DBs and give Pickett the kind of deep weapon he'll need to put the Bengals on notice.
18) New England Patriots (From DET via ARI): Joey Porter Jr., CB, Penn State
The New England Patriots look like they've been trying to build a strong secondary over the last few seasons. With Marcus Jones giving them a much bigger payoff early in his career than most expected, the team should consider doubling down on that concept.
Joey Porter Jr. was one of the most improved players in 2022, showcasing top-tier athletic talents that we all knew he had, as well as drastically improving his technique, both physically and north of the neckline. That kind of improvement should translate well to the NFL, and we all know how much Bill Belichick prizes coachability.
19) Tampa Bay Buccaneers: Lukas Van Ness, EDGE, Iowa
When the Tampa Bay Buccaneers drafted Joe Tryon-Shoyinka it became clear they favored explosiveness and suddenness in their pass rush. Lukas Van Ness isn't the most refined pass rusher, but he has some of the highest upside of the group, with some of the best agility in a fairly strong pass rusher class.
Van Ness' 7.02-second three-cone drill was second among pass rushers at the Combine, while his 4.58-second shuttle (97th percentile for a defensive end) got overshadowed by others but really shouldn't have been. With no outside pass rusher having more than 5.5 sacks in 2022, Tampa Bay could really use that kind of upside.
20) Seattle Seahawks: Jordan Addison, WR, USC
Jordan Addison seems like a forgotten man in this draft class for some, but it's largely due to an underwhelming Combine and subsequent pro day. At only 171 pounds, many expected Addison to test faster than his 4.49, while his explosion drills were unimpressive.
Nevertheless, he compares favorably to Isaac Bruce, or more recently to Calvin Ridley, who had similar concerns about his testing but not in ways that show up on tape. With Geno Smith returning, the Seahawks have to consider giving him more weapons, and Addison is exactly that in the NFL.
21) Los Angeles Chargers: Bijan Robinson, RB, Texas
With the very real possibility that Austin Ekeler ends up being traded in 2023, the Los Angeles Chargers stand with the very real possibility of landing the best offensive prospect in the draft class.
Bijan Robinson only falls here due to positional value, as he's one of the best RB prospects of the past two decades. His positive athletic profile, coupled with a running style and receiving ability that translates well to the NFL, should firmly land him as the best runner in the AFC West, if not the entire AFC.
22) New York Giants (From BAL): Cam Smith, CB, South Carolina
Compensation: Pick 25, a fourth-round pick, and a conditional third-round pick.
It's seemingly a foregone conclusion that the Minnesota Vikings will target a CB, but sitting down at 25th overall is the New York Giants with a similar need and, likely, a preference. At the cost of a fourth-round pick and a future third, the Giants can move up and select the explosive and fast South Carolina cornerback Cam Smith.
MORE: Top 10 Cornerbacks in the 2023 NFL Draft
Smith's attitude is a huge selling point as well, and he's likely to endear himself quickly to Brian Daboll as someone who can set the tone on game days.
23) Minnesota Vikings: Kelee Ringo, CB, Georgia
At one point, Kelee Ringo was considered a lock in the top five of this draft class. Questions about his flexibility and versatility defensively have seen his value slide a bit, landing him right in the Vikings' laps.
Questions about Ringo's agility on the field are largely overblown, though he didn't test well in that area, so it's still at least a little concerning, but you can't teach 4.36 speed. It's quite a shift going from Cameron Dantzler to Ringo in that regard.
24) Jacksonville Jaguars: Michael Mayer, TE, Notre Dame
Trevor Lawrence and Travis Etienne Jr. were identity-building picks for the Jacksonville Jaguars, but I think it's time to give them someone who can make their lives quite a bit easier. Michael Mayer put up nearly 2,100 yards and 18 touchdowns for Notre Dame, making him one of the most productive tight ends in an extremely strong class.
Some doubt his athletic ability, but Mayer would put up pretty respectable numbers at the Combine and his pro day, if not the kind of elite numbers you usually want from a tight end. He doesn't have to be the man in Jacksonville, though, and he's plenty good at the kind of role Doug Pederson would put him in.
25) Baltimore Ravens (From NYG): Quentin Johnston, WR, TCU
The Baltimore Ravens' draft strategy is always one of the best in the NFL in terms of process, but their results in the receiving department haven't been stellar lately. I doubt they simply give up, however, and after securing additional resources, they give it another shot with TCU's Quentin Johnston.
A strong combination of size, speed, and explosiveness offers up a deep threat to Lamar Jackson — if he returns — and a primary receiving weapon for whoever replaces him if he doesn't.
26) Dallas Cowboys: Bryan Bresee, DT, Clemson
Bryan Bresee is a phenomenal athletic talent who put up impressive production when he was on the field for Clemson. The trouble with Bresee has been his injury history, but he showed at the Combine and his pro day that he's fully healthy and ready to contribute in the NFL. Pitting someone this explosive and quick next to Micah Parsons seems like it should be illegal, but it's going to be extremely difficult to defend that kind of front.
27) Buffalo Bills: Deonte Banks, CB, Maryland
Deonte Banks tested out as one of the most athletic cornerbacks in history at the NFL Combine, but he was already on the rise before that due to his play for the Terps. With Jordan Poyer returning, the Bills can add some real speed to their defensive backfield.
Turnover regression is a concern, and if Buffalo wants to replicate the impact their 17 interceptions had in 2022 (ranking fourth), they can bring in someone like Banks, who can cause more damage after those picks (Buffalo ranked 14th in interception yards and had just a single return touchdown).
28) Cincinnati Bengals: Nolan Smith, EDGE, Georgia
The Cincinnati Bengals have several ways they can go with this pick, but the one I really like is giving them Nolan Smith, who posted one of the highest verticals from a DE, the best 10-yard split for a defensive end, and the second-best 40-yard dash for the position in Combine history.
Sure, he's pretty undersized for an EDGE at 238 pounds, but Smith is bigger than Haason Reddick and almost the same size as Cameron Wake, with comparable or better athleticism than both.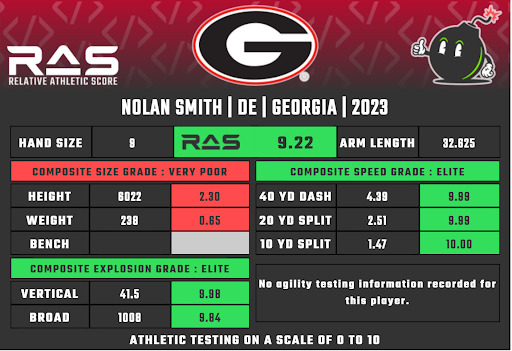 29) New Orleans Saints (From SF via MIA via DEN): Darnell Washington, TE, Georgia
Derek Carr had some of his best play when he could throw to an in-his-prime Darren Waller. The Saints would do well to put a similar situation in place for him if they hope to be successful. Darnell Washington is one of the most athletic big men in the class and a large part of why this tight end class is so well thought of.
Tight ends are already big, but Washington is bigger than literally 90% of them, faster than 90% of them, and posted a shuttle of 4.08 seconds, which ranks in the 98th percentile! Draft athletic tight ends, throw them the ball, and profit.
30) Philadelphia Eagles: Brian Branch, S, Alabama
Few players have had a bigger drop to their draft stock than Brian Branch did after the Combine. Branch's pro day did little to allay those fears, and his very middling athletic profile will likely turn some off.
The  Eagles could use a safety, but after C.J. Gardner-Johnson left for greener pastures in Detroit, they're likely also looking for someone who can drop down into the slot. Branch has a similar skill set in that regard and has enough promising tape that Howie Roseman and Co. are unlikely to let him fall any further.
31) Kansas City Chiefs: Darnell Wright, OT, Tennessee
Orlando Brown Jr. departed for Cincinnati, and Andrew Wylie left for Washington, leaving a gap in protection for the league's best quarterback. Andy Reid brought in Jawaan Taylor to replace Brown, leaving Lucas Niang to hold down the right side.
While they say they are comfortable with that, there is every chance Kansas City could bring in someone like gifted athlete Darnell Wright from Tennessee. Wright fits Reid's preference for massive offensive linemen and is a very good athlete for his size. He compares favorably to Jason Peters, who Reid is very familiar with.
Listen to the PFN Scouting Podcast
List to the PFN Scouting Podcast! Click the embedded player below to listen, or you can find the PFN Scouting Podcast on iTunes, Spotify, and all major podcast platforms.  Be sure to subscribe and leave us a five-star review! Rather watch instead? Check out the PFN Scouting Podcast on our Scouting YouTube channel.