The 2021 NFL Draft edge rushers class does not bring with it a lot of hope after watching through their film. Now, there are some talented guys here, of course. However, is there a Chase Young, or even a Brian Burns? The answer would appear to be a hard no on that right now. There are too many questions. Most of the top prospects that I watched ended up coming out of this group of ACC edge rushers. While it may not have an elite prospect at the top, it is a deep group that is not easy to go through and build a 2021 ACC edge rusher rankings.
Related | 2021 NFL Draft: Top 10 edge rusher rankings
Last year, the ACC seemingly took a bit of step down in terms of the talent the conference produced. However, in the 2021 NFL Draft, the talent from the ACC is everywhere. Its mark is all over this edge rusher class, that is for sure. With so many guys from that crop of players, who are the best from this talented group of ACC edge rushers?
[sv slug=mocksim]
10. Janarius Robinson, Florida State
Robinson surprised me when I watched his tape. The essential tools with his game are just striking. Robinson has excellent length and long frame that he uses almost like a slinky to fit through small spaces. He is a big dude at 6'5″ and 260 lbs that is "getting skinny" to fit through tight spaces.
The other thing that stuck out on Robinson's tape was how he uses his length as a weapon. With powerful punches and a good anchor, Robinson can hold his ground in the running game and attack with that length. His first step is decent, as well. I think there is upside here to work with for Robinson, but he has to put it all together.
Related | Top Florida State NFL Draft prospects in 2021
He lets his pad level swell far too often, and his hands, at times, become dormant. If there is one thing I would like to see him improve upon this season, it would be working on those hands to get them active. Then we can start talking about a pass rush plan and more. There is considerable upside here, but how that manifests itself this season remains to be seen.
9. Jaelan Phillips, Miami
If you are a sucker for pedigree, Jaelan Phillips might be a guy that you fall in love with. The former five-star recruit has suffered a myriad of unfortunate injuries during his time at UCLA, including concussion symptoms, an ankle injury, and a wrist injury. All in all, Phillips has only seen ten total games over his two seasons of college football. Now, after sitting out a year after transferring to Miami, Phillips is ready to come onto the scene.
Phillips is up from his light 225 lbs to 265 lbs. So, we are going to see a more chiseled Phillips this season. I am intrigued by what we get from Phillips. The athletic traits are all there; Phillips was not a highly sought after recruit for nothing. His burst and flexibility are obvious.
Related | Top Miami Hurricanes Prospects in 2021
The inconsistency that marred Phillips at UCLA was due to injuries and lack of playing time as a result. With a loaded pass-rushing room in Miami yet again this year, Phillips may be a guy who simply does not get a lot of tread on his tires barring injury. However, with the traits that are here, I am carefully watching what we see out of the promising pass rusher.
8. Rashad Weaver, Pitt
Weaver is another guy who is coming off the heels of an injury after tearing his ACL before the 2019 season. After a 2018 season where Weaver registered 14 tackles for a loss, there is a lot of optimism for Weaver as he comes to be a stacked Pitt defensive line.
Weaver's hands are where this guy wins. His impressive 2018 was highlighted by 45 pressures and a 17.1% pass rush win rate per Pro Football Focus. A lot of that always came from his crafty hands. Weaver's violent rip move and nifty club-rip are go-to moves that have served him well while at Pitt.
Related | The Pitt Panthers boast the country's most complete defensive line
The big question for Weaver will be using his hands in a more precise and defined manner than what he has done thus far. His pass-rush plan is a question mark. I also think he is an adequate athlete, but he will not strike anyone as a physical freak. Still, given what Weaver has put out on tape, we could see him Mobile in January as a sleeper.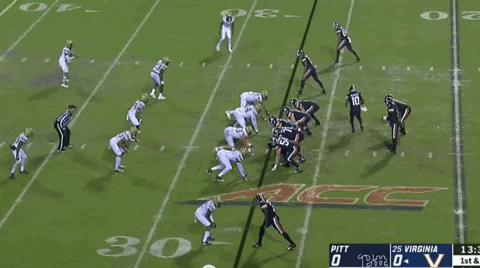 7. Xavier Thomas, Clemson
For a guy of Thomas's pedigree, this might seem a bit low. After all, it was once thought this guy could be a future Top 10 pick after his standout freshman campaign. When it comes to these 2021 ACC edge rusher rankings, this is not meant to be a slight towards Thomas. He might just be a Top 10 edge rusher in the overall class.
Thomas makes it easy to love his game too. Few guys play as hard on every down as he does. His motor runs ridiculously hot compared to everyone else on the football field. With his functional strength as well, Thomas has shown the ability to steamroll guys. It shows up in his fierce punches that stun opposing lineman.
Related | Why Clemson will not have the most first-round picks in 2021
There is room to grow elsewhere across the board. His hand usage is only modest, and he lacks an exact pass-rush plan. Overall, his game is maddeningly inconsistent on all spectrums, and to rise, he will have to remedy that.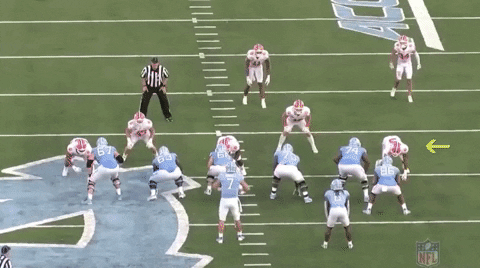 6. Victor Dimukeje, Duke
Dimukeje is a ton of fun on film. With a nifty first step and natural length, he has the combination to be a disruptive pass rusher. One of his best moves is his long arm, which was effective for him numerous times last season.
Dimukeje is a guy that was tough to place in these 2021 ACC edge rusher rankings. On the one hand, we have a guy who converts speed-to-power exceptionally well and has the flexibility to run a beautiful, tight arc as well. However, this is also a guy with an undercooked pass rush plan and overall lacking in pass rush counters.
Listen, Dimukeje's got room to grow, and I can see him moving up this list by the time April rolls around. His innate tools are fun, and so is his array of pass-rushing moves. He just has to get that down with more consistency.
5. Quincy Roche, Miami
A transfer from Temple, Roche is taking the step up to the ACC to play against Power 5 competition in an attempt to raise his draft stock. Roche put up an eye-popping 13 sacks as a junior last season at Temple. Simply put, Roche was flat out dominant.
On tape, it is not hard to see why Roche was able to put up those numbers. He is a bendy edge rusher with excellent burst. In a lot of ways, he has a similar skill set to former Charlotte edge rusher, and now Steelers pass rusher Alex Highsmith. Roche also has killer length. Using it as a weapon, Roche is excellent at keeping his pads clean and winning in a variety of ways.
Related | Analyzing high-impact 2020 NCAA transfers for the 2021 NFL Draft
The concerns come in the form of his frame. Roche is light and can get stunned by strong tackles, especially in the running game. There is not a clear set of counters that Roche has put to memory yet, either. Those two concerning traits drop him down a bit, but there is no denying Roche has the talent to be a Top-50 player if he can improve.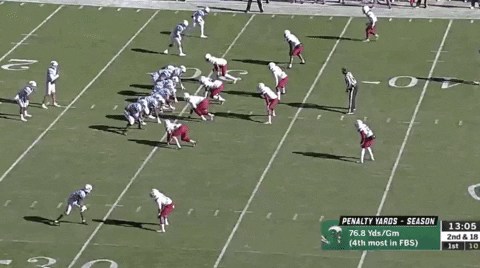 4. Carlos Basham Jr, Wake Forest
If you like your polished guys at the edge rusher position, you should love Carlos Basham out of Wake Forest. Basham does a lot of the technical things well. With a variety of moves, including a potent bull rush and spin move, Basham has multiple ways to beat tackles inside and outside. If he is stalled, he has a club-rip counter move that he puts to good use.
In run defense, Basham holds a strong edge and showcases excellent field vision. He consistently stacks and sheds blocks to make tackles at the line of scrimmage or behind it in the running game.
Related | Don't overlook Wake Forest EDGE Carlos Basham Jr.
The reason Basham ranks low is that it does not feel like there is a ton of upside to his game. Basham is not a great athlete and lacks significant juice in his first step. There is a definite stiffness that hurts him when he tries to bend around the edge. When crafting the 2021 ACC edge rusher rankings, Basham got pushed down in large part due to the lack of athleticism.
3. Gregory Rousseau, Miami
The opinions on Rousseau are all over the map at this point. After a ridiculously productive 2019 campaign where he registered 15.5 sacks, Rousseau has been on the receiving end of a bastion of hype. Some analysts have him in their top-10, while others have him somewhere similar to where I do here.
Rousseau had a ton of production, but he is a raw football player. He wins mostly with his absurd length. There is no one with better length in this class than Rousseau. He extends out entirely to make use of it and places his hands nicely as well. Rarely do you ever see tackles get up inside of him just because his length keeps them away.
Related | Is defensive lineman Gregory Rousseau 2021's Chase Young?
However, there is a notable concern with his overall game. The physical tools are eye-popping, but his pass rush plan is not fleshed out enough for my liking. He is a bit on the leaner side and could stand to add on some muscle to his frame. The biggest concern for me is his counters. He is merely over-reliant on his length as a weapon. If he can grow more in redshirt Sophomore season, he has a chance to be the first edge rusher taken.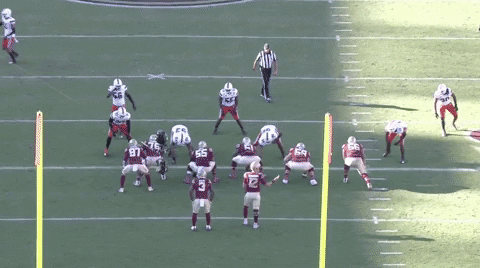 2. Chris Rumph II, Duke
Rumph is a guy that needs more attention in these types of lists. Not just in terms of the ACC, but in the 2021 NFL Draft edge rusher discussion in general. He had an NCAA best 31.6% pass rush win rate last year and the second-best pressure rate in the NCAA at 22.1% per Pro Football Focus.
Rumph's frame is light, and that is where people will hit him with doubts. It certainly manifests itself as a problem when looking at the aspect of power in his game. If you are into bull-rushing, Rumph will not be the guy for you.
Related | Chris Rumph is a potential first-round NFL Draft prospect
What Rumph does bring, however, is fantastic explosiveness and lightning-quick hands. Additionally, he brings good bend and flexibility to the position. Duke lined Rumph up all over the line, and he won at all those places. With the tools he has and the tape that he has put out, Rumph should be discussed as a potential first-round prospect.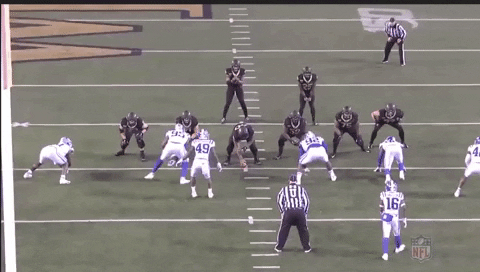 1. Patrick Jones, Pitt
Jones is one of the more exciting pass rushers I have studied in a while. When it came to these 2021 ACC edge rusher rankings, Jones was a guy that checked off more boxes than anyone on this list. With 8.5 sacks in 2019, Jones might not have been as productive as Roche or Rousseau, but he was just as if not more disruptive.
With a vast toolbox of length, burst, and bend, Jones has all the physical tools to be a first-round edge rusher. He knows how to use all of those as weapons and wins in a variety of ways off the edge. Those ways include power and speed. With a long arm, club-rip, and dip-rip, Jones can win to the inside or the outside.
Related | 2021 NFL Draft: Top Pittsburgh Panthers prospects to watch for
Now, he is not a perfect prospect by any means. He has room to grow with his counters, and he plays a little high at times for my liking. So, indeed, Jones has an upside to his name as well. Jones is a football player that should gain more and more attention, and if he takes another step forward, he could see himself as the first edge rusher off the board.
Sleeper 1: Justus Reed, Virginia Tech
Virginia Tech has an intriguing prospect here in Reed. Reed is going to be a 26-year-old rookie when he first steps onto an NFL field. That is the big reason he did not make the top ten in these 2021 ACC edge rusher rankings. A flurry of injuries has consistently set Reed back in his collegiate career. He started at Florida, missed most of the 2016 season with a knee injury, and then transferred to Youngstown State, where he suffered an elbow injury. In 2018, he tore his Achilles.
Featured | Cummings' 3-round 2021 NFL Mock Draft 
The injury history is thus scary for Reed. However, when he is out on the field, Reed has proven to be a disruptive force. With steady hands and a developed pass-rush plan, Reed racked up 12.5 sacks. Now a graduate transfer at Virginia Tech, Reed is going to have to prove he has the tools to be an NFL-level pass rusher even with some athleticism sapped due to injuries.
Sleeper 2: Joshua Kaindoh, Florida State
Kaindoh is a guy to watch this upcoming season very closely. After suffering a season-ending leg injury in Week 3 last year, Kaindoh comes back with all the essential tools in the world to be a guy who could rise in the Fall.
Kaindoh's length and springy first step immediately draw attention to his physical tools. However, he does an excellent job of using that length to keep his pads clean and using that to win around the arc. Kaidoh has above-average flexibility and showcases a nice dip-rip move.
Kaindoh can turn that explosiveness into power with a decent bull-rush. For the most part, it is his hands and athleticism that he wins with. Kaindoh still lacks an array of counters or a true pass rush plan on most reps, but his physical tools allow him to win still. If he can take a step in those areas, Kaindoh can elevate himself on the national stage.