Playing for a team that had a bad season can sometimes leave draft prospects in free fall without any buzz behind them. Such is life even for those in the Power Five conferences. With a plethora of talented ACC pass rushers such as Gregory Rousseau, Patrick Jones, Carlos Basham, and Quincy Roche, it is easy for guys to get lost in the shuffle. A potential top draft prospect, Chris Rumph, is one such victim that has been lost in the void of talent.
[sv slug=mocksim]
What makes Rumph a potential first-round NFL Draft prospect? 
Rumph is a unique film study. The key reason being that Rumph is not a pure edge rusher by any means. He is a mold of a hybrid that does everything from dropping back in coverage as an off-ball linebacker to standing over the B-Gap as a pass rusher, and of course, to put his hand in the dirt like a true defensive end. Essentially, Rumph is a player that is a matchup chess piece for the Blue Devils defense. They move him around to try and exploit matchups as they see fit.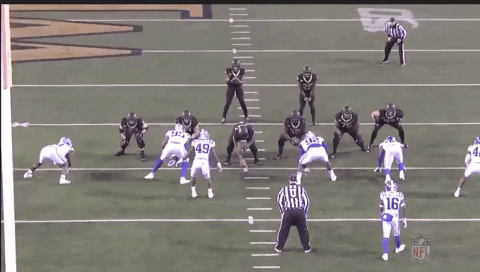 Here Rumph is playing as a base end, down in a four-point stance. That is just one of the many spots he plays. There are a few key traits that give Rumph the rare skillset to pull off the role he fills in Duke's defense. First off, are his hands. I find that Rumph's hands might just be his best overall trait. They are quick, strong, and active. He comes into every play with a plan and sticks to that. On the above play, he sees the tight end lunging and off-balance, adjusts, and executes a violent, quick swim move to get into the backfield.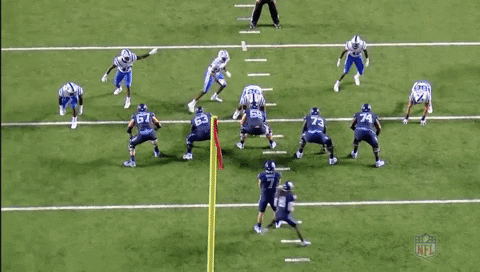 The second important attribute has to be natural athleticism. Rumph's explosiveness and thus, first step, is superb. However, that is not the only athletic trait Rumph possesses. In addition to high-level explosiveness, Rumph is smooth, agile, and overall displays above-average speed. Combined with a hot motor, and Rumph is all over the field.
Here, Rumph lines up directly over the right guard but is primarily in a man-up spot against this running back. You can see the natural athleticism and movement skills that Rumph has on this play. Not only does he explode off the snap, but he makes sure he keeps pace throughout this whole play. It is this athleticism that allows him to be diverse and that much more valuable.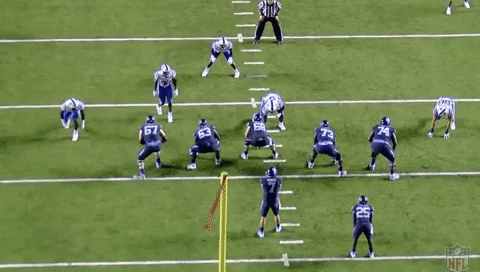 If there is such thing as a "matchup nightmare" on defense, Rumph might just be it. He plays at so many spots that it is hard for an offensive line to process and scheme up what might occur on any given play. If you have ever played on the offensive line, you know that before every snap, you are identifying where certain blitzes are coming from and who is the most dangerous guy to you is. Rumph moving around as he does simply does not provide offenses that luxury.
Then, when you have excellent hands and explosiveness like this, it is tough to prepare for as an offensive lineman. The guard oversets trying to prepare for Rumph's athleticism, gets caught flat-footed, and Rumph swims right by him to register a tackle for a loss. Part of why Rumph can move so effortlessly is because of the ridiculous core strength that helps his change of direction skills.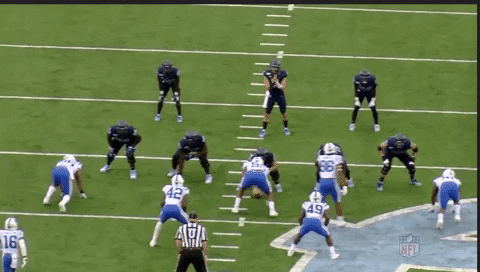 This is what is so scary about Rumph. He moves across the line from his spot at linebacker and throws everything off on this play. The offensive lineman has pretty positioning here if he can initiate contact with Rumph. However, it is those pesky hands once again. They are lightning-fast. His length also allows him to execute this play fully. At 6'3″, Rumph demonstrates long, viny arms and uses them as a weapon. Rumph bats down the offensive lineman's arms and swims over him, getting the tackle for loss as a result.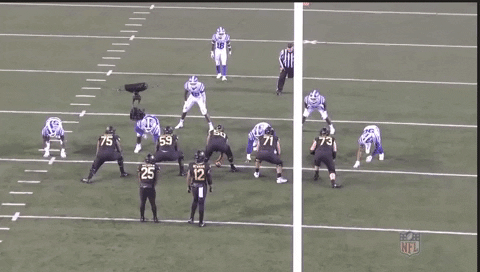 How about his pass-rush ability? Well, I would say not to doubt him. In addition to all the aforementioned traits that translate well to winning in pass-rush situations, Rumph had an absurd 31.6% pass rush win-rate, which was the best in the nation, per Pro Football Focus. Not only that, but he had a 22.1% pressure rate. That was the second-best in the country and above Chase Young.
Rumph can rush the passer. He shows that off well here as he sells the vertical arc on this pass rush as he takes advantage of the offensive tackle setting far outside for his get off. If Rumph does not put his hands up to try and bat this down, he may have a sack here. At the very least, he has a quarterback hit.
Rumph's outlook
Rumph is by far one of the most talented prospects I have watched in this year's edge rusher group. I have no idea why he is not talked about more among the best of the best. Rumph is seriously being disrespected at this point, and it is not just because he has eyepopping pass rush stats. Rumph has a whole house of work built from last season.
When it comes down to his versatility and ability to condense so many roles into one player, that is going to be looked at as a valuable chip. Rumph's athletic ability and core strength give him a dynamic ability to explode off the snap and make plays with ease. Of course, he has those elite hands as well. Rumph wins with his hands just as much as he does with his athleticism. Make no mistake about it; he is a dynamic pass rusher.
With all that taken into consideration, Rumph should be viewed as a first-round draft prospect.
Listen to the PFN Scouting Podcast
Listen to the PFN Scouting Podcast! Click the embedded player below to listen, or you can find the PFN Scouting Podcast on iTunes, Spotify, and all major podcast platforms.  Be sure to subscribe and leave us a five-star review! Rather watch instead? Check out the PFN Scouting Podcast on our Scouting YouTube channel.