The NFL has seen an unprecedented number of star-driven trades over the last few offseasons. Some have worked out, but others have proven to be disastrous for one or both teams involved. One deal — involving the Philadelphia Eagles and Russell Wilson — never came to fruition but would've changed the direction of several franchises.
Per Sports Illustrated's Greg Bishop, Wilson used his no-trade clause to decline a trade to both the Washington Commanders and the Eagles in 2022. Wilson ended up in Denver instead and endured a historic regression. Seahawks quarterbacks coach Jake Heaps originally said the deal happened "quickly" but fell apart because Wilson didn't want to go anywhere other than Denver.
We dive into what would've happened if the Eagles acquired Wilson, presumably including star quarterback Jalen Hurts in the deal with the Seahawks.
What If the Eagles Traded Jalen Hurts for Russell Wilson in 2022?
The ramifications of the Eagles trading Hurts and a flurry of draft picks that resemble the deal that Denver coughed up to Seattle would be immense. Had the Eagles given up a similar package as the Broncos did, the Eagles wouldn't have landed 2022 first-round pick Jordan Davis or 2023 first-round pick Nolan Smith.
The Eagles Never Reach the Super Bowl
While the players that Philadelphia drafted in 2022 weren't main cogs in their Super Bowl run, Hurts developed from a questionable long-term starter into the NFL's-highest paid player. Eagles offensive coordinator Shane Steichen built his scheme completely around Hurts' strengths, including 75 red-zone rush attempts and the third-highest yards per pass attempt of any quarterback.
MORE: Where Russell Wilson and Jalen Hurts Land in QB Power Rankings
It's safe to say the Eagles' offense would've functioned differently with Wilson. While Steichen and Hurts created a symbiotic relationship to get the most out of the offense, Wilson was on such a different page with Broncos head coach Nathaniel Hackett that Wilson was still using Seahawks terminology on audibles by mid-November. The chemistry that the Eagles thrived on simply wouldn't have been there for their offense.
Also, consider that Hurts' completion rate was 6% better, his touchdown rate was 1.5% higher, and his interception rate was a full percent lower, and there's simply no way the Eagles would've been anywhere near the third-ranked scoring offense in the NFL with Wilson. The Broncos, like the Eagles, were loaded with playmakers, and it didn't matter because Wilson was so bad.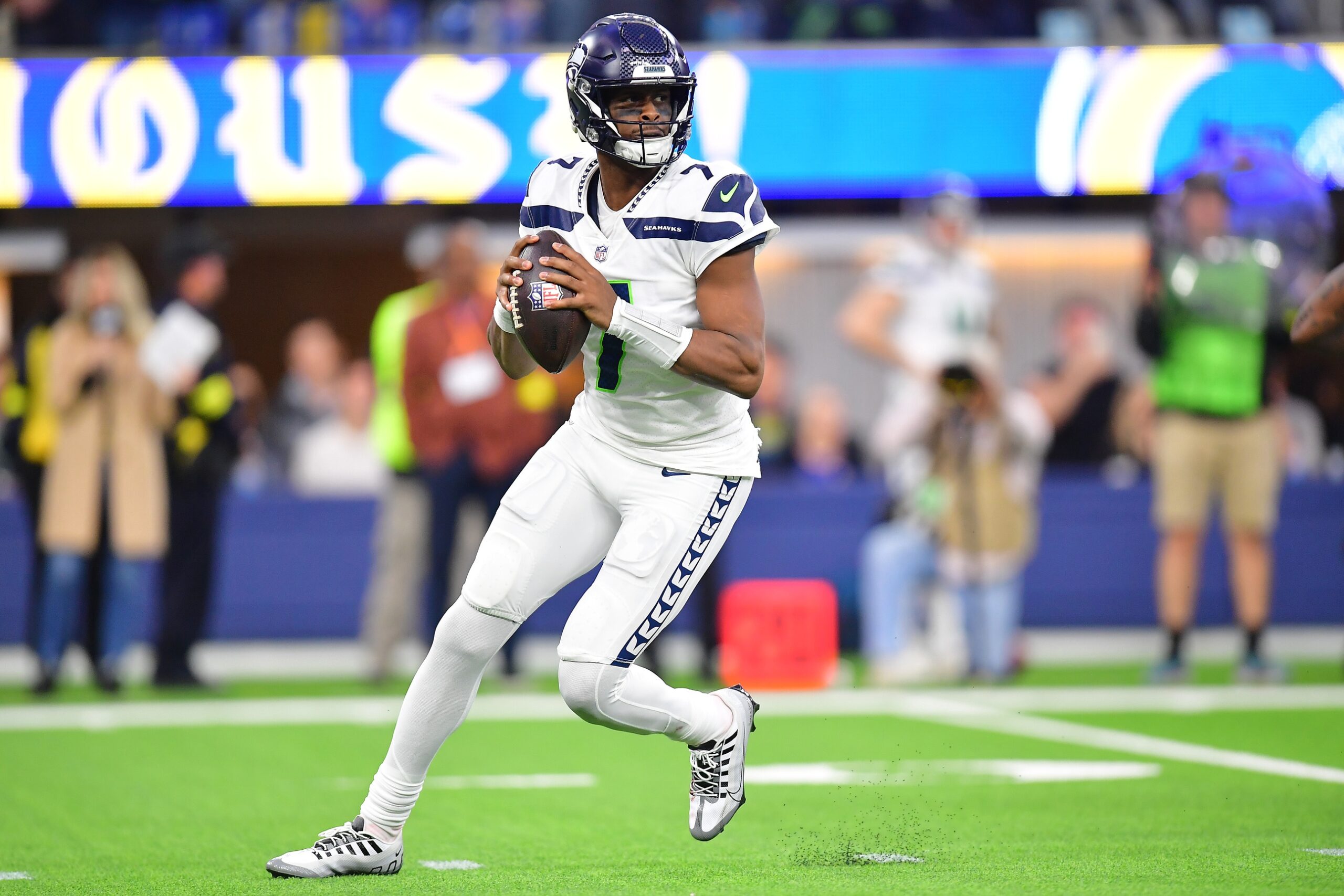 Geno Smith Never Cashes In
Assuming the Seahawks would have landed Hurts, then it's more than likely Hurts would've ended up starting for them in 2022.
Geno Smith and Drew Lock were in a battle that was characterized as "the most embarrassing, saddest, pathetic quarterback competition of all time." Smith struggled in the preseason, and Lock was as bad as he's always been before Smith suddenly blossomed into a star during the regular season.
Eventually earning Pro Bowl status and a fat three-year, $105 million deal, Smith was never guaranteed to even start one game for the Seahawks in 2022. He would've been fine with that outcome, saying his "tough times would be a dream to someone else." Though he clearly should've been a starter based on his 2022 play, teams didn't know that at the time.
There was also a level of uncertainty with Hurts, which is why the Eagles wanted Wilson in the first place. Hurts isn't a traditional passer because he's not the most accurate thrower, and his anticipation isn't quite as refined as a veteran's. He was entering a make-or-break season in 2022 for a reason.
The Colts and Cardinals Hire Different Head Coaches
If the Eagles suffered their worst-case fate in 2022 and Wilson bottomed out despite the immense talent around him, there's little chance that either Steichen or defensive coordinator Jonathan Gannon land head coaching gigs elsewhere.
MORE: Best NFL Offenses | Best NFL Defenses 
Steichen was masterful with both Justin Herbert in 2020 and Hurts in 2021 and 2022, but Wilson's diminished returns weren't just bad. Wilson's play could've been career-ending for Hackett if the coach didn't have a great relationship with Aaron Rodgers. The Broncos were hoping that hiring Hackett would help facilitate a deal for Rodgers, but Wilson became their fallback option.
If the Eagles' offense finished dead last in 2022 like the Broncos' did, then the Eagles' defense certainly isn't as high-profile or as effective as they were while constantly playing from ahead. This would've had cascading effects across the league since both coordinators landed head coaching jobs quickly after the season ended.
Broncos Don't Hire Sean Payton
Wilson is now "fighting for his career" after the new Broncos' ownership aggressively traded for head coach Sean Payton. The Broncos have to see more from Wilson immediately in order to justify keeping his massive cap hit after the 2023 season. The best way to rekindle whatever is left of Wilson was to hire the best offensive mind available.
Sean Payton won't tie his career to Wilson moving forward unless the quarterback gives him reason to believe in his ability to win in the next few seasons. But he likely wouldn't have been so valued by the Broncos if Wilson wasn't acquired in the first place. Denver likely would've entered the 2022 season with Lock, then drafted a top rookie with their high draft pick in the 2023 NFL Draft class.