The top-heavy 2023 NFL Draft EDGE class set the bar high for the following cycle, but looking at our early position rankings for the top EDGEs in 2024, this next group has a chance to rival the batch that brought Will Anderson Jr., Tyree Wilson, Lukas Van Ness, and others into the fold.
Ranking the EDGEs in the 2024 NFL Draft
The 2023 NFL Draft had it all at the EDGE position. It wasn't simply a deep class. It was a diverse class with a barrage of player types, from power rushers to finesse rushers and everything in between. Pass rush has always been an indispensable area for coaches, but especially in the modern NFL, it's one of the most important components of the game itself.
Every pass-rushing unit, in order to function properly, needs both top-end talent and reliable depth. And looking at the 2024 NFL Draft class at the surface level, it appears to have a good mix of both. Let's dive into the early film observations and see who leads off our list of 2024 EDGE prospects.
10) Jack Sawyer, Ohio State
It's almost unfair how much talent Ohio State has at every position on a year-to-year basis, but the EDGE position, in particular, is a revolving door of NFL talent. In the 2024 draft cycle, the Buckeyes have a potential top-10 selection in JT Tuimoloau, and Jack Sawyer is another former five-star recruit who could erupt as he returns to the defensive line.
Sawyer played JACK linebacker in 2022 and was out of position at times as a result. But a return to the line could ultimately unlock his full potential, especially playing within a stacked DL rotation. Sawyer has an NFL frame at 6'4″, 267 pounds, and good functional agility, and he's shown to win individual battles with forceful hands and urgent pursuit.
9) Adisa Isaac, Penn State
There are two prospect-team pairs on our updated list of top EDGE prospects, both of which reside in the Big Ten. The Penn State Nittany Lions boast one of the nation's most exciting duos outside the tackle, and while he's the second-ranked of the two here, Adisa Isaac might have the highest ceiling.
Isaac put up four sacks and 11 TFLs in 2022, showing off his range in pursuit and his well-rounded pallet of traits. At 6'4″, 254 pounds, Isaac has a little bit of everything — explosiveness, ankle flexion, length, and power capacity. A torn Achilles in 2021 delayed Isaac's development somewhat, but he's returned with a vengeance and could be an early-round prospect.
8) Ashton Gillotte, Louisville
The Louisville Cardinals quietly had a ferocious EDGE unit in 2022. YaYa Diaby was talented enough to be taken by the Tampa Bay Buccaneers in Round 3, and Yasir Abdullah also fielded an NFL Draft selection on Day 3. In the 2024 cycle, the Cardinals may have another EDGE prospect on deck in ascending defender Ashton Gillotte.
Despite sharing the rotational reps with Diaby and Abdullah in 2022, Gillotte managed to log seven sacks and eight TFLs, after notching four sacks and seven TFLs the year prior. At 6'3″, 265 pounds, Gillotte has the same explosiveness and frame density that made Diaby so appealing on the surface. Yet, Gillotte is especially streamlined and flexible — further expanding his potential.
7) Brandon Dorlus, Oregon
Brandon Dorlus provides a unique mold of defensive lineman for evaluators in the 2024 NFL Draft cycle. At 6'3″, 285 pounds, Dorlus has the size, mass, and elite proportional length to line up at 3-tech or shade over 1-tech, but he's also athletic and explosive enough to function as a stand-up EDGE or swerve across the line on stunts like a battering ram.
The Ducks lost DJ Johnson to the 2023 NFL Draft, as well as Bradyn Swinson to the transfer portal, so Dorlus may be used on the edge more often in 2023. With his sheer versatility and disruptive profile wherever he lines up, Dorlus has some Travon Walker-lite appeal. With five sacks and 16.5 TFLs over the past two seasons, he's trending up.
6) Chop Robinson, Penn State
Demeioun Robinson — better known by his very fitting nickname "Chop" — is a prospect we can reliably project near the top of the 2024 NFL Draft EDGE class. He might not have the elite overarching tools that other prospects possess, but Robinson's already proven his method of success is effective, with 5.5 sacks and 10 tackles behind the line of scrimmage this past season.
Robinson is 6'3″ at most and only 240 pounds, so he isn't going to win with strength consistently. But with his burst, natural leverage, and proportional length, he has an underrated power profile, with the bend and ankle flexion to accelerate around the apex after establishing a lever. His motor is also the ultimate fusing agent for his game.
5) Princely Umanmielen, Florida
There's an ascending talent on the Florida defensive line who could have a higher ceiling than all of the recent Florida EDGE prospects to come out of the collegiate ranks — among them Jonathan Greenard, Brenton Cox Jr., and Jachai Polite. Princely Umanmielen is his name, and if all goes well, we could hear his name called in the early rounds.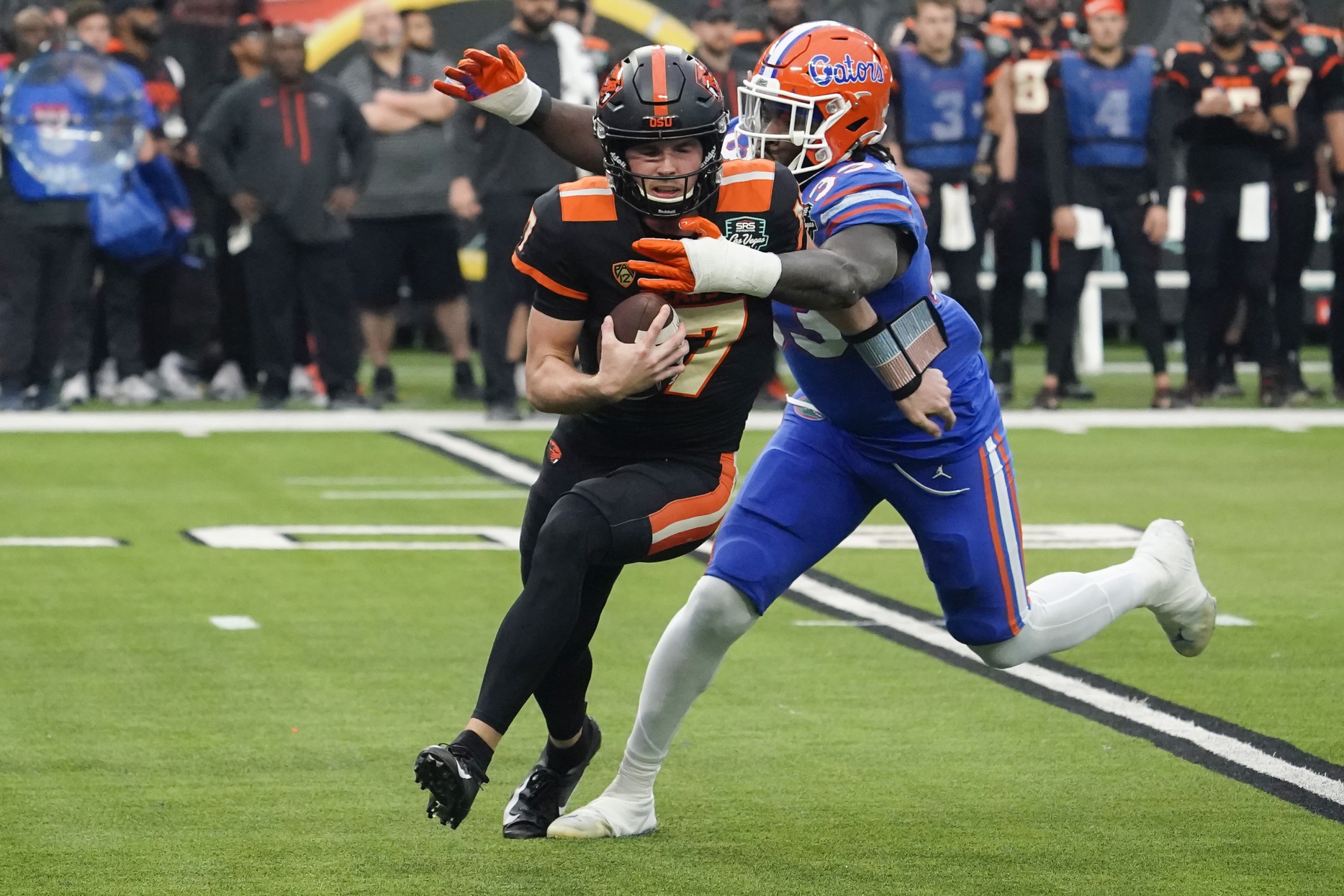 Umanmielen still has room to keep building on his 4.5-sack, 9.5-TFL 2022 campaign, but all of the tools are there. At around 6'4″ and 250 pounds, he offers legitimate eye-catching bend and cornering ability around the arc, as well as the length to pry past blocks. He's still seeking more pass-rushing consistency, but Umanmielen's already a high-level run defender with immense potential on the attack.
4) JT Tuimoloau, Ohio State
It's important never to get ahead of yourself with prospects in upcoming cycles. No one knows how the 2024 NFL Draft class will pan out at this point. But since 2021, Ohio State EDGE JT Tuimoloau has been anticipated as a potential top-10 pick. He was a five-star recruit who broke out in 2022 with 3.5 sacks, 10.5 TFLs, two picks, and four PBUs.
Tuimoloau is just built differently. He's 6'4″, 277 pounds, and yet, he's an explosive long-strider who bounds off the line. Tuimoloau has terrifying power capacity with his burst and length, but he's also surprisingly nimble and flexible for his size and has a nose for the football in close quarters. He's not an EDGE1 candidate yet, but Tuimoloau could get there if he takes a leap in 2023.
3) Bralen Trice, Washington
There's some room for variance within the 2-4 range on our top EDGE rankings for the 2024 NFL Draft. But in this iteration of our EDGE rankings, Washington's Bralen Trice just edges out Tuimoloau for No. 3.
Trice is coming off a strong nine-sack, 12-TFL campaign in 2022. Not only did he produce at a high clip, but he also provided evaluators with many high-level reps.
At 6'4″, 260 pounds, Trice has the ideal size and power profile. He can assuredly go through you if he wants to — Trice has the shock in his hands and the force at contact to win head-on. But for his size, he's also a surprisingly twitched-up, agile mover who has enough burst to threaten the apex. He's not much of a bender, but his violent, high-energy style yields results.
2) Dallas Turner, Alabama
In all likelihood, any prospect Alabama fields at the EDGE position in the 2024 NFL Draft cycle won't grade as highly as Will Anderson Jr. did. But that's a high bar to clear. Anderson was a clear blue-chip prospect with an immediate impact projection.
Dallas Turner's NFL transition might not be as smooth, but he has a ceiling in the same range. At 6'4″, 245 pounds, Turner first appears as more of a finesse-oriented player. He's a bolt of lightning off the line with absurd hip flexibility and ankle flexion around the apex.
Those two traits alone can be overwhelming for tackles. But just when you think you've figured Turner out, he'll hit tackles with devastating long-arms and bull rushes. With his length and burst, he has power on his side, too.
Who Is the Best EDGE in the 2024 NFL Draft?
Several prospects near the top of the 2024 NFL Draft EDGE board have the potential to challenge for the top positional spot. But no matter what, it'll be a difficult task to take the crown from the current EDGE1 of the group: Florida State's Jared Verse.
1) Jared Verse, Florida State
Ahead of the 2022 campaign, the Florida State Seminoles scored a highly regarded defensive transfer from the FCS ranks in Verse.
Originally from Albany, Verse flashed the high-end tools that FSU coveted. It was believed that playing for the ACC program might unlock his talents, but no one expected it to happen as quickly as it did.
Verse dominated straight from Week 1 against LSU and carried his performance all through the season, racking up nine sacks and 17 tackles for loss in a first-team All-American and All-ACC showing.
Verse could have declared for the 2023 NFL Draft. He almost assuredly would have been a Round 1 selection. In fact, on my board, he would have been a top-five prospect in a loaded EDGE group. But instead, Verse chose to return to school, and he's in the driver's seat for the EDGE1 mantle in 2024.
At 6'4″, 249 pounds, Verse isn't an elite-size threat. But that's one of the few knocks on his profile. He has good length. He has good bend. He's a ruthless technician with his hands who can successively exert power and deconstruct anchors with swipes, rips, and chops. And at the foundation of it all, he's a supremely explosive athlete with a kind of hyper-elite twitch that has tackles constantly fighting a losing battle for proper leverage
Production, traits, a complete prospect profile — early on, it looks as though Verse truly has it all.
Honorable Mentions
Laiatu Latu, UCLA
Seth Coleman, Illinois
Patrick Payton, Florida State
Barryn Sorrell, Texas
Jordan Burch, Oregon
J.J. Weaver, Kentucky
Jaylen Harrell, Michigan
Braiden McGregor, Michigan
Brennan Jackson, Washington State
Collin Oliver, Oklahoma State
Listen to the PFN Scouting Podcast
List to the PFN Scouting Podcast! Click the embedded player below to listen, or you can find the PFN Scouting Podcast on iTunes, Spotify, and all major podcast platforms.  Be sure to subscribe and leave us a five-star review! Rather watch instead? Check out the PFN Scouting Podcast on our Scouting YouTube channel.