The perception of RB value has morphed over the years, but the process of RB evaluation remains the same. Players who are dynamic, versatile, and physical have always been coveted. Across decades of history, these are the top RB prospects of all time in the NFL Draft pool — the players who best fulfilled those definitions.
The Best RB prospects of All Time
At any position, ranking the top prospects of all time is a purely subjective exercise. There are so many factors to consider, and everyone's perspective is unique. But reverse engineering it all to the foundational level — what a prospect can do — these are some of the most impressive RB prospects over the years.
There's a common thread you'll find with most of these RB prospects. Their draft capital reflected their talent in the eyes of NFL teams, and many achieved the production they sought at the professional level to reaffirm their standing.
12) Curt Warner, Penn State
The 1983 NFL Draft was legendary for more than one reason. Everyone remembers the famed QB trio of John Elway, Jim Kelly, and Dan Marino — and rightly so — but the 1983 class also laid claim to two of the best running back prospects in league history. Hall of Famer Eric Dickerson went second overall, and Curt Warner went one spot after him.
Warner sometimes falls under Dickerson's shadow, but the three-time Pro Bowler for the Seattle Seahawks was truly a phenomenal talent. A rocket-propelled renegade with tenacious energy and zeal at 5'11", 205 pounds, Warner brought an aggressive yet hyper-efficient running style downhill. He could slash past pursuit defenders with his twitch and lateral burst, then explode upfield and take over with his strides in space.
11) Ricky Williams, Texas
It's not often a team trades all of its draft picks (and a first and third the following year) for one prospect, but that's what the Saints were willing to do to secure Ricky Williams in the 1999 NFL Draft cycle. For Williams — who won the Heisman off 2,124 yards and 27 TDs in 1998 — the capital shows just how coveted he was. And three years later, the Dolphins would trade two first-rounders for him as well, and he'd have his best season in Miami.
Looking back, the Saints' trade for Williams is universally viewed as an egregious move, but Williams' talent was a worthy accelerant in that saga. At 5'10", 226 pounds, Williams had 4.56 speed and a 37″ vertical.
He was an energized athlete behind the line and in space and a physical finisher at contact. But even more important for NFL teams was his hallmark durability and reliability. He took nearly 2,500 carries in the NFL and broke the 10,000-yard mark.
10) Marshall Faulk, San Diego State
Becoming a Hall of Fame player is the maximum projection for any NFL Draft prospect. That's what Marshall Faulk was able to achieve, but some saw it coming when he made the leap from San Diego State. The 5'10", 211-pound Faulk — who went second overall to the Colts in 1994 — amassed 1,530 yards and 21 touchdowns in 1993. He also doubled as an elite receiving threat, with 47 catches for 644 yards and three scores.
MORE: Ranking the Best NFL Draft Steals of All Time
Faulk made the Pro Bowl three times in Indianapolis, but he's best known for his dominant stretch as the premier RB in the St. Louis Rams' "Greatest Show on Turf." Faulk was one of the forebearers of the modern pass-catching RB role, but he was also a venerable ground threat — a superdense dynamo with speed, explosiveness, and deafening foot speed on his cuts, instinctively slithering through congested areas to find space and make defenses pay.
9) Adrian Peterson, Oklahoma
Adrian Peterson was one last taste of the old run-first era before the NFL turned its gaze to the modern age. Built to be a volume back at 6'1″, 220 pounds, Peterson set the tone with his ultra-combative playstyle. He fought tackles tooth and nail on every down, using destructive pad charges, brutal stiff-arms, and stubborn leg churn to keep runs alive against all levels of resistance.
Lost behind the relentlessness of the 2004 Heisman runner-up, however, is just how naturally talented Peterson was. At his size, he ran a 4.4 flat at the 2007 NFL Combine, and his 10'7″ broad jump and 38.5″ vertical confirmed his on-field explosiveness. Peterson didn't just break tackles; he destroyed them, and then he dusted you immediately after. That was the combination behind his 2012 MVP and future Hall of Fame status.
8) Saquon Barkley, Penn State
Running backs don't go in the top three in the modern NFL era. It just doesn't happen — but Saquon Barkley broke the mold in the 2018 NFL Draft when the Giants famously took him with the second overall pick. Barkley had a lot to live up to after a collegiate career that saw him rack up 5,038 total yards from scrimmage and 51 touchdowns in just three years, but he's lived up to the hype in spite of a torn ACL suffered in 2020.
In every single facet, Barkley was a rare physical specimen and a sight to behold. At 5'11", 233 pounds, Barkley brought the frame density and domineering play strength of a fullback through contact. And yet, he ran at a 4.4 pace when he had space, and his elite explosiveness was documented by his 41″ vertical. RBs simply aren't supposed to run and bend the way Barkley did at his size, and that unique raw talent and combined creative capacity and physicality is what set him apart.
7) Bijan Robinson, Texas
Barkley and Bijan Robinson are viewed as the two contemporary RB prospects commonly viewed near the generational tier. But which one was ultimately the better prospect? This ranking may be a bit controversial. We've gone over Barkley's credentials, but I think there's a strong case to make for Robinson — the No. 8 overall pick for the Atlanta Falcons this past April.
Robinson was my highest-graded prospect in the 2023 NFL Draft by a decent margin without factoring in positional value, and he truly checked all of the boxes. He had size and physicality at 5'11", 215 pounds. He had speed and explosiveness. He's a natural and versatile receiving threat.
Nevertheless, the most enthralling trait mix Robinson possessed was his unmatched vision, creative instincts, and lateral flexibility. He's a psychic behind the line of scrimmage who combines lightning-quick processing speed and sharp spatial awareness with outrageous short-area freedom and balance — all amounting to devastating creative potential.
Barkley was the superlative athletic talent, but Robinson was the better runner with more than enough athleticism to boot. Unlike the others on this list, Robinson hasn't had the career yet to validate his placement. Yet, talk to any evaluator, and they'll say the tape is a very promising indicator.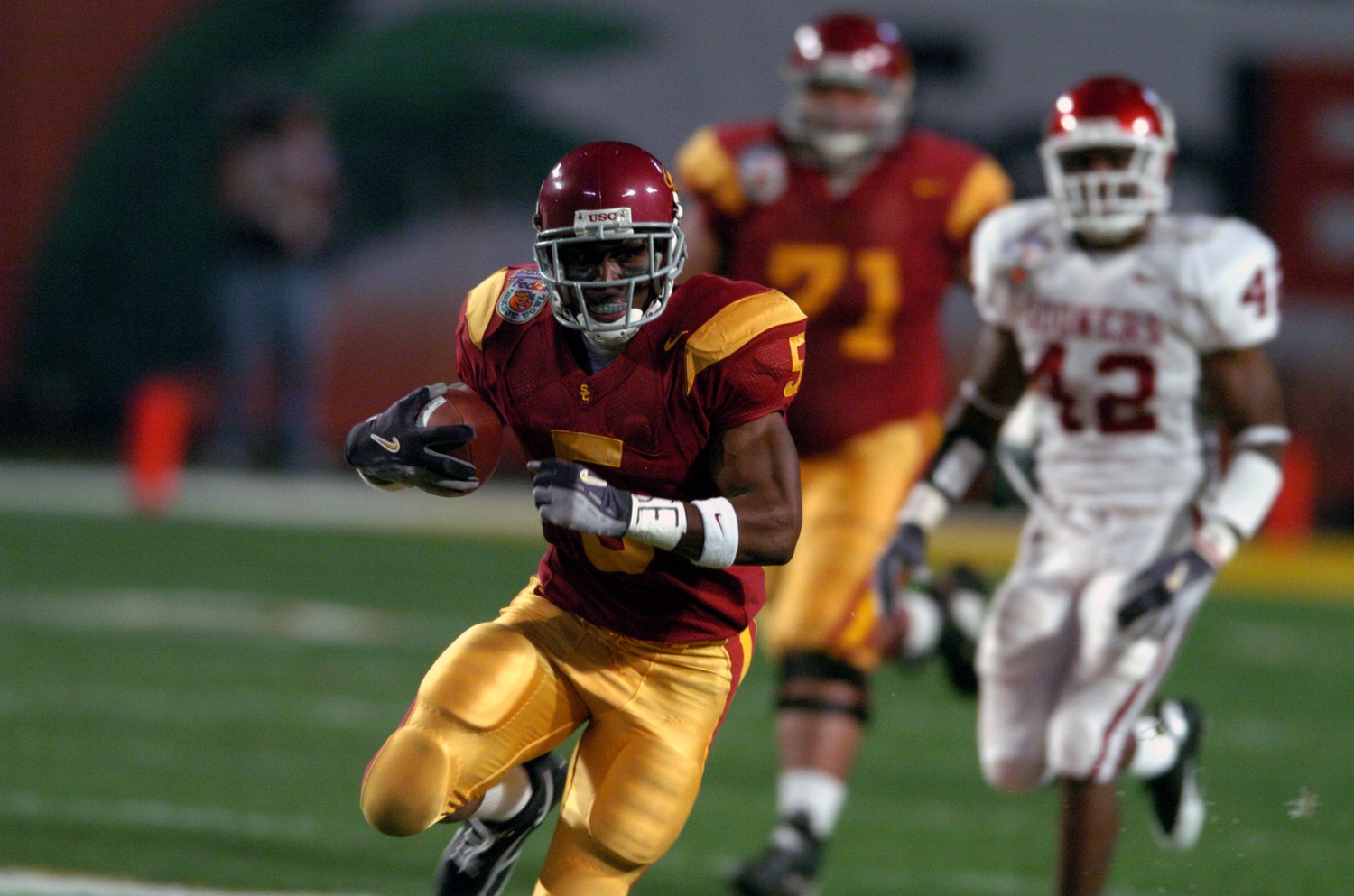 6) Reggie Bush, USC
Reggie Bush didn't have the career you'd expect from a Heisman winner and the No. 2 overall selection. But Bush is a very interesting case. Had he entered the NFL 10 years later, we might've seen a very different career arc for him. Bush was a little too far ahead of his time as a prospect and wasn't always utilized efficiently. But from an evaluative standpoint, his profile was one-of-one.
MORE: CFB Teams With Most No. 1 NFL Draft Picks of All Time
At 6'0″, 205 pounds, Bush didn't have the mass and frame density other backs on this list boasted. Instead, Bush made his money as an exceedingly dynamic runner with 4.37 speed, elite downfield burst, and insane cutting ability and agility in open space.
Bush was a revelation with the ball in his hands, and he was also a hyper-versatile pass-catching weapon who could do anything from taking screens to splitting out wide and attacking vertically. In the modern NFL, he could have been a game-breaker.
5) LaDainian Tomlinson, TCU
It's fitting that LaDainian Tomlinson landed with the Chargers via the fifth overall pick in the 2001 NFL Draft because he was absolutely electrifying from the very start. And his playstyle itself was akin to electricity. The lateral suddenness and hyperactive twitch to demolish a defender's balance in the hole. The instant explosiveness to breach the second level and the speed to finish off game-changing plays.
To add even more volts to the current, Tomlinson had all this loaded potential energy at 5'10", 215 pounds. He was a spark on the football field who suddenly solidified and rattled opponents at contact. And on top of it all, he was a high-level receiving threat. He was a dominant force at TCU, and he carried that over to his professional career, winning MVP honors in 2006 and eventually earning the title of Hall of Famer.
4) Edgerrin James, Miami (FL)
Every running back has a calling card. It's a lot harder to find an RB who can point to almost every trait as a defining quality. Edgerrin James is one of the top players on this list for that exact reason — he's one of the most complete RB prospects ever to hit the NFL Draft stage.
James passed the eye test with his strong 6'0″, 216-pound frame, and at that size, he had a blistering 4.38 40-yard dash with a 1.49 10-yard split, a 3.88 shuttle time, and a 6.87 three-cone. All of those numbers show up on tape, and on top of it all, James brought elite contact balance to the fold. He was a formidable receiving threat as well — catching more than 60 passes three times in his career — but his running ability is what made him a Hall of Famer.
There was no compromising through contact with James, who drove through tackles with extreme prejudice. But he also awed onlookers with his field-stretching speed and his sharp change of direction, and more often than not, he was able to avoid early contact altogether with his steely vision, foot speed, and adaptability.
3) Eric Dickerson, SMU
After putting up 487 carries for 3,045 yards and 36 touchdowns across the 1981 and 1982 seasons, Eric Dickerson was selected second overall by the Los Angeles Rams in the 1983 NFL Draft.
On the surface, Dickerson was Derrick Henry before Derrick Henry — a towering runner at 6'3″, 220 pounds who could so easily absorb tackles with his midsection and churn his legs. But then you watch him teleport upfield with his one-step burst, instantly erode tackling angles, and offset defenders with fast feet and fluid hips, and you realize you only have half the picture.
Dickerson reportedly ran the 100m dash at 9.4 seconds in high school. He was an elite size/speed athlete who doubled as an elite runner. And while his prime in the NFL was relatively short, he was nearly unstoppable when he was at his peak. It's why he's immortalized in Canton, with a gold jacket to show for it.
2) Barry Sanders, Oklahoma State
Imagine you're playing Road to Glory mode on easy difficulty. That was Barry Sanders at Oklahoma State in 1988. He amassed 344 carries for 2,628 yards and 37 touchdowns that year, winning the Heisman in a landslide, and he'd ultimately land with the Detroit Lions via the third overall pick in 1989.
MORE: Ranking the Best NFL Draft Classes of All Time

What followed once Sanders hit the NFL stage? More dominance. He was an All-Pro in his first year and earned that distinction five other times in his career while also reaching the Pro Bowl 10 times. He's fourth all-time in NFL rushing yards, despite only playing 10 seasons, and he has a golden jacket to show for his accomplishments.
Sanders' legacy is strong enough that it speaks for him now, but his talent on tape was the source of his greatness. At 5'8″, 203 pounds, Sanders was a legitimate human joystick in crowds, with oily hips, extraordinary full-field vision, and gravity-defying balance through contact. He could put defenders on a string with his unfair cutting ability and instincts, and he was unnaturally proficient at keeping his legs churning through tackles.
1) Bo Jackson, Auburn
There's an air of legend when people talk about Bo Jackson. It's a popular thought exercise to think about how dominant Jackson could have been in the NFL if a hip injury suffered in 1991 hadn't shortened his career to just four seasons. But if we're evaluating these players as prospects and what they brought on the NFL Draft stage, no one was more compelling than Bo.
Jackson was the 1985 Heisman winner with 278 carries, 1,786 yards, and 17 touchdowns at Auburn. Not only was Jackson a relentless rushing threat, but he was the transcendent athlete of his time. At 6'1″, 227 pounds, Jackson ran an unconfirmed 4.13 40-yard dash at his Tigers Pro Day.
Jackson was such a rare talent that Hugh Culverhouse — owner of the Buccaneers, who possessed the No. 1 overall pick in the 1986 NFL Draft — hosted Jackson on a private jet visit to try and entice him away from baseball, where he was also a star. Unbeknownst to Jackson, however, that visit wasn't cleared by the NCAA, and when Jackson lost his baseball eligibility as a result, he shunned Tampa Bay in the draft.
Jackson would end up going to the Raiders a year later, and although his career in black and white was short, he made a lasting impression. He broke the Monday Night Football rushing record in his rookie year, notched 950 yards in 1989, and made the Pro Bowl in 1990.
There are super-athletes, and then there's whatever Jackson was. He was simply different, and his combined pace and power are what made him so frightening for defenses. He could destroy tackling angles with game-breaking speed and destroy solo tackles with unhinged tenacity.
No running back was more dangerous with daylight. Jackson functioned as a freight train in space with his combined speed and mass, but he brought even more to the table as a runner. His vision was a strength, and he could correct attack angles with searing lateral twitch before loading opportunities to explode up seams.
Listen to the PFN Scouting Podcast
List to the PFN Scouting Podcast! Click the embedded player below to listen, or you can find the PFN Scouting Podcast on iTunes, Spotify, and all major podcast platforms.  Be sure to subscribe and leave us a five-star review! Rather watch instead? Check out the PFN Scouting Podcast on our Scouting YouTube channel.