Not much has felt "normal" in the sports world recently. Major League Baseball is opening in July with the Blue Jays playing "home" games in Buffalo. The NBA is playing in a "bubble" in Orlando. College football conferences are discussing — and many have already — canceling non-conference games. But for all the abnormal, Bruce Feldman brought some normalcy back with his annual freak list. Three defensive players on that list jumped off the page at me.
[sv slug=mocksim]
Feldman's Freaks List
Feldman's freak list should be mandatory reading for any football fan. The list highlights some of the best athletes in the country each year, and Feldman seems to nail it every year, especially at the top of the list. Last year's top "freak," Tristan Wirfs, was a top-10 selection in the 2020 NFL Draft. Past top "freaks" have included the likes of Saquon Barkley, Jadeveon Clowney, and Myles Garrett.
When Feldman names a player to the annual freak list, it's an indicator of a prospect that you should be paying attention to, if you're not already. There are a lot of names on this list that you'd expect to see. There's also a good mix of names who aren't yet generating buzz outside of their programs. 
Three defensive players highlighted Feldman's freak list for me. These three aren't necessarily the best players on the list — check out Matt Valdovinos' piece for that list — but rather are guys who, if they meet the numbers in Feldman's list at the NFL Combine, will record some of the highest Relative Athletic Scores (RAS) — a metric that measures a draft prospect's athletic ability relative to his position — ever at their positions.
Kwity Paye, Defensive End, Michigan
The first of our three targeted defensive players from Feldman's freak list is one you should already know about. Michigan defensive end Kwity Paye has been on scouts' radars for years and has been a standout in the Big 10. He hasn't generated the buzz that some of his Ohio State rivals have, but make no mistake about it, he's got the talent.
Paye appears on Feldman's list largely thanks to his speed. Feldman cites Paye's 3-cone time in particular and actually manages to undersell it somewhat. In the piece, Feldman points out that Paye's projected 3-cone time — 6.37 seconds — would have topped anyone at the 2020 NFL Combine. That time would also be the fastest 3-cone of anyone drafted since 2000 — regardless of position — and the fastest time for a DT in the RAS database, dating back to 1987.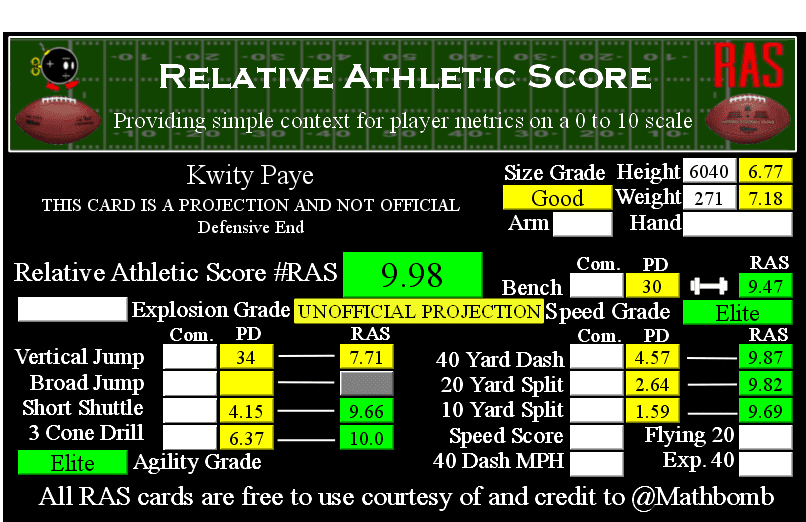 The freakish athleticism isn't limited to a frankly absurd 3-cone time for Paye, either. Using the numbers projected by Feldman, Paye's RAS score comes out to a staggering 9.98- a number that would place him as the second-highest DE in the RAS database, out of 1,318 players recorded. Paye takes the top spot in Feldman's Freaks list, and it's easy to see why.
Boye Mafe, Defensive End, Minnesota
For the second of our three defensive players from Feldman's freaks list, we stay in the Big 10. We also stay at the defensive end position to highlight Minnesota's Boye Mafe. Mafe is a player who isn't generating much NFL Draft buzz right now, but if the numbers that Feldman lists are anywhere near the performance Mafe puts up at the combine, Mafe will be a hot commodity.
Mafe may be a touch undersized for a defensive end, coming in at just 260 pounds. But what he lacks in size, he more than makes up for in athleticism. Mafe's RAS projection has him coming in slightly behind his predecessor Paye, but still ranking as a top-10 defensive end all-time.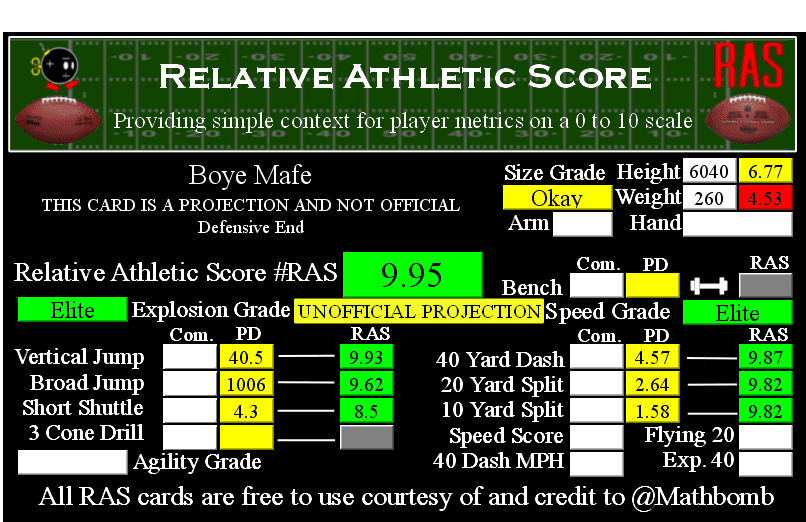 Mafe's RAS performance, and the reason for his inclusion on Feldman's list, is highlighted by his vertical leap. According to Feldman, Mafe's vertical is an astonishing 40.5 inches- more than four inches higher than any defensive end at last year's combine. That leap would be the 10th highest vertical for a defensive end out of 1,305 since 1987.
We may have to wait a while to see if these numbers come to fruition for Mafe. Mafe is just a true junior this season for the Gophers, and may not declare for the NFL Draft until 2022. He's an ascending player in the program, and whether it's next year or the year after, be sure to remember Mafe.
Robert Rochell, Cornerback, Central Arkansas
Our third and final entry comes somewhat out of left field. Robert Rochell isn't a name most know, but he is the epitome of a world-class athlete at the cornerback position. Rochell has great size for the position, measuring at just under 6-foot-1, 200 pounds. Couple that with staggering athletic testing, and you have an intriguing prospect.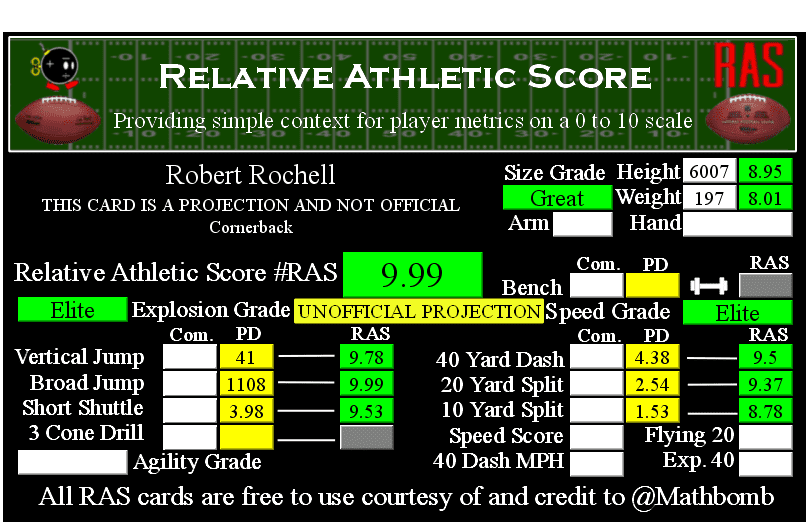 The RAS projection for Rochell paints the picture of one of the most athletic cornerbacks in the history of RAS. In fact, with the numbers that Feldman projects in his list, Rochelle would come in as the top cornerback of all-time, out of 1,723 recorded since 1987.
As Feldman put it, the "bounce" is what separates Rochell from other corners across the country, which warrants his inclusion on the "Freaks" list. Feldman states Rochelle's position coach claims he can broad jump 11 feet, eight inches, and can post a vertical leap of 41 inches. If Rochell were to achieve those numbers, he would record the second-longest broad jump in RAS history, along with notching a top-40 all-time vertical leap. But can he play?
Rochell's potential athletic testing is going to raise some eyebrows and get people looking at the box score. While there's much more to scouting than simply looking at the stats, Rochelle holds up in that department. Last season alone, the Central Arkansas product had 18 passes broken up and collected five interceptions. Rochell is truly a "freak" with unquestionable upside playing on Sundays.
Listen to the PFN Scouting Podcast
Listen to the PFN Scouting Podcast! Click the embedded player below to listen, or you can find the PFN Scouting Podcast on iTunes, Spotify, and all major podcast platforms.  Be sure to subscribe and leave us a five-star review! Rather watch instead? Check out the PFN Scouting Podcast on our Scouting YouTube channel.