The Tampa Bay Buccaneers' schedule of weekly opponents has been released. They overcame a checked-out Tom Brady (who didn't play like one of the best NFL QBs) to finish first in the worst division last year. They backed into the postseason with a losing record after almost blowing it to the surging Carolina Panthers late in the season.
Rather than being able to build on that, they are in full rebuilding mode. They almost lost the division to the Panthers and now go into the season deciding between Kyle Trask or Baker Mayfield to succeed Brady. Not the ideal position.
Tampa Bay Buccaneers Schedule
Week 1: at Vikings
CBS | 1 p.m. ET (Sunday, Sept. 10)
Week 2: vs Bears
FOX | 1 p.m. ET (Sunday, Sept. 17)
Week 3: vs Eagles
ABC | 7:15 p.m. ET (Monday, Sept. 25)

Week 4: at Saints
FOX | 1 p.m. ET (Sunday, Oct. 1)
Week 5: BYE
Week 6: vs Lions
FOX | 1 p.m. ET (Sunday, Oct. 15)
Week 7: vs Falcons
FOX | 1 p.m. ET (Sunday, Oct. 22)
Week 8: at Bills
Amazon Prime | 8:15 p.m. ET (Thursday, Oct. 26)
Week 9: at Texans
CBS | 1 p.m. ET (Sunday, Nov. 5)
Week 10: vs Titans
CBS | 1 p.m. ET (Sunday, Nov. 12)
Week 11: at 49ers
FOX | 4:05 p.m. ET (Sunday, Nov. 19)
Week 12: at Colts
CBS | 1 p.m. ET (Sunday, Nov. 26)
Week 13: vs Panthers
CBS | 1 p.m. ET (Sunday, Dec. 3)
Week 14: at Falcons
CBS | 1 p.m. ET (Sunday, Dec. 10)
Week 15: at Packers
FOX | 1 p.m. ET (Sunday, Dec. 17)
Week 16: vs Jaguars
CBS | 4:05 p.m. ET (Sunday, Dec 24)
Week 17: vs Saints 
FOX | 1 p.m. ET (Sunday, Dec. 31)
Week 18: at Panthers
TBD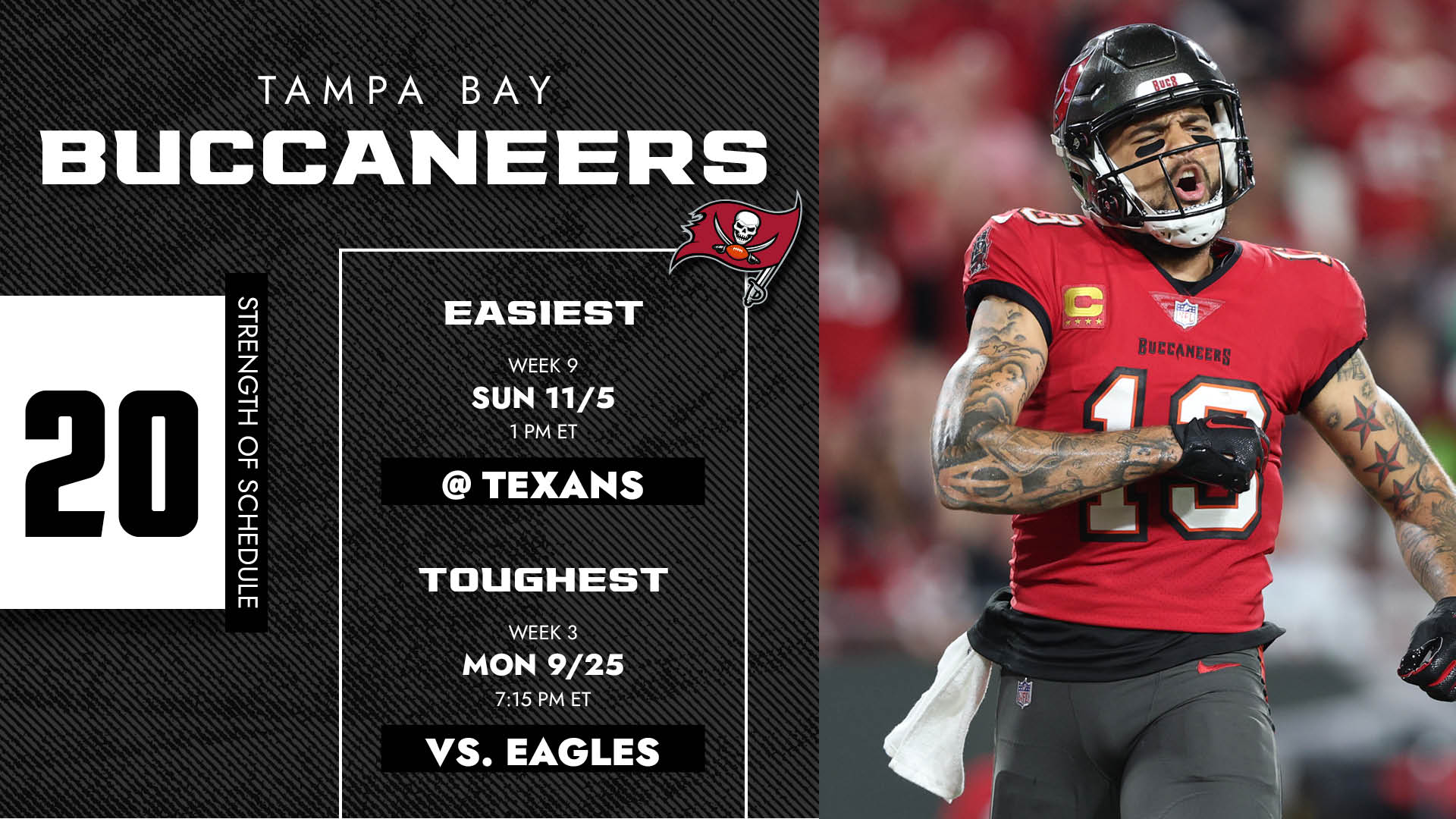 Tampa Bay Buccaneers Strength of Schedule
The NFC South is by far the worst division in football. The defending champions made the postseason with a losing record. As such, they should have an easier schedule. However, due to winning the division, they will face first-place teams from other divisions. That will not work in their favor.
MORE: FREE Mock Draft Simulator With Trades
Based on last year's records, Tampa has the 11th-easiest-ranked schedule in the NFL, facing opponents who have combined for the 21st-ranked strength of schedule. They are the only team in the NFC South not to have the first, second, or third easiest schedules.
Tampa Bay Buccaneers Record Prediction
The Buccaneers are going to be bad. Like, really bad. Brady came out of a short-lived retirement, and nobody benefited from it. Brady lost more than football games, and the Buccaneers won a meaningless divisional championship. Then they got dusted in the first round of the playoffs.
The Bucs had a losing record but didn't even get the benefit from that. Because they made the playoffs on a technicality, their first-round draft pick was in the late teens, and they face a tougher 2023 schedule. They have questions at almost every meaningful position on the roster.
MORE: Rankings All 8 NFL Divisions Entering 2023 Season
The Bucs need help everywhere, including at quarterback. They neglected to take one in the 2023 NFL Draft, instead choosing to use their first-round selection on a defensive lineman. In fact, five of their eight selections were spent on defensive players. Still, their second-round pick is a highly-rated guard who should help the rebuilding of the offensive line.
Yet, it appears they will roll into the 2023 season with their current quarterback room. They may not say this, or even feel it, but this feels like a throwaway year in order to spend better draft capital and financial resources on impact players in a way they chose not to this year. I wouldn't expect a return to glory from them in 2023, with maybe only a four-to-six-win season on the way.
Projected Record: 4-13