If you happened to roll with one of my survivor picks from last week, then congratulations! Admittedly, the New York Giants made us sweat it out against the Arizona Cardinals, but a win is a win.
We have officially advanced, and chances are you have as well if you're here for the NFL survivor picks Week 3 article. Let's dive into the strategy and picks for this week.
Our Betting Lines page has the freshest lines and promos to get BANG for your buck. PFN's FREE Parlay Calculator and Betting Odds Calculator are also available for your betting process! New to sports betting? Check out our guide on How to Bet on the NFL. Visit our Sports Betting Legal Tracker on how to bet legally in the U.S.
Survivor Picks Strategy for NFL Week 3
I'll start once again by stating there is no wrong way to go about playing in a survivor league. If you picked the Baltimore Ravens in Week 1 and the Buffalo Bills in Week 2 because they were the big favorites, then congrats! Your strategy worked.
For those of you who prefer to map out all of your survivor picks for the entire season, I'm here for you, too, as we inch closer to the start of bye weeks across the league.
As mentioned last week, I don't have any concrete rules when selecting games, but I do have some general guidelines to follow:
Avoid divisional games.
Avoid picking road teams.
Avoid games with bad weather in the forecast.
Ideally, we want to do everything within our power to avoid using top-tier teams who hold significant future value.
For example, since the Ravens were the most selected team in Week 1 — selected by 32% of survivor league teams, according to survivorgrid.com data — and the Bills were the most selected team in Week 2, I will be excluding them from my selection process in the strategy section of this weekly article moving forward in an attempt to best simulate your survivor scenario situation for the week.
If you have any additional survivor questions specific to your league, please don't hesitate to follow me on Twitter @DerekTateNFL to send me a message or join our Discord channel, so we can talk on that platform.
Teams No Longer Available To Select
Week 1: Baltimore Ravens (Selected by 32% of survivor league teams)
Week 2: Buffalo Bills (Selected by 26% of survivor league teams)
This is where identifying teams who aren't necessarily the biggest favorite of the week can strongly benefit you as the season progresses.
For example, the Ravens and Bills probably helped many of you advance to this point, but wouldn't you prefer to have them still available to select for a future week?
MORE: Early NFL Week 3 Predictions and Picks Against the Spread
Sure, it was much riskier to roll with the Giants coming off of a 40-0 loss at the hands of the Dallas Cowboys in the season opener, but their matchup against the Cardinals in Week 2 gave you an alternative option to play, which would have kept the Bills in play for their Week 3 encounter against the Washington Commanders.
With the Ravens and Bills no longer available to select, some of the teams that hold the most future value for the rest of the 2023 NFL season are the Kansas City Chiefs, Philadelphia Eagles, Cincinnati Bengals, San Francisco 49ers, Jacksonville Jaguars, and Miami Dolphins.
To accomplish that objective, here are two sets of strategies you could deploy to keep those teams available heading into October.
Strategy 1
Week 3: Seattle Seahawks (vs. CAR)
Week 4: Minnesota Vikings (vs. CAR)
Week 5: Cincinnati Bengals (@ ARI)
Week 6: Miami Dolphins (vs. CAR)
Top teams still available: KC, PHI, BUF, SF, BAL, DAL, JAX
Strategy 2
Week 3: Dallas Cowboys (vs. ARI)
Week 4: Pittsburgh Steelers (vs. HOU)
Week 5: Detroit Lions (vs. CAR)
Week 6: Los Angeles Rams (vs. ARI)
Top teams still available: KC, PHI, CIN, BUF, SF, MIA, JAX
In both strategies, you get to keep more than a handful of projected playoff teams with some elite options at quarterback available after the first month of the season, which really comes into play once bye weeks begin in Week 5.
Chalk Picks
For a second consecutive week, we went 2-0 with our chalk picks. Sure, they may have used up some elite options with future value, but it did manage to get you to this point of the season.
Here's a look at some of the chalkiest picks for Week 3, according to Numberfire.com.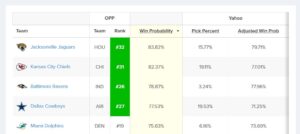 The choice is yours as to whether or not you want to avoid some of these big favorites and attempt to take advantage of a major upset.
Nonetheless, here are some of the chalk selections I like heading into Week 3 of the 2023 NFL season.
Kansas City Chiefs (vs. CHI)
The Chiefs haven't exactly looked like the juggernaut many expected through the first two weeks of the season, but with Travis Kelce back in the fold, they managed to beat a playoff team from last season on the road to improve to 1-1 on the year.
The Chicago Bears offense is clearly still a work in progress through the first two weeks of the season, which doesn't exactly bode well for keeping up with Patrick Mahomes, even as he pilots a Chiefs offense that put forth a second straight pedestrian performance on the offensive side of the football.
In addition, the Bears' struggles to slow down opposing rushing attacks from last season have continued through the first two weeks of 2023.
Need proof? The Tampa Bay Buccaneers, who finished dead last in the league in nearly every major rushing category in 2022, managed to produce 120 yards on the ground against the Bears' defense.
Expect the best outing from the Chiefs' offense in the young season against a Bears defense that is averaging more than 30 points per game allowed to opposing offenses in 2023.
Dallas Cowboys (@ ARI)
Picking on the Cardinals last week nearly prevented 13% of survivor league players from advancing to Week 3, but the Giants secured a Cinderella story-type upset to get their first win of the season.
Unfortunately for the Arizona fan base, the Cardinals' defense turned back into a pumpkin in the second half and squandered a 21-point lead to drop to 0-2 on the year.
When you put the Cardinals' defensive collapse in perspective, you realize the offense gave us a much better performance than expected in Week 2.
Unfortunately for Joshua Dobbs and the rest of the Cardinals' offensive unit, they likely won't have the same level of success they enjoyed against the Giants when they face off against the Cowboys' stingy defensive unit in Week 3.
This @DallasCowboys defense is just stacked with playmakers @Jayronkearse8

📺: #NYJvsDAL on CBS⁰📱: Stream on #NFLPlus https://t.co/FhXtx7w3wW pic.twitter.com/aVXg0KC0ko

— NFL (@NFL) September 17, 2023
Through two games, the Cowboys' defense has given up an average of five points and 193 yards, which spells a long day at the office for the Cardinals' offense.
Contrarian Pick
Seattle Seahawks (vs. CAR)
The Seattle Seahawks bounced back in a big way offensively against the Detroit Lions in their 37-31 overtime win in Week 2.
Kenneth Walker III and Tyler Lockett found pay dirt twice, while quarterback Geno Smith played much better than he did in his 112-yard passing performance against the Los Angeles Rams in the season opener.
MORE: Betting Lines and Newest Promos
This is encouraging when you look at Seattle's Week 3 matchup against the Carolina Panthers, who have really struggled to generate points through the first two weeks of the season.
Not to mention, rookie quarterback Bryce Young is going to have to deal with one of the loudest crowds in the NFL at Lumen Field.
The home of the 12th Man is a very tough place for offenses to operate at maximum capacity, and I just don't see the Panthers offense generating enough points to upset a revitalized Seahawks unit in Week 3.