After an electric day of football, the NFL Week 3 betting lines came out last night before Sunday Night Football. The betting lines for this coming week include three double-digit favorites and five-point spreads under a field goal.
But last week's action included some notable injuries that might have an impact on these lines. Nick Chubb, Saquon Barkley, Jaylen Waddle, and Davante Adams, to name a few, suffered injuries this week. Meanwhile, Joe Burrow's calf is still bothering him and might have been aggravated.
Let's take a look at the betting odds and make some early NFL Week 3 predictions and picks against the spread.
All the NFL betting odds at a moment's notice — visit our Betting Lines page, bookmark now, and always get the best line and bang for your buck. Our FREE Parlay Calculator and Betting Odds Calculator are also available for your betting process!
NFL Week 3 Picks and Predictions
All odds are from DraftKings Sportsbook. Click here to place your bets!
New York Giants vs. San Francisco 49ers Odds
Spread
49ers -10.5
Moneyline
Giants +360, 49ers -470
Total
45
The Giants had a really inspiring win yesterday, completing a 21-point comeback. But that was against the Cardinals. Now, they have to go on the road at San Francisco on a very short week.
The 49ers would've covered yesterday's 7.5-point spread against a frisky Rams team on the road if not for a meaningless field goal to end the game. I would wait to see if this gets to 10 or below, but the 49ers seem like the right side.
Lean: 49ers -10.5 (-105)
Tennessee Titans vs. Cleveland Browns Odds
Spread
Browns -3.5
Moneyline
Titans +150, Browns -180
Total
40.5
The Titans are 2-0 ATS as underdogs so far this season, continuing the trend under Mike Vrabel.
MORE: Live Betting Odds and Newest Promos
This line went down an entire point after the Browns' loss on Monday Night Football and Nick Chubb's devastating knee injury. Deshaun Watson looks as bad as he did last year, and their best player on offense is out for the season. I'll ride with the underdog Titans.
Pick: Titans +3.5 (-112) 
Los Angeles Chargers vs. Minnesota Vikings Odds
Spread
Chargers -1
Moneyline
Chargers -115, Vikings -105
Total
51.5
This is the Spiderman meme in betting form, as it seems like these two teams can never avoid playing in one-score games, and the spread here certainly reflects that.
Neither of these teams can afford to start 0-3, but something has to give. With the volatility of both the Chargers and Vikings, picking a winner in this one is essentially flipping a coin, but I like the over in what is the highest point total of the week.
Lean: Over 51.5 (-110)
New England Patriots vs. New York Jets
Spread
Patriots -2
Moneyline
Patriots -130, Jets +110
Total
38
Zach Wilson is who we thought he was. It's hard to trust this Jets team at the moment when they're up against a talented defense like New England's.
The Patriots were home underdogs for their first two games of the season, going 0-2, but I like them to get their first victory of the season as road favorites.
Pick: Patriots -2 (-112)
Houston Texans vs. Jacksonville Jaguars Odds
Spread
Jaguars -8.5
Moneyline
Texans +340, Jaguars -430
Total
45.5
The Texans fell behind by multiple scores very early against the Colts. Meanwhile, the Jaguars' offense failed to score a touchdown yesterday against the Chiefs.
This is a pretty big number for a divisional matchup, but if the Jaguars are one of the AFC's elites, they need to use this one as a get-right game.
Lean: Jaguars -8.5 (-112) 
Buffalo Bills vs. Washington Commanders Odds
Spread
Bills -7
Moneyline
Bills -298, Commanders +240
Total
45.5
This line has already moved up from 6.5. The Bills reminded everyone yesterday that they're still a very talented team, despite Josh Allen's horrible performance in Week 1.
The Commanders overcame an 18-point first-half deficit in Week 2 against the Broncos on the road, but even at home, they will have their first major test of the season in the Bills.
I would've liked the Bills much better at under a touchdown, so I'm in no rush to take them against the spread at the moment.
Lean: Bills -7 (-105)
Indianapolis Colts vs. Baltimore Ravens Odds
Spread
Ravens -8
Moneyline
Colts +295, Ravens -375
Total
44.5
We don't know if Anthony Richardson will play in this one after suffering a concussion against the Texans yesterday. But even if they're without Richardson, backup QB Gardner Minshew brings competency at the quarterback position, and he had a really efficient Week 2 throwing the football.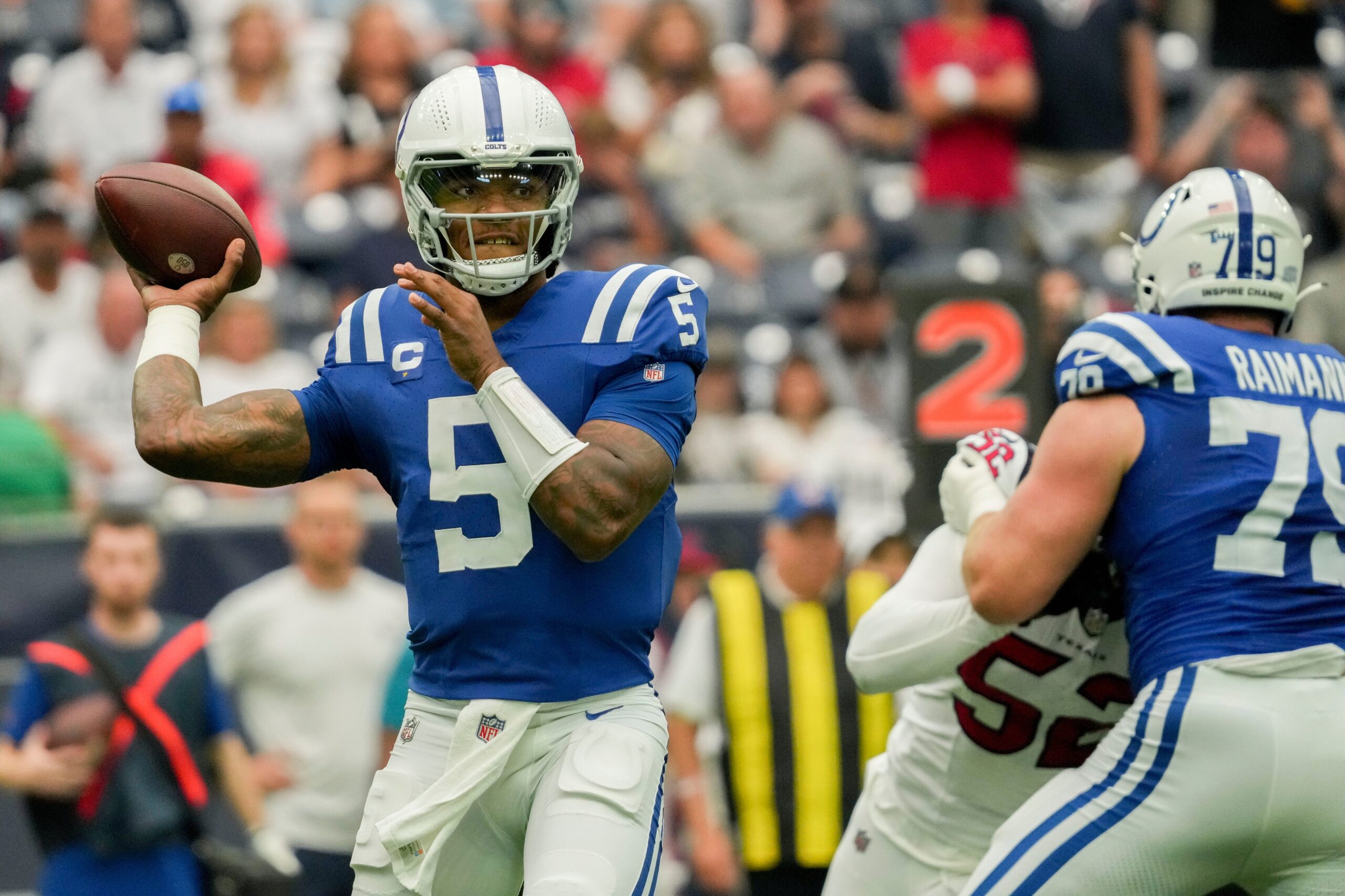 The Ravens, meanwhile, had a really impressive win against the Bengals. It's hard to pick a side right now not knowing Richardson's status, but if this gets back up to Ravens -8.5, I would lean with the Colts.
Atlanta Falcons vs. Detroit Lions Odds
Spread
Lions -4
Moneyline
Falcons +164, Lions -198
Total
47
This is a fishy line to me. The Falcons are now 2-0, yet are getting more than a field goal against a Lions team that continues to struggle defensively? I like the Falcons and their rushing attack here.
Pick: Falcons +4 (-108)
New Orleans Saints vs. Green Bay Packers
Spread
Packers -2
Moneyline
Saints +110, Packers -130
Total
43
The point spread remains the same here despite the Saints winning on the road on Monday Night Football. For the moment, I lean towards the Packers as short favorites at home with the Saints traveling to Lambeau on a short week.
Lean: Packers -2 (-110)
Denver Broncos vs. Miami Dolphins Odds
Spread
Dolphins -6.5
Moneyline
Broncos +230, Dolphins -285
Total
46.5
It's hard to trust the Broncos right now, and it's even more difficult to fade the Dolphins. This line has moved half a point since the Dolphins' win on Sunday night, but I would lean the over here if anything.
MORE: Tua Tagovailoa New MVP Betting Favorite
Turnovers prevented the over from hitting in the Dolphins vs. Patriots last night. Meanwhile, the Broncos' defense has been extremely disappointing so far.
Pick: Over 46.5 (-110)
Carolina Panthers vs. Seattle Seahawks Odds
Spread
Seahawks -5.5
Moneyline
Panthers +200, Seahawks -245
Total
42.5
This spread went up an entire point following the Panthers' loss on Monday Night Football. It's hard to back this team at the moment against anyone, especially at Seattle on a short week. The Seahawks lost straight up to the Rams at home as basically equal favorites, but we have learned this Rams team might not be as bad as expected.
Lean: Seahawks -5.5 (-115)
Chicago Bears vs. Kansas City Chiefs Odds
Spread
Chiefs -12.5
Moneyline
Bears +525, Chiefs -750
Total
49
It's ugly, but it's hard not to back the Bears here. The Chiefs struggle to cover large spreads, and their offense still looks a bit rusty early in the season. Obviously, the Bears have been terrible so far, but we're talking 12.5 points here.
Pick: Bears +12.5 (-110)
Dallas Cowboys vs. Arizona Cardinals Odds
Spread
Cowboys -13
Moneyline
Cowboys -650, Cardinals +470
Total
44.5
The Cardinals have been very impressive in their tanking efforts so far. They have been much more competitive than expected so far, going 2-0 ATS but 0-2 straight up. I'll wait for this number to go up before backing them on the spread here.
Lean: Cardinals +13 (-110)
Pittsburgh Steelers vs. Las Vegas Raiders Odds
Spread
Steelers -1
Moneyline
Steelers -115, Raiders -105
Total
44
The Raiders looked dreadful in their blowout loss to the Bills, while the Steelers got a much needed win on Monday Night against the Browns. If not for two defensive touchdowns however, they lose that game by double digits, but Jimmy G is turnover prone as well so it's hard to say that can't happen again. I'm going to pass on this one for now.
Philadelphia Eagles vs. Tampa Bay Buccaneers Odds
Spread
Eagles -6.5
Moneyline
Eagles -258, Buccaneers +210
Total
45
The Buccaneers are surprisingly 2-0, and Baker Mayfield has been solid so far, relying on his wide receiver duo of Mike Evans and Chris Godwin.
The Eagles are also 2-0 but have had some early-season growing pains on both sides of the ball. On a long week, and after their offense started to figure things out in the second half against the Vikings, I'll wait and see if this goes down to Eagles -6 before backing them.
Lean: Eagles -6.5 (-108)
Los Angeles Rams vs. Cincinnati Bengals Odds
Spread
Bengals -2
Moneyline
Rams +110, Bengals -130
Total
44.5
This line opened at Bengals -6.5 last night, which seemed really off, given Burrow's calf issue and the Rams looking more competent than expected through two weeks.
MORE: Rams Cover +7.5 in Final Seconds for Bad Beat
I pounced on Rams +6.5 last night, but now the spread has dropped considerably and Burrow's status might be in doubt. But regardless of Burrow playing, I lean towards the under in addition to my Rams bet that is no longer available.
Lean: Under 44.5 (-110)