The old saying is that defense wins championships. But one has to dig back to 2015 before finding an offense that fell outside the top 10 in EPA that won a Super Bowl. The truth is, having a top-10 unit on both sides of the ball is the key.
The Detroit Lions were the only NFL team to miss the playoffs with a top-10 offense in 2022. Meanwhile, five of the top-10 defenses missed the dance. Only one top-10 offense missed the playoffs in 2021 compared to three top-10 defenses.
More often than not, having top-10 units on both sides of the ball is key. But in the case of the best offense in the league, they also boast a defensive coordinator who may be the sickest single-game planner in the NFL.
From the current NFL standings to team depth charts to coverage of every game in the 18-week NFL schedule, we have all the news from around the league to keep you up to speed!
Who Has the Best Offense in the NFL?
The Miami Dolphins have the best offense in the NFL. The speed in which they operate is literally unmatched. Mike McDaniel and Chris Grier have set out to assemble the fastest team in NFL history, and they succeeded.
Being fast alone is not enough to be good — ask the Las Vegas Raiders' draft strategy at WR for years. But schematic excellence, speed, and technical prowess have all met in Miami with devastating results for opposing defenses.
It's nearly impossible to slow the offense down because Tua's mental game has entered a new level. His anticipation is outrageous, and his accuracy in the short and intermediate areas of the field has been sublime. Sure, he underthrows deep passes at a higher rate than ideal, but they often end up getting him defensive pass interference calls.
Ranking the Remaining NFL Offenses
2) Kansas City Chiefs
The Chiefs are still an unbelievable offensive product, but their results have been underwhelming early in the season. It will likely take time to figure out what the ideal rotation is for their makeshift wide receiving corps. But until then, Patrick Mahomes will continue to do Mahomes things, and Travis Kelce will continue to play with… Style.
3) Buffalo Bills
The Bills ranked second in the NFL in EPA and success rate last season. Josh Allen is almost impossible to defend, and Stefon Diggs is one of the best wide receivers in the NFL.
While the Bills need Allen's legs to maximize their potential, the young QB must realize if he wants to add "long" in front of "illustrious" at the end of his career, he must take fewer unnecessary hits.
4) San Francisco 49ers
The San Francisco 49ers are another offensive unit that could be much higher on this list by the end of the season. Despite losing their first two quarterbacks on the depth chart a season ago, they found lightning in a bottle with Brock Purdy.
MORE: Top NFL Defenses in 2023 
A midseason deal for Christian McCaffrey helped the rushing attack improve drastically. They ranked 25th in rushing EPA from Weeks 1-6 and were third from Weeks 7-18 with CMC. Now, we wait to see if Purdy was a diamond in the rough or a flash in the pan.
5) Baltimore Ravens
Stacking the top offenses is incredibly difficult. A Todd Monken-led Ravens passing attack with Mark Andrews and Isaiah Likely at tight end already sounds good. Monken actually knows how to feature the TE position.
But Baltimore also added Odell Beckham Jr. and Zay Flowers to the outside, moves that prove the Ravens are finally ready to shift their focus from a run-heavy unit to an evolved pass-first attack.
6) Philadelphia Eagles
The Philadelphia Eagles have built one of the most bulletproof rosters in recent memory. And while Howie Roseman has bought many of the defensive pieces looking to push for another Super Bowl appearance, the offense has been almost entirely homegrown.
They have the best offensive line in the NFL. A.J. Brown, DeVonta Smith, Dallas Goedert, and D'Andre Swift are a formidable group of skill-position talent. Meanwhile, Jalen Hurts has done absolutely nothing but get better every year since he first stepped foot in Tuscaloosa.
Although the passing attack has started off a tad slow, they're still able to run it through a defenses face on the ground, which will keep the offense humming even with an underwhelming passing game.
7) Dallas Cowboys
Adding Brandin Cooks to Dallas' offense was exactly what the doctors had prescribed for their offensive ailments. A disturbing lack of speed, arguably the most devastating physical tool an offense can possess, hamstrung the Cowboys' offense all year.
Windows remained tight over the intermediate middle of the field, and tipped passes and misjudged routes led to a league-high 15 interceptions for Dak Prescott. But until we know more about exactly how this offense will look with a new play-caller for the first time since 2019, cautious optimism is the best course of action.
8) Los Angeles Chargers
The days of seeing Justin Herbert continuously throwing passes inside of five air yards are over. Kellen Moore has brought a more explosive element to the offense, although Justin Herbert must be more aggressive over the middle of the field to truly maximize the offense.
9) Seattle Seahawks
Although it remains to be seen whether Geno Smith can replicate his success from 2022, based on what we saw from him a season ago, we should have few concerns. And whatever those concerns were should be mitigated by the addition of Jaxon Smith-Njigba.
The offensive tackles should also be more prepared for a full NFL schedule in Year 2. They were great early but struggled at the tail end of their rookie seasons.
10) Detroit Lions
The Lions' offensive line is outstanding. They possess continuity from left to right and even boast some depth on the interior. David Montgomery and Jahmyr Gibbs are a nice combination of consistency and explosiveness, and Detroit has enough weapons on the outside to move the ball consistently.
However, replicating their efficiency from a season ago seems unlikely if we simply look at what they offer on paper with their roster. And history tells us that expecting Jared Goff to replicate his level of play in 2023 would be foolish.
Like with the Cowboys, cautious optimism is the best course here.
11) Jacksonville Jaguars
The Jacksonville Jaguars finished eighth a season ago in EPA, and they added a year of experience for their young quarterback along with a guy named Calvin Ridley. If you haven't heard of him, he's pretty decent at the whole playing football thing.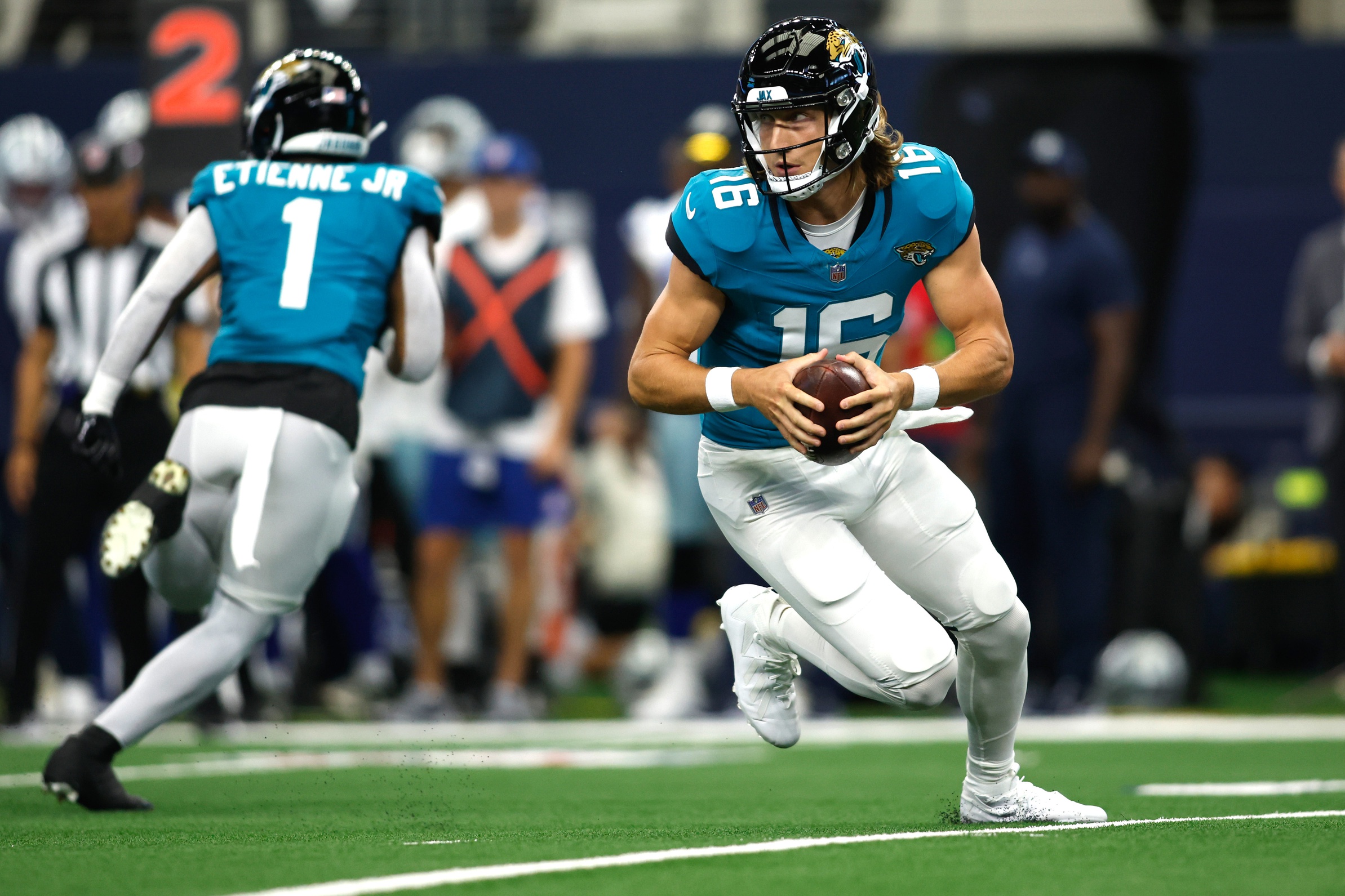 But seriously, adding another legitimate weapon to a Doug Pederson offense with an ascending Trevor Lawrence should terrify the rest of the AFC. But they'll need solid play on the front lines to take their efficiency to the next level.
12) Minnesota Vikings
The addition of Jordan Addison complicated things for opposing defenses. Addison's speed and ball-tracking ability will come in handy. The way he complements all-world talent Justin Jefferson and T.J. Hockenson is perfect.
Continuity on the offensive line is another positive for the Vikings. Christian Darrisaw has ascended into one of the better left tackles in football, and the rest of the unit took positive steps in 2022.
13) Cleveland Browns
Losing Nick Chubb is obviously never going to be a net positive, but it's interesting to see Deshaun Watson have his best game as a Brown immediately after Chubb's injury. Cleveland needs Watson to play at a level we haven't seen for the offense to remain ahead of schedule. But the offensive line and run game should remain adequate throughout.
14) Cincinnati Bengals
It's been really ugly for the Bengals so far in 2023. A bad weather game in Week 1 makes their offense look worse than it actually is. However, even when we take that game away, things have not gone well for Joe Burrow and Zac Taylor. They will likely figure it out, but early returns have been underwhelming.
15) Green Bay Packers
The Packers are another mysterious offensive unit. Five of their projected starters are in their first or second NFL season. Every single WR and TE slated to play a significant role fits that bill, and their QB has 83 career attempts.
MORE: Week 4 NFL Power Rankings 
It will be fascinating to see how much growth Jordan Love has undergone waiting in the wings of Aaron Rodgers.
16) New Orleans Saints
It at least appears as though the New Orleans Saints have figured out that their space weapon in the backfield should probably be used in space.
Although it was only one drive against the Chris Jones-less Chiefs defense, New Orleans looked like a well-oiled machine in their first preseason outing.
Chris Olave is primed for a monster second season, and if Trevor Penning can improve his consistency in pass protection, New Orleans' OL should be back closer to what we've gotten used to seeing from them.
17) Los Angeles Rams
The Rams have been one of the most surprising teams in the NFL early on. Puka Nacua has turned an outstanding training camp and preseason into one of the best first months ever. Matthew Stafford is back to being his normal self, meaning he is making physics-bending plays and mind-numbing decisions alike.
18) Indianapolis Colts
Shane Steichen is a wizard. No matter if it's Anthony Richardson or Gardner Minshew, the Colts are moving the ball. It's certainly not perfect. Minshew can't bring out the explosiveness in the Colts offense the way that Richardson can. But the offensive line is playing much better than a season ago, which was expected.
19) Houston Texans
C.J. Stroud has played out of his skull in the first month of his NFL career. It's been an unbelievable journey, considering how he looked during his first preseason outing. That lost puppy dog has turned into an all-out attack dog in a matter of mere weeks. It is truly incredibly to see the speed he is operating at mentally. And he's doing all fo that behind a completely makeshift OL.
20) New England Patriots
Bill O'Brien has the offense playing better than a season ago, but that was always going to be the case. Unfortunately, even with a nice scheme upgrade and a QB that can deliver in that scheme, it turns out that not having talent on the outside at wide receiver is a bit of an issue for a modern NFL offense.
21) Las Vegas Raiders
The Raiders offensive line has both overperformed and underperformed. They've been outstanding in pass protection but have struggled mightily to get the run game going. Jimmy Garroppolo has been efficient in the offense just like he was in San Francisco, but he's also turning the ball over at an alarming rate.
22) Carolina Panthers
The Panthers' offensive success will ultimately come down to how much juice Jonathan Mingo can give them in the passing game and whether or not Bryce Young can be the explosive playmaker he was for Alabama at the NFL level.
23) Pittsburgh Steelers
The Steelers' offensive line is about as underwhelming as the Giants. Left tackle, center, and right tackle are all issues. Matt Canada's offense is a problem, and Kenny Pickett simply has not shown the mental sharpness of an NFL QB. He's quick to panic and try to escape pressure, and he's not trusting the picture given to him by the defense.
24) Atlanta Falcons
The Falcons are fascinating. They could either hover around as a bottom-10 unit, or Desmond Ridder takes a step forward in his progression and the team's offense operates similarly to the Arthur Smith-led Titans offenses.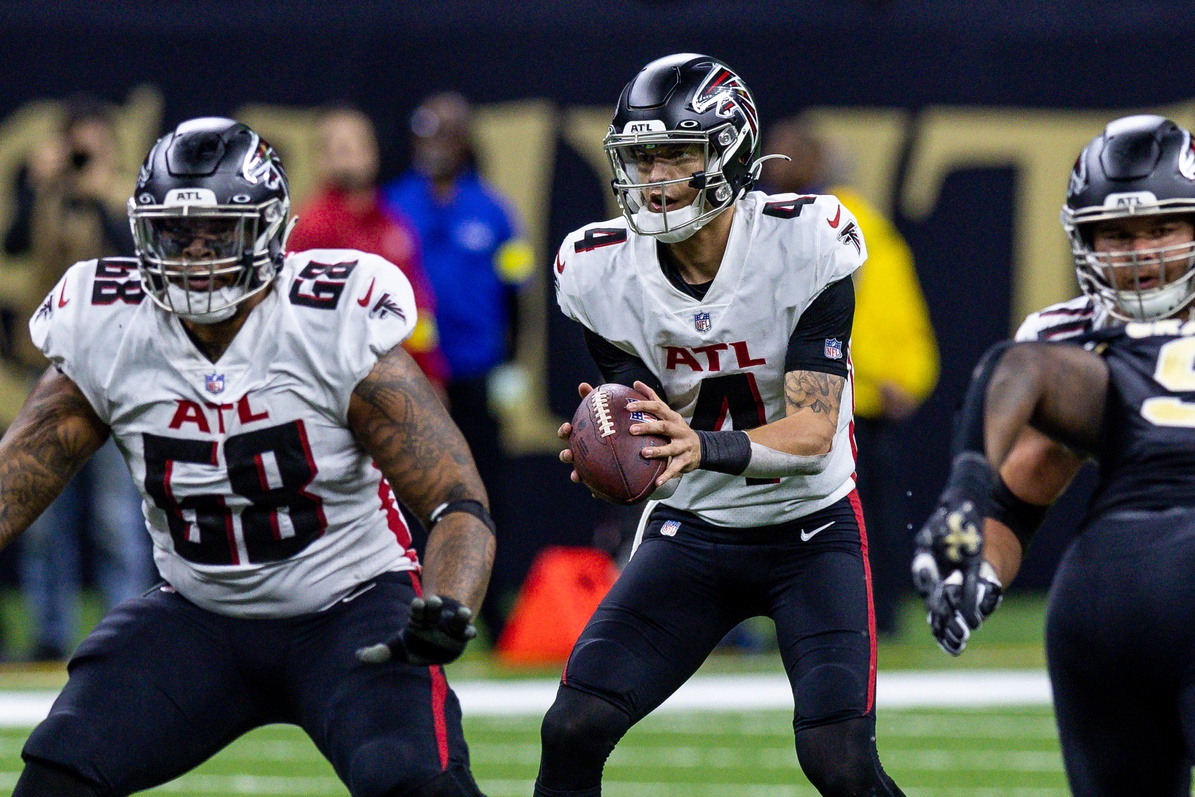 Atlanta has the talent. Kyle Pitts and Drake London are two large targets to hit crossing over the middle of the field, and Bijan Robinson could step onto an NFL field for the first time as a top-five back in the league.
25) Arizona Cardinals
The Cardinals' offensive staff is doing an outstanding job of maximizing their potential on the ground and in the air. They are using Josh Dobbs' legs intelligently, and he is playing the best football of his professional career. This is all happening despite an underwhelming OL and less-than-stellar offensive weaponry.
26) Tampa Bay Buccaneers
The Tampa Bay offensive line and Baker Mayfield have been better than many anticipated in 2023. Tristan Wirfs might be the best left tackle in the league, which is incredible considering he's barely played on the left side since high school. Mike Evans and Chris Godwin are a treat for Mayfield on the outside as well.
MORE: NFL Week 4 Predictions 
But they're still not even an average offense, even when outperforming expectations.
27) New York Giants
Things have not gone well for the Giants, and everything points to the offensive line. They can't protect Daniel Jones, and while he's doing everything in his power to play smart and fast, there is only so much he can do. There's no explosion to the offense because he doesn't have any time.
28) Denver Broncos
The Broncos offense looks better than a season ago, but it is still far from a well-oiled machine. However, Sean Payton has found a way to let Russell Wilson be Russ. He's taking shots downfield and creating where he failed to a season ago.
29) Washington Commanders
The Washington Commanders' offense may outproduce this ranking, but it will take several things falling neatly into place to ascend too much higher.
Terry McLaurin, Jahan Dotson, and Curtis Samuel are a decently dynamic receiving corps. Ultimately, the Commanders' offensive success will come down to how much juice Sam Howell and/or Jacoby Brissett provides them. Washington will likely need their OL to overachieve the way they had in 2021 to find consistency.
30) Chicago Bears
To say it was a surprise seeing the Bears' offense devolve into a pumpkin would be an understatement. The QB run game that was dominant a season ago has been largely ignored.
But even when used, it has been unimaginative. Meanwhile, the offensive line is still a dumpster fire, and the passing attack is completely lost.
31) Tennessee Titans
Speaking of underwhelming offensive lines…
The left side of the Titans' OL improved from last season. However, an offensive line must work as a cohesive unit, and the right side is unnervingly bad on paper.
The run-heavy, play-action attack lessens their overall burden on the line. However, if Tennessee struggles to open holes for Derrick Henry, Ryan Tannehill will be forced into a more traditional dropback game, which is not the Titans' strength.
Who Has the Worst Offense in the NFL?
The New York Jets have the worst offense in the NFL. Their offensive line has been incredibly underwhelming, and the loss of Aaron Rodgers thrust the worst starting QB in the NFL back into action in what was supposed to be a redshirt season if not more. And the apparent need to keep fighting for him could spell doom for Robert Saleh.