We are now about two weeks removed from the 2023 NFL Draft. With the initial fervor subsiding, we've had time to really assess the impact of these landing spots. How do things shake out in our latest 2023 Superflex dynasty fantasy football rookie mock draft?
Latest 4-Round 2023 Dynasty Rookie Mock Draft
For this 2023 Superflex dynasty football mock draft, we'll be using a PPR-scoring format. While this mock will serve as a guide on how a draft might go, it's still recommended to draft based on your individual team's needs. Let this serve as a guide as to what you should expect and where you might find value in your dynasty rookie draft.
1.01) Bijan Robinson, RB, Atlanta Falcons
Even though this is Superflex, Bijan Robinson is my clear 1.01. He's a true generational talent at the position. In an era where seldom few running backs even have a hint of bell-cow potential, Robinson steps right into a three-down role.
MORE: FREE 2024 NFL Mock Draft Simulator With Trades!
The landing spot couldn't have been much better. Robinson's only competition is 2022 fifth-rounder Tyler Allgeier, who, despite playing well last season, is still a fifth-rounder, and 32-year-old Cordarrelle Patterson. Robinson is not only my top choice in dynasty rookie drafts, but he's my overall dynasty RB1.
1.02) Anthony Richardson, QB, Indianapolis Colts
I'm willing to roll the dice on Anthony Richardson's tantalizing ceiling over the safety and reliability that comes with Bryce Young and C.J. Stroud. While it's more likely the latter two are competent NFL quarterbacks, only one of these three has a chance to break fantasy, and that's Richardson.
In a best-case scenario, Richardson is like a souped-up Cam Newton. Richardson could average about two touchdowns per game, 40-50 rushing yards, and around 220 passing yards. In that world, Richardson is an elite QB1.
Of course, there's a very real chance Richardson never puts it all together and isn't an NFL-caliber starting QB. But you don't put together fantasy juggernauts by chasing floors.
1.03) Bryce Young, QB, Carolina Panthers
I don't have any serious concerns over Bryce Young's size (5'10") or weight (204 pounds). He's a smart player who knows how to protect himself.
Young is a very advanced passer for his age and is going to start immediately. The Panthers don't exactly have the strongest group of pass catchers, but Young is just 22 years old. If he's as good as he should be, they should put this roster together sooner rather than later.
Fantasy managers who select Young will have a locked-in starting quarterback for possibly the next 15 years.
1.04) C.J. Stroud, QB, Houston Texans
There's not much separating Young and C.J. Stroud. It's mostly personal preference for me. Stroud appears to be the most pro-ready QB of this class. Like Young, he'll start in Week 1 as well.
Also like Young, the Texans lack quality pass catchers. Houston's WR1 is 31-year-old Robert Woods. But they, too, have time to fix that. Stroud may not have a top-five ceiling, but he could be a low QB1/high QB2 as early as 2024.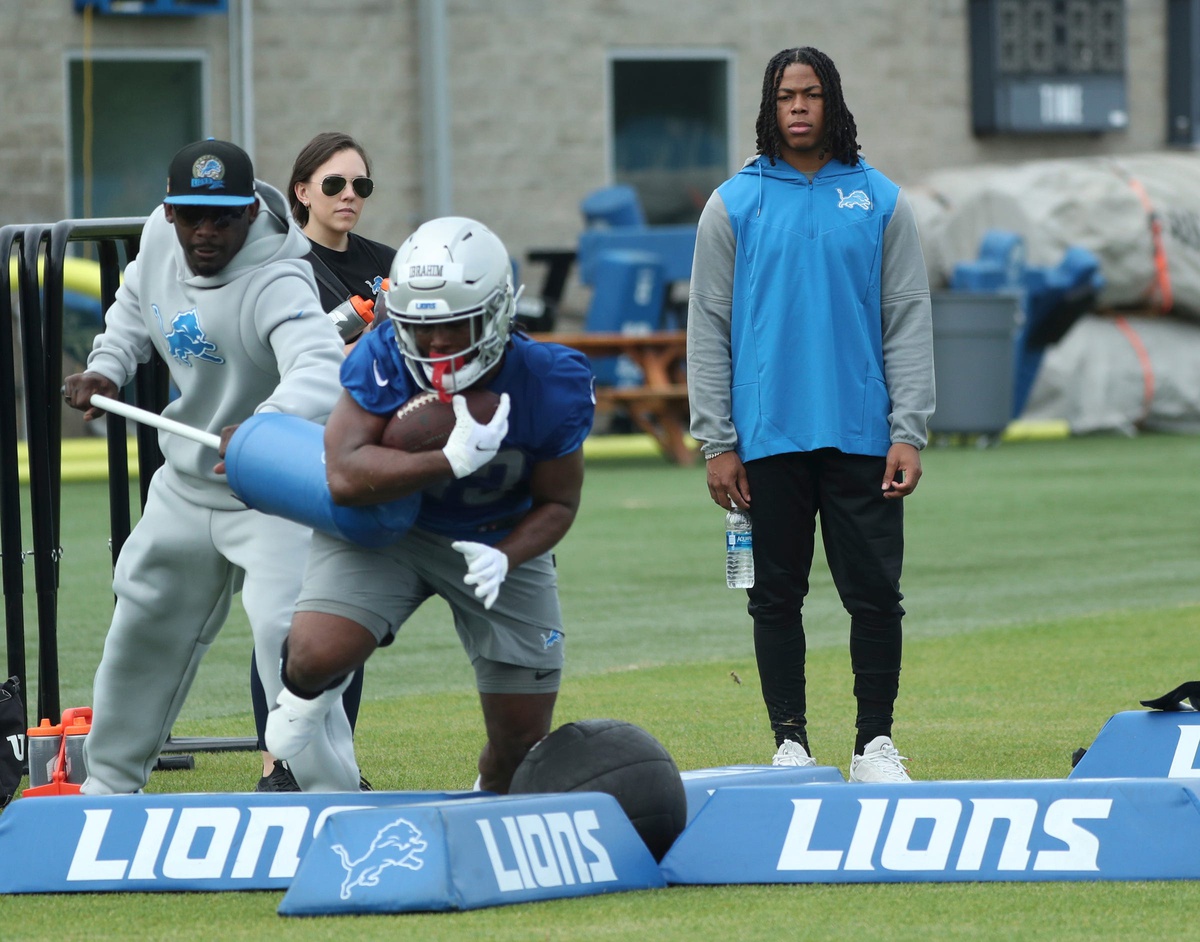 1.05) Jahmyr Gibbs, RB, Detroit Lions
Do I agree with the Lions' assessment of Jahmyr Gibbs as nearly as good as Robinson? No. Do I care about it for fantasy purposes? Absolutely.
Detroit spending the 12th overall pick on Gibbs matters. While they have no plans to make him a three-down back, we've seen what a 50% guy can do in this backfield as long as he's an explosive player. With a 4.36 40 time and a 33.5″ vert, Gibbs is as dynamic as it gets.
Unless Gibbs becomes a massive outlier and is handed a full workload, he's unlikely to crack the top five. He also doesn't need to. Gibbs is already inside the top 12 dynasty running backs for me. As the lightning back on an elite offense, he's someone I'm aggressively targeting in both dynasty and redraft.
1.06) Jaxon Smith-Njigba, WR, Seattle Seahawks
This year's WR1 gets knocked a bit in redraft for this landing spot, buried behind DK Metcalf and Tyler Lockett. For dynasty, it's actually quite fantastic.
While Jaxon Smith-Njigba may struggle to see the field in two-receiver sets as a rookie, Lockett is 31 years old. It's only a matter of time before JSN settles in as the team's WR2 opposite Metcalf, which could happen as soon as 2024.
In the meantime, Smith-Njigba will still have his moments as the Seahawks' primary slot guy. He could be a fantasy WR4 as a rookie, but a WR2 as a sophomore.
1.07) Jordan Addison, WR, Minnesota Vikings
In previous years, I would scoff at a 5'11", 173-pound WR this early in dynasty rookie drafts. But Jordan Addison is part of the new breed of wide receivers. He's not overly explosive, but he's very shifty.
MORE: 2023 NFL Draft Fantasy Football Winners and Losers — Bijan Robinson and Jordan Addison Landed Well
Plus, the landing spot is ideal. Addison doesn't profile as a WR1 at the NFL level, and he won't have to be. Addison can operate as the WR2 opposite Justin Jefferson for most of his career and should start in two-receiver sets immediately.
I still like JSN more long term, but Addison is the receiver with the most upside as a rookie.
1.08) Quentin Johnston, WR, Los Angeles Chargers
I remain stunned that Quentin Johnston not only went in Round 1 of the NFL Draft but was the second wide receiver off the board. My opinions on Johnston aside, that's something I must consider.
The Chargers clearly have a type at wide receiver. Johnston looks like a one-for-one Mike Williams replacement, which is curious because Williams is not the L.A. wide receiver that's 31 years old.
Nevertheless, Johnston has the size at 6'3″, 208 pounds, to be a throwback outside alpha WR1. I question his ability to separate, though, and the general lack of success of Big 12 and specifically TCU wide receivers gives me pause. But draft capital and the overall shallowness of this rookie class force my hand in this spot.
1.09) Zay Flowers, WR, Baltimore Ravens
There are some who will feign excitement over Zay Flowers landing with the Ravens. They will tell you Rashod Bateman hasn't really proven anything, and Odell Beckham Jr. is 30 years old coming off a twice-torn ACL.
I love Lamar Jackson. But what makes Jackson great is not volume passing. The upgrade at offensive coordinator from Greg Roman to Todd Monken will help, just don't expect Jackson to suddenly be chucking it 35 times a game.
At 5'9″ and 182 pounds, Flowers is another underneath receiver who best operates out of the slot. At best, he'll be Jackson's third option in the passing game as a rookie, and at worst, he'll be fourth.
Jackson can barely support two fantasy-viable pass catchers. He's not supporting three. Forget about four. It's a low-volume, rushing-focused attack.
Perhaps Flowers' skill set is so good he can prove me wrong and force himself into the WR1 role (No. 2 behind Mark Andrews). But I can only go with what history says happens to Baltimore receivers with John Harbaugh.
1.10) Zach Charbonnet, RB, Seattle Seahawks
I'd be lying if I said I understood why the Seahawks felt compelled to spend a second-round pick on a running back despite rostering Kenneth Walker III. But they did, and it matters.
The reality is Walker was sneaky inefficient as a rookie, and this move suggests they know they're not firmly into him long term.
Zach Charbonnet posted a season-best college target share of 11.2%. He's likely the receiving back ahead of Walker and is good enough to mix in on early downs.
Of course, Charbonnet could end up buried behind Walker, much like former first-rounder Rashaad Penny was buried behind Chris Carson as a rookie. However, I'm banking on draft capital winning out here.
1.11) Kendre Miller, RB, New Orleans Saints
Is Kendre Miller the fourth-best RB in this class? I'm not sure. But he's talented enough, and the landing spot is fantastic.
On the surface, Miller appears buried behind Alvin Kamara and Jamaal Williams. But Kamara showed obvious signs of decline last season and is potentially facing a suspension. Williams led the NFL in touchdowns last season, but he's still just a two-down plodder. Additionally, both Kamara and Williams are 28 years old.
At 5'11" and 215 pounds, Miller hits all of the historical benchmarks for what size RB works in the NFL. He averaged 3.61 yards after contact at TCU and forced a missed tackle on 31% of his runs (67).
Miller is one injury (or suspension) away from mattering as a rookie. At worst, he projects to have a prominent role in 2024. With a lead-back profile, it would be an upset if Miller wasn't fantasy relevant within two years.
1.12) Will Levis, QB, Tennessee Titans
Will Levis tumbling into the second round is a problem. The odds of a first-round quarterback never getting a chance are close to zero. The odds of a second-round QB never getting a chance are much higher.
With that said, it's clear there were several NFL teams who believed Levis was worthy of being a first-round selection. It just didn't work out.
MORE: Top Quarterback Dynasty Rankings 2023
Ryan Tannehill is almost certainly entering his final year with the Titans. Tennessee's also a team that may not be very good this season. We've already heard rumors that they could turn to Levis early if things start to go awry. In fact, I'd be surprised if Levis didn't make starts as a rookie.
In dynasty Superflex leagues, quarterbacks are currency. So, in the absence of any sure things at other positions, you take a quarterback with a good shot at getting a chance to start.
Round 2
2.01) Devon Achane, RB, Miami Dolphins
At 5'9″, 195 pounds, anyone investing in Devon Achane is investing in an outlier. As PFN Senior Fantasy Analyst Tommy Garrett discovered, since 1995, there have only been 10 instances where running backs who were sub-190 pounds ran for over 1,000 yards in a season. Of those times, five were by Warrick Dunn alone.
The thing with Achane is, we're not asking him to run for 1,000 yards. Run for 500 and add 500 through the air. Be the satellite back you were always destined to be, Devon.
Achane may open the season as the RB3 behind Raheem Mostert and Jeff Wilson Jr., but we're talking about two veteran, oft-injured replacement-level talents. It's only a matter of time before Achane gets involved. If there's one coach I have the utmost confidence in to get the most out of a guy like Achane, it's Mike McDaniel.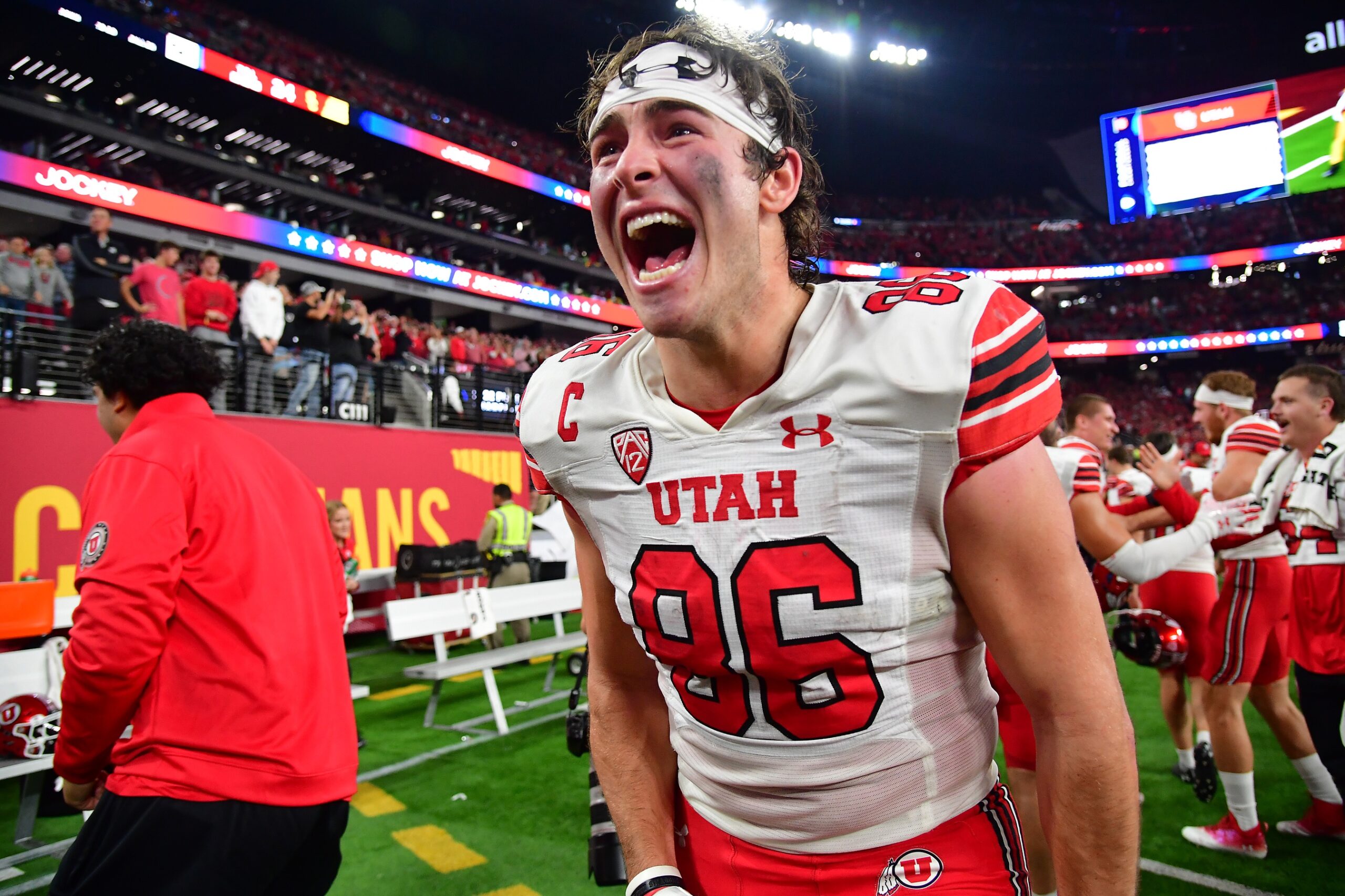 2.02) Dalton Kincaid, TE, Buffalo Bills
I really hate taking tight ends in dynasty rookie drafts. More often than not, their value decreases from Year 1 to Year 2. In an ideal world, you would never draft someone like Dalton Kincaid. Instead, let someone else do it, and then trade for him after a dismal rookie year.
Unfortunately, once you get past JSN, everyone in this rookie class is a bit of a wild card. So, why not take the shot on Kincaid emerging into not only the Bills' TE1, but their No. 2 option in the passing game behind Stefon Diggs?
As expected for a tight end, Kincaid has a big frame at 6'3 1/2″ and 246 pounds with 10 1/4″ hands. He caught 70 balls for 890 yards and eight touchdowns last season, including a 16-reception, 234-yard game against USC.
Kincaid looks like a guy who could come on strong over the second half of the season. Even if he doesn't, this is dynasty, and he was drafted to be Buffalo's TE1 of the future. Josh Allen isn't going anywhere, and Kincaid should be a fantasy TE1 within three years.
2.03) Jonathan Mingo, WR, Carolina Panthers
I'm not the biggest fan of Jonathan Mingo, but I respect the circumstances. With his 6'2″, 215-pound frame, Mingo profiles as a WR1 at the NFL level. He also has blazing 96th-percentile speed for a guy his size.
The Panthers are entering the 2023 season with Adam Thielen and DJ Chark as their top two wide receivers. Despite Thielen's objections to being called washed, that is, in fact, what he is. And Chark profiles more as a stretch Z than any team's top target. Mingo could be Young's WR1 as early as 2024. I'll take that chance.
2.04) Sam LaPorta, TE, Detroit Lions
Sam LaPorta received early second-round draft capital and was the second TE off the board. LaPorta now joins an elite Lions offense that completely lacks a tight end. Everything about this sets up perfectly for him to make his presence felt early and often.
Tight ends do often take longer to develop, but that's okay. LaPorta is 22 years old. Even if he's not a TE1 until 2025, he'll be well worth it given the shallowness of the position.
2.05) Jayden Reed, WR, Michigan State
With second-round draft capital, Jayden Reed instantly becomes someone worth drafting, especially on a shallow Packers' WR depth chart.
Christian Watson and Romeo Doubs are slated to be Green Bay's top two receivers, but I really don't see it with Doubs, who was a Day 3 pick.
MORE: 2023 Dynasty Rookie WR Rankings
Reed had a career 2.18 YPRR with an 11.5 aDOT and saw a target come his way on nearly 25% of his passing-down snaps (325 targets). According to Matt Harmon's Reception Perception, Reed posted a 70.3% success rate vs. man, 79.2% vs. zone, and an 87th-percentile success rate vs. press at 77.8%. I'd much rather bet on Reed as Jordan Love's WR2 than Doubs.
2.06) Michael Mayer, TE, Las Vegas Raiders
For a while, Michael Mayer was the obvious first tight end off the board, but he ended up going third. While that clearly frustrated Mayer, he still earned early Round 2 draft capital. Additionally, he landed in a fantastic spot on a team without a mobile QB that just lost its top two tight ends.
Mayer should have a chance to contribute right away. At 6'5″, 249 pounds, he could emerge into a fantasy TE1 sooner rather than later.
The Rest of Round 2
2.07) Roschon Johnson, RB, Chicago Bears
2.08) Jalin Hyatt, WR, New York Giants
2.09) Tyjae Spears, RB, Tennessee Titans
2.10) Rashee Rice, WR, Kansas City Chiefs
2.11) Marvin Mims, WR, Denver Broncos
2.12) Josh Downs, WR, Indianapolis Colts
Round 3
3.01) Tank Bigsby, RB, Jacksonville Jaguars
3.02) Cedric Tillman, WR, Cleveland Browns
3.03) Chase Brown, RB, Cincinnati Bengals
3.04) Rashee Rice, WR, Kansas City Chiefs
3.05) Nathaniel "Tank" Dell, WR, Houston Texans
3.06) Sean Tucker, RB, Tampa Bay Buccaneers
3.07) Charlie Jones, WR, Cincinnati Bengals
3.08) Evan Hull, RB, Indianapolis Colts
3.09) Luke Musgrave, TE, Green Bay Packers
3.10) Tucker Kraft, TE, Green Bay Packers
3.11) Hendon Hooker, QB, Detroit Lions
3.12) Israel Abanikanda, RB, New York Jets
Round 4
4.01) Michael Wilson, TE, Arizona Cardinals
4.02) Eric Gray, RB, New York Giants
4.03) Luke Schoonmaker, TE, Dallas Cowboys
4.04) Darnell Washington, TE, Pittsburgh Steelers
4.05) Zach Evans, RB, Los Angeles Rams
4.06) DeWayne McBride, RB, Minnesota Vikings
4.07) Kayshon Boutte, WR, New England Patriots
4.08) Chris Rodriguez Jr., RB, Washington Commanders
4.09) Deuce Vaughn, RB, Dallas Cowboys
4.10) Tyler Scott, WR, Chicago Bears
4.11) Xavier Hutchinson, WR, Houston Texans
4.12) Tre Tucker, WR, Las Vegas Raiders
Listen to the PFN Fantasy Podcast
Listen to the PFN Fantasy Podcast! Click the embedded player below to listen, or you can find the PFN Fantasy Podcast on iTunes, Spotify, and all major podcast platforms.  Be sure to subscribe and leave us a five-star review! Rather watch instead? Check out the PFN Fantasy Podcast on our Fantasy YouTube channel.