In a welcome change to years past, the 2023 incoming class of rookies is a breath of fresh air for dynasty, as not only is the wide receiver position top-heavy in talent, but the depth of the class sets it apart. Fantasy football will look very different by the time September rolls around. What are the 2023 dynasty rookie WR rankings as it stands before training camps?
Did you get a trade offer in your dynasty or redraft league? Not sure what to do? Make championship-winning decisions with PFN's FREE Fantasy Football Trade Analyzer and Calculator!
Top 5 Dynasty Rookie WR Rankings 2023
1) Jaxon Smith-Njigba, Seattle Seahawks
In 2021, Jaxon Smith-Njigba recorded 95 receptions and set a Big Ten single-season record with 1,606 receiving yards. With Garrett Wilson and Chris Olave sitting out the postseason to focus on the draft, JSN set a Rose Bowl record with 347 receiving yards on 15 receptions and was named MVP.
From a technical standpoint, Smith-Njigba checks every box. His hands and route running are phenomenal. He's an elite separator, has sensational body control, and is extremely intelligent in how he operates over the middle of the field. He doesn't get anywhere near the credit he deserves for his deceiving physicality and in-play intelligence, seemingly always flashing his numbers and working back to the QB when the play is extended.
MORE: FREE 2024 NFL Mock Draft Simulator With Trades!
While Seattle is not my ideal landing spot, I don't mind it enough to change his ranking amongst wide receivers. The Seahawks are very top-heavy at receiver with DK Metcalf and an aging Tyler Lockett, but it all relies on Geno Smith replicating his efficiency and success of last season.
JSN can be the perfect No. 3 in the slot and gives Seattle arguably the best WR room in the league. Once Lockett, 31, moves on, Smith-Njigba is primed to complement Metcalf for years to come. He'll be third on the team in targets in 2023, but this will likely be the only time this happens for a long, long time.
2) Jordan Addison, Minnesota Vikings
The 2021 Biletnikoff winner at Pittsburgh, Jordan Addison is one of the more decorated WRs of the class and had more than enough already on film. He's also one of the most refined in this group.
With 4.49 speed at the NFL Combine, Addison's dynamic play style is more than evident, and it helps in his RAC capabilities from both inside in the slot (58.3%) and out wide (41.7%).
Addison creates separation at all levels, and his tool belt is full both at the line on the release and at the stem. He posted an over 80% success rate vs. zone in Matt Harmon's Reception Perception. That will get him targets at the next level because separation is arguably the most important skill set teams look for in a wide receiver.
The concern is Addison's size (5'11", 173 pounds). But he profiles similarly to DeVonta Smith (minus the play strength) and Lockett — route-running technicians who can generate YAC after manufactured touches and quick hitters. Doesn't that just scream Minnesota?
Minnesota's passing attack has been dynamic, with Kirk Cousins playing well and Justin Jefferson the top wide receiver in the NFL. Addison will fill the role vacated by Adam Thielen and step in as the No. 2 on Day 1.
Remember, Thielen saw 107 targets (28th), but, due to his age, he did very little, ranking 16th-lowest in yards per route run while also finishing outside the top 50 in both points per route run and targets. For fantasy, those targets going to Addison could be a gold mine.
Throw those toward Addison, and with increased per-touch efficiency, he moves into the WR2 spot for dynasty rookie WR rankings even though Kirk Cousins is one of the older QBs left in the league. If I had to place a wager on which rookie wide receiver will have the best first season, my first selection would be Addison to lead the class.
3) Quentin Johnston, Los Angeles Chargers
At 6'3″, 208 pounds, Quentin Johnston has a size advantage over 99% of corners and uses every inch of his frame to high-point with the best of them. He's your guy in this class if you're a fan of big-framed receivers.
Of the consensus group of Tier 1 guys entering the season, Johnston was the only one who truly broke out in 2022 and appeared to improve his draft stock. With 1,064 yards and six touchdowns on 59 of 94 receiving, he averaged a massive 3.22 YPRR, 18 yards/reception, and an efficient 2.47 YPTPA. But there's more to it than that, and not all of it is good.
MORE: 2023 Dynasty Rookie Rankings
The concern for Johnston is he's a body catcher, which negates some of his size advantages. Additionally, drops are a bit of a red flag, as is his career 40.7% contested-catch rate. However, they mostly seemed to be concentration drops than an overall lack of trust in his hands. This is something that can get cleaned up and corrected. After all, they pay coaches quite a bit of money to teach these things.
After the consensus seemed to shift that Johnston wouldn't be a first-rounder, those rumors were proven incorrect with the Chargers taking him at No. 21 overall. He joins Keenan Allen and Mike Williams, but the biggest part is OC Kellen Moore, who will bring a more vertically attacking scheme to LA that meshes not only with Justin Herbert but also Johnston.
In the beginning, Johnston will be fighting with Josh Palmer for targets but could — and should — develop a larger role.
But can we trust a TCU WR? Maybe the third time's the charm. Given the injury woes of the past for Allen and Williams, I'll certainly want a few shares. Johnston will need to step up for the Chargers if either player goes down, and those opportunities will be massive for his perceived value.
4) Zay Flowers, Baltimore Ravens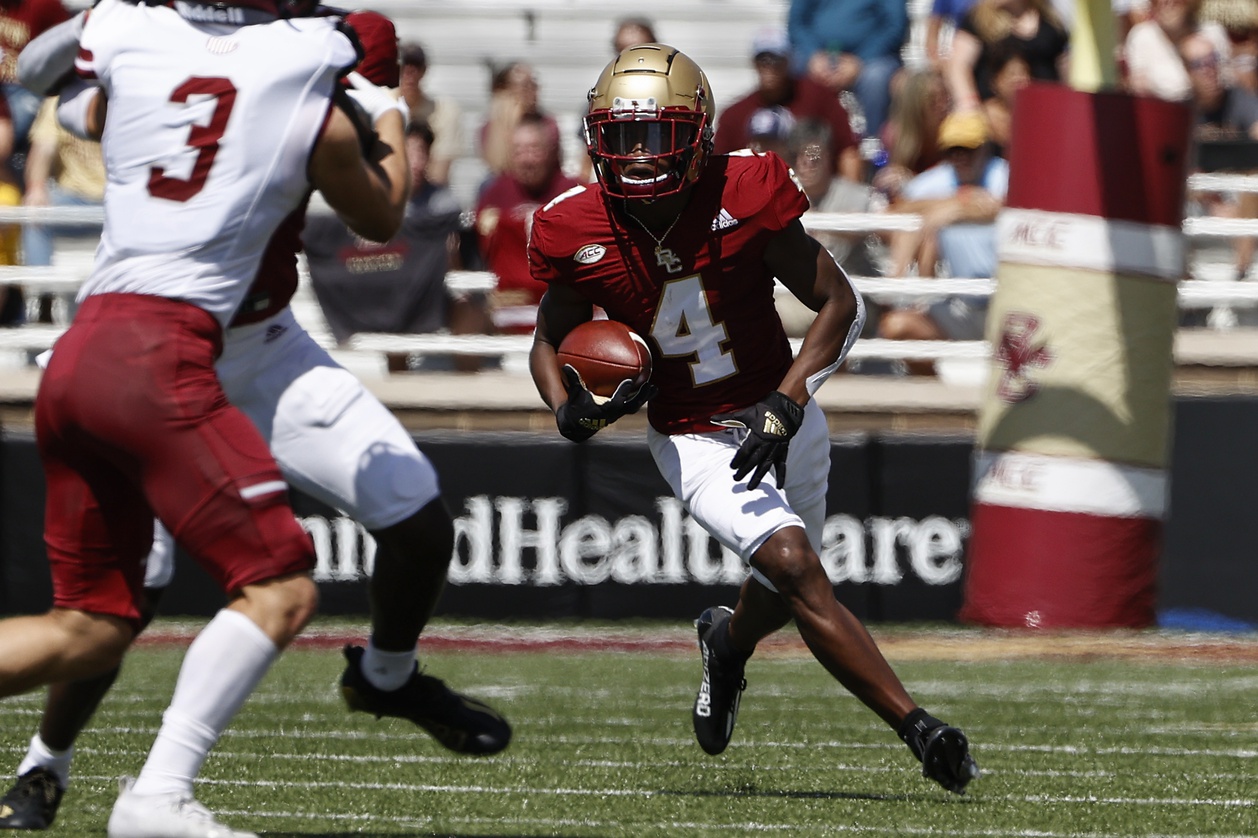 With an undeniable skill set, the meteoric rise of Zay Flowers was so fun to be a part of. It's also what makes him such a difficult person to accurately profile.
At 5'9″ and 182 pounds, the All-ACC wide receiver led Boston College with 78 receptions for 1,077 yards and 12 touchdowns this past season with six games of 100+ yards. Not only that, but Flowers is first in school history in receptions (200), yards (3,056), receiving touchdowns (29), touchdowns in a single season (12), and single-season receptions (78).
Flowers is an elite separator, drawing comparisons to Antonio Brown in how he stays in DBs' blind spots and has incredible upside. Well, that was the case before the draft, at least.
The concern for Flowers is not talent but his landing spot in Baltimore, which is almost a place where fantasy-relevant receivers go and are never to be seen again. While it is expected that OC Todd Monken will bring more passing to the Ravens, as Lamar Jackson has alluded to this offseason, this is a low-volume passing game when compared to the rest of the league.
Even if Flowers can maximize his targets, he'll be impacted. This is a direct shot at Rashod Bateman, too, as he has yet to remain on the field due to injuries. Flowers will be competing with him, Odell Beckham Jr., and Mark Andrews for targets. There's no realistic way for Jackson to feed all four players in a way that won't leave one or even two players out to dry for fantasy.
I'd take just league-average passing output at this point out of Baltimore. That said, Jackson has a career-high of 401 attempts (2019) which would have ranked 18th last season.
I want to love Flowers, but the fantasy upside I believed he showed has been noticeably muted. Perhaps his skill set is so good he can prove me wrong. I'll certainly have a few shares, but Flowers is no longer someone I feel I must walk out of drafts as he was in the early parts of the offseason. He was one of the biggest losers of the draft, at least so far.
5) Jonathan Mingo, Carolina Panthers
The Panthers clearly had a plan when they made their blockbuster trade before the draft. That plan was to select Bryce Young and find their replacement for DJ Moore. They drafted that player in Jonathan Mingo, who has been one of the biggest risers in WR rankings, both pre and post-draft.
Although Mingo's college production wasn't elite, he can make plays all over the field. At 6'2″ and 215 pounds, he's a big target and plays like it. Mingo's separation can be a bit inconsistent, but if you get the ball in his hands, he can be an electric playmaker. He's also someone who saw a lot of manufactured touches, with screens accounting for 18% of his targets in 2022.
MORE: 2023 Dynasty Rookie RB Rankings
Ole Miss has become a factory for receivers, with A.J. Brown, Metcalf, and Elijah Moore coming out in recent years. Can Mingo join that list? Yeah, I think he can. He's in a perfect spot to join and learn from Thielen in his early years, plus he has DJ Chark to lean on as well, and this should be a more dynamic offense schematically with Frank Reich.
Mingo's the future (hopefully) No. 1 in Carolina, and I'm going to draft him accordingly as my WR5 in dynasty rookie wide receiver rankings.
Dynasty Rookie WR Rankings: 6-25
6) Jayden Reed, Green Bay Packers
7) Jalin Hyatt, New York Giants
8) Marvin Mims, Denver Broncos
9) Rashee Rice, Kansas City Chiefs
10) Cedric Tillman, Cleveland Browns
11) Josh Downs, Indianapolis Colts
12) Michael Wilson, Arizona Cardinals
13) Charlie Jones, Cincinnati Bengals
14) Nathaniel Dell, Houston Texans
15) Puka Nacua, Los Angeles Rams
16) Kayshon Boutte, New England Patriots
17) Xavier Hutchinson, Houston Texans
18) Tyler Scott, Chicago Bears
19) A.T. Perry, Pittsburgh Steelers
20) Tre Tucker, Las Vegas Raiders
21) Parker Washington, Jacksonville Jaguars
22) Trey Palmer, Tampa Bay Buccaneers
23) Andrei Iosivas, Cincinnati Bengals
24) Dontayvion Wicks, Green Bay Packers
25) Bryce Ford-Wheaton, New York Giants
Listen to the PFN Fantasy Podcast
Listen to the PFN Fantasy Podcast! Click the embedded player below to listen, or you can find the PFN Fantasy Podcast on iTunes, Spotify, and all major podcast platforms.  Be sure to subscribe and leave us a five-star review! Rather watch instead? Check out the PFN Fantasy Podcast on our Fantasy YouTube channel.