The Carolina Panthers 2020 win total is a measly 5.5, despite entering the season with loads of optimism this time last year. That feeling vanished quickly as QB Cam Newton was lost for the season after their Week 2 loss to the Tampa Bay Buccaneers. Owner David Tepper decided to give the entire team a makeover, as he replaced former Head Coach Ron Rivera with Baylor Head Coach Matt Rhule and released Newton.
Rhule brings with him former LSU passing game coordinator Joe Brady to be his offensive coordinator and play-caller. The team also signed Teddy Bridgewater (for way too much money) to be their starting QB. Will they be able to develop some cohesion and surprise bettors this year? Let's dig in and find out.
[sv slug="fantasy"]
What changes did the Panthers make to their roster in 2020?
Below is a list of players the Panthers added via the draft and free agency.
[table id=147 /]
While the Panthers lost some big names up and down the roster they did plenty to replace those players. Bridgewater won't be lacking for playmakers, as Robby Anderson and Seth Roberts join a young, explosive group that already contains Christian McCaffrey, D.J. Moore, Curtis Samuel, and break out candidate Ian Thomas.
As for the draft, they spent every pick on a defensive player. A stark contrast to their free agency approach, as five of seven additions, were offensive players. With the retirement of five-time All-Pro linebacker Luke Kuechly, a new era of defense begins for the Panthers.
What defensive changes can we expect from the Panthers in 2020?
As I mentioned above, the entire incoming draft class for the Panthers is defensive players. A defensive makeover was needed, as the Panthers ranked 23rd in yards per play allowed (5.8) and 25th in Football Outsiders DVOA (11th pass defense, 32nd rush defense).
Related l OSM Back to the future: Panther TE Ian Thomas' top-ranked performance from 2018
In charge of this young defensive unit will be Rhule's defensive coordinator from Baylor, Phil Snow. While there is reason to be excited about the future of this unit, I don't expect us to see many improvements in 2020. It projects to be a significant detriment for the Carolina Panthers 2020 season win total over.
What offensive changes can we expect from the Panthers in 2020?
You don't need me to tell you Bridgewater and Newton offer stark contrasts in playing style. But feel free to say you heard it here first.
The LSU Tigers passed the ball on 54.33% (23rd most) of their plays last season, averaging 38.1 (14th most) pass attempts per game and gaining 10.4 (5th most) yards per pass attempt, according to Team Rankings. However, Brady was not the full-time play-caller. Rhule passed at a much lower clip in Baylor: 48.74% of their plays, 31.3 attempts per game and 8.2 yards per attempt.
Related l 2020 NFL Draft Grades: Carolina Panthers
That's all a way of saying, I have no idea what their offensive philosophy will be. There is something to be said for the Saints not adjusting their game plan all that much when Bridgewater took over. Brees averaged 6.7 intended air yards (IAY) per throw, while Bridgewater's mark of 6.2 was in the same range. However, PFN's Offensive Share Metric shows Brees was much more responsible for the offense's production than Bridgewater was.
What I do "know," is they're going to have a bad defense, which means they should be more pass-heavy out of necessity. I don't expect Carolina to come out of the gates firing, however, as the offseason left no time for standard prep work. Bad defense and struggling offense for the first portion of the season will mean a good start for the "under" on the Panthers 2020 season win total.
What should we expect from the Panthers offensive line?
The offensive line got worse as a whole, as they traded a top-17 guard in Trai Turner for former Los Angeles Chargers offensive tackle Russell Okung. This does not bode well for their offensive line, which ranked 17th in Football Outsiders adjusted line yards and 29th in adjusted sack rate. New Panthers' offensive line coach Pat Meyer was with Okung in Los Angeles from 2017-2019, where Okung made his most recent Pro Bowl.
However, I don't think this move was made to benefit the Panthers on the field. Alaina Getzenberg of The Charlotte Observer points out how, ultimately, the Panthers are saving money by trading two years of Turner for one year of Okung. It makes more sense from that angle. Why is that relevant to the Panthers 2020 win total, you ask? I don't think this team is expecting to win in 2020.
[sv slug="betsocial"]
What obstacles will the Panthers face from their 2020 schedule?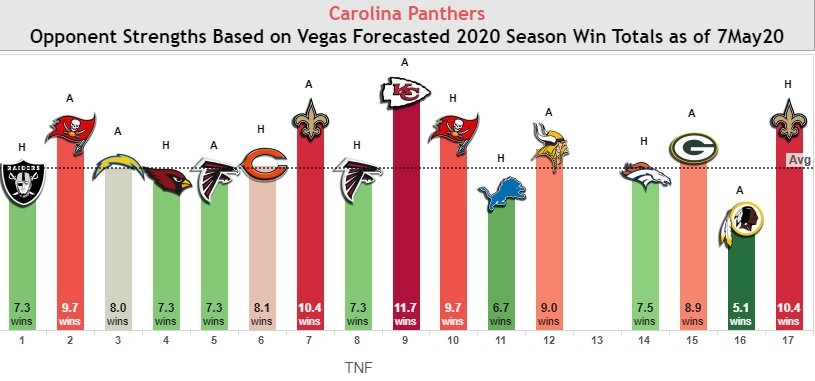 The Panthers have the 6th hardest schedule in the league, according to Sharp Football Stats. For a team that is installing an entirely new offense with a degraded offensive line, their first four opponents leave much cause for concern.
I highlighted the Las Vegas Raiders upgraded pass rush in my most recent betting preview. After that match up, they get to face the Buccaneers (Shaquil Barrett was 4th in the NFL in pressures in 2019 with 51), the Chargers with Joey Bosa, and Melvin Ingram, then top it off with Chandler Jones (10th in pressures with 40). Not great, Bob.
The Panthers would greatly benefit from an early-season bye week, but alas, the Panthers don't have their bye until Week 13. As far as games in which they have a competitive advantage at QB, I only count four: at the Chargers (Tyrod Taylor), vs. the Chicago Bears (Mitchell Trubisky/Nick Foles), vs. the Denver Broncos (Drew Lock) and at Washington (Dwayne Haskins, I think). Again, not great, Bob.
What are some favorable and unfavorable scheduling spots for the 2020 Panthers win total?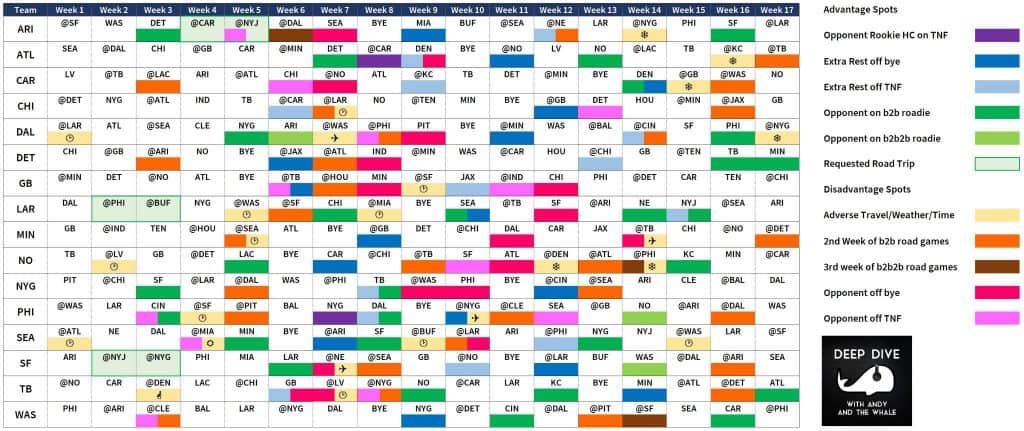 Credit @whale_capper for the above image
The Panthers have a tough stretch in Weeks six and seven, as both the Bears and New Orleans Saints will own a rest advantage over Carolina. It evens out though, as they have two games themselves where they will have a rest advantage over their opponent: Week 9 at the Kansas City Chiefs and Week 14 vs. the Broncos. The Panthers will also enjoy a modified rest advantage in Week 5 as they play the Atlanta Falcons who will be coming off of a Monday Night Football road trip in Lambeau.
One angle I am paying extra attention to is whether or not teams will have a returning play-caller and QB from the previous season. Carolina will be at a disadvantage in this regard in all but five of their games, possibly six:
[table id=148 /]
Between the inexperienced defense, inexperienced coaching staff, and brand new QB and offensive system, we could see some ugly games from Carolina this season.
Summarizing the Panthers 2020 schedule
Number of back to back road trips: 2- Weeks 2-3 (Buccaneers/Chargers), Weeks 15-16 (Green Bay Packers/Washington)
Facing an opponent who will have extra rest: 2- Week 6 (vs. Chicago), Week 7 (at New Orleans)
Facing an opponent when the Panthers will have extra rest: 3- Week 9 (at Kansas City), Week 5 (at Atlanta), Week 14 (vs. Denver)
How will analytical regression affect the Panthers 2020 win total?
I'm not entirely sure how relevant last season's advanced metrics are to this year's Panthers, given the amount of upheaval within the organization. That said, the Panthers were right in line with their Pythagorean win total of 4.9, while they went 2-5 in one-score games. Traditionally, that figure regresses to a 0.500 mark year to year.
The Panthers had a yards per play differential of (-0.7), which says they were roughly 3.5 points worse than an average team on a neutral field. That, as well as their (-130) point differential, is about what you'd expect from a five-win team. As I mentioned above, they should see some positive regression in one-score games come their way.
Are there any bets worth making on the 2020 season win total?
An exercise I have mixed feelings on is looking at a team's schedule and attempting to "map out wins." There are so many changes over the year that anything after Week 4 is a crapshoot. Hell, Week 4 may even be too far long to look into the future.
Related l How will Matt Rhule impact the fantasy football assets on the Panthers?
That said, it's hard to find six wins on this schedule. I expect the first four weeks to be a learning period, and thus, don't see them winning any of those games. After their first four games, where they might have their offense in line, they play Matt Ryan twice, Trubisky/Foles, Brees, and Patrick Mahomes. One win, maybe?
Tom Brady, Matthew Stafford, and Kirk Cousins make up the next three weeks' worth of opponents. This is not an optimal schedule for a team with a brand new Head Coach, QB, and play-caller.
Carolina Panthers 2020 season win total bets and props
Even though I prefer to bet "overs" on the lower-end win totals, I am on the under here for the Carolina Panthers 2020 season win total. I have been a bit hesitant to suggest bets, given the unique (for lack of a better term) circumstances of this offseason.
That said, I want to take advantage of a team in transition. Draftkings sportsbook has the under 5.5 at (-106), while some offshore sites have the Panthers win total of 5.5 priced at (+114). You can also find more at Online Casino Snoop. Shop for the best price, but I am suggesting anything up to (-120).
There is a player prop I like as well. I know I expressed concern about the cohesiveness of the offense, but you don't need an advanced game plan to get the ball into Moore's hands. Moore has the lowest average depth of target amongst the Carolina wide receivers, which should mesh well with Bridgewater's low intended air yards figure. He has the juice to create after the catch as well, evidenced by his 9.65 overall Relative Athletic Score (RAS) created by PFN's own Kent Lee Platte. Platte also graded Moore with an "elite" explosion grade.
Now, we could see a more downfield attack from Carolina because, well, because we have no idea what kind of system Carolina will run. But even if that is the case, Moore can excel in that area as well. He is far and away the best receiving option on the Panthers, and between that fact, their lousy defense and projected game script, Moore could surpass the 135 target mark he reached in 2019.
FanDuel Sportsbook has Moore as 65/1 to lead the league in receiving. I like that for a small "lunch money" wager.
Bets: Panthers under 5.5 (-105) 1.5U
Moore to lead the league in receiving yards (65/1) 0.2U
James Aguirre is a betting and fantasy analyst at the Pro Football Network (@PFN365). For all of our up-to-the-minute picks and analysis, follow the betting group @PFNBets and James @James_AG1