The 2024 NFL Draft remains 10 months away, but it's never too early to look at the landscape of the league. Although mock drafts this early in the process are far from realistically predictive, they are a great tool to use when diving into the future of NFL rosters. What positions do teams need to address?
2024 NFL Mock Draft
The draft order is based on personalized season predictions. Every NFL game was picked to make the order.
And while things will undoubtedly change as the season progresses, some teams are already at a disadvantage for the 2023 NFL season.
1) Los Angeles Rams: Caleb Williams, QB, USC
Sean McVay has been contemplating retirement for a few years, but it appears there is some closure on that situation, and he will be sticking around for the foreseeable future.
Les Snead and the Rams have abandoned the NFL Draft recently. They've not chosen in the first round of the NFL Draft since 2016 when they selected Jared Goff first overall. They find themselves in a similar situation heading into 2024 after absolutely annihilating their roster this offseason. They're in the midst of a rebuild, and what could keep McVay's juices flowing like a rookie QB with unbelievable natural tools?
2) Arizona Cardinals: Marvin Harrison Jr., WR, Ohio State
Monti Ossenfort has a vision. The Cardinals' new GM decided to accumulate as much draft capital as possible for 2024, using 2023 as the retooling year. Although Kyler Murray may be healthy for the entire season, both offensive and defensive depth charts are a mess.
But there is also no longer a No. 1 WR on the roster. Marvin Harrison Jr. is the most interesting WR prospect in the last half-decade, at least. In an era fueled by outrageous athletes, Harrison isn't that. He's certainly athletic enough to be a dominant force at the college level and an unbelievable prospect. Still, he doesn't have the outrageous long speed of Ja'Marr Chase, the physicality of A.J. Brown, or the post-catch ability of Deebo Samuel.
Harrison is simply a professional receiver in a college uniform. He has great length and an innate understanding of how to separate at all three levels. But just because he doesn't have a defining physical trait per se does not mean he lacks a trump card. He is the most gifted vertical receiver we've seen in quite some time.
3) Las Vegas Raiders: Drake Maye, QB, North Carolina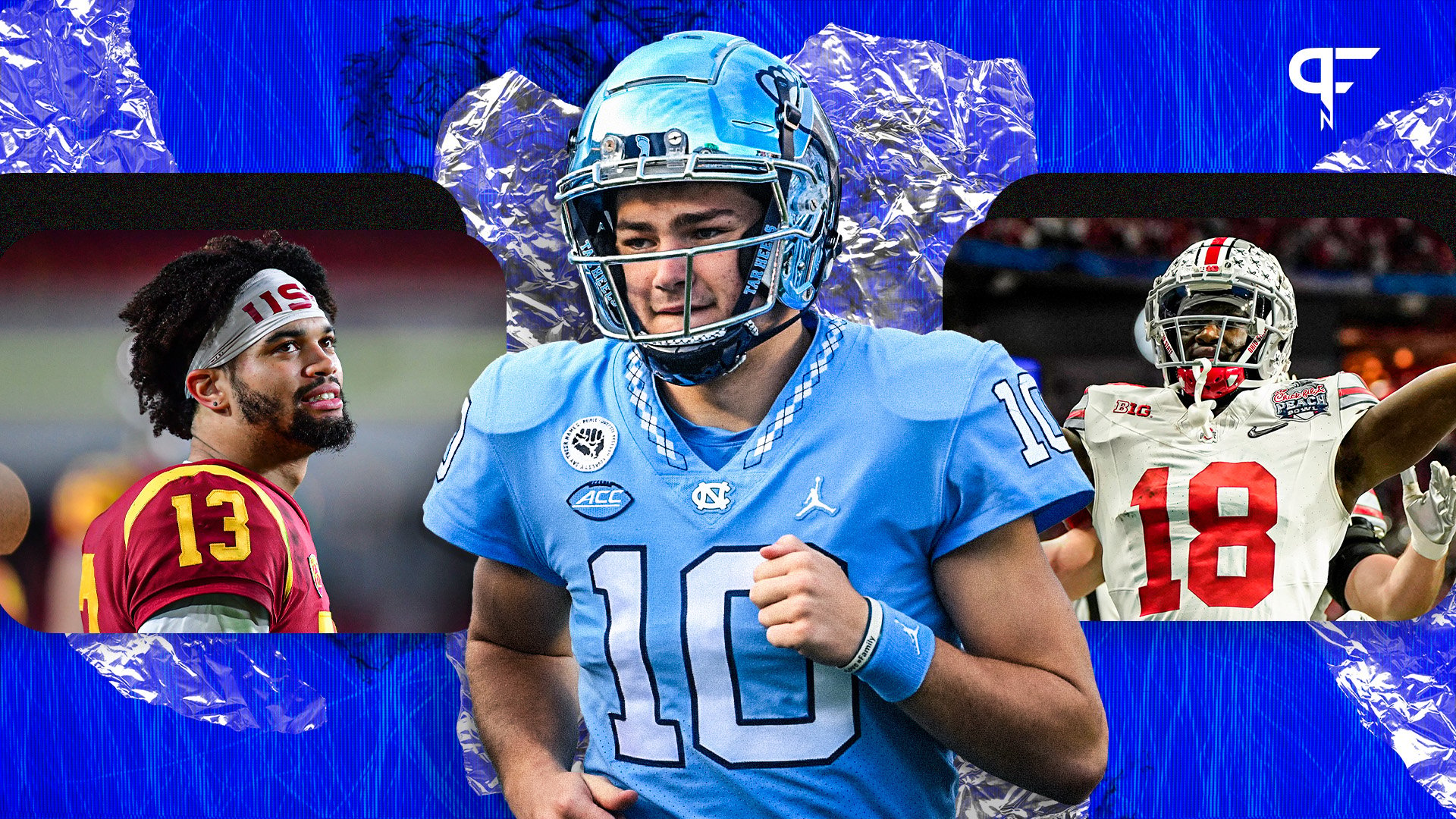 Counting on Jimmy Garoppolo to remain healthy for a full 17-game season is a losing proposition, and Brian Hoyer isn't pulling this Raiders' roster from the dumpster. But getting a top-five pick when you need a long-term answer at QB isn't a bad thing.
Drake Maye could very well end up being the first pick of the NFL Draft, depending on how he progresses in a new situation at North Carolina. His physical tools are outstanding, and his experience against pressure could give him the edge over the Heisman Trophy winner, who, more often than not, gets to stand and deliver without dropping a single bead of sweat from his brow.
4) Atlanta Falcons: Dallas Turner, EDGE, Alabama
Dallas Turner doesn't enter 2023 with the kind of fanfare Will Anderson did, but that doesn't make him a scrub. Turner fits neatly into the modern mold of an NFL pass rusher. The league is changing. More teams are leaning toward deploying 50 fronts with three down linemen and two versatile outside linebackers. Turner is exactly that kind of player.
If Turner improves his power output and adds a somewhat consistent speed-to-power move to his bag, he will enter the league as a player with few holes in his game. He isn't yet in the same tier as the run we got of the Bosas through Chase Young, but he is a well-rounded EDGE that fits what is still a dire need in Atlanta.
5) Tampa Bay Buccaneers: Brock Bowers, TE, Georgia
Drafting a tight end in the first round is usually a futile decision, especially for a football team selecting in the top five of the NFL Draft. But if we simply look at Brock Bowers' position designation and change it in our brains to WR, every fear fades away.
Could Bowers survive as an in-line tight end? Absolutely. But in a league where teams need three legitimate weapons to catch passes on the outside, Bowers could be a difference-maker.
Bowers isn't Kyle Pitts. He's not running a 4.4 with the wingspan of the world's largest bird. But the league is looking for players who can bust open the middle of the field as defenses opt to play split-field coverages from two-high looks.
Tight ends are easy to spot. They're large and lumbering. That's why we shouldn't consider Bowers a TE. He has the smooth route-running prowess of a wide receiver. There is very little wasted movement getting in and out of breaks.
6) Green Bay Packers: Joe Alt, OT, Notre Dame
The 2023 NFL Draft was dominated by the defensive side of the ball early on, but 2024 is the opposite. Although the Packers have more pressing team needs than offensive tackle, we don't yet know what to expect from Zach Tom at right tackle, and Yosh Nijman is on a one-year deal.
Meanwhile, the Packers could cut a nearly 33-year-old David Bakhtiari next offseason and save a boatload of money against the 2024 salary cap, making left tackle a potential need for the team as well.
7) Tennessee Titans: Olumuyiwa Fashanu, OT, Penn State
Andre Dillard might finally show us why he was a first-round pick in 2019, or he could show us why Jordan Mailata quickly proved the better option in Philadelphia. But even if Dillard plays well, the Tennessee Titans will likely still need to address right tackle, especially with their particular offensive attack.
8) Indianapolis Colts: Emeka Egbuka, WR, Ohio State
Michael Pittman Jr., Alec Pierce, and Emeka Egbuka make for a very enticing WR trio for Shane Steichen to work with and for Anthony Richardson to throw passes to. Egbuka is a Brian Hartline receiver, which means he is already a professional route runner.
He's also an outstanding complement for the Colts, given his experience playing in the slot for the Buckeyes. He is a three-level threat that thrives in the intermediate areas of the field and has shown the ability to take over games, even with Harrison occupying the same grass.
9) Arizona Cardinals (From HOU): Jared Verse, EDGE, Florida State
Florida State pass rusher Jared Verse has come a long way. He went from having no star rating as a recruit to blowing the doors off blockers at Albany to doing the same exact thing in the ACC in 2022. With nine sacks and 17 TFLs, his production is unquestionable.
The Cardinals own this pick from the Texans, cashing in on their trade down from No. 3 in the 2023 NFL Draft.
10) Chicago Bears (From CAR): Kool-Aid McKinstry, CB, Alabama
It doesn't get much simpler than the Bears' two first-round picks in this 2024 NFL Mock Draft. Just take a gander at their defensive depth chart. It shouldn't surprise a soul that after spending significant money to improve the situation surrounding Justin Fields, they'd need to do the same next offseason on the other side of the ball.
Aside from linebacker, which they spent an extortionate amount of money on this offseason, they need help on the defensive side. Adding Kool-Aid McKinstry gives them an option opposite of Jaylon Johnson, who himself struggles to remain healthy for a full 17-game season.
11) Denver Broncos: Kalen King, CB, Penn State
If McKinstry is the white-collar option, Kalen King is the blue-collar option at cornerback. But that doesn't make this a "we have Kool-Aid at home" situation, either.
King is a menace. He possesses a working-class attitude on the outside, throwing his body around against the run and acting as the Nittany Lions' missile against bubble screens. His mental trigger is immediate, and he has the athletic ability and reactive athleticism to survive in a man-heavy Penn State defense, which will be handy in Vance Joseph's scheme.
12) Washington Commanders: Bralen Trice, EDGE, Washington
The Washington Commanders have already proven to us in the past that they can deal with a pass rusher lacking ideal flexibility. Montez Sweat has proven his other athletic elements and length make up for his stiffness. And with both his contract and Chase Young's up after 2023, the Commanders could use reinforcements on the edge.
Bralen Trice fits the size thresholds at 6-foot-4, 260 pounds. He also has excellent power in his hands that he uses to win in a phone booth.
13) Houston Texans (From CLE): Malik Nabers, WR, LSU
If there is a football in the area to be caught, Malik Nabers is the man for the job. Even when high-level coverage defenders appear to have the upper hand on the Tiger's receiver, he simply discards the defender. He is a card-carrying member of #TeamAlwaysOPI.
He's not a huge pass catcher, but Nabers is incredibly physical after the catch, and he is an explosive weapon on the outside that Bobby Slowik should be able to use over the middle of the field.
14) Chicago Bears: Maason Smith, DT, LSU
Maason Smith played one defensive drive in 2022, and he still has a chance to be the first defensive player off the board in the 2024 NFL Draft. In a league becoming increasingly filled with freaks, Smith appears to be in a special class.
Shawn Oakman became famous for his physique as a defensive lineman, but he never had the game to go with the look. Smith does. The redshirt sophomore must show consistency to really entice teams with his tangible ceiling. Still, the rocked-up defensive tackle has every physical tool DeWalt has ever made.
15) Pittsburgh Steelers: Cooper DeJean, CB, Iowa
Not much is changing for Cooper DeJean in this scenario from college to the professional level aesthetically. He remains in black and yellow.
DeJean was a three-sport athlete in high school that was recruited as an athlete. The former high school QB has excellent size for the position and is very physical to boot. But it is his smooth and explosive athleticism that makes him special.
16) New York Giants: Donovan Jackson, G, Ohio State
The New York Giants' offensive roster is looking suspiciously strong, but the offensive interior could be upgraded next offseason. Mark Glowinski is 31, and Ben Bredeson isn't exactly Zack Martin.
Unless Glowinski gets the location for the Fountain of Youth from Tom Brady and Joshua Ezeudu rounds into a high-end starter, the Giants will look at options on the offensive interior next offseason.
17) Los Angeles Chargers: J.C. Latham, OT, Alabama
What must we do to see Tom Telesco legitimately consider upgrading at right tackle? Do we need to drop down to our knees and beg him to protect Justin Herbert with all his might?
Luckily enough, J.C. Latham is a right tackle by trade. He's a massive young man who has proven to be a disciplined pass protector and dominant run blocker.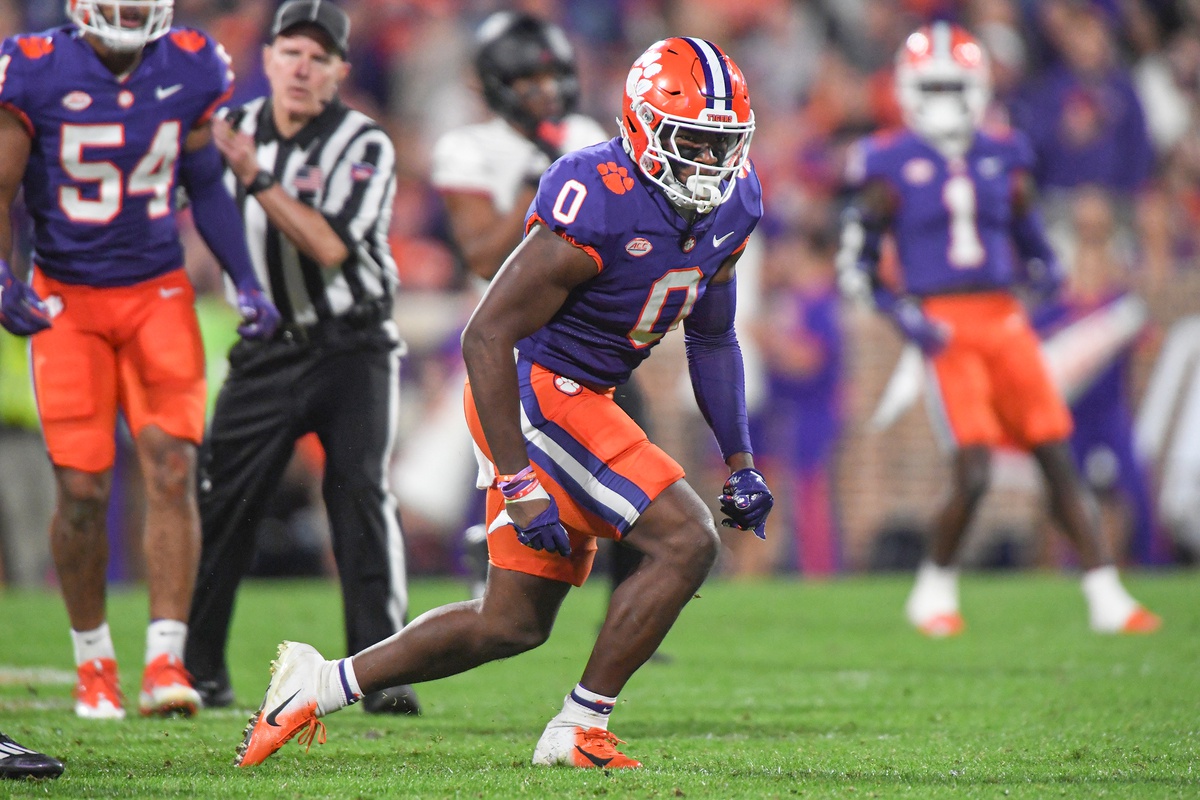 18) New England Patriots: Barrett Carter, LB, Clemson
Linebackers are rarely valued this high in the NFL Draft world at this point, but the New England Patriots are always good to zig while everyone else zags.
And that includes their selection of Barrett Carter, who doesn't fit neatly into their mold of thumping downhill linebackers. But there is something about his ability to rush the passer from the second level that will have Bill Belichick actually crack a smile in the film room.
19) New Orleans Saints: Michael Hall Jr., DT, Ohio State
The New Orleans Saints defense is in a transition period. Cameron Jordan is aging out, David Onyemata and Shy Tuttle are gone, and it appears the team is branching out a bit from their normal mold on the defensive interior.
Michael Hall Jr. doesn't have the ideal size New Orleans usually opts for, but his athleticism allows him to really threaten interior blockers with consistency.
20) Minnesota Vikings: Rome Odunze, WR, Washington
Kirk Cousins is a good quarterback. He's likely one of the more underrated passers in the NFL. But if the Vikings want to elevate their offense to a level of efficiency ready to take on the rest of the NFC in the playoffs, they need even more weapons.
Justin Jefferson is the best in the league. T.J. Hockenson is a fantastic young TE. Jordan Addison was a first-round pick in 2023. But adding Rome Odunze to the mix adds another layer of versatility to the passing attack. At a reported 215 pounds, Odunze brings a physicality that the rest of the receiving corps doesn't.
21) Jacksonville Jaguars: Chop Robinson, EDGE, Penn State
Chop Robinson needs to progress technically to avoid giving Jaguars fans K'Lavon Chaisson flashbacks, but he would fit Jacksonville's outside linebacker latent defensive attack. He's only around 240 pounds, but he has underrated power in his frame and a good amount of length.
22) Detroit Lions: Jer'Zhan Newton, DT, Illinois
The Illinois secondary got all the flowers for their outstanding 2022 performance, and rightly so, considering the names they fielded. But Jer'Zhan Newton was a force on the inside, accumulating 14 TFLS and 5.5 sacks as a 6-foot-2, 280-pound interior defender.
23) Green Bay Packers (From NYJ): J.J. McCarthy, QB, Michigan
This pick would convey to the Green Bay Packers from the New York Jets if Aaron Rodgers plays at least 65% of snaps in 2023. In this mock, the Packers aren't totally sold on Jordan Love, spurring investment at quarterback.
After the top two quarterbacks, there is a bunch of fun potential, and all of them come in different packages. J.J. McCarthy probably has a longer way to go from the mental side of things than Michael Penix, Quinn Ewers, or Bo Nix. But McCarthy's arm is absolutely silly.
24) Miami Dolphins: Brandon Dorlus, EDGE, Oregon
Zach Seiler is in the final year of his deal, and the Miami Dolphins could save a pretty penny by moving on from Emmanuel Ogbah after this season.
Brandon Dorlus is a fantastic fit to play as a 4i/5 technique who has the power and length to effectively set the edge but also the athleticism to either shade in or out and pin his ears back as a pass rusher.
25) Buffalo Bills: Xavier Worthy, WR, Texas
A decade ago, Xavier Worthy wouldn't have made sense. A 6-foot-1, 160-pound wide receiver playing at level high enough to start on Sundays? Really?
The league has changed a lot. Speed and explosiveness are rewarded, and physicality has largely been legislated out of the game in the secondary. But at the college level, cornerbacks can be physical after five yards, while NFL CBs do not have that luxury.
Despite his size, Worthy had over 900 yards as a freshman. While his numbers dipped in 2022, inconsistent QB play is to blame for that.
26) Cincinnati Bengals: Ruke Orhorhoro, DT, Clemson
D.J. Reader is in the final year of his lucrative second contract with the Bengals. B.J. Hill's contract expires after 2024, but the Bengals could save some money by moving on from him after 2023. They have a lot of guaranteed money to account for in the near future.
27) Philadelphia Eagles: Denzel Burke, CB, Ohio State
Denzel Burke will be a name to keep a keen eye on in 2023. Being drafted high as a CB can sometimes come down to timing. It's incredibly hard to be consistently great as a coverage player. Burke had a down year in 2022, but if he bounces back this year, he could cement his status as a first-round pick. Both of the Eagles' starting CBs are over 30, and that hill can come incredibly quickly for the position.
28) Dallas Cowboys: TreVeyon Henderson, RB, Ohio State
Time is a flat circle. The Dallas Cowboys famously drafted an Ohio State RB in the first round a few years ago, and they do so again in this simulation. While drafting an RB in the first round is a no-no for many modern draftniks, it is better than paying an RB a significant second contract.
The Cowboys likely won't pay Tony Pollard, but the front office also believes vehemently that the position is important — if only for selling jerseys.
29) Seattle Seahawks: Cooper Beebe, G, Kansas State
The interior offensive line always seems to be an underwhelming part of the Seattle Seahawks' roster. Damien Lewis has been solid for Seattle but is in the final year of his deal, and the team could use an upgrade over what they have on the other side.
30) Baltimore Ravens: Tony Grimes, CB, Texas A&M
The Baltimore Ravens have always been a fan of cornerbacks with gnat-like foot speed. Tony Grimes has that type of fluidity and reactive athleticism, and he'll be battle tested as he transfers to the SEC.
31) San Francisco 49ers: Andrew Mukuba, S, Clemson
The San Francisco 49ers lost Jimmie Ward in free agency, so they decided to draft the next one in the 2024 NFL Draft. Like Ward, Andrew Mukuba can wear any hat he needs to for his defense. He is comfortable in the slot, in the box, and as a free safety.
32) Kansas City Chiefs: Leonard Taylor, DT, Miami (FL)
Chris Jones probably isn't going anywhere. He's likely getting a massive extension that makes him the second-highest-paid defensive tackle in the NFL. But adding another high-end athlete to the fold beside him could be exactly what the doctor ordered to help ease Jones' eventual aging.
Editor's note: The original version of this mock did not correctly reflect previous trades that altered the draft order. 
Listen to the PFN Scouting Podcast
Listen to the PFN Scouting Podcast! Click the embedded player below to listen, or you can find the PFN Scouting Podcast on iTunes, Spotify, and all major podcast platforms.  Be sure to subscribe and leave us a five-star review! Rather watch instead? Check out the PFN Scouting Podcast on our Scouting YouTube channel.