Although Heisman Trophy winner Caleb Williams snatches all of the headlines while discussing the potential top pick in the 2024 NFL Draft, that result is far from a foregone conclusion. North Carolina QB Drake Maye is not just a potential usurper but someone who many a draftnik is already touting as the superior NFL Draft prospect.
Does Maye quietly already hold the advantage? If he doesn't, what must he do in 2024 to dethrone the "refined Mahomes" if there is anything he can do?
Who Is Drake Maye?
Prestige matters in the NFL. Draft position matters once in the NFL, and recruiting rankings can be important throughout the draft process, whether we like it or not.
Maye has the accolades. 247Sports ranked him as the 24th-best recruit in the nation and the No. 4 QB. ESPN had him as the 47th-best prospect and ninth-best QB as a four-star recruit.
Originally, Maye committed to Alabama and received offers from Clemson, Ohio State, and Georgia. It doesn't get any bigger than that.
Speaking of big, Maye could have "looks like a QB" in his bio. North Carolina lists him on the roster at 6-foot-4, 225 pounds, which may be a bit conservative. He's a big, strong-armed quarterback with outstanding mobility.
In 2022, Maye threw for 4,321 yards, 38 touchdowns, and only seven interceptions. He also added nearly 700 yards on the ground (sack yardage included in college football, for some reason) and seven more touchdowns.
It should come as no surprise to see his game likened somewhat to Daniel Jones, given they both planted their flags in North Carolina's Research Triangle and are dual threats with good size. Yet, Maye is a better prospect than Jones could have ever dreamed of being, and he hasn't even begun to scratch the surface of his ceiling yet.
But how could Maye execute a hostile takeover from Williams in the fight for NFL Draft superiority?
What Makes Drake Maye Special?
The NFL will never tire of 6-foot-4, 220-pound quarterbacks with speed and the ability to scoot when the pocket collapses or on a designed read option.
What makes Williams special is innate. It's extra. And it's uncoachable. But while Williams' physical tools don't slouch in the back row, they're not sitting in the front row of the classroom. Maye is.
His velocity is outrageous. And although Williams is an aesthetic passer, Maye's delivery is fluid, natural, and lightning-quick, which makes the ball get to its intended target even faster. Josh Allen and Justin Herbert probably hit higher numbers on the radar gun, but Maye's release makes up a lot of time. He's not always in a position to show it, but when he does, he can make the ball teleport.
Maye will receive Herbert comps throughout the process, but he's more a mix of Herbert and Jones because of his willingness to scoot. Herbert uses his legs as a last resort, while Jones and Maye are often proactive with their athletic ability.
The UNC QB also has another advantage over his West Coast rival. Maye's offensive line and play-calling didn't allow him to set up camp, find kindling, chop wood, throw on a grill pan, and cook a steak to medium rare in the wilderness the way USC's did.
Seeing how quarterbacks handle pressure is important, and we have plenty of examples of that happening in 2022. Maye proved able to win from the pocket with rushers bearing down on him, something he'll be forced to contend with at the NFL level.
What Must Maye Improve To Be Drafted First?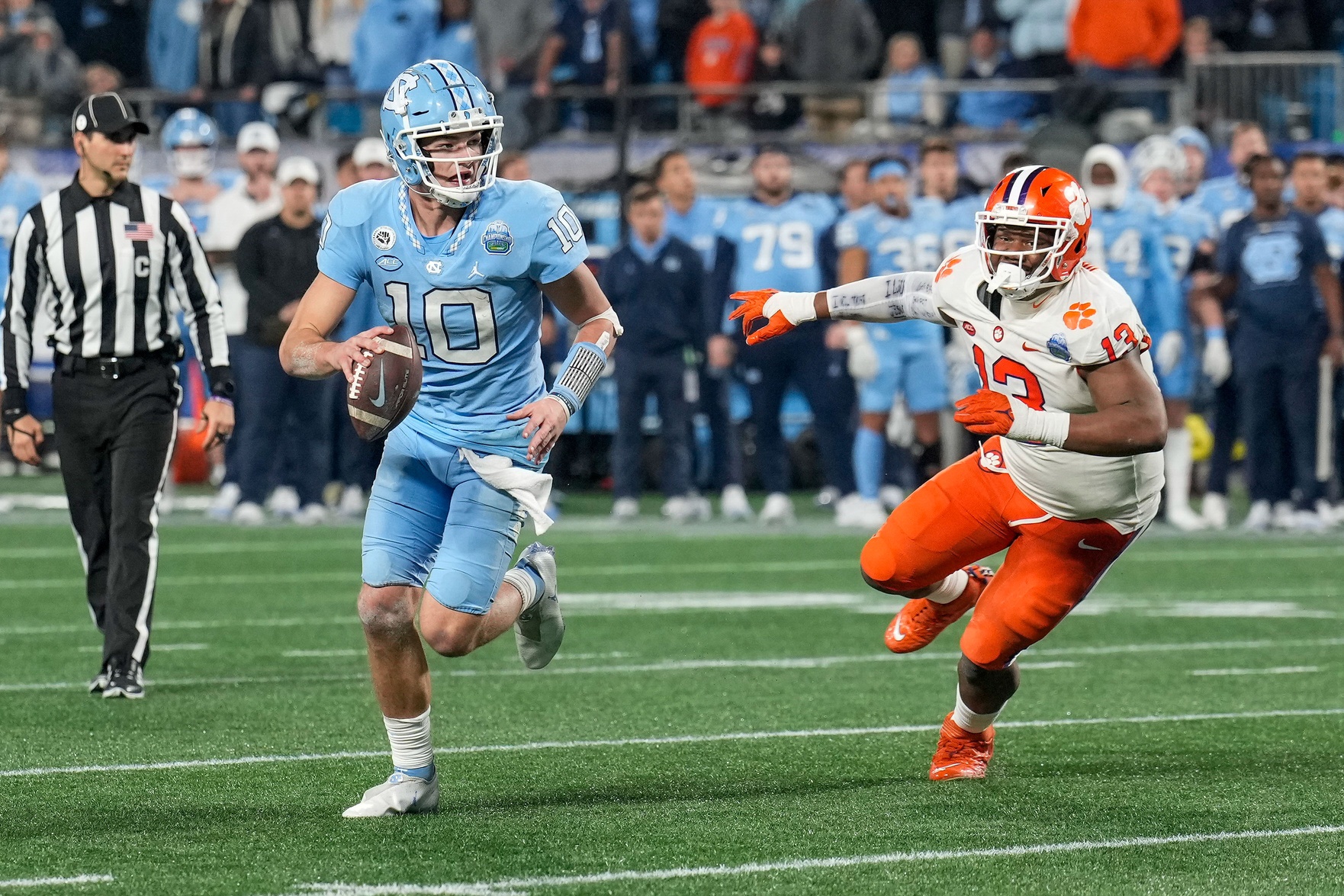 It's not a short list, but it is attainable.
Maye is not nearly as consistent with his accuracy as Williams is, particularly when he's forced to move from his safe space in the pocket. Being loose mechanically on the move can be a benefit to a passer, or it could hurt things like ball security and placement.
When on the move, Maye is loose with the ball, which in turn creates a mechanical disadvantage when he winds up because he's not properly sequencing. Rigidity is a destroyer of creativity in a general sense, but Maye could use a bit more focus in the way he operates outside of the pocket.
The term "pocket presence" is often horribly generalized. It could mean any number of different things. Specificity isn't always necessary, but when discussing how a QB operates from the pocket, it's absolutely necessary.
Before making the leap to the NFL, Maye's literal presence in the pocket must improve. He consistently leaks in the pocket. Although it's more prevalent on passing concepts on the left side of the offense, he wasn't completely allergic to fading right, either.
But if you were to take a shot every time Maye caused himself pressure and his left tackle to look bad for being in his lap, you wouldn't survive some of his games. That consistent migration has to stop. It's an awful habit, but one he had already begun improving on as the season progressed.
There are several ways to attack in the game of football. Some schemes on offense and defense are unbelievably complex. Nick Saban's defensive playbook could probably counterbalance the average adult male. And he uses quite a bit of it.
Phil Longo's playbook is equally large, but his philosophy is the exact opposite of complexity. Many coaches believe that playing simply is playing fast, and speed kills, metaphorically.
"I've never had someone teach the game to me so simply," former Sam Houston State QB Jeremiah Briscoe told The Athletic regarding Longo's coaching style. "A lot of people make the game of football a whole lot more complicated than it needs to be. And that was one of the biggest things that I learned from him is that at the end of the day, the game is very simple and don't overcomplicate it."
How Maye handles the change from Longo to new offensive coordinator Chip Lindsey will mean a lot. Stability in football is a luxury not often afforded to players, and it can often have a negative effect on the way a player develops. If Maye handles the transition well and Lindsey's offense is a bit more akin to what Maye will be running at the NFL level, it could significantly improve the way we see him from the mental side of things.
The other thing that would benefit Maye is learning that not every play has to be a home run. There's nothing wrong with hitting a quick outlet or a checkdown on early downs. Additionally, while it's often frowned upon to throw short of the sticks on third and fourth down when the receiver is crossing the field unabated a yard in front of the sticks, it's okay to make that throw.
While the list is certainly not short, the things we'd like to see Maye improve upon are all things that can be worked on. It's also reasonable to expect that he accomplished a nice chunk of his honey-do list. Because although things like accuracy are often difficult to improve upon in an innate sense, we must understand that Maye's issues are situational and mechanical in nature and are not general accuracy issues.
It would be foolish to believe that Williams will take any sort of significant step back at USC in his final season. Maye cannot sneak his way into the top spot. But as a second-year starter with his physical skill set, there's no reason to believe he can't take significant leaps forward.
One thing is certain; this will be a debate until we hear their names called by Roger Goodell on Thursday, April 25, in Detroit.
Listen to the PFN Scouting Podcast
Listen to the PFN Scouting Podcast! Click the embedded player below to listen, or you can find the PFN Scouting Podcast on iTunes, Spotify, and all major podcast platforms.  Be sure to subscribe and leave us a five-star review! Rather watch instead? Check out the PFN Scouting Podcast on our Scouting YouTube channel.