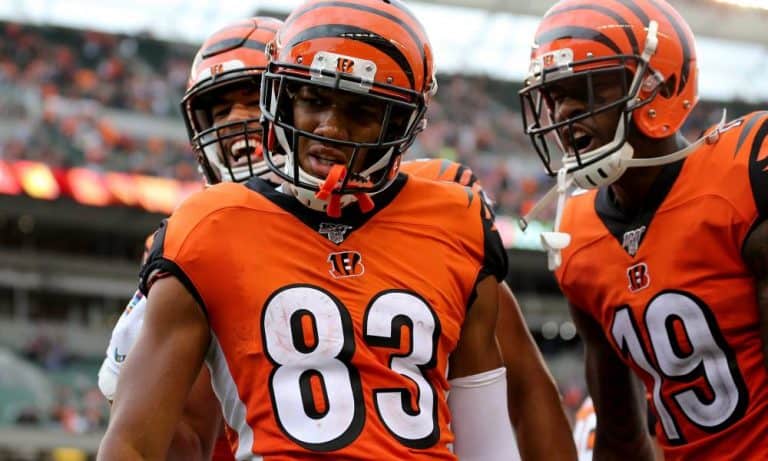 A quarterback is only as good as the weapons surrounding him. The Cincinnati Bengals have a variety of wide receivers that pose many question marks entering the 2020 season. First-round rookie quarterback Joe Burrow will rely heavily on head coach Zac Taylor's pass-happy offense to help generate early success. 
Bengals WR A.J. Green will return for the first time in nearly two seasons after missing all of last year with an ankle injury. John Ross is looking to break out once again after missing the final eight games last season. Tyler Boyd shined as the one bright spot in the Jungle, setting career-highs in receptions (90) and yards (1,300).
Burrow had three cheat codes in the Bayou with Ja'Marr Chase, Justin Jefferson, and offensive coordinator Joe Brady calling the shots. Now, Burrow will be banking on two injured-plagued targets and a rookie to be his supporting cast. As training camp is set to begin, let's take a look at the projected players at WR.
[sv slug="mocksim"]
Position Breakdown – Cincinnati Bengals wide receivers  
Key Player to watch for the Bengals: A.J. Green
Green at one point was a bonafide top-10 target in the NFL. Working with former Bengals QB Andy Dalton, the top-five pick finished with five straight 1,000-yard seasons and helped turn Dalton into a Pro Bowler. More importantly, when healthy, the Bengals contended in the AFC North.  
It's impossible to expect Green to maintain his former Pro Bowl form after missing over 20 games in two seasons, but his vocal presence will be documented. Not only with Burrow but also with rookie wideout Tee Higgins, whom the team selected with their second-round pick. 
Featured | Bengals Mailbag: Is 2020 John Ross' final season in Cincinnati?
"Once Tee gets (Green's) autograph and gets that out of the way, A.J. is going to be great for him," wide receivers coach Bob Bicknell said last month. "Just being around a guy like that to learn from and be friends with and knowing both they'll get along great. It's big for Tee. Hey. It's big for me. For everybody. A.J. is the kind of guy that makes everyone do their job better."
Even if Green can play at a high-end level, it will help with Burrow's maturity under center. Not only that, but it will also come in handy when it comes to contract negotiations. Green, 32, is playing under the franchise tag, but still believes there's still a solid four or five years left under his quality play belt. 
It's likely that the Bengals are going to struggle in 2020, but a healthy Green will help make the offense watchable.
Key Battle: Which player takes over as the Bengals fifth receiving option?  
Both Green and Boyd will be the No.1 and 2 options, respectively. Ross will likely be penciled in as the No.3 guy while Higgins will more than likely start the season as the fourth target. That leaves room for a fifth receiver to step into the rotation for the Bengals, and I believe it'll come down to Alex Erickson and Auden Tate.  
Both players possess a trait needed for an offense, yet differ completely in skill sets. Erickson, a shifty speed option, tallied 529 yards and averaged 12.3 yards per catch last season. Tate, known for his big frame on the outside, finished with 575 yards and a touchdown as he became the Bengals eventual No.2 option. Both saw significant reps following Ross' injury last season and were predominantly viewed as the next man up after Boyd. 
Tate's frame will allow him to box out smaller corners, but his speed will likely make him a liability after the catch. Erickson is valuable as a backup to Ross and can serve as a returner on special teams. Neither player is a complete receive, thus putting both in the running to be cut by preseason's end. 
Wild Card: John Ross speed and health will be a factor for the Bengals
Ross will always be a wild card until he breaks out. Once again, he seemed to be building something special before an injury cost him the remainder of the 2019 season. His Week 1 performance in 2019, alone was impressive as the speedy third-year player finished with an impressive 158 yards and two touchdowns, and followed it up with a 112-yard outing the following week. 
Then, a shoulder injury cost him eight games and another developmental year. Instead of breaking out into a rising superstar, Ross finished with 28 catches for 506 yards and three touchdowns. Entering his fourth season, the 24-year-old has a chance to start over with a new quarterback. In a recent interview, Ross stated that he had worked with Burrow in his hometown due to COVID-19 related issues. On top of that, he's finally fully healthy for the first time in three years.
"He's fast. He's quick. He catches the ball well," Former Bengals wide receiver T.J. Houshmandzadeh said on the Bengals Booth Podcast. "He just has to believe he has all these qualities. A lot of me working with Ross is working with him mentally as well. It's easy to be confident when things are going well. Can you be confident when things are going bad?"
If he can be healthy, Ross has the chance to jumpstart his career in a contract season. A perfect "Z" option in the Bengals offense, expect him to play a similar role to that of Brandin Cooks during his time with the Rams. If he struggles, becomes hurt, or struggles to make a play, Cincinnati could move him before the year begins.
Overall Outlook: Bengals appear to be questionable at the receiver position
There's so much potential and so many ifs at the Bengals WR position. A star veteran (Green), two potential young standouts (Ross and Higgins), and a consistently developing target (Boyd) can help Burrow be special early. That all depends on health, and there are no guarantees that'll happen.  
All four at the top will need to be consistent. One does not work without the other, and if hurt, there will be concerns regarding the Bengals depth. Still, when sufficiently stable, Cincinnati could have a sneaky talented aerial attack within Taylor's offense. Should the four remain on the field, expect Burrow to lock up the Rookie of the Year honors by Week 13.