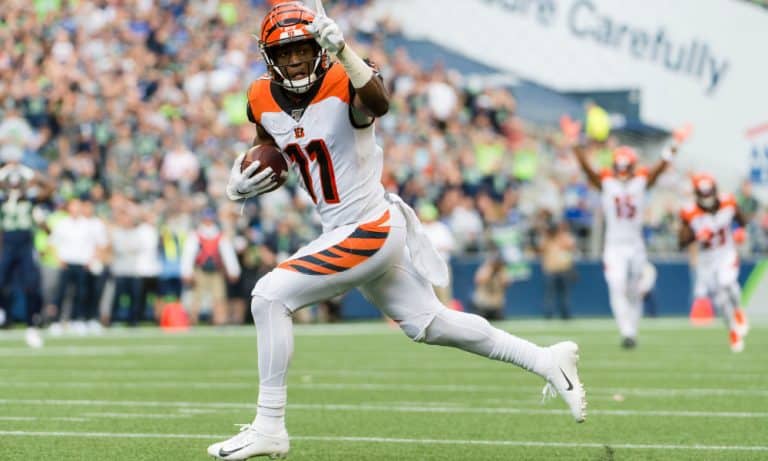 There is excitement for the first time in a long time heading into Paul Brown Stadium. The Cincinnati Bengals are looking refreshed for the first time in over a decade, with a new coach, new quarterback, new system, and hopefully new results. However, there is also some concern brewing in regards to John Ross potentially entering his final season in 2020.
With the addition of the number one overall pick Joe Burrow in the mix, the offense should be looking to take that next leap. Not to mention, A.J. Green is returning to the roster considerably healthy in 2020. The Bengals prepared for any regression, adding Clemson standout Tee Higgins in the second round. And with a healthy Jonah Williams now back in the fold, could this be enough to transform Cincinnati into a contender?
As we launch the start of our Bengals vertical, we introduce the "Bengal bag", our own version of the mailbag. This week, we answer some of the burning questions surrounding Cincinnati heading into camp. If you would like to have your question featured in our next mailbag, message us at @PFN365, @MrColeThompson, or @CrissyFroyd.
[sv slug="mocksim"]
Could John Ross' final season with the Bengals be in 2020?
As much as the Bengals might not be ready to pull the trigger on the former top 10 pick, Ross' inconsistencies on the field certainly haven't helped his cause. After the team declined to pick up his fifth-year option, a down year could hurt Ross' overall stock for free agency in 2021.
Ross was drafted in large part due to his blazing speed that helped the Bengals add a vertical threat at the receiver position. Who could forget how the former Husky torched his way to the top of the NFL record list with his 4.28 40 yard dash at the NFL combine. It's easy to forget, as that has been the highlight of the 24-year-old's football career.
Perhaps what didn't work with former Bengals QB Andy Dalton will work with Burrow. According to Tyler Dragon of the Cincinnati Enquirer, the two have worked out together several times since the Heisman winner's selection in April. Much like Ross, Burrow's expectations are just as high after putting up video game-like numbers during his final season with LSU.
Ross' biggest concern coming into 2020 is his inability to remain healthy. In three seasons, the Bengals speedster has missed 24 games, equally the number of games he's played in. Despite tallying seven touchdowns in 2018, most of his scoring came in the red-zone rather than as a deep threat. And in head coach Zac Taylor's pass-favoring offense, that's what Ross' speed should allow him to do.
With the addition of Higgins, there's no longer a reason to push for Ross if he continues to struggle. The Clemson star will likely take over Green's role following this season, but adding another weapon to the position room is crucial. Ultimately, Ross will need to play the natural "Z" position and play it well if he wants to remain a thought in "The Jungle" after 2020.
Which Bengals rookie are you most excited to see at training camp?
Logan Wilson is the one Bengals rookie outside of Burrow that I'm the most excited about seeing at training camp.
For any Bengals fan who has been begging for the team to draft a linebacker, they could not have found a better mid-round gem. After officially signing his four-year contract, Bengals fans should expect Logan to become a popular boy's name around the Queen City.
Wilson started all 52 possible games during his career at Wyoming, totaling 421 tackles, including 35 for losses and seven sacks. In coverage, Wilson collected 17 pass breakups, 10 INTs (two pick-sixes), four forced fumbles, and four fumble recoveries (two returned for TDs).
As a plug and play defender, expect Wilson to take over as the team's MIKE backer. One of the more fluid linebackers from the draft class, the former cornerback will shine in coverage out of the backfield. Against the run, there are few defenders who can make initial contact like Wilson.
What should the expectations be for AJ Green's return?
For now, I would say the expectations for Green should be minimal. When healthy, Green is still likely considered a top-20 wideout in the NFL. The problem with Green is that he's pretty much missed the past two seasons with lingering problems. Now over the age of 30, this could be a prove-it year for the superstar who believes he still could play another four or five seasons.
Keep in mind ankle injuries could take longer to overcome. In fact, Green stated in an interview earlier this year that he did not feel comfortable returning to the field last season with the concerns on it, thus leading to him missing the 2019 campaign. So maybe. that could be a blessing that ultimately doesn't lead to any setbacks by No.18 in 2020.
Green's legacy as the Bengals' top receiver is almost cemented. He's 1,876 yards and three touchdowns away from beating Chad Johnson's all-time record as the new No.1. A healthy season could look like roughly 700 yards and potentially five touchdowns. A down year would be more in the 400 yards receiving range or less.
Is the signing of Brandon Allen a positive one?
I'd say that the signing of Allen is positive for the Bengals. Allen might not be a superstar or even a high-end backup, but he has playing experience and a veteran presence in the locker room. Last season, the former Razorback was given the chance to play as the Denver Broncos' starter, going 1-2 and throwing for 515 yards, along with three touchdowns.
The reason I like this signing is due to his familiarity with Taylor. Allen spent two seasons working with Taylor in the quarterback's room while the two were in Los Angeles under Rams head coach Sean McVay. At 27, Allen can become a mentor for Burrow, helping the former SEC standout learn the ins and outs of the offense on a more personal level. God forbid a midseason injury were to occur, the Bengals wouldn't have to change much of the offensive gameplan.
Overall, there's not a downside here, for now at least.
Which Bengals player is most in need of a rebound year?
William Jackson III is going to be my pick entering the first week of camp. Two years ago, it seemed like he was the next rising star at cornerback in the NFL after tallying 27 pass deflections and an interception in his first two seasons. Then in 2019, Jackson saw a career-low in deflections and missed two games with a shoulder injury.
With the off-season additions of Trae Waynes and Mackensie Alexander, the Bengals secondary has a fresh boost that could rebound in 2020. However, the attention should be on Jackson, who has all of the skills to be a No.1 shutdown corner in the league. With a bounce-back season, the former Cougar could be pouncing on a lucrative deal to keep him in Cincinnati.
Were there any Bengals players missing from the NFL Top 100?
Well, since the team was one of six without a player represented, absolutely. For now, Boyd, Joe Mixon, and D.J. Reader should have been considered after breakout years. Taking over as the No.1 option, Boyd was consistent for the worst franchise in the league, tallying his second 1,000-yard season and a career-high 90 catches.
Mixon plays the running back position, which has become devalued but was still vital to the Bengals' offensive attack. The third-year starter finished with over 1,400 all-purpose yards to go along with eight total touchdowns. Averaging 4.1 yards per carry, Mixon was a threat to break free at any moment and was essential in the pass blocking on third down.
Reader, who signed with the team this offseason, produced his best season in Houston under Bill O'Brien. Finishing with a career-best in tackles (52) and quarterback hits (13), the former Texans' defensive lineman proved he can be productive against the pass as much as he's shined against the run.
Of the three, Boyd should have at least finished somewhere in the high 80s. Then again, when Kevin Byard and Justin Simmons aren't on the list, can you really say it's accurate?
Cole Thompson is a general NFL writer for Pro Football Network. Thompson also covers the Cincinnati Bengals for PFN's Bengals' vertical. Follow him on Twitter at @MrColeThompson and @PFN365 for all up to date NFL content.