Josh McCown played in the NFL long enough that he once handed the football off to Emmitt Smith for the final carry of the legendary running back's Hall of Fame career. The retired longtime backup quarterback delivered a deep pass to wide receiver Larry Fitzgerald for the first of his 1,432 career receptions. Now, McCown is a real candidate for the Houston Texans' head coach vacancy, and former teammates like Steve Smith Sr. believe he is capable of making the transition to coaching, despite having little experience as a coach.
McCown is interviewing with the Texans for the second time Friday in Houston, according to a league source.
Josh McCown is ready to take on a coaching role after stepping back from football for a year
During 17 years in the NFL, the Jacksonville, Texas, native and former Sam Houston standout saw the game from every possible vantage point. McCown, 42, was a starter, a backup, and operated as an extra coach on the field and in the meeting room for the likes of Kurt Warner, Anquan Boldin, Steve Smith Sr., Calvin Johnson, Warren Sapp, and Julius Peppers. He retired last year after having over 1,000 teammates across the league.
Now, McCown is making his case to use his unique experience as a journeyman quarterback in his bid to become an NFL head coach. McCown recently interviewed for the Houston Texans' head coaching vacancy for the second time in the past year. He is regarded as a strong contender for the job, albeit one following an unconventional path, according to league sources. McCown had a conversation with the Jacksonville Jaguars prior to his interview with the Texans, per sources, but it wasn't a formal interview.
Wanting to spend time with family during his first year of retirement after operating as a backup to Pro Bowl quarterback Deshaun Watson two seasons ago, McCown ultimately decided not to coach for the Texans last year after going through the interview process.
McCown is 'all-in'
It's an altogether different story now. McCown is "all-in" on pursuing a coaching career with the full blessing of his family, including his wife, Natalie, and four children. They've told him to chase his dream of becoming a coach. The former Arizona Cardinals' third-round draft pick has drawn high marks for his knowledge of the game, emotional intelligence, and ability to mentor younger players. McCown's wild-card candidacy has drawn some criticism because of his lack of coaching experience, especially in comparison to career coaches. However, former teammates and others around the league are firm in their belief in McCown.
Whether McCown ultimately replaces David Culley, fired after one season and a 4-13 record, remains to be seen. The Texans have also interviewed and maintained a dialogue with former Miami Dolphins coach Brian Flores and Philadelphia Eagles defensive coordinator Jonathan Gannon, and requested an interview with Los Angeles Rams offensive coordinator Kevin O'Connell. They also interviewed Los Angeles Chargers offensive coordinator Joe Lombardi and retired Pittsburgh Steelers Pro Bowl wide receiver Hines Ward, a receivers coach and special assistant to Florida Atlantic head coach Willie Taggart. What's not doubted by those who know McCown well is his strong potential as a coach and leadership qualities.
Steve Smith spoke glowingly about McCown's potential as a head coach
"Josh sees the game the way quarterbacks see it, a certain way, and they have so many responsibilities," said Smith, a retired Pro Bowl wide receiver who was teammates with McCown with the Carolina Panthers and have remained close friends.
"I like Josh. He's been on so many teams that he knows half of the offenses in the league because he's been around a lot of teams as the backup. He's assisted in developing the quarterbacks to see it a certain way. I think he's helped coaches with game plans. It's an advantage for a coach to have been a backup quarterback. Let's be honest. When I see a backup quarterback get in the game, at some point, he will reveal why he's a backup.
"The true essence of a backup's value is because they study so much that they have to be a second pair of eyes for the quarterback, the coach, and the offensive coordinator. That's a unique responsibility. Not everybody is built for it, but backup quarterbacks have a unique advantage in studying the game and knowing so much. Frank Reich, Doug Pederson, Jason Garrett, they were all backup quarterbacks. They've seen the inside of the game. It doesn't surprise me at all that Josh is being considered for a head coaching job."
"I know Josh in a way that's a little bit different. Josh is my guy. We talk a lot. We have familiar stories with our families. We've had ski trips together, barbecues. Me and him are good friends, but I'm a realist and I'm not going to lie for him. I know how good he is and how much he knows about this game. I told him, (laughing) if he needs a receivers coach, don't call me."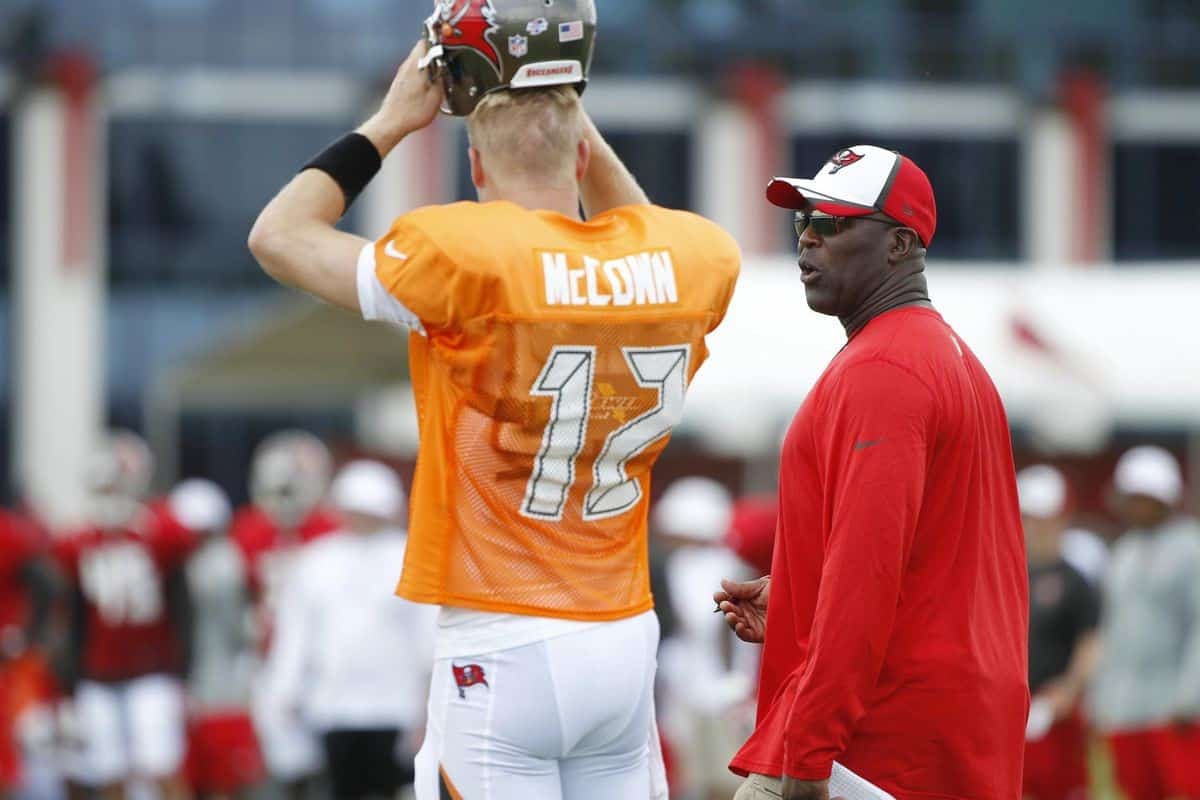 McCown could become a head coach without any formal NFL or college coaching experience
McCown is attempting to do something that's unprecedented. If he had been hired last year, he would have become the first active player to go from playing to become an NFL head coach since former Philadelphia Eagles quarterback Norm Van Brocklin in 1961 with the Minnesota Vikings. Van Brocklin went 66-100-7 in 13 NFL seasons.
McCown's only previous coaching experiences? A volunteer quarterback coach for the Marvin Ridge Mavericks in Waxhaw, North Carolina, before signing with the Chicago Bears and playing for Texans assistant head coach and defensive coordinator Lovie Smith. Subsequently, he became quarterbacks coach at Myers Park in North Carolina. Most recently, he was the receivers coach at Rusk High School for his sons, Aiden and Owen. Owen now plays quarterback for Colorado.
McCown would be skipping several steps as far as the traditional path to becoming an NFL coach. Those who know him best say McCown's rare mind for the game and ability to relate to players and coaches is why he's capable of making this work should he get the opportunity after playing for the Cardinals, Lions, Raiders, Bears, Buccaneers, Browns, Jets, Eagles, and Texans.
Former teammate Gary Barnidge believes McCown can make the move to head coach
"I think Josh would be an outstanding coach because he knows how to deal with every situation, and he has been put in many throughout his career and succeeded so many times," said retired tight end Gary Barnidge, McCown's former Browns teammate. "He knows how to help everyone no matter the position because he is willing to listen and help with anything he can. He was actually someone I had meet with me and my agent when I was talking about contract stuff before I signed my extension in Cleveland.
"I definitely think all the years of Josh being a starter, a spot starter, and a backup has definitely helped to mold the way he sees the game. I think he knows it just as well or even better than a lot of the coaches coaching now. He just has a knack for visualizing the game while it's happening and what other teams are thinking. I think Josh would be an outstanding coach because he knows how to deal with every situation he has been put in many throughout his career and succeeded so many times."
McCown has been eyeing a potential coaching role for several years
The Texans see vast leadership potential in McCown, a highly respected journeyman passer who was once teammates and video game buddies ("Tiger Woods Golf") with Smith at the end of his career in Arizona.
McCown has left his own mark in the NFL that includes a significant amount of mentoring younger quarterbacks. He also had some success when called upon for an on-field role. In relief of an injured Carson Wentz in a playoff loss to the Seattle Seahawks with the Philadelphia Eagles, McCown completed 18 of 24 passes for 174 yards, no interceptions, and a 94.8 passer rating while rushing for 23 yards. Even more impressively, he did this with a hamstring pull so severe that the muscle was ripped off the bone.
McCown has never hid his future coaching ambitions. Now that he's hung up his cleats, he wants to trade them for a clipboard and whistle.
"I believe so," McCown said when he joined the Texans during the 2020 season. "If you'd asked me that 10 years ago, I would've said no way, that's not what I want to do at this level. My dream coming out of college had I not been able to play in the NFL was to coach high school football here in Texas. The longer I've been in this game and been around these guys, I see real value in being able to be a part of an organization and compete at the highest level.
"Whenever I finally take the cleats off, I definitely see that in the future. They understand, as did the Eagles and kind of everybody else for the past four or five years of my career, that I'm definitely interested in that."
A background with Jack Easterby has helped lead to this point
Active in the Fellowship of Christian Athletes, McCown, the older brother of former NFL quarterback Luke McCown and former Texas A&M quarterback Randy McCown, has spoken frequently to church groups. He has a background with Texans executive vice president of football operations Jack Easterby. That helped lead to him joining the Texans after being the oldest practice squad player in NFL history with Philadelphia prior to joining Houston on a two-year, $2.125 million contract he was released from last year.
"Yeah, I knew Jack from some different things," McCown said. "I just have a ton of respect for him, who he is and the kind of man he is, and his ability to lead and love and serve people. It's an attractive quality and I think he's got a vision for how he wants an organization to go and that was the conversations that we had, was just coming and joining what he saw as the direction he wanted to take this thing."
Experience mentoring young quarterbacks and working with different personalities has set a good foundation
McCown has mentored several younger players, including quarterback Sam Darnold when he was a rookie starter for the New York Jets in 2018.
"Josh did a nice job helping Sam out," an offensive coach from the Jets' staff under Todd Bowles. "Josh is a good person. Whether he's ready to be an NFL head coach, that's impossible to say until he's in that seat. It's a weird business, but Josh is a very smart guy. I think he would figure it out fast."
A major part of being a successful coach is getting players to believe in their vision and show them that they care. For McCown, that's included dealing with different types of personalities and connecting with them on a deeper level.
Whether that was becoming friends with a sarcastic, blunt-spoken Jay Cutler or an emotional Brandon Marshall with the Bears. Elsewhere, he helped younger players deal with maturity and off-field issues. These included Johnny Manziel in Cleveland and JaMarcus Russell in Oakland. Then there was helping Darnold acclimate to the NFL as a rookie starter. All of this has made McCown a trusted voice.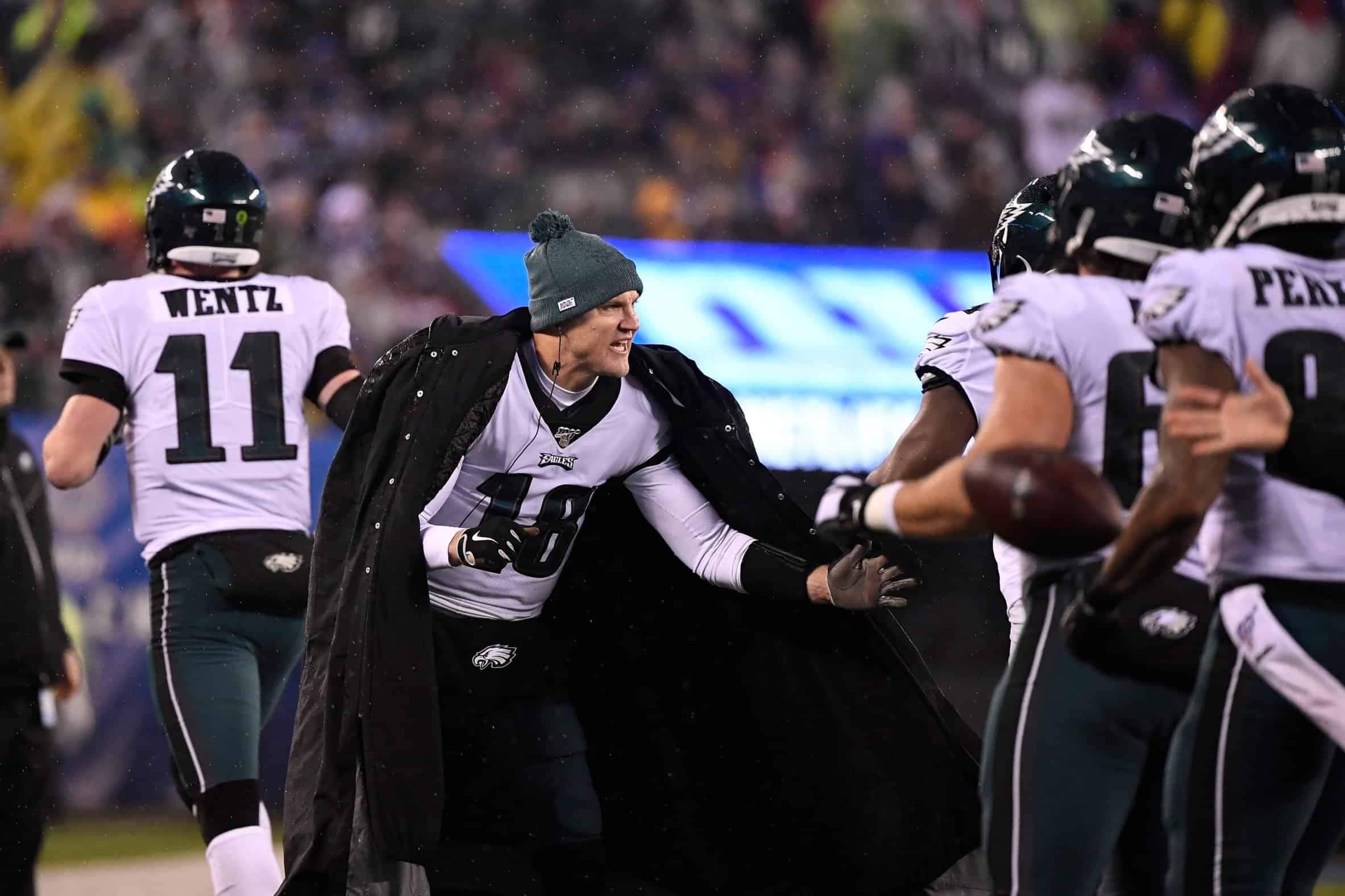 McCown should be able to relate to people from different backgrounds
"What I've always been impressed with Josh is his ability to relate to a lot of people," Smith said. "Of all of the teammates and friends I've had, I think he has the innate ability to relate to a lot of different people from a lot of different backgrounds.
"Being raised in Texas, being around people, what he's experienced as a player, proving himself on the depth chart, Josh found himself a lot of times eating at tables in the cafeteria with people that don't look like him. There will be players, if he becomes the coach, with a lot of different backgrounds and things to adjust to and overcome. Josh, to some degree, has played long enough to relate and sit down and know them as people.
"That's the difference between players and coaches. Coaches sometimes have to act like they care. As players, you can't really fake it. Teammates can tell if someone is genuinely interested as an individual. Players can sniff out BS. I think the most intriguing thing about Josh having this opportunity is I believe he has that Frank Reich ability to be honest and faith-based and be a coach with integrity. I'm not saying other coaches don't have integrity, but former players really try to be straightforward and not give you that company line.
"It's more about not losing the faith of those players and the trust of those men. Former players understand that. They get it and they value that more than coaches who are lifelong coaches sometimes."
The love of football has been evident throughout a long NFL career
After being cut by the Bears a decade ago, McCown went directly to a Marvin Ridge game and joined the team while the game was in progress. Days after Marvin Ridge lost a playoff game that year, the Bears signed McCown. He was the scout team quarterback, taught gym class, and cooked pancakes for Fellowship of Christian Athletes breakfasts on Fridays.
After playing for 18 years and 12 NFL teams along with a stint in the United Football League, the 6-foot-4, 218-pound retired quarterback who passed for 17,731 career yards, 98 touchdowns, and 82 interceptions is pursuing a coaching career.
"I still have that desire to be a part of it," McCown said when he first joined the Texans. "I think that's why Houston was a fit. They offered me the opportunity to be near family, but still be a part of an organization and come be a part of the guys. Emmitt Smith was a Hall of Famer when I got to play with him.
"I know I'm not looked at in that light with players, but I do know and do appreciate what Emmitt gave to me as a young player. You just try to pay it forward with the young guys and just how much you can just impart as best you can for their journey to make it better."