Since the NFL Week 3 betting lines came out Sunday night, there have been some very notable odds movement. Joe Burrow might not play this week due to his calf injury, and his potential absence has caused the odds for Rams vs. Bengals to change drastically. Nick Chubb's season-ending injury also moved the lines for Titans vs. Browns, as Cleveland's offense takes a major hit without its best weapon.
Meanwhile, there have been two games this week in which the favorite has flipped since Sunday night. Let's take a look at the rest of the odds movement as well as some NFL week 3 predictions and picks against the spread, on the point total, and more.
Our Betting Lines page has the freshest lines and promos to get BANG for your buck. PFN's FREE Parlay Calculator and Betting Odds Calculator are also available for your betting process! New to sports betting? Check out our guide on How to Bet on the NFL. Visit our Sports Betting Legal Tracker on how to bet legally in the U.S.
NFL Week 3 Betting Lines
All odds are from FanDuel Sportsbook.
Tennessee Titans vs. Cleveland Browns Odds
Spread
Opening: Browns -4
Current: Browns -3.5
Moneyline
Opening: Titans +158, Browns -188
Current: Titans +160, Browns -190
Total
Opening: 41
Current: 39.5
It's hard to trust either team in this matchup. Ryan Tannehill and this Titans offense are going against a Browns defense that is the top-ranked unit in success rate so far this season.
For Cleveland, they're facing a Tennessee run defense that has allowed just 2.7 yards per carry this season, putting even more pressure on Deshaun Watson to deliver, whose terrible play has continued from last season.
I'm not confident enough in either team here to make a pick against the spread, but I do feel good about the Titans' offense struggling to score points here.
NFL Pick and Prediction: Titans team total under 17.5 points (-115 at DraftKings)
Los Angeles Chargers vs. Minnesota Vikings Odds
Spread
Opening: Chargers -1.5
Current: Vikings -1.5
Moneyline
Opening: Chargers -112, Vikings -104
Current: Chargers -106, Vikings -110
Total
Opening: 51.5
Current: 53.5
If there were props available for "Will this be a one-score game?" and "Will this game be decided in the final two minutes?" I would parlay them and make that my best bet. It seems like these two teams are a mirror image of each other, which makes taking either of them against the spread incredibly scary.
I had my eye on the over when the NFL Week 3 betting lines first came out, but I waited too long. At 53.5, it's less tempting.
In a game that should be high scoring, that means a big day for both passing offenses, right? Justin Jefferson's receiving yards prop is very high at 100.5, and rightfully so. Tyreek Hill more than doubled this number in Week 1, and it would be far from shocking to see a big day from Jefferson.
NFL Pick and Prediction: Lean Justin Jefferson over 100.5 receiving yards (-114 at FanDuel)
New England Patriots vs. New York Jets Odds
Spread
Opening: Patriots -2.5
Current: Patriots -2.5
Moneyline
Opening: Patriots -124, Jets +106
Current: Patriots -152, Jets +128
Total
Opening: 37.5
Current: 36.5
The Patriots have won 14 straight games against the Jets. Sure, they had Tom Brady for eight of those games, but New York has had Zach Wilson for the last four. He's still their starting quarterback, and Bill Belichick is still New England's head coach.
MORE: NFL Week 3 Odds and Betting Trends Against the Spread for Every Game
The only notable movement in this one has been that the total has dropped a point. However, with two turnover-prone QBs going against really good defenses, I would be cautious of taking this under.
Although they're 0-2, the Patriots played two competitive games against the Eagles and Dolphins to start the season. They're probably better than their record indicates, and their defense should have a field day against Wilson.
NFL Pick and Prediction: Patriots -2.5 (-112)
Houston Texans vs. Jacksonville Jaguars Odds
Spread
Opening: Jaguars -8.5
Current: Jaguars -8.5
Moneyline
Opening: Texans +340, Jaguars -430
Current: Texans +340, Jaguars -430
Total
Opening: 45.5
Current: 44.5
No movement in what is the third biggest point spread of the week now that Thursday Night Football is over.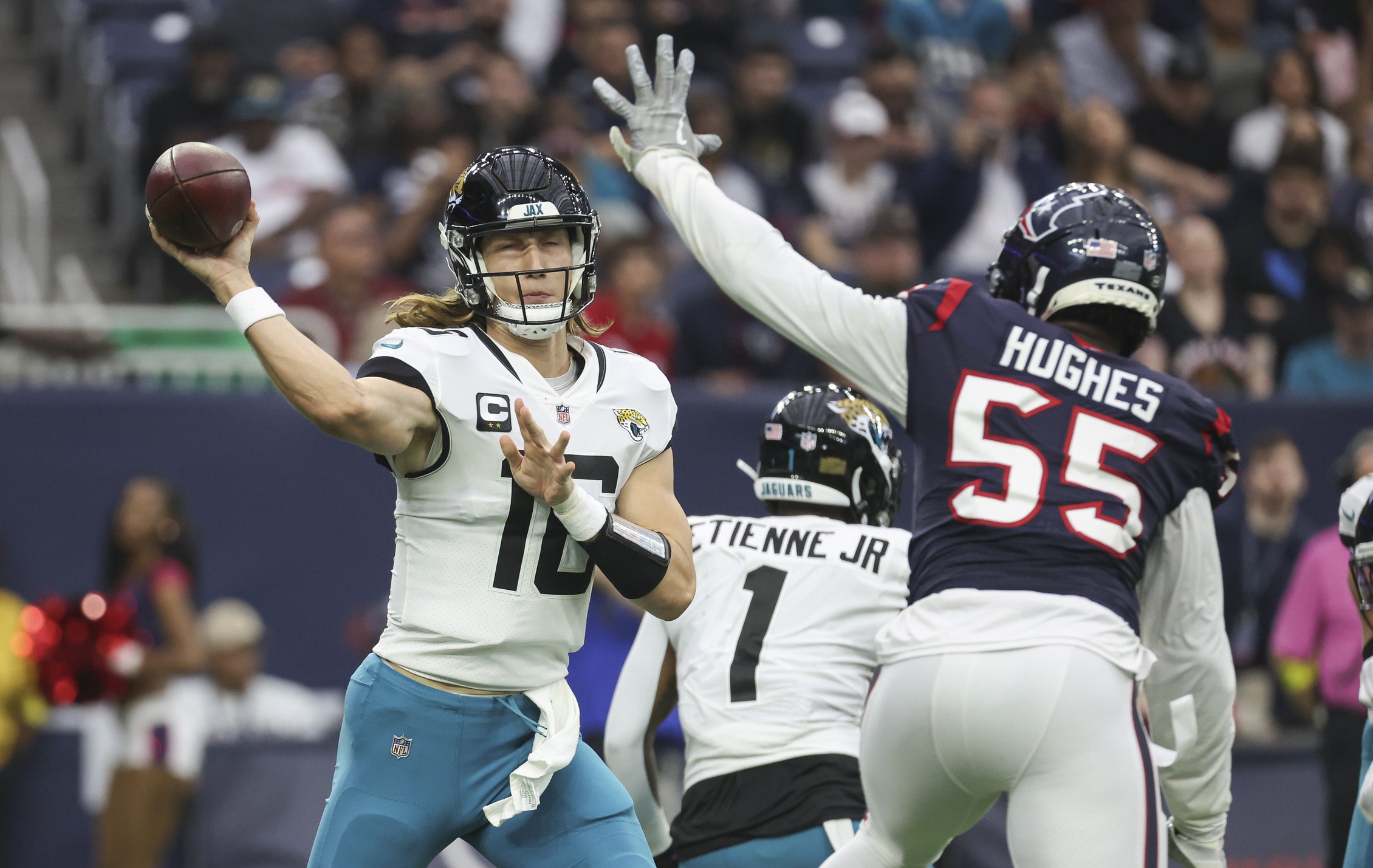 The Jaguars' offense had a rough outing against the Chiefs last week, failing to score a touchdown despite having six possessions in Kansas City territory. Jacksonville's offense should put up more points this week against a Texans defense without Derek Stingley Jr.
Meanwhile, for Houston, C.J. Stroud had a really solid outing against the Colts last week, throwing for 384 yards and two touchdowns. He also might get back both of his starting offensive tackles this week, including Pro Bowl LT Laremy Tunsil.
NFL Pick and Prediction: Lean over 44 points (-112 at DraftKings)
Buffalo Bills vs. Washington Commanders Odds
Spread
Opening: Bills -6.5
Current: Bills -6.5
Moneyline
Opening: Bills -290, Commanders +235
Current: Bills -260, Commanders +215
Total
Opening: 45
Current: 43.5
Heavy storms are in the forecast for this one, potentially a reason why the total has dropped 1.5 points.
Before this was a known factor, I liked the Bills to continue rolling after their bounce-back win last week. Weather permitting, I think this game might be a wake-up call for this 2-0 Commanders team, even though many people wanted to write Buffalo off after Week 1.
NFL Pick and Prediction: Lean Bills -6.5 (-112)
Indianapolis Colts vs. Baltimore Ravens Odds
Spread
Opening: Ravens -8.5
Current: Ravens -8.5
Moneyline
Opening: Colts +330, Ravens -420
Current: Colts +315, Ravens -400
Total
Opening: 44.5
Current: 44.5
Another game that might be impacted by weather, the odds for Colts vs. Ravens have mostly stayed the same.
Even with Anthony Richardson out, I think this is a good spot to back the Colts. Their running game takes a hit without Richardson, but Gardner Minshew makes their passing game much better. He's one of the best backup quarterbacks in the NFL, and should have an efficient day against a Ravens team with a lot of injuries in the secondary. I like getting the hook here at 8.5.
NFL Pick and Prediction: Colts +8.5 (-115 at FanDuel)
Atlanta Falcons vs. Detroit Lions Odds
Spread
Opening: Lions -4.5
Current: Lions -3
Moneyline
Opening: Falcons +168, Lions -200
Current: Falcons +140, Lions -166
Total
Opening: 46.5
Current: 46.5
The Lions enter this one with several injuries. C.J. Gardner-Johnson just went on injured reserve (IR), David Montgomery is expected to miss some time, and three of their starting offensive linemen sat out of Thursday's practice. The good news for them is that Amon-Ra St. Brown should be good to go.
The value was at Falcons +4.5 when the NFL Week 3 betting lines first came out. Their offense is a lot of fun right now — especially Bijan Robinson — and the Lions' defense still looks to be an area of weakness.
NFL Pick and Prediction: Lean Falcons +3 (-102 at FanDuel)
New Orleans Saints vs. Green Bay Packers
Spread
Opening: Packers -1.5
Current: Packers -1.5
Moneyline
Opening: Saints +102, Packers -120
Current: Saints +102, Packers -122
Total
Opening: 43.5
Current: 42.5
The Packers' Week 1 win over the Bears might not look as impressive now, given how bad Chicago has looked, and they blew a double-digit lead going into the fourth quarter against the Falcons last week.
Green Bay's also due for a bit of regression offensively, as they have had zero turnovers and are tied for first in the NFL in percentage of red-zone possessions ending with a touchdown at 83.33%.
They might have Aaron Jones back for this one, but the Packers are facing a Saints defense that has only allowed one touchdown this season, which was in garbage time.
I have lost a point in value here, as the total has dropped from 43.5 to 42.5 since Sunday, but I still like it enough to take it.
NFL Pick and Prediction: Under 42.5 (-110 at FanDuel)
Denver Broncos vs. Miami Dolphins Odds
Spread
Opening: Dolphins -6
Current: Dolphins -6.5
Moneyline
Opening: Broncos +210, Dolphins -255
Current: Broncos +225, Dolphins -275
Total
Opening: 46
Current: 47.5
This is the scariest line of the week. The Dolphins are going to be the most public side of the week, yet the spread has barely moved. This will be their first home game of the season as well.
MORE: Dolphins Super Bowl Bet — $1.6 Million on the Line for One Bettor
Meanwhile, the Broncos won't have the Mile High home-field advantage like they did in Weeks 1-2.
I don't see the Dolphins losing, so I wouldn't mind teasing them down to -0.5. But for now, I don't have a strong lean and will pass for the time being.
Carolina Panthers vs. Seattle Seahawks Odds
Spread
Opening: Seahawks -4.5
Current: Seahawks -6
Moneyline
Opening: Panthers +168, Seahawks -200
Current: Panthers +220, Seahawks -270
Total
Opening: 42.5
Current: 42
Bryce Young has been ruled out for this one, but with Andy Dalton in his place, I think that raises the floor of this Panthers offense.
This could backfire, as Dalton is much less mobile and will be playing behind a poor offensive line. However, they get an advantageous matchup against a Seahawks defense that has allowed the second-most yards per game.
NFL Pick and Prediction: Panthers team total over 16.5 (-122)
Chicago Bears vs. Kansas City Chiefs Odds
Spread
Opening: Chiefs -12.5
Current: Chiefs -12.5
Moneyline
Opening: Bears +530, Chiefs -750
Current: Bears +590, Chiefs -850
Total
Opening: 49.5
Current: 48.5
Neither 12.5-point spread has moved this week, despite how popular each favorite will be in six-point teasers to get them at giving less than a touchdown.
Last week, I backed the Chiefs as short-favorites, but this week I'll be fading them against the spread. For his career, Patrick Mahomes is 7-13-1 against the spread (ATS) as a double-digit favorite in the regular season.
Obviously, I don't think there's any chance of upset potential, but I could see the Bears utilizing Justin Fields more in the running game after he called out the offensive coaching staff this week.
NFL Pick and Prediction: Bears +12.5 (-108 at DraftKings)
Dallas Cowboys vs. Arizona Cardinals Odds
Spread
Opening: Cowboys -12.5
Current: Cowboys -12.5
Moneyline
Opening: Cowboys -700, Cardinals +500
Current: Cowboys -670, Cardinals +490
Total
Opening: 43.5
Current: 42.5
Unlike Weeks 1 and 2, I'm not expecting the Cardinals to have a lead at halftime.
MORE: NFL Survivor Picks Week 3 — Are the Chiefs, Cowboys, and Seahawks Good Options This Week?
I can't stomach taking them against the spread after how they rolled over in the second half against the Giants last week (still covered), but it seems too easy to take the Cowboys here. Pass on this one.
Pittsburgh Steelers vs. Las Vegas Raiders Odds
Spread
Opening: Steelers -1.5
Current: Raiders -2.5
Moneyline
Opening: Steelers -126, Raiders +108
Current: Steelers +120, Raiders -142
Total
Opening: 43.5
Current: 43
This point spread has moved four points this week, even after the Raiders' blowout loss to the Bills and the Steelers beating the Browns on Monday Night Football. Yet, it makes complete sense to me.
Pittsburgh needed two defensive touchdowns to beat Cleveland last week. After their starting offense scored a touchdown on every drive in the preseason, the narrative has completely flipped. So far this season, they're only averaging 247 yards per game.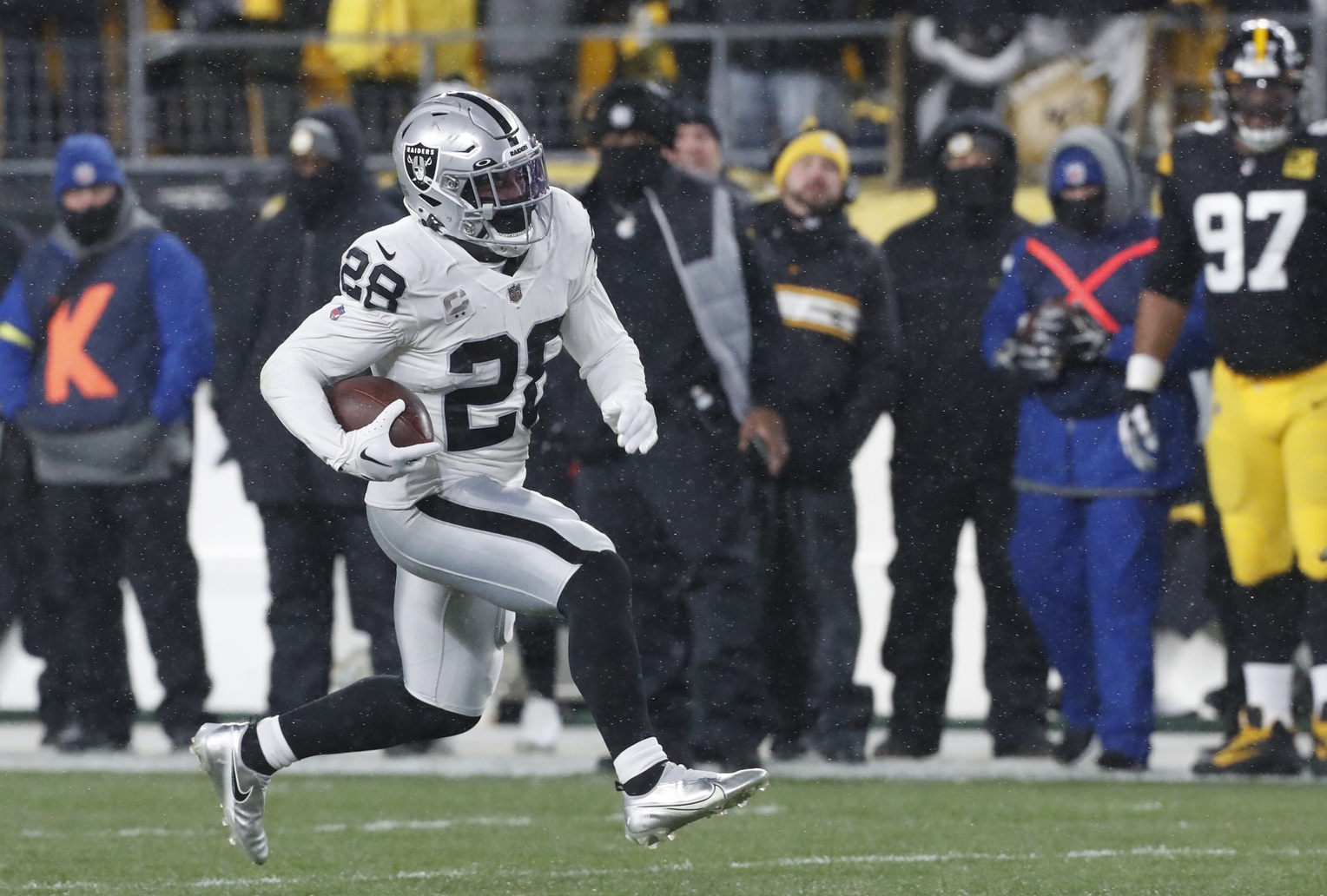 Josh Jacobs should have a bounce-back game against a Steelers run defense without Cam Heyward, allowing the Raiders to play ball-control football.
I got the under while it was at 43.5, but would still even play it at this number. Keep fading the Steelers' offense while you can, especially when they're due for regression in turnover luck.
NFL Pick and Prediction: Under 43 (-110 at FanDuel) 
Philadelphia Eagles vs. Tampa Bay Buccaneers Odds
Spread
Opening: Eagles -6.5
Current: Eagles -4.5
Moneyline
Opening: Eagles -300, Buccaneers +245
Current: Eagles -230, Buccaneers +190
Total
Opening: 45
Current: 46
There has surprisingly been a lot of line movement in this one, as the point spread has dropped two points. The Eagles have had many injuries, particularly in the secondary, so far this season.
Nickel corner Avonte Maddox is out for the season, and Reed Blankenship and James Bradberry have been dealing with injuries. Both were limited participants in practice on Thursday, however.
Philadelphia's offense had a sluggish start to the season before they leaned on D'Andre Swift and the running game in the second half against Minnesota, putting up 21 points. This Buccaneers run defense is much more stout, however, and Jalen Hurts and this passing offense need a bounce-back day.
On the other side, Tampa Bay, especially Baker Mayfield, has been a pleasant surprise so far this season. But it's only been two weeks, and this Eagles' defense will be a much greater challenge than what they went up against in Weeks 1 and 2.
For the moment, I don't have any strong leans in this game.
Los Angeles Rams vs. Cincinnati Bengals Odds
Spread
Opening: Bengals -6.5
Current: Bengals -3
Moneyline
Opening: Rams +225, Bengals -275
Current: Rams +130, Bengals -155
Total
Opening: 46.5
Current: 43.5
I grabbed Rams +6.5 on Sunday night, as that number seemed very surprising to me, regardless of Joe Burrow's availability. Since then, the line dropped to as far as Bengals -2 but is now back up to 3.
MORE: Joe Burrow Injury Update — Sportsbooks Adjust Rams vs. Bengals Betting Lines
Burrow said he is preparing like he is going to go out and play on MNF, but it's still too early to know one way or the other. Burrow's questionable status for this game makes it difficult to make another pick beyond my Rams +6.5 bet, which is obviously no longer available.