After a long seven months, the time has finally come. Tell your family and friends that you will be unavailable for the next few months — FOOTBALL IS BACK!
We have had plenty of time to analyze the odds, but it's now officially time to start making our NFL Week 1 predictions. Here's a rundown of the betting lines and Week 1 NFL picks from PFN's Trey Wingo, Chief Content Officer David Bearman, Betting Director Brian Blewis, and Betting and Fantasy Analysts Jason Katz and Kyle Soppe.
Cash in on these sportsbook promo offers by clicking on the widget below!
NFL Week 1 Picks and Predictions
All odds from DraftKings Sportsbook, unless noted otherwise, are as of Sept. 8. Click on the widgets below each pick to make your bet directly with the sportsbook.
Houston Texans vs. Baltimore Ravens Prediction
Spread
Ravens -9.5
Moneyline
Texans +370, Ravens -485
Total
44
Game Time
1:00 p.m. EST
Location
M&T Bank Stadium
How To Watch
CBS, Fubo TV, Paramount Plus, NFL Sunday Ticket
Blewis: All of the trends are in the Ravens' favor in this one. Under John Harbaugh, they're 11-4 ATS in Week 1 and 14-2 SU against rookie quarterbacks at home. But this is too many points in my opinion.
Although the Ravens have typically started the season strong with Lamar Jackson, this will be his first time as the opening-week starter in a new offense. We expect this to be an improved offense under new offensive coordinator Todd Monken, but the results might not come right away, even against the Houston Texans.
Under new head coach DeMeco Ryans, the Texans have much more talent on defense than in the last couple of seasons, so the unit should be much better in 2023.
This isn't one of my best bets, but if I were to make a pick, I would lean towards taking the Texans and the points.
Pick: Texans +10 (-110) made earlier this week
Arizona Cardinals vs. Washington Commanders Prediction
Spread
Commanders -7
Moneyline
Cardinals +250, Commanders -310
Total
38
Game Time
1:00 p.m. EST
Location
FedEx Field
How To Watch
Fox, Fubo TV, NFL Sunday Ticket
Katz: In what I imagine will be a theme this season before the books nerf this line into oblivion, I am going to fade the Cardinals here. That said, by no means are the Commanders a juggernaut team, and they probably don't deserve to be touchdown favorites over anyone. So we're not going that route.
The Cardinals are rolling out Clayton Tune or Josh Dobbs at quarterback, and the only real offensive weapons are Hollywood Brown and James Conner. Forgive me for not being excited about this offense. Essentially, my feelings are as follows: I am operating under the assumption that this team cannot score any points until it proves to me it can.
Pick: Cardinals team total under 15.5 points (-112)
Soppe: I generally hate going with the favorite in these exotic markets, but the Cardinals are nothing short of a dumpster fire. I see no reason why we won't see that this weekend in Washington.
The Commanders led the NFL in average time of possession a season ago (33:05, the highest since the 2019 Ravens), making it unlikely that the Cards have the ball for extended stretches. Sam Howell under center for Washington only further cements that thought: he's got enough mobility to extend plays instead of stopping the clock by way of the throwaway.
We all think this Arizona offense is among the worst in the league, putting pressure on the defense to overachieve — I'm not banking on that either. The Cardinals were bottom-10 in interception rate, third-down defense, and overall penalty yardage last season.
The other two favorites in this market are the Texans and Panthers. Houston faces what I expect to be an uptempo Ravens offense, while Carolina is a sub-four-point underdog. To me, the odds reflect these three offenses being in the same tier of Week 1 expected futility, I just don't think that's the case.
Pick: Cardinals to be the lowest-scoring team on Sunday (+600)
Jacksonville Jaguars vs. Indianapolis Colts Prediction
Spread
Jaguars -5
Moneyline
Jaguars -245, Colts +200
Total
46.5
Game Time
1:00 p.m. EST
Location
Lucas Oil Stadium
How To Watch
Fox, Fubo TV, NFL Sunday Ticket
Wingo: I picked the Jaguars at -3.5 but still like them at -5 when you consider the Colts will start a different QB in Week 1 for the eighth straight season.
Pick: Jaguars -5 (-110)
Tampa Bay Buccaneers vs. Minnesota Vikings Prediction
Spread
Vikings -5.5
Moneyline
Buccaneers +190, Vikings -230
Total
45.5
Game Time
1:00 p.m. EST
Location
U.S. Bank Stadium
How To Watch
CBS, Fubo TV, Paramount Plus, NFL Sunday Ticket
Soppe: I mentioned Week 1 being built of narratives, and the demise of the Buccaneers offense is high on that list. Tom Brady retiring doesn't make this offense better, but did you know that Baker Mayfield actually averaged more yards per attempt than the GOAT last season?
As for the Vikings, we know they are potent on the offensive end, and drafting Jordan Addison tells me that this team is well aware that they need to put up points to win games. According to Inside Edge, there are more than a few point-a-palooza stats centered around Minnesota:
Overs went 7-2 playing at home (highest in the NFL)
Overs are 13-7 since 2021 when MIN is favored
Overs are 37-13 in MIN games over the past three seasons (highest in the NFL)
The Vikings ranked bottom-three in the league in both yards per play and passing yards allowed per game. Both of these defenses were bottom-11 in terms of red-zone defense. Let's keep it going. The Vikings have ranked 25th or worse in average time of possession in consecutive seasons.
The story I'm telling here is that the Vikings want to focus on offense, and the public is overestimating what the departure of TB12 means to the Bucs. This is my sneaky DFS target game for the week. If I'm going to be right on that front, this total isn't nearly high enough.
Pick: Over 45.5 points (-110)
Blewis: Everyone knows the Vikings were the most fraudulent 13-win team in NFL history last season, with 11 of those wins coming in one-score games and having a negative point differential. When it comes to the 2022 Vikings, I'm going to have to disagree with Bill Parcells — their record did not say who they were.
The Buccaneers might end up being one of the worst teams in the NFL this season. But the disparity between them and on the road at Minnesota isn't this many points, especially when you consider Soppe's point above about Baker Mayfield not being as big of a downgrade as you would expect from the 2022 version of Tom Brady.
If there was any matchup for him and Mike Evans/Chris Godwin to exploit, it would be this passing defense, which ranked 31st in yards allowed last season.
Pick: Buccaneers +6 (-110) made earlier this week
San Francisco 49ers vs. Pittsburgh Steelers Prediction
Spread
49ers -2
Moneyline
49ers -135, Steelers +114
Total
41.5
Game Time
1:00 p.m. EST
Location
Acrisure Stadium
How To Watch
Fox, Fubo TV, NFL Sunday Ticket
Katz: I had plenty of success in the preseason betting on the Steelers. Why stop now? I hesitate to call any Week 1 line a "trap" because this is the one week where the books know just as little as us. But this looks like a trap.
The Steelers' offense was anemic last season, and, for most bettors, that's the last thing they remember. But Pittsburgh looked much improved this preseason. Kenny Pickett is going to be better, and he has no shortage of weapons at his disposal. The 49ers are a great team and are still going to win 10 games, but doesn't them covering this spread seem so easy here? Not so fast. Steelers get it done at home.
Pick: Steelers +2 (-110) made earlier this week
Soppe: This pick requires a little projecting, but don't they all? Much of the fantasy/betting industry is looking for a big step forward in Year 2 from Kenny Pickett, and if that's going to happen, Week 1 is a good place to start.
Over the past two seasons, five first-round QBs have made a significant step forward in their second season. Four of them won in Week 1 of that season as an underdog, and the lone exception was Trevor Lawrence. While his Jags lost the opener, they did boast a +46 point differential in September. The moral of the story is that if a Year 2 leap is coming, it is usually foreshadowed by an impressive Week 1 showing.
If you're not buying that train of thought, it's OK. The Niners were just 4-4 ATS on the road last season compared to 7-2 ATS at home, and the Steelers were 3-1 outright last season when getting three points or less. Those are two interesting trends courtesy of Inside Edge that are worth nothing, as is the fact that unders are 9-1 over the past two seasons when the Steelers face a top-10 run defense.
That last stat doesn't directly point to a Pittsburgh cover. Still, in a game with an already low total, an under would point toward the team receiving points as a decent play. This feels greasy because I think San Francisco is a very good team, but I'll take the points in Week 1.
Pick: Steelers +2.5 (-110) made earlier this week
Bearman: Katz and I have ridden the Steelers train all preseason and have money to spend on Pittsburgh. Granted, it was the preseason, but the offense looked better than any of the other 31 teams in August.
To be honest, this pick is more about not believing in the Niners just yet. In the end, they will probably be one of the top NFC teams, but remember, the last time we saw Brock Purdy, his arm was falling off in the NFC title game. Nick Bosa hasn't been in camp, and it hasn't been all roses for San Fran this offseason, dealing with the Trey Lance drama.
A lot of people are on this Niners bandwagon, and as we saw last year in Week 1 in their horrible loss to the Bears, all is not as it seems in the first week of the season. The Steelers are as well-coached as anyone and getting 2.5 at home in what amounts to a 10:00 a.m. local start for the Niners. I'm taking it a step further than my peers. Give me the Steelers OUTRIGHT!
Pick: Steelers ML (+120) made earlier this week
Blewis: Four of us are on the same side?! That is scary.
Every experienced bettor knows that the Steelers under Mike Tomlin have been a covering machine as underdogs, especially at home, with ATS records of 51-27-3 and 15-4-3. But that's not entirely why I like them here.
You never want to overreact to the preseason, but we have reason to believe what we saw from the Steelers' offense is real. After a terrible start to his rookie season last year, in which he threw for three TDs and eight INTs, Kenny Pickett was much better down the stretch, leading the Steelers to a 5-1 record.
This season, he looks poised for the second-year jump we have seen from a lot of former QBs taken in the first round in recent years. He also has a strong supporting cast with an improved offensive line and a talented wide receiver duo in Diontae Johnson and George Pickens.
I personally think this is a bad matchup for a 49ers team that went 2-4 ATS as road favorites last season. I'm going to hop on the Steelers bandwagon here with my colleagues.
Pick: Steelers +2.5 (-110) made earlier this week
Cincinnati Bengals vs. Cleveland Browns Prediction
Spread
Bengals -2.5
Moneyline
Bengals -130, Browns +110
Total
47.5
Game Time
1:00 p.m. EST
Location
Cleveland Browns Stadium
How To Watch
CBS, Fubo TV, Paramount Plus, NFL Sunday Ticket
Wingo: Cincinnati is just 1-4 vs. the Browns in their last five games. Give me the Browns and the points.
Pick: Browns +2.5 (-110)
Blewis: I'm high on the Cleveland Browns this season and lower than consensus on the Cincinnati Bengals. Considering they're playing each other in Week 1, and these public opinions are baked into the price, I have to take the Browns here, right?
Joe Burrow basically missed the entire preseason due to a calf injury. He missed the 2022 preseason as well with an injury and was rather rusty in his first two starts, throwing for two touchdowns and four interceptions, with a 73.1 QB rating. After sitting out nearly all of training camp, his first game back will be against a Browns defense that could have one of the best pass rushes in the NFL this season, led by Myles Garrett.
On the other side, the Browns should be much more efficient offensively than they were with Deshaun Watson last season. He has shaken off the rust and has had more time to get acclimated to the offense.
I think this is nearly a coin-flip game, but with the Browns getting points at home? Give me the Browns.
Pick: Browns +2.5 (-110)
Tennessee Titans vs. New Orleans Saints Prediction
Spread
Saints -3
Moneyline
Titans +140, Saints -166
Total
42
Game Time
1:00 p.m. EST
Location
Caesars Superdome
How To Watch
CBS, Fubo TV, Paramount Plus, NFL Sunday Ticket
Bearman: It's not a surprise I would be on the Saints here, as I touted them throughout the offseason as a sleeper team due to their ridiculously easy schedule and awful division. They now have a veteran QB in Derek Carr, who has playmakers in Chris Olave and Michael Thomas, and an above-average defense.
I am not sure what to make of the Titans. On one hand, they return the coach, QB, and All-Pro RB from a 2021 team that earned a top seed in the AFC and a 2022 team that started 7-3. But the same 2022 team lost its last seven games to miss the playoffs. I just think the Saints are the better team, and I'm not worried about giving up three at home. The Saints get off hot in what realistically could be a 6-0 start.
Lean: Saints -3 (-110)
Carolina Panthers vs. Atlanta Falcons Prediction
Spread
Falcons -3.5
Moneyline
Panthers +164, Falcons -198
Total
39.5
Game Time
1:00 p.m. EST
Location
Mercedes-Benz Stadium
How To Watch
Fox, Fubo TV, NFL Sunday Ticket
Blewis: I don't like overreacting to the preseason, but I can't help myself after watching the Carolina Panthers' first-team offense. My expectations were already low for them this season, but man, that was tough to watch.
Bryce Young might go on to have a very long and successful career, but I'm expecting growing pains for him and this offense initially, especially since his wide receivers are already banged up, his offensive line looks like a major weakness, and Frank Reich-coached teams historically start the season really slow.
On the other side, the Atlanta Falcons should be a much better team in 2023 on both sides of the ball. As long as Desmond Ridder can protect the football and be a game manager, this offense should be explosive due to its talented set of skill position players in Bijan Robinson, Drake London, and Kyle Pitts, as well as their head coach and play caller in Arthur Smith.
These are two teams that I see going in opposite directions this season, and it starts in Week 1.
Pick: Falcons -3.5 (-110)
Philadelphia Eagles vs. New England Patriots Prediction
Spread
Eagles -3.5
Moneyline
Eagles -198, Patriots +164
Total
45
Game Time
4:25 p.m. EST
Location
Gillette Stadium
How To Watch
CBS, Fubo TV, Paramount Plus, NFL Sunday Ticket
Bearman: Philly is a far better team here and should be favored by 6-7 points. The line has moved back and forth from 3.5 to 4.5 and is now back to 3.5, which allows us to buy it down to -3 for 27 cents. The Eagles are a touchdown favorite better than New England, so this will likely be one of my best bets of the week.
The Eagles return a 14-win team that arguably got better through the drafting of Georgia's entire defense. Nothing the Patriots did in the offseason got me excited. JuJu Smith-Schuster and Mike Gesicki are good players, but this was an eight-win team last year that won't be any better this season. Lay the wood.
Pick: Eagles -3 (-127 at SugarHouse) made earlier this week
Katz: For this one, perhaps I'm allowing myself to be suckered. The Eagles laying only 3.5 against what projects to be a bottom-five team? If the Patriots keep this close, more power to them. There's just such a massive gap in talent here.
This feels like one of those lines where if these teams met later in the season, it would be Eagles -7.
Lean: Eagles -3.5 (-110) made earlier this week
Los Angeles Rams vs. Seattle Seahawks Prediction
Spread
Seahawks -5
Moneyline
Rams +185, Seahawks -225
Total
46
Game Time
4:25 p.m. EST
Location
Lumen Field
How To Watch
Fox, Fubo TV, NFL Sunday Ticket
Bearman: I touted the Rams as a team to likely get over their 6.5 win mark, as they have just too much talent and are much better than the 5-12 mark of last year's post-Super Bowl run.
That being said, if Cooper Kupp, who had a hammy setback last week, is out, this Rams team has no offense. He's the only playmaker out there, and they are a much different team without him. With or without Kupp, the Rams were dead last in the NFL in yards last year and tied for 26th in points. Unless Sean McVay has something up his sleeve without his star wideout, it could be a long day in Seattle.
Pick: Rams TT under 20.5 (-120)
Las Vegas Raiders vs. Denver Broncos Prediction
Spread
Broncos -3.5
Moneyline
Raiders +150, Broncos -180
Total
44
Game Time
4:25 p.m. EST
Location
Empower Field at Mile High
How To Watch
CBS, Fubo TV, Paramount Plus, NFL Sunday Ticket
Soppe: Week 1 is very much a narrative-driven slate, as all we have is stale data from last season and preseason storylines. On one side of this AFC West battle, we have a team that brought in a high-profile head coach and saw its starting running back (Javonte Williams) recover well ahead of schedule from a torn ACL. The other, meanwhile, suffered through a star holdout (Josh Jacobs) during a summer in which it was working in a new quarterback.
So, no, it doesn't surprise me that the public is off the Raiders (most picked-against win total by handle this summer) and interested in the Broncos. That's OK, I'm happy to be different.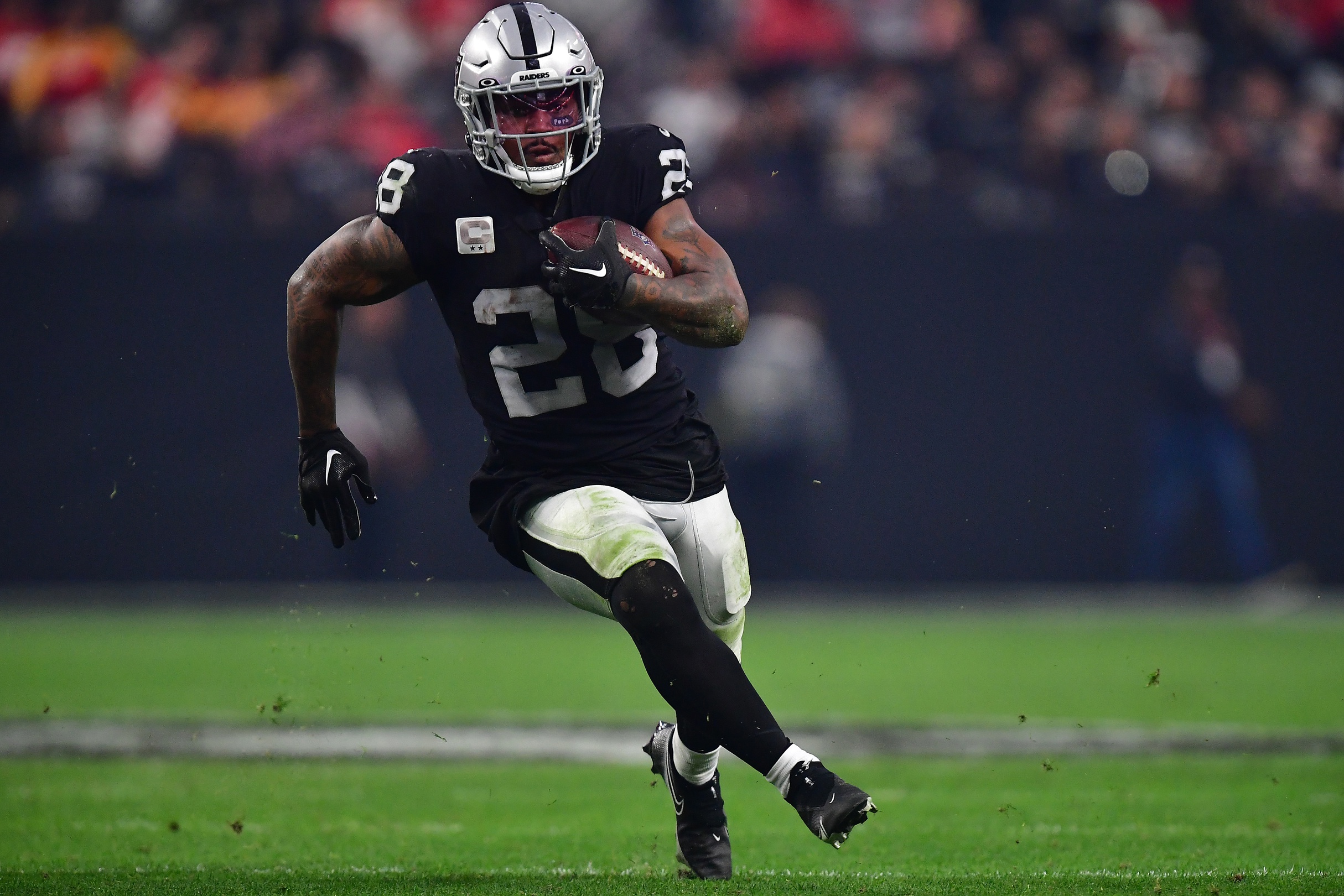 Since 2019, Jimmy Garoppolo's team is 31-15 when he throws at least 20 passes. That's a good place to start. Even better is the fact that seven of those 15 losses came by four or fewer points.
Josh Jacobs reached 160 yards from scrimmage in both games against Denver last season, giving Vegas the ability to shorten this game. I also expect the impact of Mile High to be lessened due to the extended time to get acclimated. This game should come down to the wire, so I'll happily take anything north of a field goal with the road team.
Pick: Raiders +4 (-105) made earlier this week
Miami Dolphins vs. Los Angeles Chargers Prediction
Spread
Chargers -3
Moneyline
Dolphins +136, Chargers -162
Total
51
Game Time
4:25 PM EST
Location
SoFi Stadium
How To Watch
CBS, Fubo TV, Paramount Plus, NFL Sunday Ticket
Soppe: Over the past four seasons, underdogs in games with a 50-plus point total have covered 58.9% of the time. If that wasn't enough, that cover rate moves to 61.9% when that underdog is playing on the road. If you're really getting aggressive, the Bolts have seen a league-high 19 games during the Justin Herbert era be decided by three points or less.
Pick: Dolphins +3 (-110)
Green Bay Packers vs. Chicago Bears Prediction
Spread
Bears -1
Moneyline
Packers -102, Bears -118
Total
42
Game Time
4:25 p.m. EST
Location
Soldier Field
How To Watch
Fox, Fubo TV, NFL Sunday Ticket
Katz: There's a lot of buzz surrounding the Bears this season. The addition of DJ Moore has many believing he will help elevate Justin Fields as a passer. Moore is a great player who will undoubtedly help this team, but I don't see Fields as this year's Jalen Hurts. I just don't think Fields is that guy. He's great for fantasy football — not so much for real football.
Meanwhile, Jordan Love has looked quite competent in the preseason. Christian Watson is better than he gets credit for, and I'm a big fan of rookie Jayden Reed. In a weak NFC, the Packers are a dark horse to make the playoffs, and I think they kick their season off doing what they do best: beating the Bears.
Pick: Packers +1 (-108)
Blewis: I'm going to have to agree with Katz on this one. There has been too much hype surrounding Justin Fields and the Chicago Bears and not enough for the Green Bay Packers. I'm not ready to believe that Fields will make a big jump as a passer this season, and there are still too many holes on their defense.
Meanwhile, the Packers have a lot of young talent on both sides of the ball, and Jordan Love is falling under the radar a bit too much. Going into this matchup, the public opinion is that the Bears have the superior quarterback, but are we really sure about that? I guess we'll find out.
Don't even give me the points, I'll take them straight up.
Pick: Packers ML (+102 at BetRivers)
Dallas Cowboys vs. New York Giants Prediction
Spread
Cowboys -3.5
Moneyline
Cowboys -170, Giants +142
Total
46.5
Game Time
8:20 p.m. EST
Location
MetLife Stadium
How To Watch
NBC, Peacock
Bearman: I'll start by saying I don't love a side in either primetime game. But getting 3-3.5 points in a night home divisional game is intriguing, especially when it's the Giants, who were a league-best 13-4 ATS in Brian Daboll's first season. I'll play it a little differently and combine it with another primetime lean I have in the Jets.
Lean: Giants/Jets moneyline parlay (+415)
Buffalo Bills vs. New York Jets Prediction
Spread
Bills -2.5
Moneyline
Bills -135, Jets +114
Total
45.5
Game Time
8:15 p.m. EST
Location
MetLife Stadium
How To Watch
ESPN, ABC, ESPN+
Bearman: There hasn't been more hype for any team this offseason than for this Jets team, given the additions of Aaron Rodgers and Dalvin Cook. Expectations are at an all-time high, which has led me to fading them for the season. That being said, I expect them to play well in the home prime-time opener. Just like the SNF game with the Giants, I like but don't love. Put them together for a nice primetime moneyline underdog parlay.
Lean: Jets/Giants moneyline parlay (+415)
Blewis: The Jets hype started once they traded for Aaron Rodgers, and it has reached another level after being featured on Hard Knocks. I'm a believer in this Jets team potentially competing for a playoff spot, but to get less than a field goal here in backing the Bills is too enticing.
People might be sleeping on the Bills too much because our last memory of them is a 27-10 playoff loss at home to the Bengals. But Josh Allen is 100% after playing through an elbow injury for the second half of last season, and the Bills enter Week 1 as a team with much more continuity than the Jets.
If there is a time to fade the Jets, this is the week.
Lean: Bills -2.5 (-108)
NFL Week 1 Recap and Results
Detroit Lions vs. Kansas City Chiefs
Spread
Chiefs -4
Moneyline
Lions +164, Chiefs -198
Total
53
Our experts made their picks for this game before Travis Kelce's injury when the spread was still at Chiefs -6.5. Trey Wingo and David Bearman were on opposite sides in this one, going 1-1 with Bearman's pick of Lions +7 covering in Detroit's 21-20 win over the Chiefs.
Listen to the PFN Betting Podcast
Listen to the PFN Betting Podcast! Click the embedded player below to listen, or you can find the PFN Betting Podcast on iTunes, Spotify, and all major podcast platforms. Be sure to subscribe and leave us a five-star review!