The Atlanta Falcons defied expectations in 2022 as they adopted a run-heavy approach that allowed them to grind out a 7-10 record. They think they may have a franchise quarterback in Desmond Ridder.
With that in mind, we're diving into what the best and worst-case scenarios are for the Falcons in 2023.
Predicting the Best-Case Scenario for the Falcons' 2023 NFL Season
The Falcons were one of the most intriguing teams in the NFL entering the offseason, as they boasted an impressive young core of playmakers, the most cap space in the league, and the eighth overall pick.
Instead of working to land a star quarterback like Lamar Jackson and building around him, the entire franchise stood behind Ridder. The second-year quarterback played in four games in 2022 after being a third-round pick, which was apparently enough for head coach Arthur Smith to become "comfortable" moving forward with him.
Ridder performed decently in his four starts, completing 63.5% of his attempts for only 6.2 yards per attempt, two touchdowns, and zero interceptions. With Atlanta leading the NFL in rushing attempts and boasting the fourth-best yards per carry, Ridder's job was to take care of the ball and move the chains when asked to. He admitted his "head was spinning" as a rookie but believes the unit will be "explosive" in 2023 with a year under his belt.
Atlanta's win total at DraftKings Sportsbook is 8.5, and they're -150 to miss the playoffs. It should help that the Falcons have the second-easiest schedule in the league.
MORE: Atlanta Falcons 2023 Season Preview
There's reason to believe Ridder will be correct if he's even an average NFL starter. At best, the Falcons are right in their conviction that Ridder can improve his accuracy and take advantage of his strong arm and tall, athletic playmakers. The duo of tight end Kyle Pitts and wide receiver Drake London is drool-worthy, and Mack Hollins and Scotty Miller are undervalued role players at receiver.
The bar is low to see this passing game improve because Marcus Mariota was an abysmal thrower in the 13 games he started in 2022. Pitts all but disappeared by no fault of his own, and Atlanta had only three games with more than 171 passing yards in games Mariota played. Ridder might be good enough to help Atlanta win more contests by simply continuing the pace he established in his last two starts of the season.
There's also the addition of Bijan Robinson, who was arguably the best player in the entire 2023 NFL Draft class. Robinson said he already trusts Smith to use him "the right way" as he's putting him at receiver and running back. It might not be likely, but there's a chance that if Robinson can stay healthy and if Atlanta continues to run the ball so much, Robinson could challenge Eric Dickerson's rookie rushing record of 1,808 yards.
Atlanta's defense has less certainty about what it'll be. The unit was only able to avoid awful status in 2022 because the offense drained so much clock. They were dead last in the NFL by allowing a whopping 43.5% of drives to finish with a score.
They scurried to add a host of veterans to the unit to help raise their floor. The defensive line will be much tougher with the acquisitions of Calais Campbell, David Onyemata, and Bud Dupree. The secondary added star safety Jessie Bates III, and they're hoping to find a bargain-bin value out of Jeff Okudah, Mike Hughes, and Tre Flowers.
MORE: Best NFL Offenses | Best NFL Defenses
Bates' addition will help the secondary justify bringing safety Richie Grant closer to the line of scrimmage without exposing their corners, and getting A.J. Terrell for the whole year will boost the defense even more.
But it's not a good defense unless the pass rush massively improves. The unit ranked 26th in pass-rush win rate and 29th in run defense. Expect the latter to get significantly better, and the best case for the defense is for someone from their rotation of Lorenzo Carter, Arnold Ebiketie, and DeAngelo Malone to emerge as a very good sack artist.
Atlanta can challenge for the NFC South crown because it's such a bad division.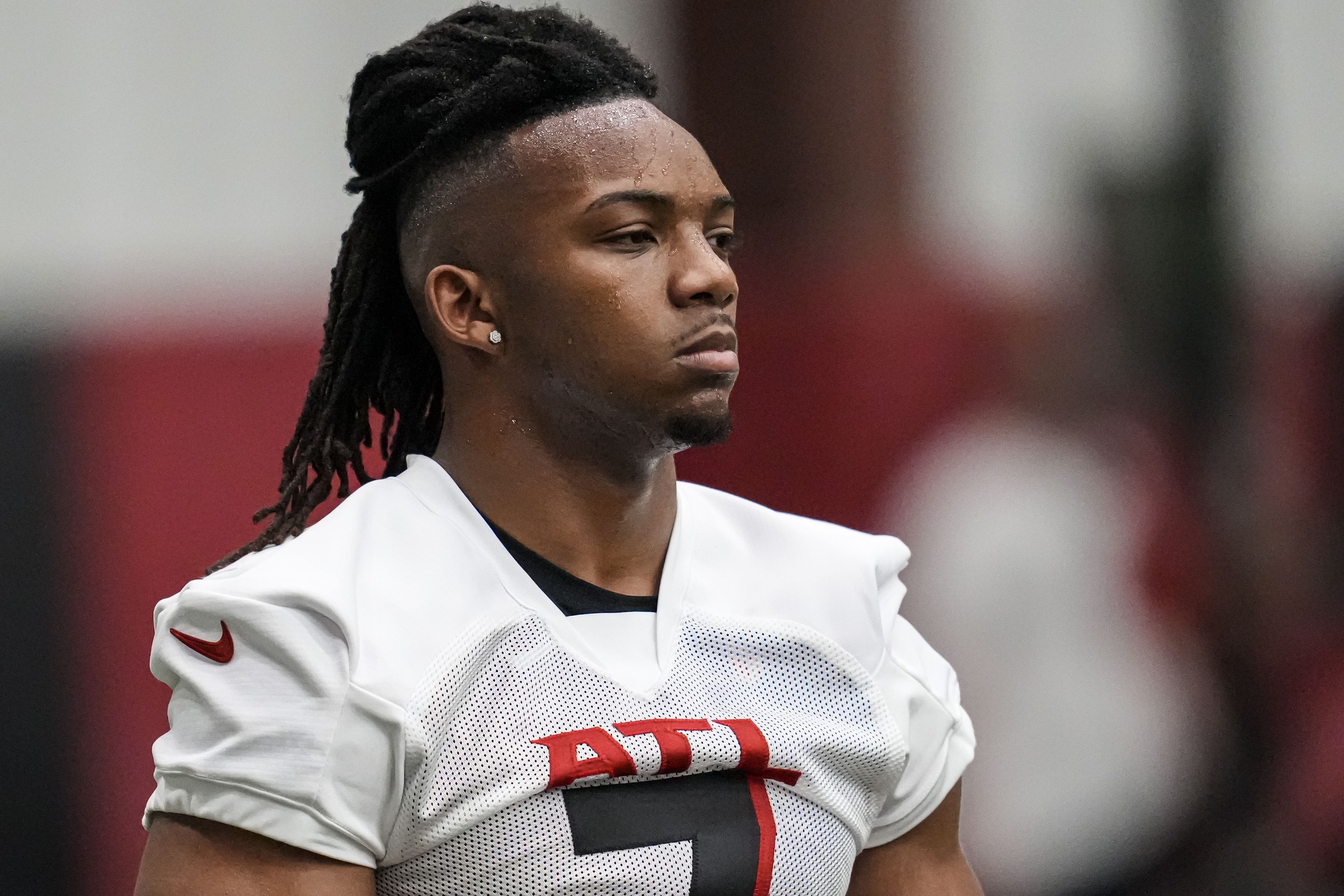 Predicting the Worst-Case Scenario for the Falcons' 2023 NFL Season
For as weak as the NFC South is, it's also possible this team's good fortune as a run-heavy, weird matchup team doesn't lead to as many wins as last year, even if they improved their talent. They won five of their 12 one-score games in 2022 and were outgained in yards in each of those wins. Smith's former team, the Tennessee Titans, was able to grind out ugly wins like that consistently while he was there, but the margin is tiny with that recipe.
Those Titans teams also boasted an elite defense and a passing game that could take advantage of the play-action looks their dominant running game created. The focus will continue to be on what Ridder can do with Pitts and London until he proves to be at least a quality game manager or provide the high variance that can offset understandable inconsistency.
If Ridder is only going to dink and dunk passes and fails to bring the best out of Pitts, the Falcons' offense simply won't be dynamic enough to threaten defenses.
There's also the possibility that defenses have more success against the Falcons' running game. With Robinson in the backfield as opposed to less-threatening players like Tyler Allgeier and Cordarrelle Patterson, defenses may hedge their bets and dare Ridder to beat them over the top. Any dip in the effectiveness of the ground game can make-or-break Ridder.
MORE: Atlanta Falcons 2023 Schedule
Atlanta has the personnel to be a strong run-stopping unit along their front four, but their linebacking corps and EDGE group lack proven help. Both Mykal Walker and Troy Andersen had nice raw tackle totals but weren't especially impactful last season.
Along with their young pass rushers and cornerbacks, if these individuals can't take a leap into being decent starters, then it'll be another long season for the defense.
New defensive coordinator Ryan Nielsen, who replaced Dean Pees, spent six seasons with the Saints. New Orleans' defense has been one of the best in the NFL since he joined the team in 2017, so if Nielsen is successful in bringing the same effectiveness to Atlanta anytime soon, then the worst-case scenario for the Falcons won't be bad at all.
At worst, Atlanta's offense will be good on the ground but, again, unwatchable when they need to throw the ball. If the offense can't eat the clock for the defense, teams will be able to race up and down the field with ease.
Atlanta could be one of the worst teams in the league if they don't have some of the same fortunes they benefitted from last year and also further internal growth.