The Atlanta Falcons are long shots to reach the NFL playoffs in 2023 but have enough uncertainty in their future that it's not impossible to envision how they could make a run at the division. That would require their bet on Desmond Ridder, a third-round pick from last year's draft, to pay off.
Atlanta's entire offseason seems to be built around that gamble, allowing the Falcons to use the capacious salary cap space left by a rookie quarterback to secure their preferred free agents. Still, they used it more to re-sign key players on an underperforming team rather than bring stars in. Nevertheless, the roster next year will look much different than the one this year.
Everything You Need Ahead of the Atlanta Falcons 2023 NFL Season
The Falcons' decision to avoid selecting a quarterback in the 2023 NFL Draft or pursue one in free agency signals extraordinary confidence in Ridder, who can make or break a Falcons team set up to do well offensively, with a great offensive play-caller in head coach Arthur Smith and some exciting weapons like Kyle Pitts and Drake London, as well as rookie first-round pick Bijan Robinson.
In a weak division, that kind of confidence might pay off big as Carolina figures out whether or not their rookie QB is suited for the NFL, the Buccaneers lean on a relatively unknown second-round pick in Kyle Trask, and the Saints attempt to build around veteran Derek Carr.
Falcons Roster Changes
The Falcons were aggressive in free agency, even with their own players. They had a near-record number of players see their contracts expire, but they re-signed most of them, adding a substantial amount of talent through free agency. Atlanta focused on retaining their offensive line, but they also made sure to add across the defense and in choice spots on the offense.
That allowed Atlanta to be a little bit more relaxed in the draft, which is why they were able to target a running back in Round 1 despite their already-existing talent there.
Players Signed/Claimed

QB Taylor Heinicke
WR Mack Hollins
WR J.J. Arcega-Whiteside
WR Scotty Miller
WR Penny Hart
WR Slade Bolden
OT Ethan Greenidge
OT Joshua Miles
EDGE Bud Dupree
DT David Onyemata
DT Calais Campbell
DT Joe Gaziano
LB Kaden Elliss
LB Andre Smith
LB Tae Davis
CB Mike Hughes
CB Tre Flowers
S Jessie Bates III

Players Acquired via Trade

TE Jonnu Smith
CB Jeff Okudah
Players Drafted

RB Bijan Robinson
OT Matthew Bergeron
EDGE Zach Harrison
CB Clark Phillips III
S DeMarcco Hellams
G Jovaughn Gwyn

Players Lost

QB Marcus Mariota
WR Damiere Byrd
WR Olamide Zaccheus
WR Emeka Emezie
TE MyCole Pruitt
TE Anthony Firkser
OT Chuma Edoga
OT Elijah Wilkinson
OT Germain Ifedi
G Colby Gossett
DT Abdullah Anderson
DT Matt Dickerson
DT Derrick Tangelo
DT David Anenih
DT Jaleel Johnson
DT Vincent Taylor
LB Nick Kwiatkoski
LB Rashaan Evans
CB Casey Hayward
CB Rashad Fenton
CB Mike Ford
CB Isaiah Oliver
S Jovante Moffatt
S Erik Harris
LS Beau Brinkley
The amount of roster turnover that the Falcons have seen is extraordinary, which is fitting given their performance last season. But they have the bones on offense to do well, so long as they have the quarterback they need. Atlanta's put their faith in Ridder and moved on from Marcus Mariota, which was inevitable after they played Ridder over Mariota later in the season.
On offense, the Falcons have focused on supplementing their primary pass catchers instead of stuffing their roster with multiple No. 1 options, hoping that one of their WR or TE additions can turn into a reasonable third receiving option after Pitts and London.
The focus, however, will clearly be on the run game. Adding Robinson to an RB room that features last year's all-rookie candidate Tyler Allgeier and a resurgent Cordarrelle Patterson is already deadly. But Arthur Smith loves to run his quarterbacks, and Ridder has the athleticism to carry that load.
On defense, Atlanta essentially turned their entire secondary over, keeping just A.J. Terrell and Richie Grant as their starters. They traded for Jeff Okudah to play opposite Terrell, and they're likely to play Clark Phillips III in the slot with free agent signing Jessie Bates III behind them next to Grant.
That should be exciting but could go poorly if youth and miscommunication characterize that group. However, that's why defensive coordinator Ryan Nielsen was brought in.  With a new group of defensive linemen, featuring David Onyemata, Calais Campbell, and an unretired Eddie Goldman, the Falcons might be able to stop the run much better in 2023 than last season.
Atlanta Falcons Coaching Staff in 2023
Head Coach: Arthur Smith

Assistant Head Coach/Defense: Jerry Gray
Senior Assistant: Steve Hoffman

Offensive Coordinator: Dave Ragone

Offensive Line: Dwayne Ledford
Offensive Line Assistant: Shawn Flaherty
Offensive Line Assistant: Mateo Kambui
Tight Ends: Justin Peelle
Running Backs: Michael Pitre
Wide Receivers: T.J. Yates
Assistant Wide Receivers: Nick Perry
Offensive Assistant: Patrick Kramer
Offensive Assistant: Steven King

Defensive Coordinator: Ryan Nielsen

Senior Defensive Assistant: Dave Huxtable
Defensive Assistant: Matt Pees
Special Projects Defense: Mario Jeberaeel
Linebackers: Frank Bush
Defensive Front: Lanier Goethie
Secondary: Steve Jackson

Special Teams Coordinator: Marquice Williams

Special Teams Assistant: Matt Baker

Strength and Conditioning: Dr. Thomas Stallworth

Assistant Strength and Conditioning: Roderick Moore Jr.
Assistant Strength and Conditioning: Bobby Thomas

Director of Coaching Operations: Brian Griffin

Assistant Director of Coaching Operations: Sarah Hogan
Football Analyst: Donavan Ellison
Football Analyst: Michael Gray
Football Analyst: Mike Snyder
The Falcons, in addition to overhauling their defensive personnel, cleared out much of their defensive coaching staff. After moving on from Dean Pees, they also released DL coach Gary Emanuel, secondary coach Jon Hoke, and OLBs coach Ted Monachino. Quarterbacks coach Charles London chose to become the pass game coordinator and QBs coach of the Tennessee Titans.
They replaced Pees with Nielsen and Hoke with Steve Jackson, while Monachino and Emanuel's jobs seem to have been absorbed by Lanier Goethie's role as the defensive front specialist. The Falcons did not replace their QBs coach, instead opting for Dave Ragone to take on the role alongside his OC duties.
These are fairly bold moves given where Atlanta's roster is at, but perhaps necessary. How Ridder performs will determine whether or not the gamble with the quarterbacks coach made sense.
Predicting the Atlanta Falcons Depth Chart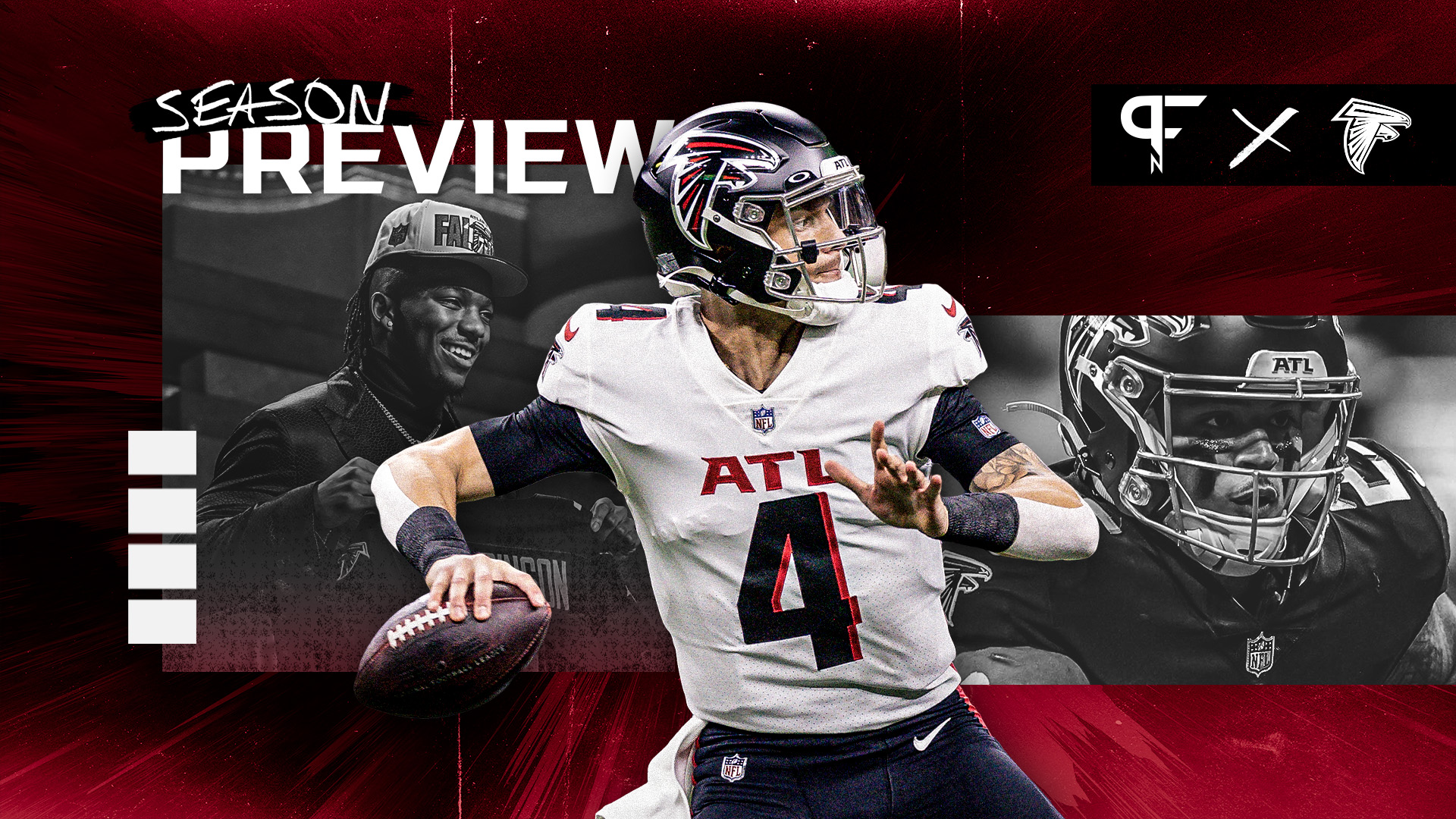 QB: Desmond Ridder, Taylor Heinicke, Logan Woodside
WR: Drake London, Mack Hollins, Scotty Miller, Penny Hart, KhaDarel Hodge, J.J. Arcega-Whiteside
RB: Bijan Robinson, Tyler Allgeier, Cordarrelle Patterson
FB: Clint Ratkovich
LT: Jake Matthews, Ethan Greenidge
LG: Matthew Bergeron, Matt Hennessy
C: Drew Dalman, Jovaughn Gwyn
RG: Chris Lindstrom, Jalen Mayfield
RT: Kaleb McGary
EDGE: Bud Dupree, Zach Harrison
NT: David Onyemata, Eddie Goldman
DT: Grady Jarrett, Calais Campbell, Ta'Quon Graham
EDGE: Lorenzo Carter, Arnold Ebiketie, DeAngelo Malone
MLB: Troy Andersen, Mykal Walker, Tae Davis
WLB: Kaden Elliss, Nate Landman
RCB: Jeff Okudah, Tre Flowers
LCB: A.J. Terrell, Darren Hall
NCB: Clark Phillips III, Mike Hughes
SS: Richie Grant, Jaylinn Hawkins
FS: Jessie Bates III, DeMarcco Hellams
P: Bradley Pinion
K: Younghoe Koo
LS: Liam McCullough
2022 Results and Standings
Atlanta exceeded expectations with their seven wins — just outside of playoff reach in a division full of losing records but not enough to force people to take the Falcons very seriously. They did beat the 49ers and Seahawks but otherwise had a lackluster slate of wins.
The Falcons showcased significant potential with their offense, scoring 25 points per game in the first eight weeks. That fell off in the second half of the season, however, only scoring as many as 25 points twice — against the Bears and Buccaneers — and averaging 18.3 points per game. The average when Ridder started (the final four games) was only slightly better than the five games Mariota started in the final half of the season.
The defense did the opposite, tightening up in the second half. In the first eight games, Atlanta averaged 25.6 ppg allowed and only 20.1 on average in the second half of the season. It follows, of course, that they went 4-4 to start and 3-6 to end. Had the Falcons not petered out, it might have been easier to believe in them. But for now, the impression for Atlanta is an impression of a squad that needs a bit more to be competitive.
2023 Power Rankings and Season Outlook
The Falcons rank 30th in Pro Football Network's 2023 Power Rankings, an indication that there's not much belief that they can actually turn it around despite an almost even record last year. Almost all of it relies on the confidence that Atlanta has in Ridder. But it's hard for an outside observer to trust a third-round second-year player who helmed an offense that scored fewer points after he took over.
The defense can't be trusted to be good until they actually put good results on the field. Terrell and Grady Jarrett are talented, but they'll need better performances from their teammates, including better performances from incoming free agents than we saw in 2022, for that defense to take a real step.
If they do, the Falcons have playoff opportunity in front of them. Until then, we'll think of them more as competitors for the first pick than the last one.