The Atlanta Falcons' schedule is on the lighter side for 2023, based on who their weekly opponents are following the NFL's schedule release.
The Falcons appear to have full faith in Desmond Ridder to be the guy at QB going forward. In an offseason where one of the best NFL quarterbacks, former MVP Lamar Jackson, was there to be had and a stronger QB class was available than the one in which Ridder was drafted, Atlanta opted to stay the course.
Here's a look at how that decision could play out during the 2023 season now that we have the official NFL schedule.
Atlanta Falcons Schedule
Week 1: vs Panthers
FOX | 1 p.m. (Sunday, Sept. 10)
Week 2: vs Packers
FOX | 1 p.m. (Sunday, Sept. 17)
Week 3: at Lions
FOX | 1 p.m. (Sunday, Sept. 24)
Week 4: at Jaguars (Wembley Stadium)
ESPN+ | 9:30 a.m. (Sunday, Oct. 1)
Week 5: vs Texans
FOX | 1 p.m. (Sunday, Oct. 8)
Week 6: vs Commanders  
CBS | 1 p.m. (Sunday, Oct. 15)
Week 7: at Buccaneers
FOX | 1 p.m. (Sunday, Oct. 22)
Week 8: at Titans
CBS | 1 p.m. (Sunday, Oct. 29)
Week 9: vs Vikings
FOX | 1 p.m. (Sunday, Nov. 5)
Week 10: at Cardinals
CBS | 4:05 p.m. (Sunday, Nov. 12)
Week 11: BYE
Week 12: vs Saints
FOX| 1 p.m. (Sunday, Nov. 26)
Week 13: at Jets
FOX | 1 p.m. (Sunday, Dec. 3)
Week 14: vs Buccaneers
CBS | 1 p.m. (Sunday, Dec. 10)
Week 15: at Panthers
TBD | TBD (Sunday, Dec. 17)
Week 16: vs Colts
FOX | 1 p.m. (Sunday, Dec 24)
Week 17: at Bears 
CBS | 1 p.m. (Sunday, Dec. 31)
Week 18: at Saints
TBD | TBD (Sunday, Jan. 7)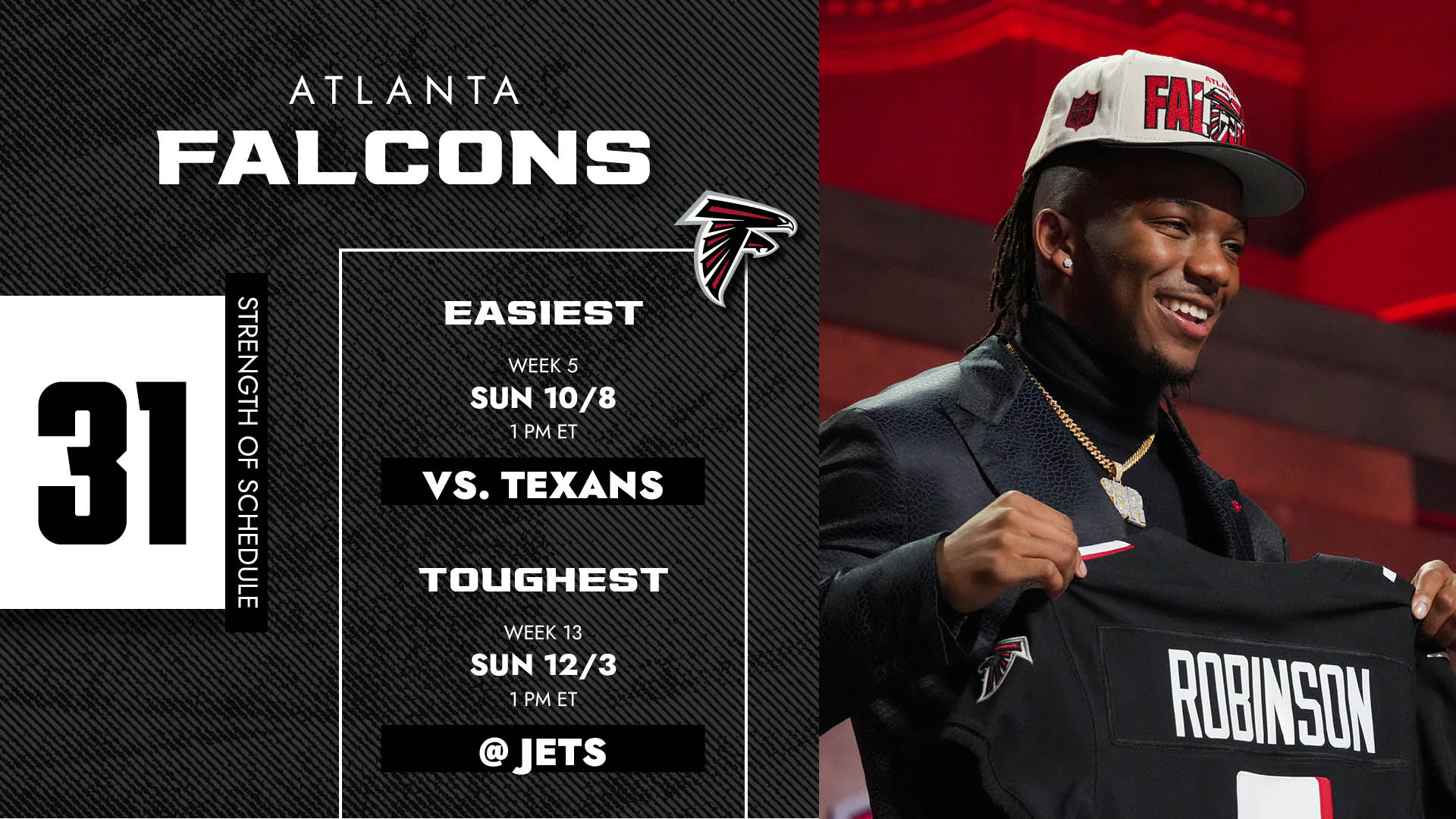 Atlanta Falcons Strength of Schedule
The NFC South is by far the worst division in football, and it isn't particularly close. Only the New Orleans Saints and Carolina Panthers even came close to taking a step toward contention. The 2022 defending champion Tampa Bay Buccaneers made the postseason with a losing record and are now going into the season with Baker Mayfield at QB.
MORE: FREE Mock Draft Simulator With Trades
The Panthers upgraded — but with a rookie quarterback — and many doubt that this is their year. The Saints have the best quarterback in the division but have yet to show they can put it all together.
The Falcons should have a decent chance at stealing some games with an easier schedule.
Atlanta Falcons Record Prediction
Atlanta hasn't done anything substantial to upgrade the team. The prevailing hope seems to be that Ridder cements himself as the starter of the present and future. The one impact player they added, Bijan Robinson, was at a position of strength, though he should take the rushing attack to another level.
Last year, the Falcons finished as a seven-win team. Is Robinson the key to upgrading that?
MORE: Rankings All 8 NFL Divisions Entering 2023 Season
The addition of Derek Carr to the Saints instantly makes New Orleans the favorite to win the division. If Atlanta is to steal it from them, the Falcons must find a way to add more impact than just the standout Texas running back. They upgraded on the offensive line with Matthew Bergeron, which will help. But from there, it's on Ridder and Drake London to get the passing game going.
Can London take a step forward and carry that burden? I don't see the team being able to plug all of those holes before opening day. To me, this is still a team in the six-to-nine-win range for 2023.
Projected record: 6-11