Although Mike Evans said in early August that he wanted to reach a contract extension with the Tampa Bay Buccaneers, the club's negotiations with the veteran wide receiver have reached an impasse, according to Rick Stroud of the Tampa Bay Times.
With no deal in sight, Evans' agent released a statement on Friday indicating that contract discussions will cease by Sept. 9 (the Saturday before the Buccaneers' first game). If the two sides haven't reached an agreement by then, Evans will play out the 2023 campaign on his existing pact.
With Tampa Bay entering a reset year, could Evans become a trade candidate if the Buccaneers don't extend him? Which teams might be interested?
Best Landing Spots for Mike Evans
Evans is likely seeking an extension similar to the three-year, $80.1 million deal Cooper Kupp signed with the Rams in June 2022. That accord contained $75 million guaranteed and a $20 million signing bonus.
Kupp is the NFL's third-highest-paid WR, behind Tyreek Hill and Davante Adams. Evans sits at 17th, with his most recent extension paying him $16.5 million annually. In 2023, he will collect a $13 million base salary.
Evans was inconsistent last season, but he still posted similar numbers to his career averages. He's the only receiver in NFL history to begin his career with nine consecutive 1,000-yard campaigns.
So where are his best landing spots?
New York Jets
The New York Jets lost one potential contributor when Corey Davis abruptly retired from the NFL last week. While Davis was only projected to be New York's fourth or fifth receiver, his absence will affect the club's depth.
Garrett Wilson should make magic with Aaron Rodgers after winning Offensive Rookie of the Year in 2022, but the rest of Gang Green's WR room isn't all that impressive.
Allen Lazard has a relationship with Rodgers but is probably a league-average receiver. Mecole Hardman couldn't break out for the Chiefs, even with Patrick Mahomes throwing him the ball. And Randall Cobb is 33 years old.
MORE: Top Remaining Free Agents at Every Position
The Jets are all-in on the 2023 season — it's Super Bowl or bust. They have the cap space to add Evans to their roster without making any other adjustments.
New York's lack of picks could complicate a trade, as the Jets' 2024 first and second-round picks are currently tied to the Rodgers trade. But if they could work out a deal with the Buccaneers, Evans could be the Jets' missing piece.
Detroit Lions
While the Detroit Lions posted one of the NFL's most efficient offenses in 2022, they will rely on a bevy of young players next season.
Amon-Ra St. Brown remains Detroit's WR1, but rookies Jahmyr Gibbs and Sam LaPorta might profile as the club's next-best options in the passing attack. With Jameson Williams suspended for the first six games of the season, the Lions' other pass catchers are Josh Reynolds, Marvin Jones Jr., and Kalif Raymond.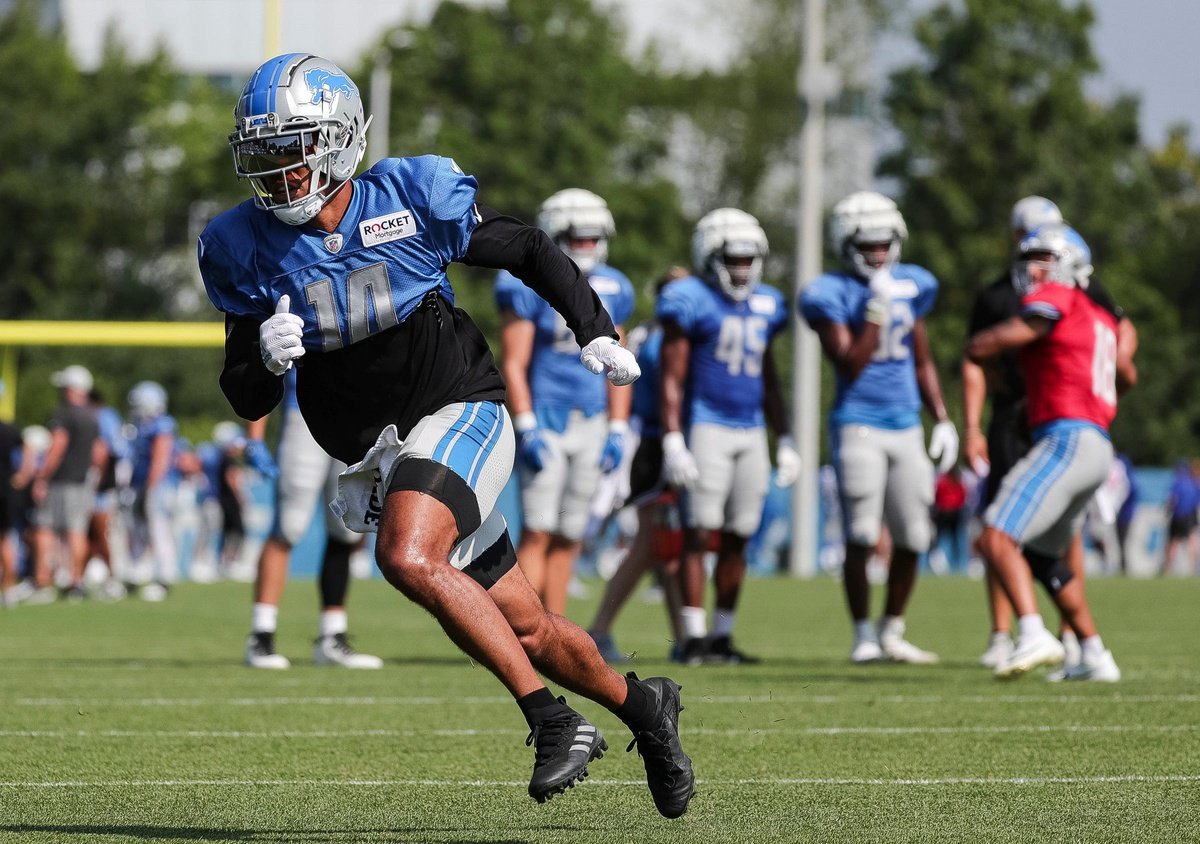 Detroit never seriously considered adding a free agent like DeAndre Hopkins this offseason. They made a half-hearted attempt to add WR depth by trading for ex-Jets wideout Denzel Mims in July, but he only lasted on the roster for a month.
Lions offensive coordinator Ben Johnson probably could have been a head coach this offseason had he wanted to be, but this might be his final season in Detroit. If the Lions want to make the most of Johnson's outstanding work, they could fill out his unit by adding a dominant force like Evans.
New England Patriots
The New England Patriots met with Hopkins after he was released by the Cardinals and offered him a contract, but he opted to sign with the Titans instead.
New England's starting WR trio — JuJu Smith-Schuster, DeVante Parker, and Kendrick Bourne — remains among the least imposing in the NFL. The Patriots will run a decent amount of "12" personnel with Hunter Henry and Mike Gesicki on the field, but Evans would add a new dynamic to this offense.
As a true ball winner, Evans could help New England push the ball down the field, creating chunk yardage while opening space underneath for the team's other receiving options. He'd instantly become the best wide receiver Mac Jones has ever worked with at the NFL level.
Buffalo Bills
The Buffalo Bills don't have enough cap space to absorb Evans' salary, so they'd have to either extend him or restructure other contracts to make his deal fit. But that might be worth it for Buffalo as they start another quest for a Super Bowl.
Adding a veteran like Evans would give the Bills one of the best one-two punches in the league, with Stefon Diggs and Evans offering complementary skill sets. Gabe Davis would be pushed down a peg and become Buffalo's WR3, a role he's perhaps better suited for.
MORE: Best Wide Receivers in the NFL 2023
However, Diggs might already have complaints about his usage in the Bills' offense. Would dropping in another alpha WR only add fuel to the fire?
Given the pressure Buffalo is facing to bring home a Lombardi Trophy, it might be worth it.