Jameson Williams was suspended by the NFL for betting-related policy violations. The NFL announced the suspension of five players on April 21, 2023. The suspensions applied to four players from the Detroit Lions and one from the Washington Commanders. Williams was the headline name among that group and the one that would have most fantasy managers concerned.
From the current NFL standings to team depth charts to coverage of every game in the 18-week NFL schedule, we have all the news from around the league to keep you up to speed!
How Long Is Jameson Williams Suspended For?
Initially, Williams was suspended six games by the NFL. However, the league and the NFLPA agreed to updated punishments for gambling offenses, including a reduction in time for non-NFL-based offenses. Therefore, Williams' suspension ends after four games, and he is eligible to return ahead of Week 5.
Shaka Toney from the Commanders, along with Detroit's Quintez Cephus and C.J. Moore, were handed indefinite suspensions for betting on NFL games. Both Cephus and Moore have since been released by the Lions.
While both Williams and Stanley Berryhill were also handed suspensions, they received lesser punishment after an investigation confirmed that their bets were not on NFL games.
MORE: 2023 NFL Offense Rankings
Lions general manager Brad Holmes said shortly after the announcement, "We are disappointed by the decision-making demonstrated by Stanley and Jameson and will work with both players to ensure they understand the severity of these violations and have clarity on the league rules moving forward."
When it comes to betting on football, the NFL's gambling policy is clear. No one employed by the NFL can bet on the NFL. This is what got Calvin Ridley suspended for the entire 2022 season.
When it comes to betting on other sports, while the policy is clear — NFL players and members of team staff cannot bet on anything while at team facilities — it gets a little murky when it comes to what qualifies as a team facility. For example, a team hotel on road games qualifies as a team facility. It is this very nuance to the policy that resulted in Williams losing the first four games of his sophomore season.
Williams' agent responded by saying that "Jameson takes full responsibility for his actions and is very apologetic to the NFL, his teammates, and the fans and city of Detriot." Alliance Sports went on to say that Williams broke "a technical rule regarding the actual location in which the online bet was placed and which would otherwise be allowed by the NFL outside of the club's facility."
Williams' suspension began at the final league roster cutdown date. After serving half of his suspension, Williams was able to return to the Lions' Allen Park facility for workouts but was not allowed to take part in practice until the entire suspension had been completed.
What Does This Mean for the Lions' Offense?
Williams was primed for a bigger role in 2023 and figured to be a key part of Detroit's offense. Given the Lions' lack of WR depth behind Amon-Ra St. Brown, Williams would have had every opportunity to become a key weapon for Jared Goff and Co. He was almost certainly going to open the season as the team's WR2.
Entering the 2022 NFL Draft, Williams was one of the most explosive, electric, and twitchy receivers available. The Lions clearly needed a player like him on the roster, which led to them trading up to select the pacey playmaker.
The former first-round pick out of Alabama, who the Lions traded up to No. 12 in order to select, has already become an integral offensive weapon. He worked out with a number of his teammates this offseason in California, including Goff. Detroit is primed for a push at the NFC North title in 2023, and the loss of such a focal point and potentially electric playmaker in Williams did not help early on.
It's important to note that Williams missed the first 11 games of the 2022 season with a torn ACL. Williams only played in six total games, which added up to 78 total offensive snaps. In fact, he recorded just one catch for 41 yards and a touchdown as a rookie. That came in Week 14 against the Minnesota Vikings.
The Lions have survived without Williams before, but it does leave the WR room a bit sparse. Following Williams' suspension, the unit consisted of St. Brown, Josh Reynolds, Trinity Benson, Maurice Alexander, Tom Kennedy, and Kalif Raymond — some of whom were cut. They have since added former New York Jets WR Denzel Mims, who they acquired via trade on July 19, as reported by Connor Hughes.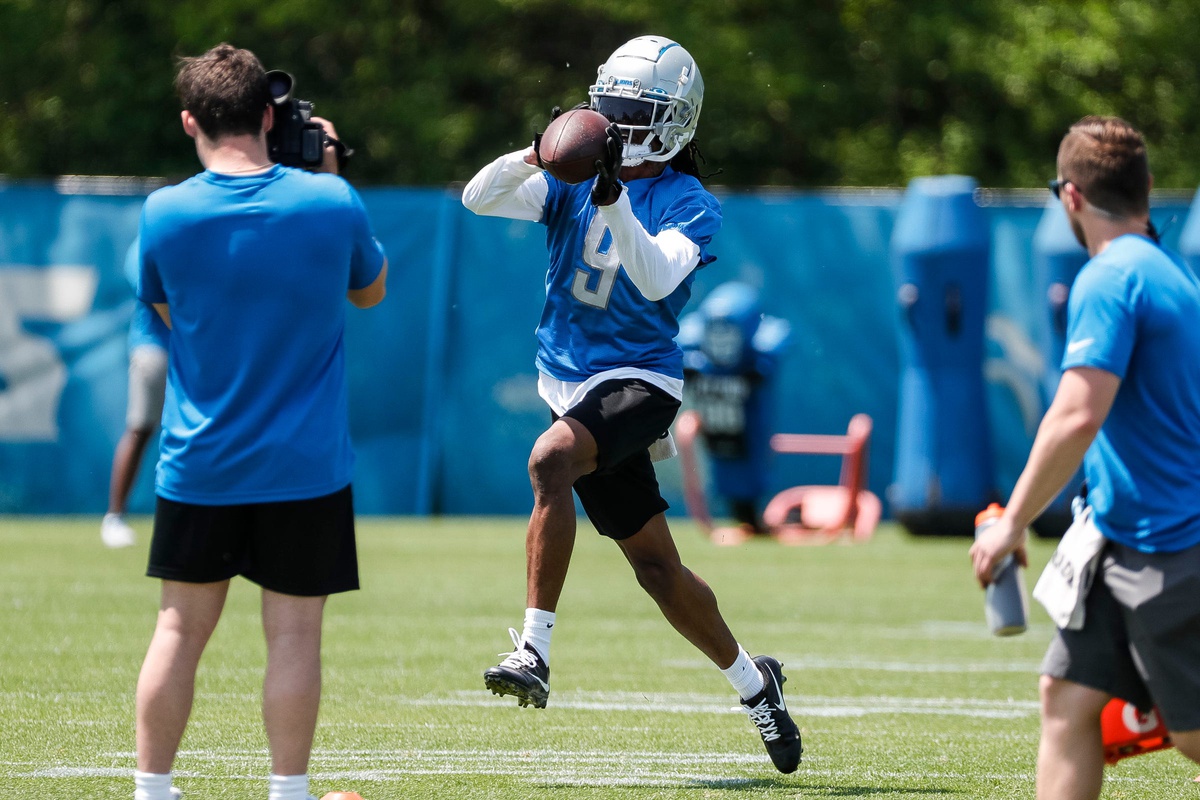 At tight end, the Lions sent former starter T.J. Hockenson to the Vikings last season. That left them without a true starter. Currently, rookie Sam LaPorta is occupying that role.
MORE: Detroit Lions Depth Chart
Other receivers will have to step up, and St. Brown will once again have to headline this offense. Reynolds had some flashes last season, and we've seen Raymond be useful in spurts. Those two will need to bridge the gap until Williams returns.
Rookie running back Jahmyr Gibbs will also play a pivotal role in this offense. Detroit did not spend a first-round pick on the Alabama product not to use him. Gibbs' pass-catching acumen will be key for an offense in need of weapons.