The hottest topic in any NFL Draft cycle is the quarterback class, and there's talk that the 2023 NFL Draft class could feature five QBs in the first round, with Hendon Hooker joining the top four group of Bryce Young, C.J. Stroud, Anthony Richardson, and Will Levis.
With so many quarterbacks potentially slated to go in Round 1, it's worth asking how the 2023 QB class compares to the classes of 2018, 2019, 2020, 2021, and 2022. Many of those classes featured some of today's best quarterbacks, including Lamar Jackson, Josh Allen, Joe Burrow, Justin Herbert, Jalen Hurts, Tua Tagovailoa, and others.
Is the 2023 quarterback class truly historic? We can't just look at how quarterbacks ranked in their class — they may be dinged for being in a strong class or boosted by a weak class. With changes in transfer rules, eligibility, and so on over the past couple of years, this is particularly relevant as the past few classes have had drastically different sizes.
Pro Football Network polled over a dozen people, from draft analysts to personnel executives, to get their thoughts on the different QB classes and compared that to the Industry Consensus Big Board rankings over the years. Included in the poll were any signal-callers drafted in the top two rounds as well as the top five prospects from this year's class.
Where Does the 2023 Quarterback Class Rank Against Other QB Classes?
The results were extremely optimistic for the top end of the 2023 class. Though no 2023 quarterbacks can claim that they were the best QB to come into the NFL over the last six years, two took top-end spots, with Stroud ranking fourth and Young ranking fifth.
Richardson landed in the middle of the pack, while Levis was a few spots below him, near the bottom. Hooker ranked second-to-last among the list of quarterbacks, and a few poll respondents suggested he would have ranked below Desmond Ridder and Malik Willis, who were not included.
| Quarterback | Year | Cross-Class Rk | Ovr Class Rk | Avg Class Rk | In-Class Var | Cross-Class Var |
| --- | --- | --- | --- | --- | --- | --- |
| Trevor Lawrence | 2021 | 1.1 | 1 | 1.3 | 72.4 | 80.2 |
| Joe Burrow | 2020 | 2.1 | 2 | 3.8 | 72.9 | 80.8 |
| Justin Fields | 2021 | 5.2 | 5 | 6.4 | 85.5 | 97.0 |
| C.J. Stroud | 2023 | 6.7 | 4 | 4.8 | 93.8 | 86.4 |
| Bryce Young | 2023 | 7.2 | 2 | 3.6 | 101.5 | 96.0 |
| Tua Tagovailoa | 2020 | 7.4 | 5 | 7.7 | 92.2 | 85.4 |
| Kyler Murray | 2019 | 8.3 | 9 | 12.5 | 110.4 | 109.7 |
| Baker Mayfield | 2018 | 8.7 | 11 | 13.8 | 111.3 | 125.1 |
| Sam Darnold | 2018 | 10.0 | 8 | 14.2 | 137.4 | 101.7 |
| Zach Wilson | 2021 | 10.1 | 6 | 9.4 | 94.3 | 98.5 |
| Josh Rosen | 2018 | 11.7 | 4 | 8.1 | 100.1 | 112.4 |
| Lamar Jackson | 2018 | 12.4 | 19 | 26.6 | 114.4 | 128.1 |
| Trey Lance | 2021 | 12.8 | 12 | 15.0 | 109.7 | 102.3 |
| Justin Herbert | 2020 | 13.0 | 15 | 22.2 | 108.5 | 94.4 |
| Anthony Richardson | 2023 | 13.3 | 13 | 20.3 | 116.4 | 136.4 |
| Dwayne Haskins | 2019 | 15.9 | 16 | 21.0 | 124.0 | 103.5 |
| Josh Allen | 2018 | 16.4 | 28 | 50.8 | 204.9 | 101.1 |
| Mac Jones | 2021 | 17.3 | 27 | 34.6 | 126.8 | 118.1 |
| Will Levis | 2023 | 17.7 | 16 | 21.5 | 112.8 | 107.7 |
| Jordan Love | 2020 | 19.7 | 35 | 47.2 | 136.2 | 108.4 |
| Jalen Hurts | 2020 | 20.9 | 71 | 84.6 | 132.2 | 92.5 |
| Kenny Pickett | 2022 | 21.3 | 32 | 41.2 | 101.5 | 87.4 |
| Drew Lock | 2019 | 21.3 | 33 | 43.7 | 118.7 | 85.4 |
| Daniel Jones | 2019 | 21.9 | 49 | 64.2 | 121.2 | 87.2 |
| Hendon Hooker | 2023 | 23.6 | 62 | 75.3 | 97.6 | 90.4 |
| Kyle Trask | 2021 | 24.9 | 91 | 101.5 | 107.7 | 84.2 |
Cross-class rank refers to the quarterback's rank across years against other quarterbacks, while in-class rank refers to the rank on the Industry Consensus Big Board. Average in-class rank refers to the average rank among all Industry Consensus Big Board participants.
The variance tells us how much disagreement there was among analysts for the player, with 100 as average and higher numbers pointing to more disagreement. Typically, 99.7 percent of all players will fall between a variance of 55 and 145.
The nature of draft value will mean that "average class rank" and "class rank" will disagree, as Baker Mayfield ranked higher on average than Sam Darnold. But Darnold's high ranks are more valuable because analysts put so much more value in the difference between first and third than they do between 43rd and 45th overall. That point value can create interesting differences.
Trevor Lawrence Was the Best Quarterback Prospect in Years
Lawrence was, far and away, considered to be the best prospect of the bunch. Not only did the 2020 Consensus Big Board place him first with the lowest variance of any QB1 in the history of the Consensus Big Board, but he was also the near-unanimous choice among analysts polled to rank quarterbacks across the five classes, with one placing him second behind Joe Burrow.
One analyst called Lawrence the best quarterback prospect he'd ever seen, though many who scouted Andrew Luck placed Luck above him. The reasoning for Lawrence's placement is pretty clear, even if it is a little boring. One personnel executive said that Lawrence "simply checked every box," while another essentially agreed, calling him "the full package."
All of this is to say that when graded against a number of desirable or necessary traits for a quarterback to have — arm strength, mobility, pocket presence, decisiveness, decision-making, and so on — Lawrence passed every mark, often with flying colors.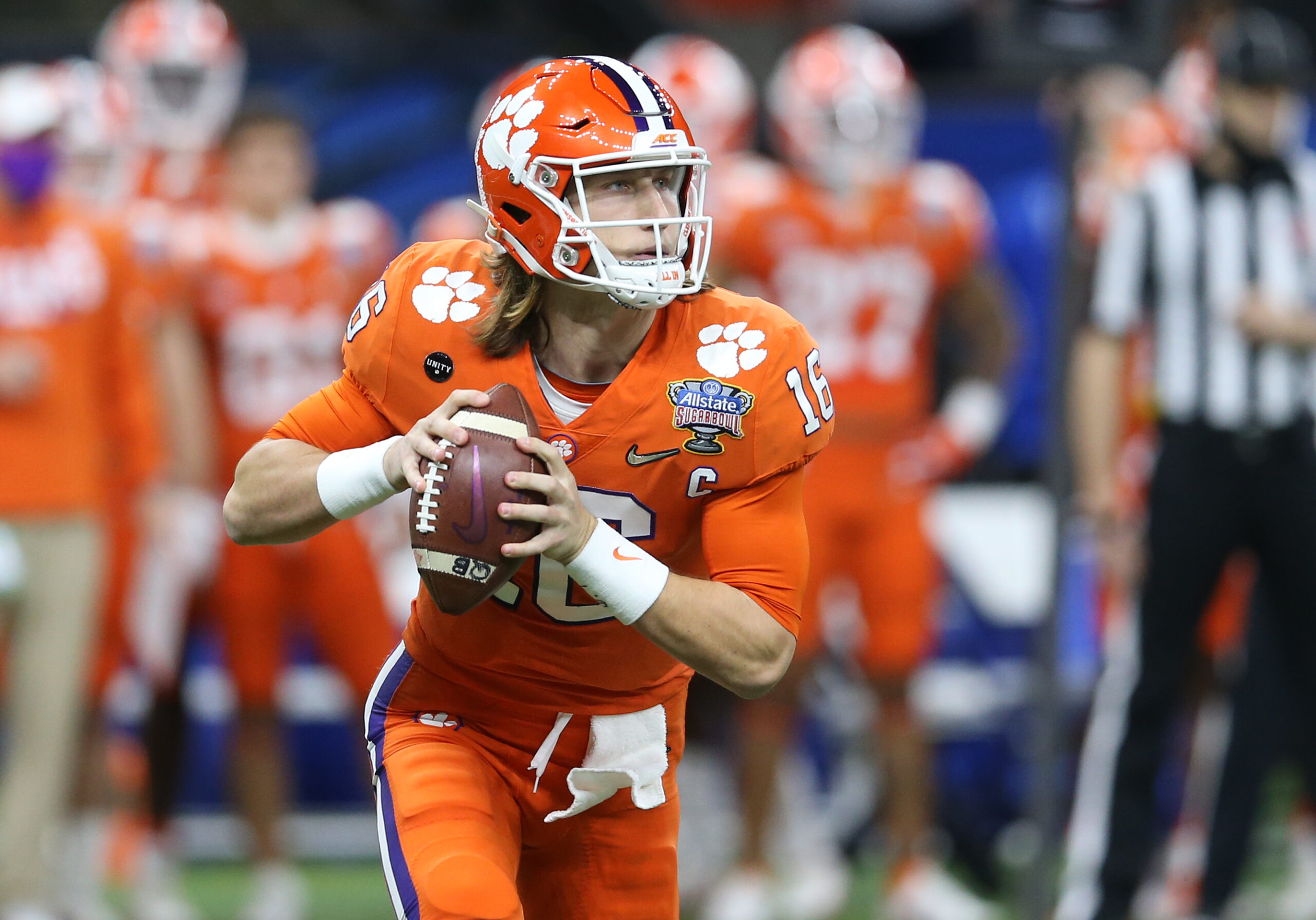 Lance Zierlein of NFL.com said Lawrence was "the ultimate prototype for today's brand of franchise quarterback," while Dane Brugler of The Athletic concluded in his scouting report that "Lawrence is a generational talent with the physical (size, athleticism, arm talent) and mental (processing speed, intangibles) traits to become one of the best quarterbacks in the NFL. He projects as the clear No. 1 player in the class and an immediate, scheme-diverse starter."
As for the one disagreement, it came from Jon Ledyard, a draft analyst who runs the Audibles and Analytics podcast. He put Burrow just ahead of Lawrence, saying, "I think Joe Burrow's 2019 season is the best passing season in college football history."
He was a fan of Burrow's arm, too. He said, "His only slight negative out of college was lacking elite drive on the ball, and I still felt he was above average there. So what was there to dock him for? He was completely incredible and consistent against every team in an elite conference with tons of challenges on the schedule."
He didn't dislike Lawrence, ranking him second. "I was a big Lawrence fan too, but he had accuracy and decision-making concerns that Burrow didn't have coming out of college," said Ledyard. "Not major concerns, but it was there. Obviously, Lawrence's upside is high as it gets. But to me, Burrow was ready to be a starter right away."
Bryce Young and C.J. Stroud Are Elite Prospects
Young, who ranked ahead of Stroud on the most recent Industry Consensus Big Board but just behind him in the smaller cross-class quarterback poll, doesn't receive the nearly unmitigated superlatives Lawrence did.
As Brugler's draft guide points out, "Overall, Young is a size outlier (he will be the smallest quarterback in the NFL the moment he is drafted) with average arm power, but he is a natural passer with an instinctive feel for throw location and play extension. Despite limited physical traits, he has the high-end intangibles and talent required to be an impact starter."
Pro Football Network's Ian Cummings added a few other concerns in his scouting report, adding that arm strength, off-platform accuracy, and hurried process all add to the pile of concerns with Young.
"Young's size will be an issue for some, and concerns are warranted," Cummings wrote. "He measured around 5'10" and just over 200 pounds at the Combine, but his playing weight will assuredly be lighter. There's a reasonable question to be asked about whether or not Young's frame will hold up in a more physical NFL. But teams who rule him out on account of his size alone may come to regret it. While Young can still continue to refine his game as an independent processor, he's far more worthy of confidence than the average QB prospect."
Overall, the 2023 class ranked well ahead of the dismal 2019 class, a class that one expert had to triple-check before proceeding with the ranking process because of how forgettable it was at quarterback. And the 2022 class, which produced just one quarterback in the first two rounds — one that experts didn't like relative to other first-rounders — looked to be the worst of the bunch.
The top two quarterbacks speak well to the class, and by relative draft capital value, the 2023 class looks to rank in the middle of the pack, behind the 2021 and 2020 classes and just in line with the 2018 class.
The 2018 class produced two MVP-quality players and three players who didn't return first-round quality value. That would be an excellent result for the 2023 class and would make the league much more exciting.
Quarterback Variance Might Matter as Much as Rank
It won't necessarily be the top-rated quarterbacks who buoy the class, either. Mayfield and Darnold were both ranked above Jackson and Allen, but those two had a much higher variance in ranks — a number of experts saw quite a bit of upside in those players.
As for how experts varied in their cross-class rankings, there was essentially no variance for Lawrence and Burrow and more variance for third-ranked Justin Fields. There was very little variance in the ranking for Stroud, who was fairly uniformly given a seventh overall rank, and somewhat substantial variance for Young — whose ranks varied as much as Fields' did.
Allen was the most polarizing quarterback prospect in the history of the consensus board, but the polled experts didn't disagree much on him when compared to other quarterbacks in different classes — they only happened to disagree when they attempted to slot him into the 2018 class against all the other prospects that year.
They didn't project him accurately, but they did all generally agree he was in the middle of the pack. The variances for Jones, Jackson, Mayfield, and Richardson were much higher. In fact, Jackson drew the most disagreement of the pre-2023 quarterbacks, with one analyst ranking him 22nd in the group and another ranking him third.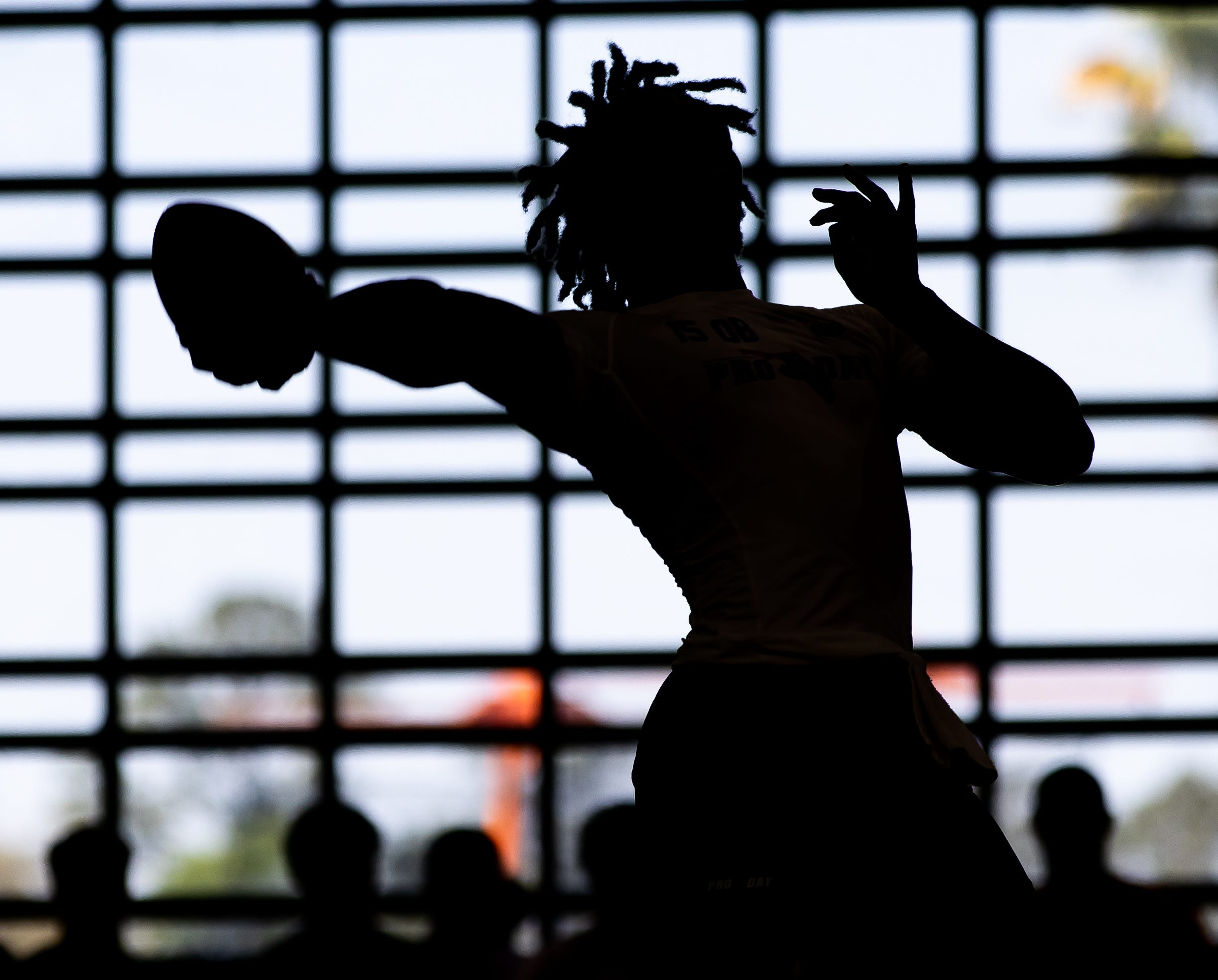 Part of the reasons similar quarterbacks ended up with different types of evaluations over time has to do with how analysts have refined their process.
Indeed, the process of ranking passers across seasons was itself meaningful for a number of analysts. Zierlein said, "[This] has really been eye-opening for me over the years. If you humble yourself and go back and look at where you missed on players — with grades too high and too low — it becomes easier to appreciate and recognize how fluid you have to be with your process in projecting quarterbacks into the league."
"While there are certain standards that are fairly static," he added, "You can't use the exact same process on every quarterback because the players coming out at those positions are much more varied, and the offenses they will run in the NFL are becoming much more varied as well."
As Cummings said, "I think growing as an evaluator and knowing what you don't know is truly vital to evaluating QB play," echoing Zierlein's comments. "Even now, there are ways I can still learn more about the intricacies of the position. But I'd say, over time, that awareness has at least grown stronger … Pride in one's evaluation and desire to have a strong stance can block them off to vital re-evaluation. That happened with me for prospects like Josh Rosen and Tua Tagovailoa.
"Over time, I've learned more not just about the QB position, but also what I value at the QB position and how much I value each trait. That's helped make my evaluations more organic, more resistant to bias, and more substantial."
The 2023 class may set a record for most quarterbacks drafted at the top, and it could end up as the best quarterback class of all time. But based on pre-draft rankings, this class doesn't stack up to the best — though it far exceeds the worst.
We might see more quarterbacks go early, but that might tell us more about how many teams need quarterbacks and how strong the rest of the draft is instead of how good these quarterbacks are.
Listen to the PFN Scouting Podcast
List to the PFN Scouting Podcast! Click the embedded player below to listen, or you can find the PFN Scouting Podcast on iTunes, Spotify, and all major podcast platforms.  Be sure to subscribe and leave us a five-star review! Rather watch instead? Check out the PFN Scouting Podcast on our Scouting YouTube channel.