The landscape of the highest-paid inside linebackers in the NFL has developed slowly over the past few years. Who is the highest-paid LB in the NFL, and which other inside linebackers round out the top 10 at the position?
Who Is the Highest-Paid Linebacker in the NFL?
After being traded from the Chicago Bears to the Baltimore Ravens in 2022, Roquan Smith agreed to a five-year, $100 million extension that made him the highest-paid linebacker in the league. Smith received $45 million fully guaranteed at signing, including a $22.5 million signing bonus.
Smith's 2023 base salary ($4.5 million), 2024 base salary ($6 million), and 2024 option bonus ($12 million) are also fully guaranteed. His $15 million salary for the 2025 season is currently guaranteed for injury only but will become fully guaranteed on the fifth day of the 2024 league year. Smith can also earn $4 million roster bonuses in 2026 and 2027 that will likely force Baltimore to make a decision on his status.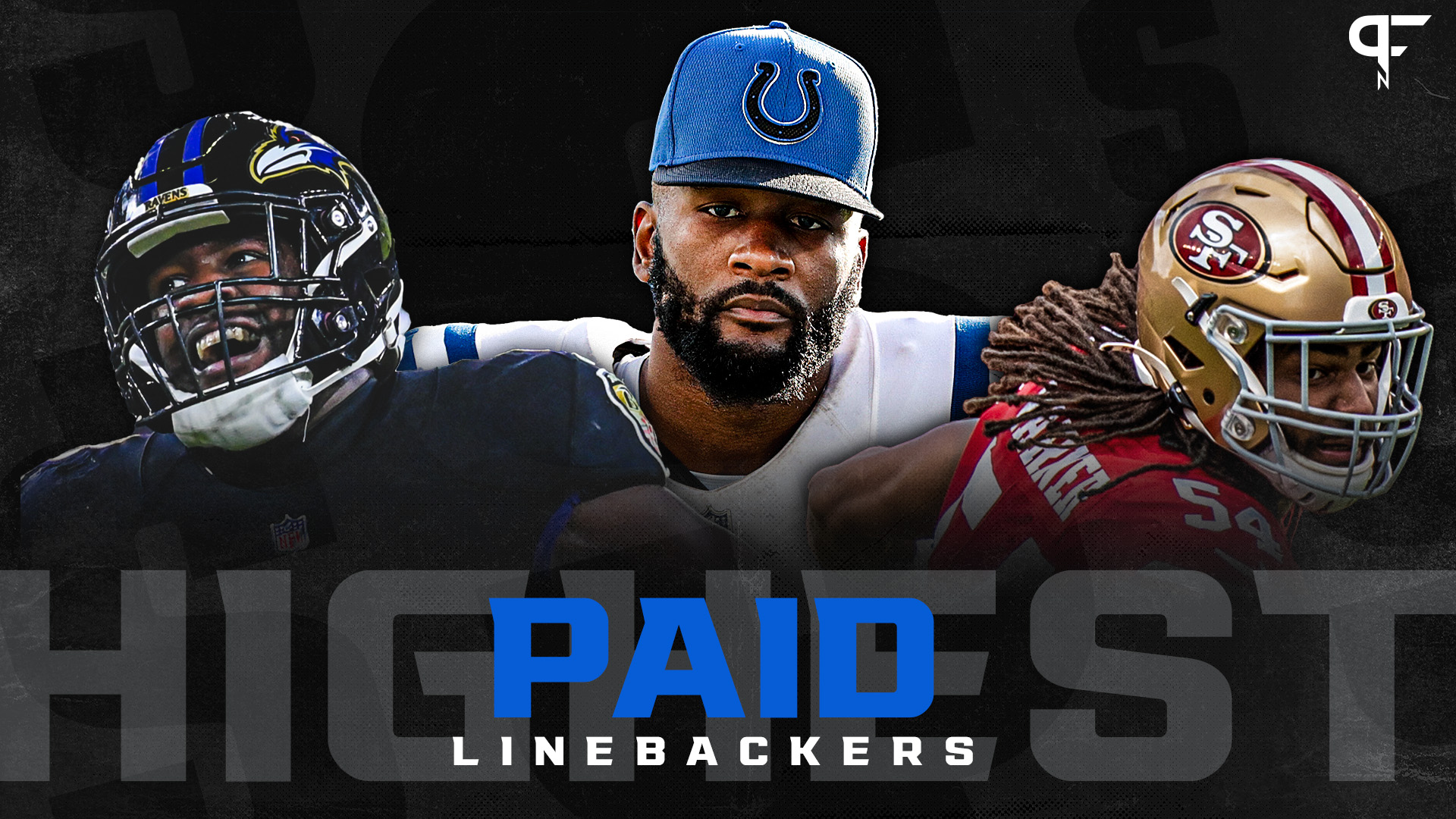 Highest-Paid Linebackers 2-10
2) Shaquille Leonard, Indianapolis Colts | AAV: $19.7 million
Shaquille Leonard's five-year contract extension fell just short of the $100 million mark over five years, but it did place him near the top of the list of highest-paid linebackers. His deal contained a $20 million signing bonus, $33 million in full guarantees, and $52.5 million in total guarantees during the life of the deal.
Leonard will count $19.79 million against the Indianapolis Colts' salary cap in 2023, $20.124 million in 2024, and $23.55 million in 2025. The first real out in the contract comes after the 2023 campaign. However, if Leonard gets hurt in 2023, $6.5 million of his 2024 salary is guaranteed for injury.
3) Fred Warner, San Francisco 49ers | AAV: $19.05 million
Fred Warner was briefly at the top of the highest-paid linebackers list in 2021, when he signed a five-year contract worth just over $95 million. The deal included a $12.32 million signing bonus that was part of $27.5 million in full guarantees at signing. Warner's cap charge was supposed to jump in 2023, but it will remain at just $9.049 million after San Francisco restructured his contract.
MORE: Highest-Paid NFL Players and Biggest Contracts Heading Into the 2023 Season
The contract is somewhat complex. The 49ers have the option to buy out the final two years of the contract for $3.6 million. If that happens, Warner could be a free agent in the 2025 offseason. If the 49ers choose not to buy out the contract, he would be a free agent in 2027.
4) Tremaine Edmunds, Chicago Bears | AAV: $18 million
The Bears traded Smith at last year's deadline, but they've since committed a substantial contract to another off-ball linebacker. Chicago signed former Bills LB Tremaine Edmunds on the first day of the legal tampering period, handing the 24-year-old a four-year, $72 million pact.
Edmunds will receive $41.8 million guaranteed at signing, third-most among linebackers behind only Smith and C.J. Mosley. His cap charges will vacillate from $14.7 million in 2023 to $22.2 million in 2024 before dipping back down to $17.4 million in 2025 and 2026.
Given that Edmunds is only 24 years old, Chicago is surely hoping he will play out the entirety of his contract. But the Bears will have the option to escape the deal after 2025, when they would be left with less than $3 million in dead money.
5) C.J. Mosley, New York Jets | AAV: $17 million
Mosley reset the linebacker market by signing a five-year, $85 million contract with the New York Jets in 2019. He's still on that deal and is due to count $21.476 million against the salary cap in each of the next two years. Mosely's contract contains two void years, so there's room for New York to shift money to the future if needed.
The Jets fielded trade calls on Mosley in 2021 but ultimately hung onto him. They could theoretically cut him this offseason, but they'd take on nearly $15 million in dead money. A post-June 1 release would leave $4.5 million in dead money on New York's 2023 cap.
6) Foyesade Oluokun, Jacksonville Jaguars | AAV: $15 million
Foyesade Oluokun joined the list of the NFL's highest-paid linebackers when he signed a three-year, $45 million pact with the Jacksonville Jaguars last offseason. The former sixth-round selection out of Yale cashed in, garnering $28 million in guarantees and a $12.5 million signing bonus.
Jacksonville reworked Oluokun's contract in March 2023. Thus, his cap charge is set to be only $8.83 million this season before jumping to $21.75 million in 2024. Oluokon can collect a $1 million roster bonus on the fifth day of the 2024 league year.
7) Matt Milano, Buffalo Bills | AAV: $14.165 million
Although Matt Milano still had two years remaining on his contract with the Bills, Buffalo chose to give the veteran 'backer another two-year extension in March 2023. Milano's new deal is worth $28.33 million and contains $27.15 million fully guaranteed at signing, including an $11.845 million signing bonus and a $10 million option bonus.
The Bills will keep Milano's 2023 cap charge at just $7 million before it increases to $12.7 million in 2024 and $16+ million in the final two seasons of the deal. Milano's extension also contains a void year in 2027.
8) Jerome Baker, Miami Dolphins | AAV: $12.5 million
Jerome Baker signed a three-year contract extension worth $37.5 million. The structure of his deal is intriguing. Baker originally received a $5.5 million bonus, with a further $7 million bonus being paid in the 2022 offseason. Accordingly, he carries $3.125 million in prorated money in each of the next three years.
MORE: 2023 NFL Salary Cap Space by Team
Miami restructured Baker's deal in November, so his cap charges over the next two seasons are now $12.77 million and $14.87 million, respectively. He has void years in 2025 and 2026 that helped Miami spread out his restructured money. Baker's entire salary for 2023 will become guaranteed on March 17.
T-9) De'Vondre Campbell, Green Bay Packers | AAV: $10 million
De'Vondre Campbell converted his excellent 2021 season into a five-year, $50 million extension with the Green Bay Packers, but that deal included just $15 million in full guarantees. Green Bay doesn't typically guarantee base salaries, so Campbell's only guaranteed money was his signing bonus.
Instead, Campbell can pick up $3 million roster bonuses in both 2023 and 2024. He can also earn more than $1 million through workout and per-game roster bonuses, while his salary will increase by $250,000 in 2024 if he makes the Pro Bowl this upcoming season.
T-9) Bobby Okereke, New York Giants | AAV: $10 million
Former Colt Bobby Okereke joined the list of the NFL's highest-paid linebackers in 2023 when he signed a four-year, $40 million pact with the Giants. Okereke will reportedly earn $22 million in guaranteed money.
We'll have to wait for the full details on Okereke's deal, but the new contract represents a significant step up for the former second-round pick, who earned just $5.8 million total over four seasons in Indianapolis.