Last week, after an all-timer from Alabama and LSU where Joe Burrow and the Tigers pulled out a massive win, the Senior Bowl invites went out. And some favorites got their invites, including Devin Duvernay, Tyler Biadasz, Javon Kinlaw, and more. And still, there are invites up in the air that can be secured by players as they look to continue to inevitable climb towards being drafted and getting their chance to make an NFL roster at training camp this summer. And CFB Week 12 should give these guys just that chance.
In Waco, Baylor and Denzel Mims look to help their case for the college football playoff as they play Jalen Hurts and Oklahoma Sooners. In the ACC, Clemson faces perhaps the biggest test of their ACC campaign thus far as they face Wake Forest this Saturday. It is an action-packed week, and as such, NFL scouts will undoubtedly be watching.
Matchup to Week: Clemson WR Tee Higgins vs. Wake Forest CB Essang Bassey
Perhaps this one will go under the radar more because of who Essang Bassey is, and by the fact that he is not a big name cornerback at all, but he is a legit Top 100 player who should be a solid nickel cornerback at the next level. And that speaks volumes to his talent, but he will be facing the big-bodied Tee Higgins this week, who, despite my concerns over his athleticism, is still a size mismatch who can be too physical for smaller bodied guys. This test for Bassey is going to determine his stock significantly, and for Higgins, it could hurt his stock, but there is no reason based on his film that he should not thrive for at least a portion of this game.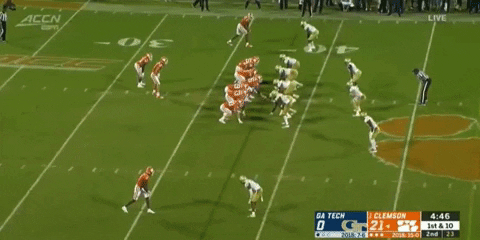 This play by Higgins at the catch point is precisely why he is such a good jump ball receiver. Even through contact, Higgins is fighting back towards the ball after he got significant separation, frees his hands with a bat before he goes, and skies up for this ball. As per usual, he goes and makes a great high point catch and immediately turns and clutches the football. That very thing allows Higgins to escape and make a house call on this play.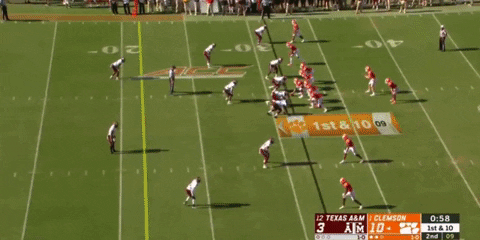 Similarly, here, Higgins works from the slot, and he is more than versatile to work from there. And while he is not a truly great route runner, Higgins is very good at separating with physicality out of his breaks, which is what he does as he stems this crosser over the middle of the field. The subtle adjustment on the ball between two defenders is nice, but Higgins uses his hands and frame well, and it is why he is so dangerous.
On the other hand, Bassey himself, despite only being 5'10", has no trouble getting physical and stuffing his nose in anyone's business. This reverse play was snuffed out by Bassey from the jump, and he does a great job of avoiding traffic and holding the edge well. He comes up with an excellent form tackle and a tackle for loss as well. Run support nickel corners are a thing in the NFL, but for Bassey's game, it is really just a bonus.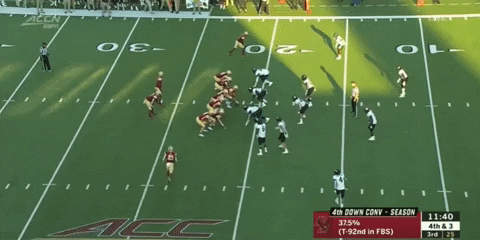 This play against Boston College earlier this year is all click and close as he reads and reacts to the quarterback throughout the whole play. He mirrors every step the receiver has on this quick out route and reads the timing of this route and makes a fantastic jump on the football. That right there is all instincts, and it is one of Bassey's best traits.
Player to Watch: Baylor WR Denzel Mims
There is a specific hive here at Pro Football Network that loves Denzel Mims. My fellow draft writer AJ Schulte wrote a piece calling Mims an 'underrated star,' and I could not agree more. Mims is a sure-fire day two talent that seems to be flying under the radar. He has not, as it is known currently, received a Senior Bowl invite, and Mims has a great height-weight-speed combination that makes him one of the most terrifying wide receivers to face in college football. And it is not just that athleticism that makes Mims so intriguing; it is the fact that he knows how to use his size well. There are concerns with his hands and his ability to handle press coverage, but Mims has been huge for this Baylor squad this year.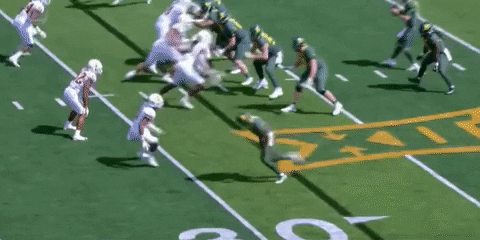 Plays like this show off that unreal athleticism. He is a raw route runner right now as this shows off, but his pure speed and burst out of his breaks allow him to get significant separation on this play. Again, not a sharp break by any means, but this is the type of athletic traits that make NFL teams go wild. He then makes a good catch away from his frame but a considerable gain. Speed and burst like this translate well as a deep threat in the NFL.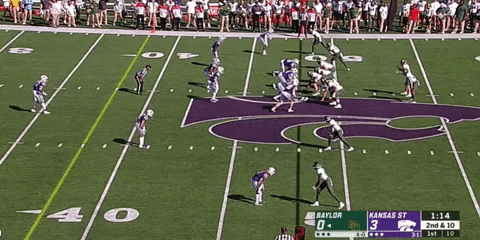 Again, Mims does nothing special off the line in his releases, but his body control and ball skills are on display here. If there is truly an elite trait that Mims has, ball skills and body control are probably the two things that would fall under that category. His ability to make a spinning catch to the back shoulder and still get both feet down to make it look as effortless as he does is a great trait to have. He high points this away from his body and immediately protects it away from the defender. An NFL level play by a guy with NFL level ball skills and body control, and that could give Oklahoma fits this Saturday.
Sleeper to Watch: Marshall TE Armani Levias
In a pitifully weak tight end class, searching for sleepers is something that has to be done. There are not even many of those, unfortunately. Still, Marshall TE Armani Levias has some outstanding traits that make him incredibly alluring as a receiving tight end that can still get some push for you upfront. Classic depth tight end type of stuff, but that is what this class needs. Some depth in it. Levias has the athleticism to stretch the field with great physicality to add to his frame. He can be split out wide or put his hand in the dirt, and that should make him attractive to some team. His releases are incredibly advanced for a tight end, as well.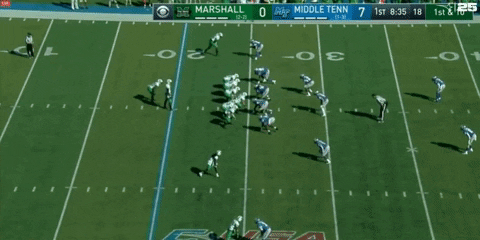 This play is the highlight of the year for Marshall thus far, and it is not hard to see why that is. This is a fantastic play by Levias, with contact coming in on his near side, to make a great one-handed grab through contact. That is concentration and the ability to fight through contact showing off right there. But even more importantly, is how he immediately thinks about what to do after the catch and makes a great spin move to make some magic happen. Levias has some serious yards after the catch skills, and with that speed, he can be a serious threat too.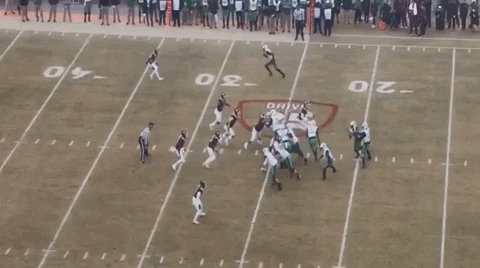 Classic play action that allows Levias to work out to the flat and show off that frame and big body. One of my favorite traits of Levias is that he is not afraid to throw his body weight around. This is against Virginia Tech, and it is not like they are some scrubs, they are a pretty solid team overall. And for him to be able just to run these guys right over like it is quite honestly nothing is quite impressive. I love the way Levias plays, and that makes him perhaps my favorite sleeper in this tight end class.