College football's Week 3 slate was supposedly a down week, but our scouting team had no issues continuing to find 2024 NFL Draft prospects who stood out.
PFN Analysts Ian Valentino, Ian Cummings, Dalton Miller, and Lorenzo Reyna were able to have eyes on almost every game. We'll be teaming up throughout the season to give a full rundown of the weekend's action from a scouting point of view. Here's our Week 3 draft prospect report.
Standout 2024 NFL Draft Prospects | CFB Week 3
South Carolina at Georgia
South Carolina quarterback Spencer Rattler showed a ton of poise under consistent duress, as he had to deal with a bad offensive line and harsh separation conditions from his receivers.
Rattler showed far more confidence in his process, as he understood when to tuck and run or when to create as a passer. He pushed the limits of his arm talent without being too dangerous with the ball, except for the last interception.
Rattler did not retreat even when he faced free rushers coming at him. He showed an outstanding understanding of escape lanes, using his mobility and vision to avoid sacks and extend plays.
With Antwane Wells Jr. suffering a broken bone in his foot, the Gamecocks turned to wide receiver Xavier Legette. Legette proved to be a dude worth watching moving forward.
Legette has great start/stop ability for his 6'3″, 220-pound frame. He sold vertical routes well and had efficient footwork on stop routes. He elevates well for the ball to highpoint it and shows strong hands in the air and good environmental awareness. His silly wingspan allows him to make plays well outside his frame.
The other star of this game was Georgia CB Kamari Lassiter. Lassiter played like a dawg, showing his toughness and skill against South Carolina.
The Gamecocks tried to challenge UGA with wide receiver screens, but Lassiter did not like that and blew up a few. He also had a great recovery on a near interception, where he showed his speed and awareness. He defended well against Legette.
Lassiter was patient and played through Legette's hands, but he also used his right hand and spun to face the ball, replacing his right hand with his left in a pirouette. Lassiter showed his great length and leaping ability, too. He even flashed his situational awareness in Cover 3, defending an opposite-field post route. – Dalton Miller
Tennessee at Florida
Gators DT Desmond Watson might be the most athletic 400-pounder in human history. Undoubtedly, he has amazing strength, speed, and agility for his size. He can dominate the line of scrimmage and disrupt the backfield with his power and quickness.
Joe Milton is not an NFL quarterback. Sure, he has a strong arm, a big frame, and some athletic ability, but he lacks the mental sharpness and accuracy to play at the next level. He struggled with false starts, clock management, and decision-making in a hostile environment in Florida.
Ricky Pearsall had the least production so far in 2023, but he showed why he could be a Sunday player. The Gators receiver showed off great creativity and footwork in tight spaces. He can make defenders miss with his efficient moves and catch the ball in traffic.
Jason Marshall's technical dullness showed on a horrific red-zone rep that led to a touchdown. The Gators cornerback has good size and athleticism but needs to improve his technique and awareness. He was beaten badly by a receiver on a slant route in the end zone.
Tyreak Sapp had the team's only sack. He has a good combination of explosiveness and power. He can rush the passer from the edge or inside and play well against the run.
Scooby Williams, Watson, and Sapp all had strong showings. They made their presence felt by the Tennessee offensive line. They could generate pressure, stop the run, and make tackles behind the line of scrimmage.
Trevor Etienne stole the show, but Montrell Johnson Jr. has the juice. Etienne is the team's star, breaking big runs and catching passes out of the backfield. Johnson Jr. is a freshman with violent jump cuts and great pop out of them. He also showed elusiveness and contact balance.
Tennessee edge rusher Tyler Baron has underwhelmed in live viewings in 2023. Baron has great size and explosiveness but struggles with flexibility and power. He cannot bend around the edge or overpower blockers with his strength. – Dalton Miller
Boston College vs. Florida State
At around 6'4", 250 pounds, Jared Verse's pursuit speed remains shocking to watch at times. He's an incredibly rangy player on the backside of runs, and he used his speed and reach to secure 1.5 tackles for loss against Boston College.
He also generated consistent push with his power element as a pass rusher, particularly early in the game. Verse faded later in the passing phase, and he could strive for more consistency there. But his Round 1 talent remains indisputable.
Credit must be given to the Boston College Eagles. They made this game close, particularly on the defensive side of the ball. One of the standouts was cornerback Elijah Jones.
A long, lanky cover man at 6'2", Jones strapped Keon Coleman in the red zone in the second half with suffocating physicality and a well-timed deflection, and later, he forced a fumble that helped the Eagles make a run at the lead.
Another standout on the Boston College defense was linebacker Kam Arnold. He's a former safety convert at 6'1", 228 pounds, and it shows with his versatility.
MORE: FREE Mock Draft Simulator With Trades
On one play, Arnold slabbed running back Trey Benson on a designed bubble screen, searing around blocks.
But despite his slightly underweight frame, he also showed he could surge through interior gaps with physicality and clog lanes for runners. – Ian Cummings
North Carolina vs. Minnesota
Nate McCollum was almost unstoppable in the North Carolina-Minnesota showdown for a full half. He ended the day with 15 catches for 165 yards and a touchdown, emerging as a primary receiving threat for Drake Maye.
The 5'8", 185-pound McCollum doesn't quite have the same explosiveness Josh Downs had, but he's an efficient, nuanced route runner, a chain-mover, and a tough catcher over the middle and in tight situations downfield. He shows promise as a potential utility slot WR when projecting to the NFL.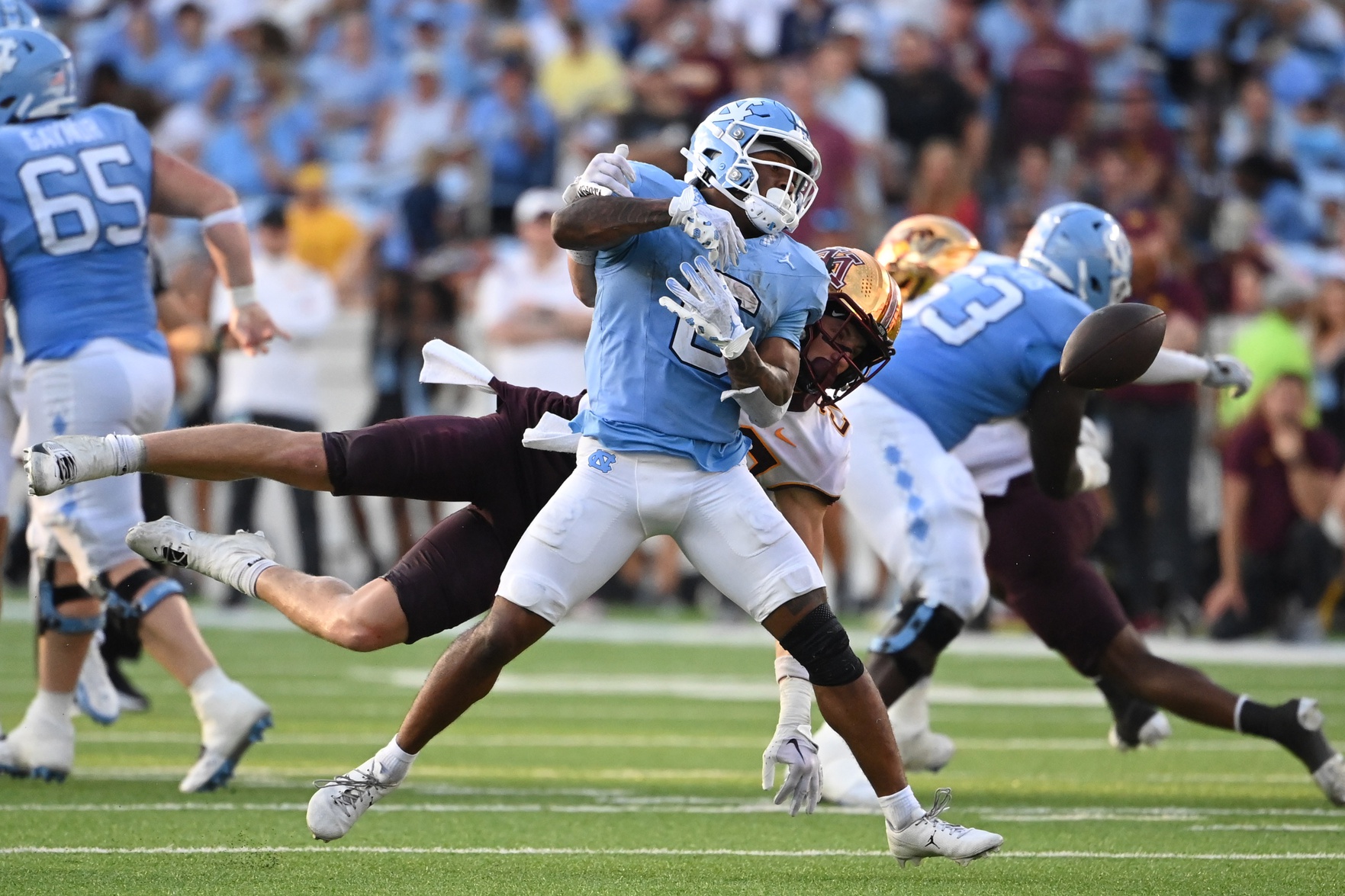 Keep an eye on Minnesota EDGE Danny Striggow. He had a sack in the season opener against Nebraska and another very impressive, high-quality sack on Maye in Week 3. On the rep in question, the 6'5", 250-pound Striggow beat the left tackle with a crisp, well-placed double-swipe, negating the blocker's hands.
He then surged around the apex with burst and bend and could trip up Maye in pursuit with his speed and length. Striggow quietly has an impressive pallet of tools, motor, and execution prowess to be a player. – Ian Cummings
While Maye possesses high-level NFL talent, he has also struggled with mental errors, throwing four interceptions in 2023, three of which were poor decisions. However, he did not let that affect his aggressiveness as he delivered a massive seam strike on a drive that followed his second interception. – Dalton Miller
Kansas State vs. Missouri
Missouri linebacker Ty'Ron Hopper was all over the field. Dalton Miller has become a big fan of Hopper due to his ability to fly around the field and impact the game in every way possible. Hopper didn't disappoint against Kansas State.
Hopper showed great speed and range in the run game and executed a delayed blitz that led to a Will Howard interception. While linebackers generally don't have much value in the NFL, legitimate three-down difference-makers are worth first-round picks. We don't have Hopper that high yet, but he's started this season the right way to get there.
Wildcats tight end Ben Sinnott has never been a high-volume receiver, which is a shame based on his talent and movement ability. He looks comfortable operating from the slot, using head fakes, and selling his routes against linebackers and safeties to get open.
But his best ability is when he has the ball in his hands, showing great play strength and the ability to continue forward after contact.
This was a breakout performance for Sinnott as he tallied two touchdowns. Missouri couldn't slow him, with Sinnott producing five catches for 78 yards.
Howard had mixed results, which has been the case all season. His lack of linear experience has led to inconsistent play while under pressure. He remains intriguing because he has a quick release and strong arm, but his reaction to pressure has to improve.
It didn't help Howard's efforts that he suffered an ankle injury toward the end of the third quarter.
It was also an impressive game for Kansas State senior tailback Treshaun Ward. The undersized back led the offense in rushing yards and darted upfield through traffic on a clutch 33-yard reception. He also fought through three tacklers on a critical 3rd-and-1 on their final drive in the fourth quarter, showing great contact balance and tenacity.
Ward is a fiery competitor who doesn't have the elite size or traits to be a standout NFL prospect, but performances like this can keep him in the mix as a Day 3 pick. – Ian Valentino
There were more than a few notable performances on Missouri's defense in the Tigers' upset win over Kansas State, but Kris Abrams-Draine was one of the show's stars. Abrams-Draine, who logged 14 deflections in 2022, was always around the ball again.
He notched two deflections and scored an interception early in the game by reacting quickly to an underthrown pass. A feisty and physical defender at his size, Abrams-Draine's presence constricted the Wildcats' passing offense all day and helped bring about the victory. – Ian Cummings
San Diego State vs. Oregon State
DJ Uiagalelei is syncing his upper and lower body better this year, showing off the ability to make throws on the run and improving his mechanics. This is a key area of growth for him, as he hasn't reliably been able to move the chains with on-time, in-rhythm passes.
There were some big-time flashes against San Diego State, but he also panicked on a handful of pressured throws, ending drives prematurely. Uiagalelei is difficult to fully believe in despite the strong arm, mobility, and snapshots of NFL talent.
Right tackle Taliese Fuaga continues to look smooth and in control as a pass blocker. He's effortless in his dropbacks, and his length protects his frame from bull rushers wreaking havoc. Fuaga hasn't been talked about nearly enough as someone who should land as a Day 2 pick and NFL starter. – Ian Valentino
Washington vs. Michigan State
Michigan State never stood a chance against the Huskies' deep array of playmaking talent. Washington QB Michael Penix Jr. had all day to throw, picking apart Michigan State with ease.
It was a statement performance for Washington, which boasts an excellent offensive line as well as one of the best receiving rooms in the country. Penix continues to make waves with his massive statistical performances.
He's a great collegiate quarterback. But part of me still can't get over the fact that his injury history is as bad as we've ever seen for a quarterback, and his arm would be among the weakest of any NFL starter.
The big takeaway of the day starts with an injury, though. Huskies junior receiver Jalen McMillan went down after catching a 39-yard pass from Penix right before halftime. It was severe enough that McMillan needed help off the field and couldn't put weight on it.
McMillan already seemed to be losing his grip on the team's No. 2 receiver job but at no fault of McMillan's. Instead, Ja'Lynn Polk continues to look more explosive as games go by. The third-year sophomore is looking more likely to declare as the weeks pass. At 6'2" and 204 pounds, Polk is a big-play machine.
His large catch radius and overall speed as a long-strider are significant assets for any offense. – Ian Valentino
Wyoming vs. Texas
I didn't watch this matchup for long, but I tuned in at the right time to see Texas running back Jonathan Brooks come into his own. Brooks took over this game when it was surprisingly tight, handling 21 carries for 164 yards. The third-year sophomore is explosive and showed off better power and play strength in this game.
There's a huge window of opportunity for Brooks to rise despite being a first-year starter. With his ability to contribute as a pass catcher, good size at 6'0″ and 207 pounds, and possibly better toughness than expected, Brooks is entering the discussion to be a legitimate 2024 prospect to consider. – Ian Valentino
TCU vs. Houston
Bud Clark had a great interception where he baited Houston QB Donovan Smith to throw a near-side pass that Clark stepped in front of as the ball was released. Clark is a big safety at 6'2," and he notched five picks last year. His ball skills are unquestionably good, and if he can continue to show the ability to provide consistent run support, Clark has Day 2 potential. – Ian Valentino
Houston might not have won against TCU, but offensive tackle Patrick Paul continues to generate appeal as a 2024 NFL Draft prospect. He was a sleeper entering the season, but his domineering size sets him apart.
At 6'7", 320 pounds, with around 36" levers for arms, he's a massive obstacle for any rusher, and his weight transfers look smoother in 2023. Mobility was a concern for Paul heading into the year, so using more refined techniques to mitigate those issues could help him rise. – Ian Cummings
Colorado vs. Colorado State
Colorado State Rams WR Tory Horton continues to make big plays when given the chance. His speed is fantastic, separating easily from defenders, including star Colorado cornerback Travis Hunter. His enormous 16-catch, 133-yard performance puts him more on the nation's map, but he should've been penciled in as a top-100 pick entering this game anyway.
Rams edge rusher Mohamed Kamara was a difference-maker in his own right. The speedy but undersized defensive end created the pressure that led to Shedeur Sanders' first interception of the season and logged two sacks. He's not a refined pass rusher yet, but he was as close to unstoppable in this game as any defender was. – Ian Valentino
Wisconsin vs. Georgia Southern
Tanor Bortolini was among my top 2024 NFL Draft guard prospects entering the 2023 campaign. He's since moved to center and looked very good again in Week 3 against the Georgia Southern Eagles.
At the very least, Bortolini's versatility will be coveted by NFL teams. But he also shows off good athleticism and hinge freedom, and his anchor strength in pass protection is particularly striking. He's extremely proficient at reclaiming balance and composure at contact, and he can stall out power rushes with his strong core and base.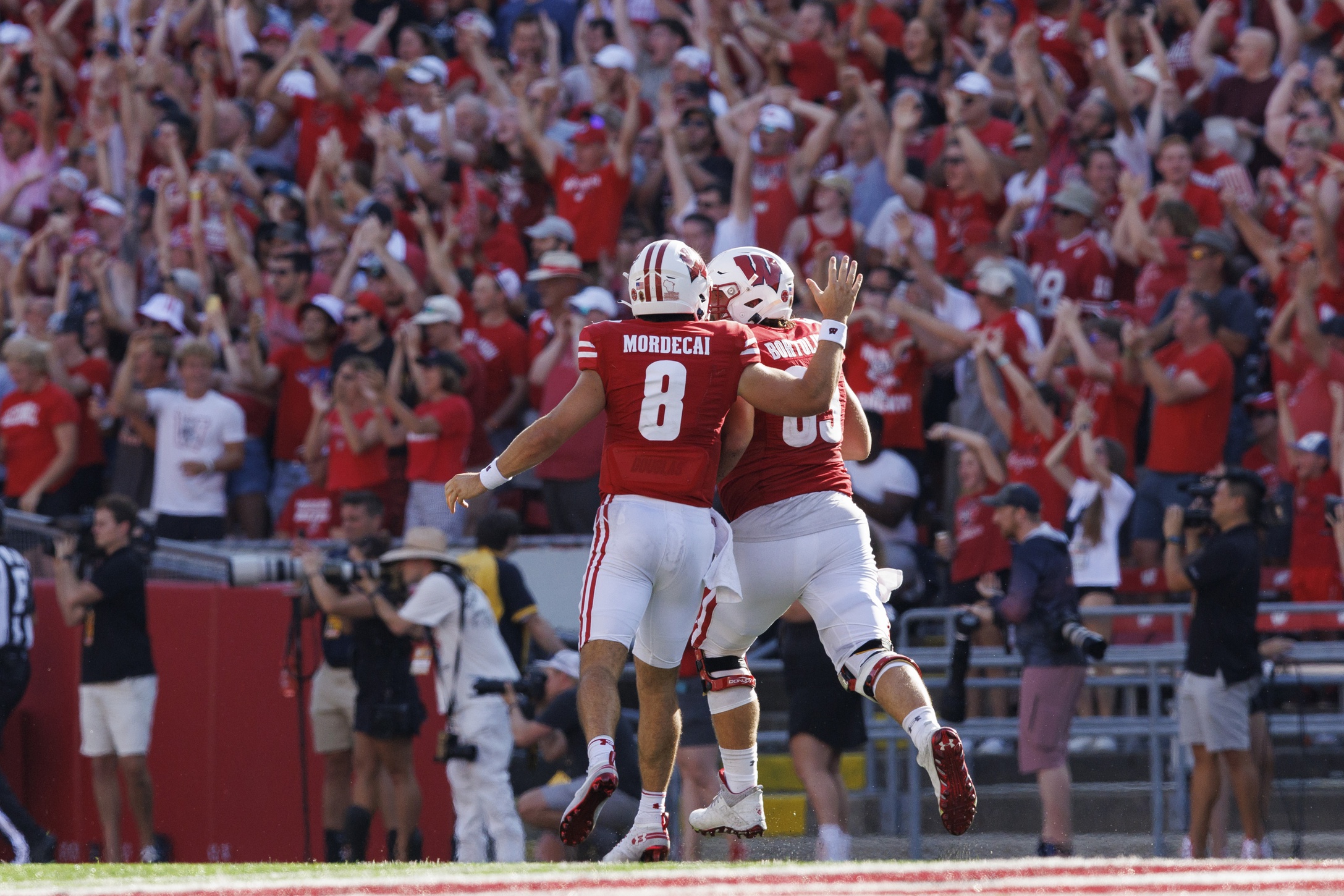 If you're looking for a small-school sleeper at WR, keep an eye on Georgia Southern's Derwin Burgess Jr. The 5'11", 185-pound pass catcher had 58 catches for 717 yards and seven scores in 2022. And three games into 2023, he has 22 receptions for 275 yards and two scores. He's been very consistent, and Week 3 was another strong outing for him — one that brought eight catches for 124 yards.
Burgess visibly lacks the long speed to take big plays the distance, but at his size, he's an impressively elastic receiver who can expand and retract his strides and stop suddenly on hitches and curls. His best play came on a smooth double-move, where Burgess' redirected freedom led him to open space. – Ian Cummings
Wake Forest vs. Old Dominion
Old Dominion's Javon Harvey didn't have a catch entering Saturday's game against Wake Forest. He left with three receptions for 166 yards and a score.
The touchdown came on a wicked double-move, where the 6'0", 178-pound Harvey used intentional eyes and a sharp transition to dust his man, then used his speed to stretch the field vertically and seal the deal. A fourth-year junior, Harvey has yet to command consistent volume, but his dynamic upside bears watching.
Jasheen Davis might be one of the biggest sleepers in the entire 2024 NFL Draft, regardless of position. On my board, he's an EDGE prospect worthy of potential Day 2 consideration, and he looked the part against Old Dominion. Davis was an overwhelming pass-rushing force, with three sacks on the day (he almost had a fourth on a spin move from the outside).
At 6'3", 253 pounds, Davis is twitchy, energetic, explosive, and compact but also has eye-popping power. His last and most important sack came on the game's final drive. He knocked his blocker off his feet with a menacing bull rush, before enveloping the QB. Davis ravaged the Monarchs' line all day, ultimately icing the game.
And in doing so, he provided some high-quality tape for his 2024 NFL Draft evaluation.
Jacob Roberts, who transferred to Wake Forest from North Carolina A&T, has quickly morphed into a dynamic and versatile attacking presence at the second level. The 6'1", 235-pound defender was swarming for the Demon Deacons in Week 3 with 13 tackles, four tackles for loss, three sacks, and a forced fumble.
He's an explosive, rocked-up missile coming downhill who also showcased the necessary leverage awareness and bend to splice through gaps as a blitzer.
He doesn't have Sam Hartman passing his way anymore, but Jahmal Banks has been very consistent regardless in 2023. He had eight catches for 81 yards and a score in Week 3, bringing his season totals to 18 receptions for 223 yards and three touchdowns.
The 6'4", 208-pound Banks has impressive body control, allowing him to adjust for inaccurate throws, even in tight regions like the middle of the field. – Ian Cummings
Pittsburgh vs. West Virginia
One player who stood out throughout West Virginia's win over Pittsburgh was center Zach Frazier. The 6'3", 310-pound interior blocker moves extremely well for his size, effortlessly exploding from his stance to reach his assignments.
Upon traversing gaps, he also has hip flexibility and leverage maintenance to hinge around and seal off defenders while keeping his pad level stable. He's a talented, high-IQ blocker who should command draft capital. – Ian Cummings
Illinois vs. Penn State
Olu Fashanu was able to prove, once again, that his composite profile is unmatched on Saturday. He faced a diverse Illinois attack with speed and power threats but rarely, if ever, gave up any space.
On one pass-protection rep, he drew edge rusher Seth Coleman — an extremely explosive defender who showcased his athleticism on several coverage and pursuit reps earlier.
Coleman used his speed to run up the arc, but Fashanu matched him stride-for-stride and used his suffocating strength to nullify an attempted rip move. Fashanu is the flyswatter, and the edge rushers are flies, buzzing around to no avail.
Chop Robinson has not established a steady production record with his pass-rushing ability in 2023, but his two-phase ability is impressive. Despite being a bit undersized at 6'3", with non-elite length, the 250-pound defender is dense and compact and has the twitch, motor, and strength to destroy gaps and slab blockers attempting to create displacement.
Kalen King and Johnny Dixon aren't the only 2024 NFL Draft-worthy cornerbacks in Penn State's secondary. The 5'9", 185-pound Daequan Hardy had one of the most impressive plays of the day, enveloping a vertical threat with efficient technique off the snap and excellent carry speed.
And when the QB tested the 50-50 opportunity, Hardy stuck to the WR's hip pocket and used sharp timing and authoritative hands to secure the turnover.
Adisa Isaac doesn't always get home but has the skill set to remain disruptive in both phases. On one pass-rush rep against Illinois, the 6'4", 248-pound Isaac employed a stutter-bull-rip combo. First, he widened his blocker with his quick twitch off the snap.
Then, he used his burst and length to drive through the blocker's frame. And lastly, he ripped around the imbalanced protector and used his pursuit range to help contribute to a sack.
Isaac doesn't always get the same recognition as Robinson but has legitimate tools.
The Fighting Illini didn't have many bright spots to boast against Penn State, but Jer'Zhan Newton was clearly the team's best player. He quietly wreaked havoc all day against Penn State's line, securing six tackles, a tackle for loss, and two pass deflections.
He predictably used his alignment versatility, flexibility, and active hands to stay disruptive in the pass-rushing phase. But some of his best plays came in run defense. Newton used explosiveness, natural leverage, and shock at the contact point to halt initial movement and hold the line there. – Ian Cummings
LSU vs. Mississippi State
Malik Nabers. That's the tweet. Marvin Harrison Jr. and Keon Coleman both had dominant outings within the first two weeks of 2023, but in Week 3, it was Nabers' time to shine.
Nabers nullified any potential challenges when working against the Mississippi State secondary, dominating to the tune of 13 catches, 239 yards, and two scores. He rockets upfield with his burst, both out of the slot and on the boundary, and his immaculate ball-tracking ability and hand-eye coordination allow him to convert at an unnaturally high clip.
MORE: Malik Nabers Solidifies 2024 NFL Draft Stock With Dominant Week 3 Showing
Throwing the ball to Nabers, LSU quarterback Jayden Daniels also looked exceptional. He only threw four incompletions on 34 attempts, passing for 361 yards and two scores, and he also ran for 64 yards and two additional scores on 15 attempts.
Daniels' elite creation capacity is well-advertised, but he was a true high-efficiency passer on Saturday, with superb situational precision, leverage IQ, and poise in the pocket.
LSU defensive tackle Mekhi Wingo logged his first sack of the 2023 season in Week 3 — an inside chop from 3-technique, on which Wingo used his hyper-elite first step to teleport inside the B gap.
At 6'1", 275 pounds, Wingo is truly one of the most explosive DT prospects in the 2024 NFL Draft, and on Saturday, he proved he could use precise, forceful hands in tandem with that explosiveness.
On Mississippi State's defense, a couple of defensive linemen stood out. Redshirt sophomore Deonte Anderson is a name to watch for the future, but Jaden Crumedy was the headliner. He notched his first sack of 2023, and in violent fashion.
He shot off the snap and exploded into the guard's outside shoulder with a menacing bull rush, and was then able to quickly redirect and use his length to swallow up the QB in pursuit. Crumedy sometimes lacks consistency, but his power capacity at 6'5", 300 pounds, is awe-inspiring, and he also flashes great functional athleticism. – Ian Cummings
Memphis vs. Navy
Blake Watson is one name I've been echoing since the summer months, and he deserves a mention once again after a Week 3 performance in which he logged 10 carries for 169 yards and a touchdown, as well as six catches for 68 yards.
The 5'9", 195-pound Watson is a smooth receiving threat, but his running ability truly inspires awe at times. He has equally sharp vision and change-of-direction ability behind the line, and he's an extremely slippery runner in open field, with steady feet and rare balance through arm tackle attempts.
Watson has long been one of the biggest sleepers in the 2024 NFL Draft RB class, but he's shedding that label fast. – Ian Cummings
Ohio State vs. Western Kentucky
It's hardly news, but Marvin Harrison Jr. and TreVeyon Henderson showed off their Round 1 talent in the Buckeyes' win over Western Kentucky. Harrison accrued five catches for 126 yards and a score, using his speed and run-after-catch ability — two of his underrated traits.
MORE: TreVeyon Henderson Returning to Form and RB1 Discussion
Henderson, meanwhile, put up 14 total touches for 115 yards and two touchdowns, looking like his 2021 self with superlative explosiveness, speed, and contact balance in space. – Ian Cummings
VMI vs. NC State
North Carolina State defensive tackle Davin Vann is a dude!
He is 6'1″, 270 pounds, and built like a refrigerator. He dominated against VMI, showing his consistently accurate and powerful hands. He also has great length for his size, with 33-inch arms and an 81.5-inch wingspan. He has an impressive get-off and is explosive enough to play on the edge and powerful enough to play inside as a 4i/3 technique. – Dalton Miller
Indiana vs. Louisville
Indiana linebacker Aaron Casey is off to a monster start in 2023. He's one of the nation's leading tacklers, and in Week 3 against Louisville, Casey logged 10 tackles, two sacks, and three tackles for loss. He's a relentless attacker coming downhill with surprising play strength at 6'2", 235 pounds, and his best play came on a reverse end-around.
Casey surged through the A gap and rapidly wrangled up both motion men, sweeping over them like a tsunami wave. His instincts and hard-charging style translate perfectly inside the box.
Jamari Thrash continues to be a dominating speed threat for Louisville. On just 14 catches this year, he has 329 yards and four touchdowns. And in Week 3 against a respectable Indiana secondary, he amassed 159 yards — headlined by an 85-yard house call where he effortlessly peeled away at the Hoosiers' zone coverage look.
Thrash is aptly named, as he thrashes through defenses with his instant acceleration ability, and his big-play prowess is undoubtedly strengthening his 2024 NFL Draft stock. – Ian Cummings
Sacramento State vs. Stanford
Someone has to replace Marte Mapu as the next NFL defender from the Hornets. Defensive lineman Jett Stanley elevated himself as that possibility.
Already equipped with an imposing 6'4″, 284-pound frame, Stanley was a relentless attacker of the trenches versus Stanford. He delivered three sacks using a non-stop motor and grown man strength against Power Five linemen.
He struggled early with bottling the inside runs versus an offense Troy Taylor built at Sacramento State. But Stanley was hell for Stanford's interior line the rest of the night and became quick enough to catch Justin Lamson.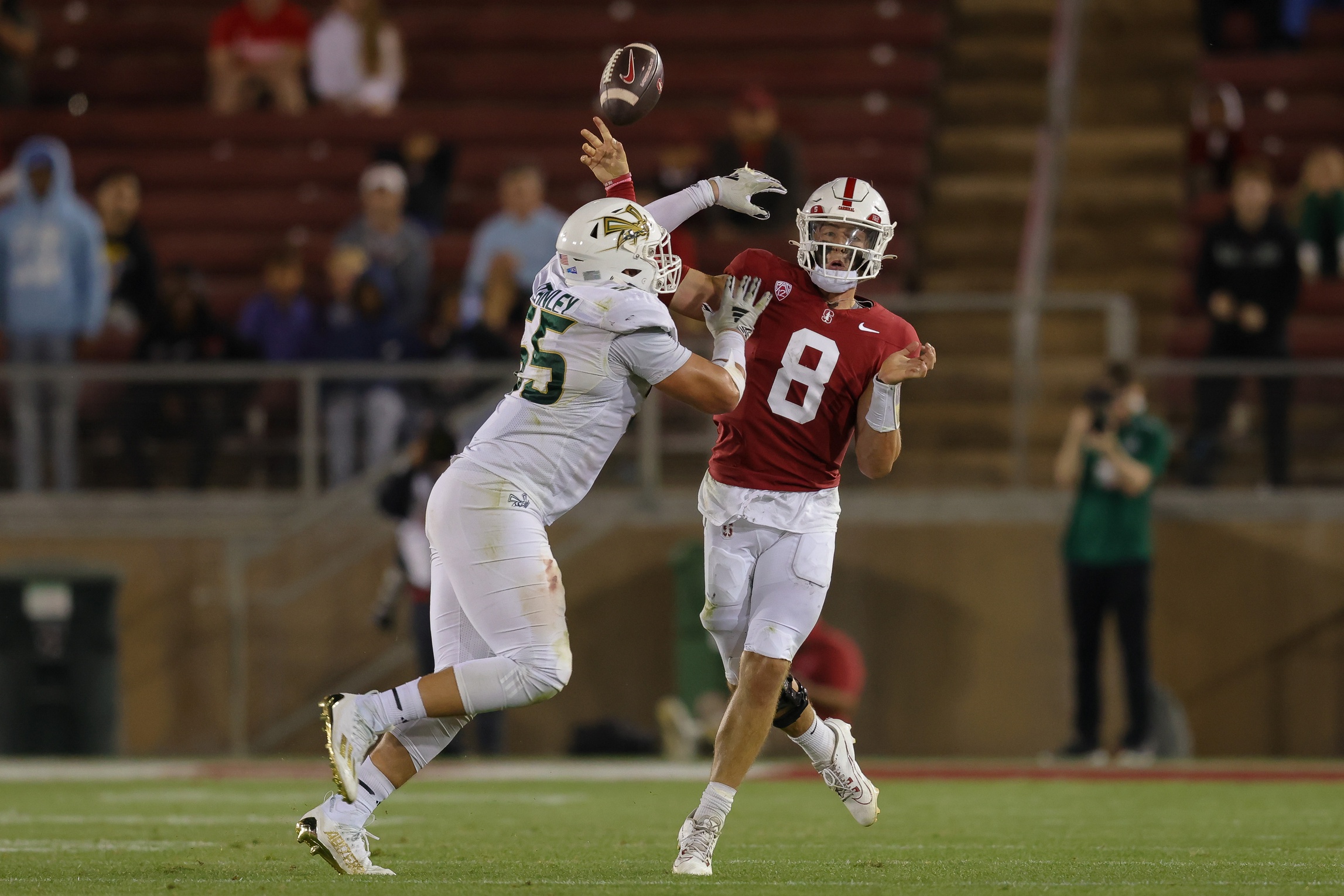 Running back Marcus Fulcher's NFL status will be dependent on whether he puts up astronomical numbers at the FCS level. However, he brings an NFL style of running to the field.
He's a grinder type who forces the second and third defender to bring him down. His lower body strength was displayed in the Bay as Fulcher moved piles.
Fulcher could intrigue teams with his receiving, though. He runs with awareness and balance on his catches — and both were on display in his game-winning run. He's a back who thrives on contact.
And, as a native of the more blue-collar side of Fresno (Fulcher is from West Fresno), he uses that scrapper side to his runs. – Lorenzo Reyna
Clemson vs. FAU
The entire Clemson defense came to play against Florida Atlantic, but the most impressive play of the day was a 49-yard pick-six notched by cornerback Nate Wiggins. At 6'2", Wiggins undoubtedly has the length and speed coveted in early-round picks.
Still, his route recognition ability, zone awareness, and lightning-quick reaction to stimulus ultimately help him generate these kinds of game-changing plays. – Ian Cummings
Toledo vs. San Jose State
The best Group of Five prospects stand out against their competition, and that's what Toledo CB Quinyon Mitchell did in Week 3. Against San Jose State, Mitchell had four pass deflections, smothering his assignments through all four quarters.
Mitchell had five picks and 19 pass deflections in 2022, and he's on track to pace the nation with his ball production again in 2023. Mitchell's elite transition speed, physicality, and authoritative playmaking mentality make him productive. – Ian Cummings
Georgia State vs. Charlotte
The Charlotte defense is no joke, but the Georgia State passing attack had no trouble producing in Week 3. The show's star was wide receiver Robert Lewis, who logged six catches for 220 yards and two touchdowns. Through three games, Lewis has 17 catches for 347 yards (over 20 yards per catch) and four scores.
MORE: 2024 NFL Draft Big Board 
He's an explosive vertical threat at 5'11", 185 pounds who effortlessly eats cushion and stacks defenders, and he has the ball-tracking ability to reel in high-difficulty throws in the deep third. Georgia State's last drafted WR was Robert Davis in 2017, who had 4.4 speed and a vertical over 40". Looking at his vertical dynamism, Lewis could rival those numbers. – Ian Cummings
Listen to the PFN Scouting Podcast
List to the PFN Scouting Podcast! Click the embedded player below to listen, or you can find the PFN Scouting Podcast on iTunes, Spotify, and all major podcast platforms.  Be sure to subscribe and leave us a five-star review! Rather watch instead? Check out the PFN Scouting Podcast on our Scouting YouTube channel.