We're already beginning to see pieces written across the NFL Draft world emploring teams to tank for next season's potential crop of quarterbacks. And the early leader in that quarterback clubhouse is USC's Caleb Williams.
It's not an uncommon story. The "if he would have been draft-eligible this year" narrative has been nearly as strong with Williams as it was with Trevor Lawrence after his freshman campaign with Clemson. The comps to Patrick Mahomes are already coming in hot and heavy.
But what must Williams do to maintain his status as the league's top QB and likely overall prospect in the 2024 NFL Draft class? Where does he win, and what must Williams improve upon in his third season playing in Lincoln Riley's system to put himself in the same conversation with the Lawrence and Joe Burrows of the world as a prospect? And is someone primed to expropriate him from his throne?
Who Is Caleb Williams?
At Oklahoma, Riley spent years cycling through elite-level transfers, including two Heisman Trophy winners and one runner-up (who was up against arguably the greatest college season ever from Burrow). During that time, he recruited other high-level passers, but Williams stuck out above the rest.
Williams was a top-10 recruit on Rivals and 247Sports, and a five-star to both. ESPN ranked him as the 16th-best recruit and a four-star player but still had him as the top QB. Only 247Sports had a QB ranked above him, Texas' Quinn Ewers.
In other words, he's been that dude. Williams effectively took Spencer Rattler's job multiple times in 2021, solidifying himself as the starter, leading Rattler to the transfer portal. Eventually, Williams followed (and Riley) followed suit to USC.
"I need to figure out what is the right path for me moving forward," Williams said in a statement following his transfer portal announcement.
The new college landscape is far closer to what it should have always been. Riley has coached two top picks and a third that just played in the Super Bowl and was an MVP candidate in his third NFL season. From a football perspective, following Riley to Southern California was an easy decision. From a NIL perspective, it probably doesn't get much better than parking in Los Angeles.
Then, Williams went out and threw for over 4,500 yards while completing over 66% of his passes, throwing 45 touchdowns to only five interceptions. Unsurprisingly, Riley now has another Heisman Trophy award to point to when recruiting college football's next five-star QB recruit. Williams received 544 first-place votes, while Max Duggan finished second in the voting with 188 first-place votes.
But putting up absurd stats in college doesn't mean anything when it comes to a player's pro prospects. Otherwise, Graham Harrell, Bailey Zappe, B.J. Symons, and Case Keenum all would have been first-overall picks.
So what makes Williams such a highly regarded future draft prospect? More importantly, what does he have to do to erase all doubt that he should be the top pick in the 2024 NFL Draft?
What Makes Caleb Williams Special?
NFL teams will always and forever look for versions of the best thing around. Mahomes is the best quarterback in the NFL, and that should be an uncontested statement. What separates Mahomes from the rest of the league is not any one thing but a conglomeration of things. However, most people think of his ability to create outside of the offensive structure as his trump card.
But being able to avoid the rush and make throws is one thing. Having the spatial awareness to avoid the rush, seeing through the trash of rush and coverage players, understanding where and when receivers are going to be at spots against the coverage, understanding defender leverage, and making the throws make Mahomes who he is.
Zach Wilson showed at BYU he had an effortless arm and the ability to escape pressure and make splash throws. But quarterbacking in a traditional dropback sense is still the main driver of QB success. Wilson did not possess the same ability above the shoulders that Mahomes does and often gets unnoticed.
Williams has been receiving the comparison to Mahomes for some time now. It's entirely unfair to him. Anybody comparing a player to the absolute best in the game, and arguably the most talented player at that position of all time, is being set up to fail.
It's a different sport, but Chris Broussard claimed that potential No. 1 pick in the 2023 NBA Draft, Victor Wembanyama, would be a "disappointment" if he ended up being Kevin Durant, Hakeem Olajuwon, or Anthony Davis. He'd be a disappointment if he didn't finish his career in the same breath as Michael Jordan, LeBron James, and Kareem Abdul-JabBar.
But what makes Mahomes different is largely what makes Williams special. So although it's unfair to compare the two in a general sense, there are similarities.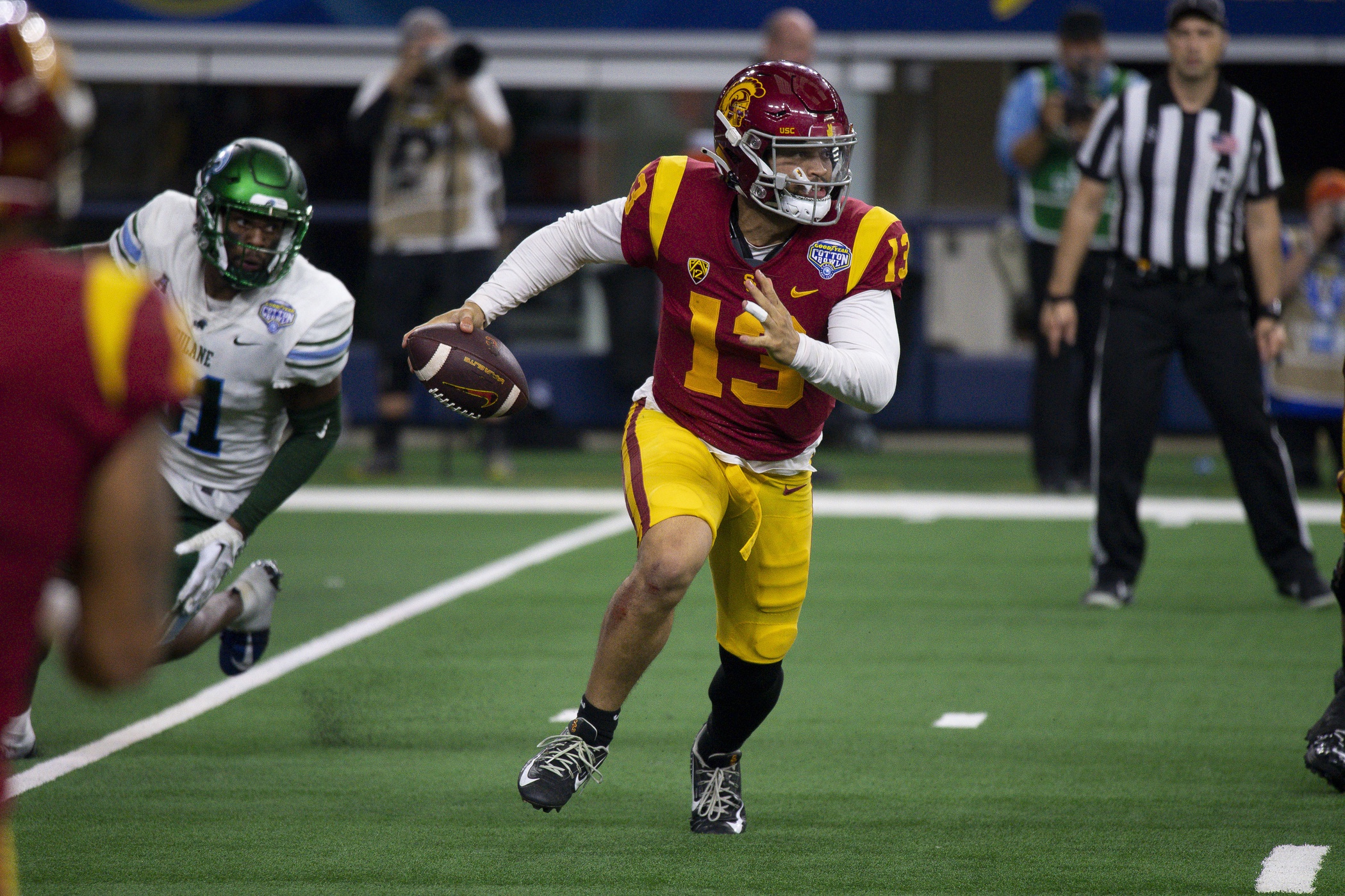 Williams runs funny, aesthetically. In fact, his running style is similar to Mahomes, who always looks like he's running with a beer in his hand from a buddy he just pulled a prank on. Yet, he gets away, even though he doesn't look fast. Williams has a similar style. They are both… dare we say… sneaky athletic.
When asked about creating the perfect QB, Riley said this about Williams.
"I would say Caleb's natural arm talent and probably his ability to make people miss and escape both in the pocket and out. If you have that combination, you're going to win some games."
One thing that was a common theme in Williams' game notes was his unparalleled accuracy in the short areas of the field. Ball placement on things like screens, checkdowns, and in the quick game is often overlooked in its importance. But where the ball ends up on the pass catcher's body can be the difference between a 20-yard gain after the catch, a four-yard gain, or a two-yard loss. Williams has an innate ability to maximize those yards after the catch.
Then there's the playmaking ability outside of structure. Right now, that's what separates him from the rest of the pack. He makes free rushers look foolish with his quickness and understanding of escape hatches.
Williams avoids the rush while keeping his eyes up to find targets downfield, and he makes throws from all different throwing platforms. His highlight tape at the end of his USC career will be host to some of the most ridiculous videos of all time.
But no prospect is infallible.
What Must Williams Do To Be the Top Pick?
North Carolina QB Drake Maye isn't going out without a fight. He's quite the enticing QB prospect himself, and there's more than one draftnik on the interwebs who already prefer him to Williams as a prospect.
Many quarterbacks can look indestructible when their surroundings are ideal, and that's largely the case with Williams, who often was able to lay down a blanket and carefully craft a charcuterie board in the pocket. The Pac-12 simply couldn't do much to get pressure on him on a consistent basis. That's not his fault, but it does consistently put him in a position to play pitch and catch with receivers.
In most contests, Williams hung in the pocket as if the rush simply couldn't penetrate the OL. It wasn't possible. When a rush is well-executed, and the pocket starts collapsing, quarterbacks must be able to make micro-adjustments to creating throwing hallways for themselves. Williams must work on improving that, but he can only get those reps in games where the rush actually makes him sweat.
Surprisingly, the Oregon State game is one to look at to see him in a less-than-ideal situation. Oregon State's defense went on the offensive, and although Williams was able to create against-pressure looks with relative efficiency, he also appeared more skittish in the pocket than he had in other games.
In the end, he made an absolutely insane holeshot throw to win the game.
Although it's a nitpicky detail, Williams' dropback could also use a bit more urgency. Although different than Bryce Young, each player has a similar issue here.
Young dropped back perpendicular to the line of scrimmage and on his toes so he could see the field better. That could occasionally make him late on throws because his feet weren't ready to deliver when his mind was ready to pull the trigger. Williams has a similar issue, but it's because he can be too nonchalant in his dropbacks.
So while Williams has the creativity and playmaking ability to get outside of the pocket, he could stand to be a bit more creative inside the pocket against pressure. He could stand to become a bit more urgent at times in his dropback, and it would be nice to see him in less-than-ideal conditions, facing legitimate pressure more often.
But overall, Williams already has the talent of a top NFL Draft selection. If he doesn't go first overall, it'll be more likely because of the strides Maye made in North Carolina than anything Williams lacks as a prospect.
Listen to the PFN Scouting Podcast
Listen to the PFN Scouting Podcast! Click the embedded player below to listen, or you can find the PFN Scouting Podcast on iTunes, Spotify, and all major podcast platforms.  Be sure to subscribe and leave us a five-star review! Rather watch instead? Check out the PFN Scouting Podcast on our Scouting YouTube channel.