The incident involving Buffalo Bills safety Damar Hamlin on Monday Night Football has left the entire football community in shock. How could it not? As a sport that prides itself on the mantra of "Football is Family" wraps around one of their own to pray for and protect him, Hamlin is more than a second-year star on a potential Super Bowl-winning team.
Community is at the very heart of his existence, he is a player devoid of selfishness in his pursuit of greatness, a player committed to providing for those around him rather than himself.
Buffalo Bills Safety Damar Hamlin Typifies the Mantra of Football is Family
"As I embark on my journey to the NFL, I will never forget where I come from and I am committed to using my platform to positively impact the community that raised me."
It was Dec. 2020 when Hamlin wrote those words. Fresh off his fifth season with the Pittsburgh Panthers, the impactful safety had the same dream and vision as thousands of kids growing up in Pennsylvania. He wanted to play in the NFL. Yet, rather than concentrate on the luxurious lifestyle that playing professional football would afford him, Hamlin was committed to ensuring that his community benefitted from his success.
From McKees Rooks through Central Catholic High School to the University of Pittsburgh, Hamlin has been a Pennsylvania boy. Even since arriving in Buffalo with the Bills as a sixth-round pick of the 2021 NFL Draft, the star safety has been geared towards providing for the community that helped him realize his dreams.
As recently as June this year, Hamlin returned to Pittsburgh to orchestrate a charity event alongside fellow NFL star and Pennsylvania native Miles Sanders. The Damar vs. Miles Kick Ball and Jaster All-Star Game was designed to give back to the local community, which Hamlin described as "a weekend to remember in my city" while enthusing about "coming home and giving back to the place that made me."
While some play lip service to the love of their community, Hamlin is legitimate in his outpouring of emotion toward the place that raised him. While some move away to pursue their collegiate dreams, the Bills safety stayed at home to represent his state. He could have gone elsewhere and seen the same level of success. It wasn't for a lack of offers. Something greater than football, something that flows through his very fiber even now he's in the NFL, ties Hamlin to Pennsylvania and the state to him.
Football is Family
The mantra is closely tied to the NFL, but you feel it coursing through the veins of every level of football. The idea that this sport can unify and bond you as thick as blood is a powerful one, it's a genuine one. While Hamlin has found family at every stage of his football journey, it is actual family, flesh, and blood, that has informed and shaped the major decisions in his life — including the decision to play football for Pitt.
"I had a little brother who was two years old at the time," Hamlin is quoted as saying in a 2021 interview with Point Park Globe. "I wanted him to just grow up with a role model in his life, and to give him someone to be able to model himself after."
While he crafted a journey to aspire to, Hamlin leaned on his father's example of sacrifice and his mother's teachings of hard work and dedication. The sum of those parts is a young man who developed not just into a role model for his brother but did so with a smile that successfully transitioned from his face to those of the city of Pittsburgh with his on-field success for the Panthers while overcoming the adversities of competition and injury.
His football family is almost as important to understanding the man behind the football player. Being drafted by the Bills in 2021 reunited Hamlin with childhood friend and former Pitt teammate Dane Jackson. Asked about his relationship with Jackson — another Pennsylvania native — earlier this year, a beaming Hamlin told One Bills Live that he "cherishes" their friendship every single day while describing him as a "big brother to me."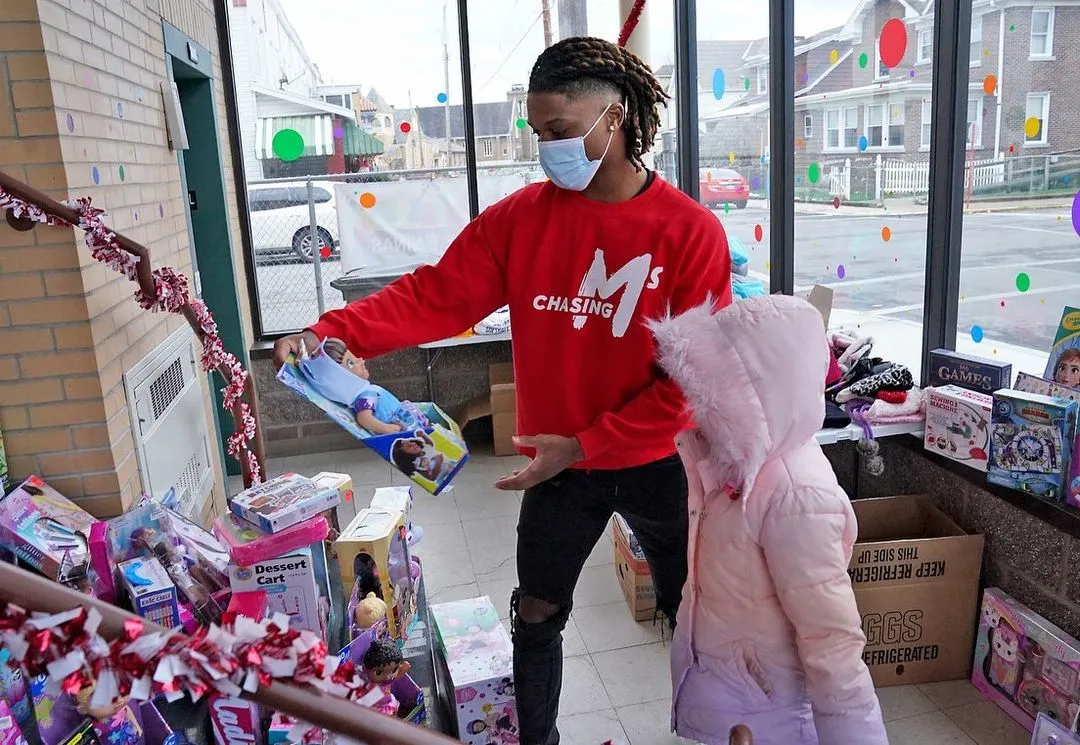 Hamlin's "Chasing M's" Foundation
Along his football journey, Hamlin has been committed to finding ways to give back to the community that raised him. The Bills safety started "Chasing M's" where the 'M' stands for millions. The company combined his love of clothing with the desire to inspire change and help provide a community for people who might struggle to make a lasting impression in a tough market. The company lives by a singular mission statement.
"The path to the top can be lonely — we tell the story of your come up through clothing and put a community of like-minded people behind you to help achieve the life you want."
The path to the top can be lonely, especially if you leave the people that help you get there in the rearview mirror as you ascend. That's something completely contradictory to the ethos and personality of Hamlin. He hadn't even made it to the NFL when he established a foundation to ensure that people in need within the community that raised him wouldn't be left behind.
The first event created by the Chasing M's Foundation was the Community Toy Drive benefitting Kelly and Nina's Daycare Center in McKees Rock. The goal was simple, to raise $2,500 to distribute toys to positively impact children hardest hit by the impact of the global pandemic.
"Seeing role models in person, I feel like that's big in kids lives," Hamlin said in a YouTube video discussing the event." That's something that we haven't always had in Pittsburgh. Being younger and seeing the difference for someone who had that role model in their life. You can be that role model. I'm thankful that I can be in this position to give back. I feel like it's important for me to do it, because I know the difference it can play in a kids life."
Following the shocking incident on Monday Night Football, donations have flooded the Chasing M's Foundation GoFundMe page. At the time of writing, they had totaled over $3.5 million. Many donations come with a message praising or describing the positive impact that Hamlin has made on an individual or community. As is so often, it's undeniably sad that it takes a tragedy to understand a person's true impact.
Hamlin is a reminder that life can be unpredictable and shouldn't be taken for granted. The Bills safety has made the most of every day, filling them with positivity as an influence on those around him. May he have as positive a comeback as the impact he has made along the way.