The best kickers in the NFL are no secret. But while kickers may be the red-headed stepchild of football teams, they play an integral part in a team's successes and failures. And over the past few generations, kickers have become more and more accurate. In fact, the top six kickers in career field goal percentage are active players.
Check out our other top positional rankings here: QB | RB | WR | TE | OT | G | DT | EDGE | LB | CB | S 
Best Kicker in the NFL
Justin Tucker is the best kicker today, tomorrow, and likely of all time. While Adam Vinatieri is the more accomplished kicker, nobody has been more automatic than Tucker.
He's the only kicker to ever make more than nine kicks out of every 10 on average. He's the only one who can hit that high note, and he's made his mark playing in the AFC North's elements. There isn't a single dome in the division, and Maryland, Pennsylvania, and Ohio aren't known for sunny beaches and calm conditions.
He had a bit of a down year in 2022, but that's because he attempted the most 50+ yard field goals (14) and missed five of them, dropping his overall average. He made all 24 kicks inside of 40 yards and made four of five from 40-49 yards.
Best Kickers in the NFL | 2-11
2) Daniel Carlson, Las Vegas Raiders
Something happened to Daniel Carlson during the offseason between 2019 and 2020. Like a golfer who found their swing, he "found it" at that time. He made just one of four kicks for the Vikings as a rookie. In Year 2, he made only 19 of 26 kicks for Oakland.
But since moving to Las Vegas, he has made an astonishing 107 of 115 kicks. He is consistent from inside 40 yards and has made 21 of 24 from over 50 yards, proving that he's a true sharpshooter and not simply a singles hitter. But as a kicker, he doesn't earn the same marks for the elements as Tucker because Carlson plays in a giant hockey puck with a roof.
3) Younghoe Koo, Atlanta Falcons
Younghoe Koo is the second-most accurate kicker of all time as things stand. The former undrafted free agent immediately flamed out with the Chargers. He went 3 of 6 in his first season with Los Angeles and was quickly on the move to Atlanta.
Since then, he's made over 90% of his kicks. He led the league with 37 made kicks in 2020 when he made just shy of 95% of his attempts. He had a bit of a down year in 2022, where he made only 85.6% of his field goals. But the main difference was that he had a career-high in 50+ yard attempts (11). He made every kick under 40 yards and 9 of 10 from 40-49.
4) Harrison Butker, Kansas City Chiefs
Harrison Butker is another great kicker who had a down season in 2022. Butker missed six kicks last season, but he only attempted 24 all season, a product of the Kansas City Chiefs offense refusing to stall out once they got into field goal range. He also missed a few games with an injury.
Four of his six misses came outside of 50 yards. He missed a kick from 40-49 and one inside of 40 yards as well. Next season should be a bounce-back year for the soon-to-be 28-year-old. Before last season, he had never made fewer than 88.9% of his kicks, and he'd made at least 24 kicks in each season since 2017.
5) Matt Gay, Indianapolis Colts
Matt Gay was outstanding in 2022, and he's made at least 87.5% of his kicks in each season since 2020. But despite his 87.8% career average and 92.5% average while playing for the Rams, he has not often been used outside of 50 yards. Of his 115 career attempts, only 23 have come from outside of 50 yards.
The move to Indianapolis should not hurt him too much. He'll play in a dome at home, and Nashville, Jacksonville, and Houston are all relatively warm climates. Gay only missed three kicks in three seasons with the Rams inside of 50 yards.
6) Evan McPherson, Cincinnati Bengals
Evan McPherson gained instant fame with the Bengals as a rookie. Although his regular-season kicking record is nothing to write home about, his blood cools to a crisp 31 degrees once the playoffs roll around. He's made only 83.9% of his regular-season kicks but hasn't missed in his two playoff runs.
McPherson made 14 kicks during the Bengals 2021 run to the Super Bowl and five in last season's run. Although he's been far from a sure thing in the regular season, fans and the team won't mind that as long as he continues to be automatic in the postseason. Kickers build their legacies through what they do in the biggest moments, and he hasn't missed yet.
7) Tyler Bass, Buffalo Bills
Consistency is key for a kicker. It doesn't matter if you make 100% of your kicks in one season if you can only convert on 65% of them the next. Brett Maher is a perfect example of the immediate fall-off that can happen at the position. Bass has been relatively consistent over the course of his three NFL seasons. He missed six kicks as a rookie and then four in both his sophomore and junior years.
8) Jason Myers, Seattle Seahawks
Consistency is the reason why Jason Myers isn't ranked higher on this list. Although he's a two-time Pro Bowler who has also had a season where he literally was perfect, which included a 61-yard field goal, his year-to-year consistency has lacked.
Over the past four seasons, he's made 82.1%, 100%, 73.9%, and 91.9% of his kicks. Myers has also missed three kicks inside of 40 yards over the past two seasons and four of 11 kicks from 40-49 yards in that same time.
9) Eddy Pineiro, Carolina Panthers
The life of NFL kickers is fascinating. Eddie Pineiro hasn't been a disaster in any of his three seasons, yet he's played for three different teams in a league that doesn't really have 32 professional kickers. He's made over 90% of his kicks in his three-year career, and he looks to have a home for the time being in Carolina, where he will enter Year 2.
10) Graham Gano, New York Giants
Graham Gano has become incredibly consistent since turning 30. He's made at least 87% of his kicks in each season since 2017, a year in which he made 29 of 30 field goals for the Panthers. As kickers have become more accurate over the past decade or so, Gano's career is a perfect example of just that.
He ranks 24th all-time in field goal percentage. However, if we split his career up by pre-2017 and post-2017, the difference is mind-boggling. Since 2017 he's made 92.3% of his 143 attempts. From 2009-2016 he made just 79.7% of his 227 attempts.
11) Chris Boswell, Pittsburgh Steelers
Kickers need healthy groins to kick footballs. Chris Boswell did not have a good time in 2022, but there is absolutely no reason to believe that will be an ongoing trend. Although Boswell had a tough year in 2018, he's made at least 90% of his kicks in five of his eight NFL seasons. Boswell also made 36 of 40 kicks in 2021, including 8 of 9 from 50+.
Best Kickers in the NFL | 12-32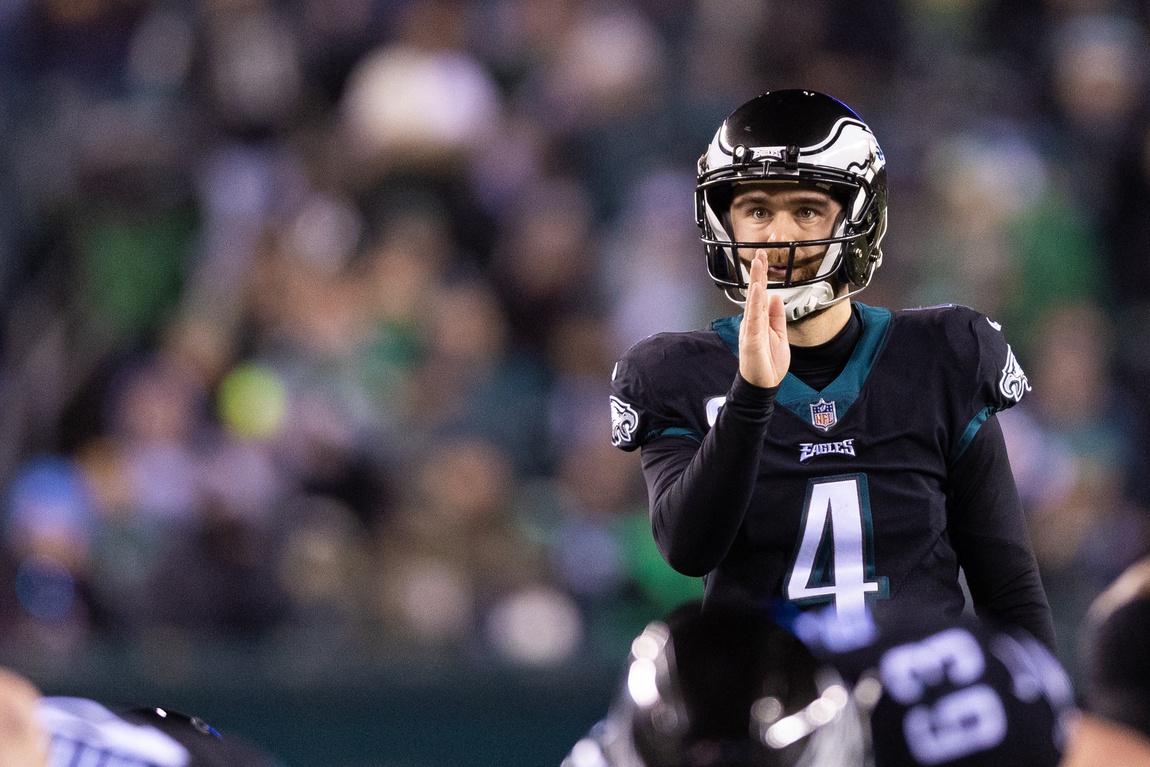 12) Jake Elliott, Philadelphia Eagles
If we strike Jake Elliott's 2020 NFL season from the record books, we have ourselves an incredibly consistent kicker. He's missed five kicks three times, four once, and three twice. Kicking is oftentimes difficult to evaluate because "success" often comes down to opportunity. It will all even out eventually. But Elliott's past two seasons have been his best.
13) Cameron Dicker, Los Angeles Chargers
Despite playing for two different franchises in 2022, no kicker was more accurate than Cameron Dicker. While he was incredible a season ago from an accuracy perspective, he only attempted 22 kicks, and he had only one attempt over 50 yards, which he missed.
14) Cairo Santos, Chicago Bears
Dicker missed one kick, and Cairo Santos only missed two a season ago. The 31-year-old has been the definition of a journeyman in the NFL. He's played for five different franchises throughout his time in the league, despite ranking 25th on the all-time field goal percentage. He made 21 of 23 attempts a season ago and has made at least 86% of his kicks in each of his past three seasons after a disastrous outing in Tennessee in 2019.
15) Nick Folk, New England Patriots
Nick Folk is one of the older kickers in the league, but he's also been at his best late in his career. He's made 89.3% of his kicks in his four seasons kicking for the New England Patriots. And in that time, he hasn't missed a field goal under 40 yards. He is 60 of 60 in those situations.
16) Greg Zuerlein, New York Jets
Greg "The Leg" Zuerlein is incredibly fitting. The 35-year-old still has one of the biggest legs in the league. He ranked first in touchback rate among kickers with 50+ kickoffs. As such, he has never been one of the more accurate kickers in the NFL. But at any given moment, he can step onto the field and hit it through the uprights from 60 yards, which can be handy late in games.
17) Brandon McManus, Jacksonville Jaguars
The Jacksonville Jaguars' new kicker has always been known for his big leg and long attempts in Denver. McManus hasn't been a particularly consistent kicker over the years, making just over 81% of his kicks, which surprisingly comes in underneath Zuerlein over the course of their respective careers.
18) Ka'imi Fairbairn, Houston Texans
John Christian Ka'iminoeauloameka'ikeokekumupa'a Fairbairn doesn't get the same kind of respect as many of the other veterans in the league who have stuck around, but that's probably because he plays for the Houston Texans.
Fairbairn was great last season, missing only two of his 31 attempts while being a perfect 6 of 6 from deep. He missed time to start the season in 2021 and had an underwhelming year, missing four of his 19 attempts.
19) Riley Patterson, Detroit Lions
The former Memphis Tiger changed his stripes from college to the pros, but he remains in the same blue. After spending the 2022 NFL season in Jacksonville, where he made 30 of 35 attempts, he heads back to the Lions, where he had made 13 of 14 kicks in 2021.
20) Greg Joseph, Minnesota Vikings
The Minnesota kicker made under 80% of his kicks in his fourth NFL season, but he missed only one kick under 50 yards. Making the makeable kicks is an absolute necessity when playing in a dome, and Greg Joseph has done a fine job of that for the Vikings over the past two seasons.
21) Jason Sanders, Miami Dolphins
What Jason Sanders will show up in 2023? That's the question surrounding the 27-year-old kicker. He has seasons of 90%, 76.7%, 92.3%, 74.2%, and 81.3% marks over his five seasons. After a very strong 2020 in which he made 8 of 9 attempts over 50 yards, he's made only four of his last 12. He's also missed three kicks under 40 yards in the past two seasons and three from 40-49 yards.
22) Matt Prater, Arizona Cardinals
Matt Prater made a lot of incredibly deep kicks throughout his 17-year career. But as he gets older, Prater has become a bit more scattershot, making 81.1% of his kicks. In that time, he's missed seven kicks from 40-49 yards and two more from 30-39. But he is still a strong kickoff specialist as well.
23) Wil Lutz, New Orleans Saints
Maybe 2022 was simply a fluke. However, Wil Lutz went from missing all of 2021 with an abdominal injury and then made just 23 of his 31 attempts in 2022. He missed two kicks under 40 yards and four from 40-49 yards. The hope must be that he returns to the Saints completely healthy and back to his old self in 2023. Prior to his injury, he had made 86.6% of his career attempts. But he may never return to 100% of what he was.
24) Joey Slye, Washington Commanders
It must be difficult to date a kicker. Joey Slye played for three different teams in 2021, despite making 92% of his kicks that season. In his two years with the Commanders, Slye has made 88.1% of his kicks. He is also one of the league's best at kickoffs, and if he manages to have another strong season with Washington, Slye could slide his way up this list.
25) Tristan Vizcaino, Dallas Cowboys
Come 2023, Tristan Vizcaino will be playing for his fifth team in four seasons despite making 91.7% of his kicks in that time. The part-time player has filled in admirably in that time, making 11 of his 12 career attempts. But he will get a chance to potentially start for Dallas in 2023 and prove himself worthy of the role Brett Maher gave up in the playoffs a season ago.
26) Elliott Fry, Denver Broncos
The Broncos' new kicker has only attempted six field goals in his two-year career and only seven extra points. He's missed just one field goal, but he has missed two extra points.
27) Caleb Shudak, Tennessee Titans
Caleb Shudak has only attempted four kicks in the NFL, all for the Tennessee Titans last season in one game. He made three of his four kicks, missing from inside 40 yards on 1 of 3 attempts from that range.
28) Cade York, Cleveland Browns
Kickers are a paradox. They're important, but oftentimes those drafted "early" end up flaming out. Kicking is about effortlessly floating through the pressure of the position and moment. Adding crazy expectations by being drafted early on Day 3 can cause trouble.
The book isn't written on Cade York yet. He's only 22 and in his second year. But last season, he missed eight kicks, including five inside of 50 yards.
29) Chase McLaughlin, Tampa Bay Buccaneers
Chase McLaughlin is on his seventh team in five seasons as a pro, and he's going to his eighth situation, having played for the Colts twice. McLaughlin simply sits on the very edge of employable as a kicker, making just 78.8% of his NFL kicks. However, he has been outstanding with extra points, making 88 of 90.
30) Jake Moody, San Francisco 49ers
It will be nearly impossible to live up to the expectations of fans for Jake Moody. There is a rich history of highly drafted kickers fizzling out in the NFL. Moody will have to meet lofty expectations. Moody made 82.1% of his kicks during his five seasons at the University of Michigan. He made 86.7% of his kicks over the past two seasons for the Wolverines, and he never missed an extra point.
31) Tanner Brown, Los Angeles Rams
The Rams' new kicker had an even higher make rate than Moody while kicking for Oklahoma State in 2021 and 2022. He missed only one field goal a season ago and, like Moody, didn't miss any of his 78 extra points.
32) Anders Carlson, Green Bay Packers
Former Auburn kicker Anders Carlson made 79 of his 110 kicks at Auburn, which comes out to a worrying 71.8%. That's not exactly a sterling record, especially for a Green Bay Packers team that looks far more underwhelming than what we're used to seeing from them. It's not as if he suffered early on and improved, either. He made just 12 of 17 kicks in 2022 and 14 of 21 the season before.