Like the quarterback position in the NFL, there are not 32 starting-caliber tight ends in the league. The best tight end in the NFL is about to become an AARP member, and the position as a whole is a difficult transition to make from the college level.
And with the continued rise of Sean McVay and Kyle Shanahan-inspired West Coast attacks, the TE position isn't seen the same way as it is in other offenses.
Check out our other top positional rankings here: RB | WR | OT | G | DT | EDGE | LB | CB | S | K
Who's the Best Tight End in the NFL?
Are you sitting down? This news will shock you. Travis Kelce is the best TE in the NFL. 
He ranks third in receiving yards since 2018 — only Davante Adams and Tyreek Hill have more. But Kelce has also been staggeringly healthy for such a position of attrition, much like former Chiefs great Tony Gonzalez.
Now, the really sobering stat comes in like a Randy Orton RKO. Rob Gronkowski is just five months older than Kelce. Injuries took from us what could have been one of the greatest position rivalries ever.
Tight Ends Rankings 2-11
2) George Kittle, San Francisco 49ers
Speaking of Randy Orton, draft tight ends who are fans of professional wrestling. The meat-headed, entertainment-based acrobatics seem to be a common theme for many a freak tight end.
Gronk has dabbled, Kelce paid homage to The Rock when he called the mayor of Cincinnati a "Jabroni," and George Kittle might be the biggest WWE fan among the three.
Kittle might still be the most dangerous post-catch player at the position. Among tight ends with at least 60 targets, Kittle's 6.5 yards after the catch was third-best. Brandon Aiyuk, Deebo Samuel, and now Christian McCaffrey mean we likely will never see 1,300-yard Kittle ever again, but the talent remains.
He's also the entire package. Kittle is the best blocking tight end in the league and is also a legitimate pass-catching threat.
3) Mark Andrews, Baltimore Ravens
Just sit back, relax, and watch Mark Andrews go absolutely bonkers with Todd Monken calling the offensive shots. Current Georgia TE Brock Bowers had 56 and 63-reception seasons in college football with Monken at the helm, and he also rushed the ball 13 times.
To get an idea of how underwhelming the position is at the moment from a pass-catching perspective, look no further than Mark Andrews. In what seemed an utterly disappointing campaign in 2022, Andrews' 847 yards receiving ranked third in the NFL among tight ends.
It was the first time since 2013 that only one TE had over 1,000 yards receiving. But even 2013 had seven with over 800 yards. In 2022, only three had over 800 yards.
4) T.J. Hockenson, Minnesota Vikings
T.J. Hockenson is another example of a tight end drafted incredibly high who, while good, has underwhelmed. In fact, Hockenson never even finished his rookie deal with the Detroit Lions, who traded him to an intra-divisional rival, for Pete's sake!
The blocking highlights from Hockenson in college masked the technical flaws in his game, which were only exposed consistently when playing NFL-level competition. Hockenson remains a bit of an "all-or-nothing" run blocker and pass protector, and he's never proven to be the bowling ball after the catch that he was at Iowa.
Yet, he had a career year in Minnesota and is still only 26, which means he's likely still a few years away from his ceiling.
5) Dallas Goedert, Philadelphia Eagles
Shane Steichen's evolution of the Eagles' offense was perfect for Dallas Goedert. He was a draft darling coming out of South Dakota State, proving to be an excellent all-around TE prospect. That has come to fruition in the NFL, as Goedert continues improving as a blocker in the pros.
MORE: NFL Offense Rankings 2023
He's also impressive after the catch. He doesn't possess the natural explosion and violence of Kittle, but he is springy and tough to bring down on first contact.
6) Sam LaPorta, Detroit Lions
The Lions recycled drafting a TE high instead of paying the one they already had on the roster. Considering Hockenson is now the richest TE in NFL history and decidedly not the best TE in the NFL, the Lions are probably comfortable with their decision. They even got the same model! A brand new Iowa TE.
7) Kyle Pitts, Atlanta Falcons
The Falcons' QBs and injuries sabotaged Kyle Pitts in 2022. Despite being in possession of a wingspan approximately as wide as an albatross, the Atlanta QB room couldn't find their target. They were practically missing the broad side of a barn when targeting the former Florida Gator.
Still, becoming only the second TE in NFL history to post a 1,000-yard rookie season was evidence enough of his unique skill set. He's far more wide receiver than tight end, but that doesn't mean he struggles as a blocker, either.
Perhaps that's why his pass-blocking rate rose just a tad in 2022. It probably doesn't help that after using the fourth pick on him. The Falcons used the fifth pick in the next draft to select Drake London — another monster pass catcher.
8) David Njoku, Cleveland Browns
Drafting a tight end high is a bit like investing in bonds. They take time to fully vest, and even if you need the money now, the investment hasn't broken even yet. You may perish by the time they're profitable.
David Njoku was selected in the 2017 NFL Draft. His first season with over 500 receiving yards was in 2022. He has improved as a blocker in the run game, which is necessary with a strong offensive line and a stable of backs that get the ball so often.
But everyone should have seen this slow developmental curve coming because he was only 21 during his rookie season. Since then, he's become one of the more consistent blockers at the position.
9) Jake Ferguson, Dallas Cowboys
It's curious that Jake Ferguson tested like an average athlete because his on-field spring is apparent after the catch. Ferguson lept over defenders a few times in 2022, and he held his own as a run blocker, even though it's clear he needs to get stronger and more technical at the craft.
So far in 2023, Ferguson has been fantastic. He's been an improvement over Schultz in the run game and has become one of Dak Prescott's favorite targets.
10) Evan Engram, Jacksonville Jaguars
Evan Engram had a career year with Doug Pederson and the Jacksonville Jaguars, and both sides decided they'd like to do that again. The 240-pound "tight end" is a mismatch of a weapon not too unlike Kyle Pitts and Darren Waller. And with Calvin Ridley now in the mix, those crossing patterns Engram runs so often could be even more open than in 2022.
Engram's career year felt like just the start, even at 29 years old. He's still every bit of the athlete he was coming from Ole Miss, and his 454 receiving yards through 10 weeks is good enough for sixth in the NFL.
11) Darren Waller, New York Giants
Waller is one of the more unfair chess pieces in the NFL when healthy, but over the past two seasons, that's been the problem. That's been a consistent theme for Waller throughout his NFL career. He's only played full seasons in 2019 and 2020, and he has never played more than 12 games otherwise.
Still, he has been ridiculously productive when healthy. He possesses unfair size and explosive potential for a 6'6″, 250-pound TE.
But health has remained a problem for the ultra-talented tight end. Although he's played in most of New York's games, he hasn't been 100 percent much as a Giant.
Top Tight Ends Remaining
12) Cole Kmet, Chicago Bears
Cole Kmet will be just 24 during this NFL season, and he has already signed a contract extension to remain a Chicago Bear for the foreseeable future. Kmet is a prototypically built in-line TE from Notre Dame, a historical TE factory.
Kmet is incrementally improving as a run blocker, and he's already a serviceable pass blocker. The Notre Dame TE is still growing as a route runner, but he's already a solid receiver in the play-action game.
But at $12.5 million per season, it's hard to argue that an S or A-tier RB is not worth to an offense what Kmet is to the Bears.
13) Jonnu Smith, Atlanta Falcons
Jonnu Smith has been more productive than Kyle Pitts in the Atlanta Falcons offense. That is a testament to his own physical ability as a tight end and a red mark on Arthur Smith's offense.
After a few somewhat unproductive years in New England, Smith has seemingly gotten back on his feet in Atlanta. He has played nearly as many snaps as Pitts and has been the one taking the bulk of the snaps playing inline.
14) Dawson Knox, Buffalo Bills
Draft athletic TEs on Day 2 or Day 3. Let them develop in the shadows behind the entrenched starter, then exploit that development for a year or two before ultimately needing to pay them or repeat the process. After all, you wouldn't want to buy a house that was uninhabitable for years as you fixed it up if that was your only source of shelter.
MORE: Highest-Paid Tight Ends in the NFL
Dawson Knox never had any production in the Ole Miss offense that boasted A.J. Brown and DK Metcalf. Those guys ended up being decent as pros. But as the third option in an offense, someone with his explosiveness and knack for finding space in confined quarters is an asset.
15) Hunter Henry, New England Patriots
The NFL is a funny place. Hunter Henry is not a bad football player. In fact, he's a good receiving tight end who, while a bit uninspiring as a blocker, suffices. But he's going to have the second-highest cap hit of any TE in the league for 2023. And while the New England Patriots cut Smith, they added Mike Gesicki into the mix as a receiving TE.
In six NFL seasons, Henry has had between 478 and 652 receiving yards. That is what we have come to expect from the fascinating group of third or fourth-tier TEs at the NFL level. They can start, and they can make a subtle impact, but the position simply doesn't have the juice required in a league predicated on speed and precision.
That inevitable production has continued in 2023, even as the Patriots offense has once again crumbled around him.
16) Pat Freiermuth, Pittsburgh Steelers
Pat Freiermuth spurned the "Baby Gronk" moniker when he was at Penn State — a smart decision on his part. Expectations for the Nittany Lion were high, but thankfully, his hype did not outpace his college tape, which was good but not revolutionary.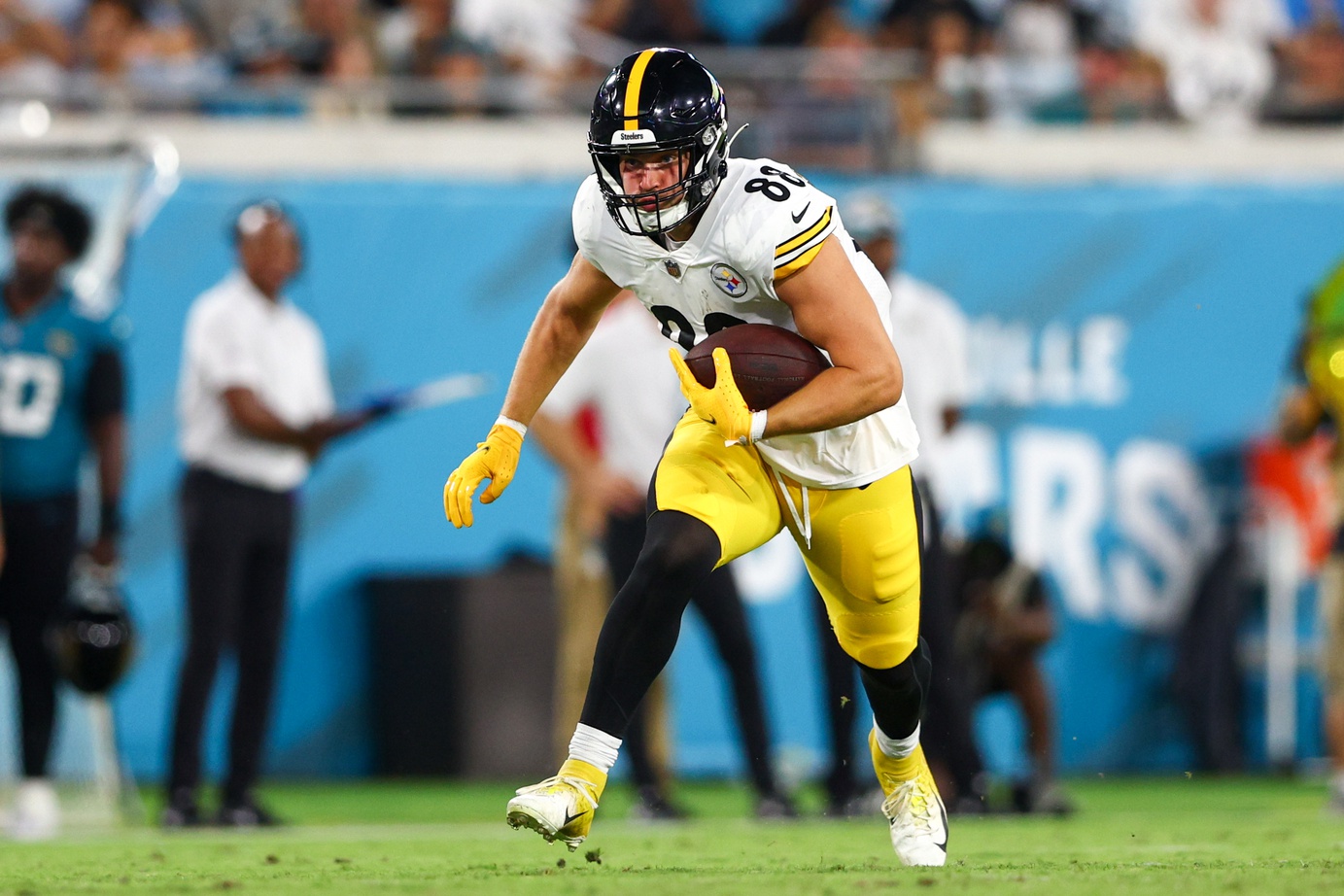 He is an old-school tight end who is a strong route runner from an inline position but is athletic enough to cause problems when split out into the slot and out wide. His 6'5″, 260-pound frame hasn't made him a devastating blocker, but he is improving and still has a lot of time to go before becoming a finished product.
Unfortunately, Freiermuth could only play four weeks before finding his way on injured reserve. However, the third-year tight end should be set to return for the home stretch.
17) Dalton Schultz, Houston Texans
Dalton Schultz is an anomaly. He left the Stanford Cardinals as a technically sound blocker who underwhelmed as a pass catcher. But he became one of Dak Prescott's favorite targets in 2020, and by 2021, Schultz became a difference-maker for the Cowboys.
He's a savvy route runner who is surprisingly agile after the catch. However, there are lapses in his consistency, both as a receiver and blocker. However, he has continuously improved from year to year in each operation.
18) Tyler Higbee, Los Angeles Rams
The Los Angeles Rams had themselves a disastrous campaign in 2022. Nearly every integral piece to their overall Super Bowl success went down with a serious injury, and the pieces they'd lost on the offensive line caused struggles early on, even before injury crushed them.
Higbee caught a career-high 72 passes, but because they had such poor QB play, he posted the lowest per-catch average since his rookie season.
19) Noah Fant, Seattle Seahawks
Noah Fant has never gotten a good crack at being the move TE most dreamed he could be leaving the University of Iowa, and the outlook in Seattle doesn't offer any hope. Metcalf, Tyler Lockett, and Jaxon Smith-Njigba are likely the most talented trio in the NFL, and Kenneth Walker III commands carries. The opportunities are sparse.
20) Tyler Conklin, New York Jets
The New York Jets took the burning page from the Patriots and signed two TEs in a single offseason. And, like the Patriots, the Jets ended up favoring the one making less money. C.J. Uzomah was awarded the bigger contract, but through one season, Tyler Conklin has been the bigger deal in New York.
In 2022, Conklin caught 58 of 87 targets for 552 yards. You could spend hours looking at TE production, and the vast majority would look almost identical to that. Unless they're a freak athlete, it's very difficult to differentiate themselves from the next guy.
21) Luke Musgrave, Green Bay Packers
If the rest of this list is any indication, Luke Musgrave won't be the starter in Green Bay for very long. The Packers doubled up on TEs in the NFL Draft, selecting Musgrave in Round 2 and Tucker Kraft in Round 3.
In all seriousness, Musgrave was a fantastic prospect hampered by injuries in 2022. He also happens to be the more explosive athlete of the duo, which likely means he will bring the score to 2-1 in this contest of the doubled-up TEs.
22) Dalton Kincaid, Buffalo Bills
The Bills have spent years trying to find a third option to take over a slot role. For all intents and purposes, Kincaid is a slot wide receiver. He just so happens to stand at nearly 6'4″ and weigh nearly 250 pounds. And while he was unable to test during the draft process, his on-field ability as a receiver was the best in a great class.
MORE: NFL Defense Rankings 2023
Buffalo has done a fantastic job of featuring him in the offense with the utilization of 12 personnel.
23) Logan Thomas, Washington Commanders
Logan Thomas has been a nice receiving weapon for the Washington Commanders through multiple offensive reimaginations. His issue has always been that he struggles to remain healthy, but most of that is bad luck with head injuries. He's proved to be a valuable weapon to Sam Howell so far in 2023.
24) Gerald Everett, Los Angeles Chargers
After spending years behind Higbee with the Los Angeles Rams, Gerald Everett had a decent season in Seattle that netted him a two-year deal with the Los Angeles Chargers. Now, Kellen Moore's presence in LA could be the best thing for the 29-year-old tight end.
Moore loves getting the position on the field and giving them options as primary pass catchers in his offensive system.
Everett is not a guy you like having to block the end man on the line. In fact, he's just not really a great blocker at all, but the Chargers will undoubtedly allocate that specific role to someone else.
24) Trey McBride, Arizona Cardinals
Trey McBride had a massive game in Kyler Murray's first outing, and it looked like the two had quite a rapport already. McBride has been waiting in the wings behind Zach Ertz, but a season-ending injury thrust him into the starting lineup.
But even before Murray's return, McBride had already begun to leave his mark. The young tight end has averaged 67.8 yards since he became the starter in Week 6 against the Rams.
25) Taysom Hill, New Orleans Saints
Taysom Hill is barely a tight end, but that is his listed position, and he deserves a spot on his list, given his outstanding versatility in the Saints offense. He has 72 passing yards, 261 rushing yards, and 159 receiving yards. No matter what kind of restructuring the offense goes through, Hill has found a role.
From the current NFL standings to team depth charts to coverage of every game in the 18-week NFL schedule, we have all the news from around the league to keep you up to speed!