Modern NFL defenses are becoming more reliant on high-end safety and nickel play than they are on cornerback play. That makes it important to identify who the best safeties in the NFL are and how to utilize their versatile skill sets best.
Big nickel, dime, and penny personnels are bringing more safeties onto the field at once than ever before. But they don't want to sacrifice too much in the run game still, forcing these 200-pound warriors into the box at record rates in replacement of linebackers.
Who's the Best Safety in the NFL?
Los Angeles Chargers DB Derwin James is the best safety in the NFL. James can do anything your defensive coordinator could ever ask for, and he does everything that Brandon Staley asks of him.
His athleticism allows him to be a matchup eraser. But the size and physicality he plays with allows the Chargers to play him in the box as a third linebacker. That means they do not have to sacrifice coverage in their pursuit of defending the run because he can come downhill and fill his gap responsibility.
Safety Rankings 2-25
2) Kevin Byard, Tennessee Titans
Despite first-team All-Pro nods in 2017 and 2021, Kevin Byard has flown under the radar during his career in Tennessee. He topped this list a season ago and very well could have again for 2023, but James' incredible versatility won out.
Byard is the league's premier free safety. He's only produced fewer than four INTs once since his breakout 2017 campaign. But aside from making the middle of the field a no-fly zone, he is also one of the most consistent tacklers in the entire sport. He hasn't missed over 10% of his tackles since 2017 and routinely sits at under 5%.
3) Minkah Fitzpatrick, Pittsburgh Steelers
After things in Miami took a turn for the worse, Minkah Fitzpatrick found a home in the Pittsburgh Steelers' defense. He wanted to play as a more traditional free safety, and he has done exactly that since joining them. What was once a splashy playmaker trying to work toward consistency is now one that found that also.
He has a nose for the football, but his coverage consistency is that of a truly elite free safety. He has the length, range, and trigger to cover serious ground on the back end, and he isn't afraid to come forward and hit, either.
4) Antoine Winfield Jr., Tampa Bay Buccaneers
The 2022 NFL season was the one that elevated Antoine Winfield Jr. into stardom. The Buccaneers decided it was best for their football team if the 5'9″ safety played a bulk of his snaps as a slot defender, oftentimes putting him in disadvantageous situations in man coverage against the other team's best player.
And he excelled in that role. He'd spent most of his time at Minnesota and then Tampa Bay playing as a free safety on the back end. But his willingness and ability to make an impact against the run from the slot always made it a tantalizing role for him.
5) Jessie Bates III, Atlanta Falcons
Lou Anarumo's defense is incredibly versatile, but Jessie Bates III should be a better fit in Ryan Nielsen's defense in Atlanta. In fact, we should often see Bates playing the center-field role, which is where he fits snuggly into at the NFL level.
When he's able to play in that single-high role, Bates flourishes. Much like Marcus Williams in New Orleans, Bates should get to sit back and read the quarterback's intentions while driving on digs and defending the post.
6) Justin Simmons, Denver Broncos
James is the perfect modern safety, but Simmons is darned close. During his time with the Denver Broncos, he's worn every hat handed to him by his many different defensive coordinators, and he's pulled every one of them off.
MORE: Highest-Paid Safeties in 2023
He's best as a single-high free safety, but there really isn't a whole lot that Simmons cannot do. He hits about as hard as a modern player can before being penalized for it, which makes him a prime box candidate — a role he's played nearly 2,000 career snaps. But he can also turn and burn in the slot, making his versatility a defensive weapon.
7) Micah Hyde, Buffalo Bills
The Buffalo Bills defense isn't the same without Micah Hyde and Jordan Poyer playing at depth together. Hyde missed most of the 2022 NFL season with an injury, and it was clear that the entire secondary was suffering the loss.
Hyde is one of the most cerebral coverage defenders in the game. Although he's no slouch when asked to come downhill and defend the run, he is at his best patrolling a deep half of the field alongside his partner in crime.
8) Jordan Poyer, Buffalo Bills
The two Bills safeties are so inseparable that they finish one another's sentences and follow each other on the list of top safeties. Despite losing his other half to injury last season, Poyer showed that although best with Hyde, he can thrive independently of him.
His ability to drive forward and dislodge passes at the catch point is uncanny, and he's always had a nose for securing interceptions as well. Poyer disrupts receivers at a very high rate, but he can also come downhill and defend the run like a true box defender.
9) Talanoa Hufanga, San Francisco 49ers
Talanoa Hufanga may not be the most consistent coverage defender in the NFL, but his playmaking ability is top-notch, and it ended up in an All-Pro nod in his first year as a starter.
Hufango found a perfect landing spot in DeMeco Ryans' coverage scheme. It allowed him to play on the back end as a split-field safety but often come forward at the snap of the ball to play a robber role underneath. This also allowed him to defend the run closer to the line of scrimmage; he is a missile in that respect.
With more consistency in processing the picture he sees and less purely instinctual play, Hufanga will be able to find the balance between risky playmaker and consistent greatness.
10) C.J. Gardner-Johnson, Detroit Lions
When it comes to versatile safeties, it doesn't get much more versatile than C.J. Gardner-Johnson. The former Saint played primarily in the slot for them, proving his chops as a player forced to turn and run with opposing receivers. In 2022, despite missing five games, he proved that he could be a ball hawk on the back end, tying the NFL lead for INTs last season.
Still, Johnson was forced to find a third home in as many seasons. How things will go being back with Aaron Glenn after so many years, nobody knows. But with Johnson, you know it'll always be entertaining.
11) Budda Baker, Arizona Cardinals
Budda Baker has always hovered around this area when it comes to stacking the NFL safeties. There was always hope, and even evidence, that he could elevate his game to that prime Tyrann Mathieu level. But alas, the Arizona Cardinals won't allow us the power of ever knowing what could have been.
Baker, like Mathieu, is an undersized versatile weapon in the defensive backfield. But unlike Mathieu, who is best served in the slot with his eyes on the QB, Baker may be best as a box defender. Although he doesn't make it home often, he has a knack for pressuring opposing passers when blitzing.
12) Marcus Williams, Baltimore Ravens
Marcus Williams is a free safety through and through. In fact, as a pure coverage player on the back end, only Bates may have a higher coverage ceiling than Williams. He played the single-high role admirably in New Orleans but was asked to be a bit different in Baltimore last season.
He showed much more alignment versatility last season than he ever had before. But what was most impressive was how good he looked while doing it. Although nobody would mistake him for Brian Dawkins as a tackler, he showed much more willingness and ability a season ago with the Ravens than he had in New Orleans.
However, he's still much better in a pure coverage role 15 yards off the ball than he is elsewhere.
13) Jevon Holland, Miami Dolphins
Jevon Holland went from being a slot-only defensive weapon at the University of Oregon to being a surprisingly impressive free safety in the Dolphins' defense under Josh Boyer. With Vic Fangio's well-known history, there should be little doubt that he's able to pull the same sort of coverage production from Holland as he has with so many other safeties.
But that slot history also provides him with a versatile answer defensively. Holland has alignment versatility, and if the Dolphins run defense struggles early on, we could see Holland stepping up closer to the line. And even though he's spent most of his time on the back end, Holland has proven an effective piece in the pressure game as well.
14) Quandre Diggs, Seattle Seahawks
Quandre Diggs is one of the better free safeties in the NFL. He possesses outstanding sideline-to-sideline range not only because he's an NFL athlete but also because of his processing ability on the back end.
While there is a bit of variance to his game because of his desire to dislodge the ball from opposing players, he's an outstanding defensive piece to build around.
15) Kyle Hamilton, Baltimore Ravens
If anyone is surprised by how well Kyle Hamilton played as a rookie for Baltimore, it's because they paid too much attention to his pre-draft process and not enough time watching ball.
Hamilton was one of the best players in college football for years before draftniks picked his game apart piece by piece.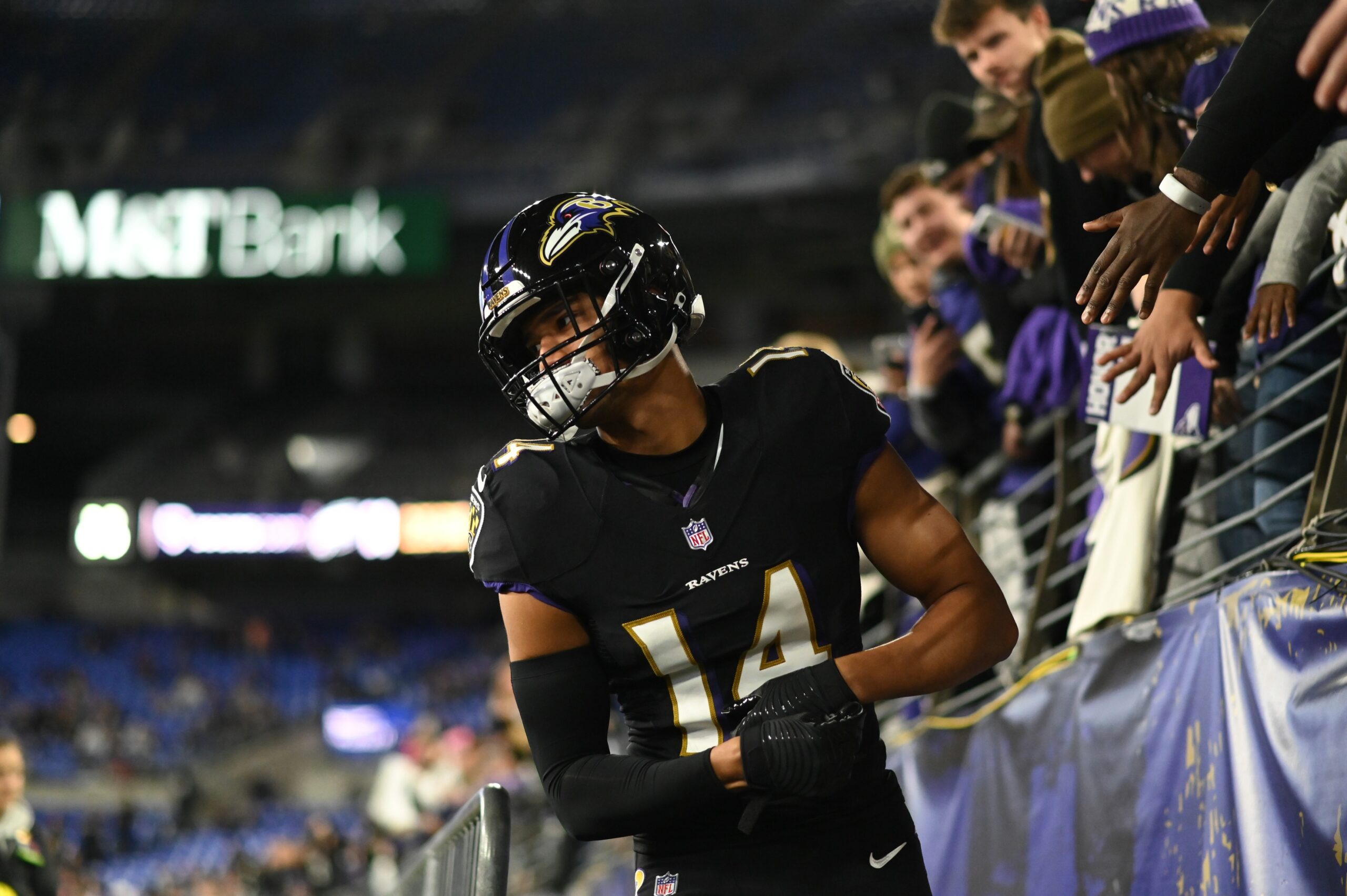 But Baltimore knew — they selected Hamilton with the 14th-overall pick, and after some early-season hiccups, he was back to looking like his Notre Dame self. Will he ever look good playing in man coverage against a 5'9″ slot receiver with a 6.6 three-cone? Nope.
But his overall skill set still makes him one of the most versatile defenders in the NFL, and he should only continue to get better with more time on the field in Mike Macdonald's defense.
16) Jamal Adams, Seattle Seahawks
If Jamal Adams can return to 100% athletically in 2023, there is no reason why he shouldn't be considered one of the best safeties in the NFL. He's a bit of a meme in coverage, but he's far from a liability on the back end. And with the rise of three-safety sets in the NFL with safeties playing as pseudo-linebackers, Adams is a perfect fit for the role he thrives in.
17) Tyrann Mathieu, New Orleans Saints
Few players in the NFL have been able to meld together instincts and process the way Mathieu has. His playmaking ability has never taken away from his consistency. However, he is no longer a spring chicken, either.
But he found a new home in New Orleans last offseason, and the fit was perfect for his skill set. All defenses rely upon intelligent and fast decision-making, but the Saints' secondary has been the best at it over the past half-decade, and it was a perfect marriage with Mathieu.
18) Jimmie Ward, Houston Texans
Ward is a warrior. He's spent equal parts of his career in the slot and as a free safety, depending on what the team needed more at the time. But what is magnificent about his play is that despite being 32, he slid back down to a slot-majority role yet was able to survive as a reactional athlete.
19) Kyle Dugger, New England Patriots
Kyle Dugger entered the league as a freak height/weight/athleticism combo from Lenoir-Rhyne, and he has rounded into one of the league's best playmakers in the box. Devin McCourty's transition to television off the pitch might mean Dugger gets to prove his chops as a more traditional free safety.
But his best fit is likely as a defensive chess piece who can make a real impact coming forward in run defense. However, his athleticism and size can also be used as a weapon carrying backs out of the backfield and defending against streaking tight ends up the seam.
20) Marcus Maye, New Orleans Saints
Marcus Maye was one of the league's top free safeties before injuring his Achilles tendon in 2021. He returned in 2022 in a new uniform, but he was unable to remain healthy the entire season as he dealt with a rib injury earlier in the year and a shoulder injury that sidelined him late in the season.
But Maye is still a great option to have at free safety. He may have lost a half-step after his serious lower-body injury, but he is still outstanding in patrol of the deep center of the field.
21) Xavier McKinney, New York Giants
Safeties at the University of Alabama have a lot on their plates. While that prepares them well for the multiplicity of an NFL defense, most units are actually less complex than the college defenses they hail from.
Xavier McKinney wore multiple hats for the Crimson Tide. But he's played mostly free safety for the New York Giants, and although he doesn't possess the kind of range ever to be an elite playmaker on the back end in Wink Martindale's defense. However, he is an intelligent coverage defender who has helped keep a unit with injuries and lackluster talent afloat.
22) Malik Hooker, Dallas Cowboys
Injuries, unfortunately, have kept Malik Hooker from obtaining the unbelievable playmaking ability we saw out of him at Ohio State. But since coming to Dallas in 2021, Hooker (and the Cowboys' other two safeties) have given defensive coordinator Dan Quinn the freedom to be exotic.
Yes, there are still a lot of Cover 3 principles in his defense, which is where we see Hooker at his best. But there have been much more split-safety coverages as well. But what has impressed most is his ability to evolve as a run defender. He's been a sure tackle since arriving in Dallas.
23) Kamren Curl, Washington Commanders
Kamren Curl has flashed since finding the field as a seventh-round rookie in 2020. But those flashes became consistent production over the past two seasons. His tackling continues to get better and better, and his length and athleticism make him a nightmare for opposing passers in coverage. But Curl remains at his best around the line of scrimmage.
24) Eddie Jackson, Chicago Bears
The appeal of Eddie Jackson is that he is about the best you can ask for from a safety. Jackson doesn't have the kind of elite athleticism to find himself on the top of these rankings consistently, but he is a coach's dream. He never consistently became the kind of elite playmaker we saw early in his career, but Jackson has been good at everything asked of him. 
He is best when he's able to patrol as a split-field safety that can be aggressive reading No. 2 to No. 1, and he still shows flashes of elite playmaking ability in a downhill capacity.
25) Harrison Smith, Minnesota Vikings
Harrison Smith was long one of the most versatile safeties in the league, but that versatility was dissolved in 2022 in favor of specificity. The Vikings' secondary was a disaster, but little of that fault lies on Harrison's shoulders.
There should be far more alignment versatility in Brian Flores' defense, which should facilitate success with Smith, who is an excellent pass rusher for the position. He's in the twilight of his career but still plays at a level deserving of recognition.
26) Jayron Kearse, Dallas Cowboys
Kearse's length and density make him one of the surest tacklers in the entire league. But his natural athleticism and length also make him a menace when facing some of the best tight ends in the game in man coverage. Dallas plays a lot of "big dime" while using Kearse as the team's second linebacker.
27) Rodney McLeod, Cleveland Browns
Rodney McLeod has been a consistent presence at safety for years now, but he truly thrived playing in Gus Bradley's defense. His arrival in Cleveland should provide a calming presence in what has been a schizophrenic defensive backfield despite the talent they possess.
He played closer to the line of scrimmage a season ago, which might be best as his athletic profile declines a bit. But his veteran presence and zone-coverage prowess play incredibly well at the intermediate levels.
28) Jaquan Brisker, Chicago Bears
Things weren't always pretty in the Chicago Bears secondary last season. While Jaquan Briskers' inexperience can be partially to blame, most of the issues stemmed from the non-Jaylon Johnson cornerbacks and the utter lack of a pass-rush presence. That pass-rush presence will likely remain M.I.A. in Chicago for 2023.
But Brisker is a pure talent. He possesses the range to play deep and cover ground from sideline to sideline. But he also has the kind of sturdy frame to survive as a force in the box while also possessing the fluidity of a cornerback in coverage.
29) Donovan Wilson, Dallas Cowboys
If an old-school strong safety still exists in the NFL today, it is Donovan Wilson. Sure, Wilson has no problems surviving in a split-field role in Quarters coverage, but he'd rather be flying downhill, taking a ball carrier's head clean off. He's certainly a bit out of control at times, to the detriment of his own health and the health of his teammates.
But he is a dynamic playmaker. No safety had more pressures a season ago, and Wilson led all safeties in defensive stops a season ago as well.
30) Adrian Phillips, New England Patriots
Adrian Phillips' role isn't so unlike Wilson's in Dallas. But Phillips plays with more control than Wilson, and although there is more general consistency and fewer stomach-dropping plays, he also isn't the same kind of difference-making playmaker as Wilson.
It will be fascinating to see how the deep snaps are distributed between the Patriots' safeties with the retirement of McCourty. But Phillips will likely remain a box stalwart for the Patriots while also shifting out to the slot.
31) Jeremy Chinn, Carolina Panthers
Phil Snow's defense was looking strong for a while, but things took a turn for the worse in 2022.
MORE: Best Cornerbacks in the NFL Entering 2023
Through coaching turmoil was an inconsistent season from Jeremy Chinn, who is a supreme physical presence with alignment and deployment versatility. Ejiro Evero comes with heavy expectations, chief of which will be somehow siphoning pressure from an underwhelming unit.
32) Dax Hill, Cincinnati Bengals
Every list needs a shot in the dark. Dax Hill has hardly played any football for the Cincinnati Bengals after one season with the team, but that was by design. Lou Anarumo did not want to break up Bates and Vonn Bell's marriage in the back end.
Hill is a beam of light across the sky. He covers ground in a flash, and he is unprecedentedly physical for his frame. In Anarumo's defense, the second-year player should flourish in a split-safety role.