Interior offensive line play isn't sexy, so even the best guards in the NFL often aren't household names. But keeping inside pressure away from the quarterback is incredibly important, and guards are regularly utilized as battering rams in teams' run attacks. Let's go around the league and rank the top guards in the NFL.
Who's the Best Guard in the NFL?
Having just completed his ninth NFL season, Zack Martin is still the best guard in the NFL. A lock to enter the Hall of Fame when he eventually retires, Martin is arguably the best guard of the past 15-20 years. He's beyond sound in pass protection, and his athleticism is regularly on display in the Cowboys' run game.
Martin hasn't shown any signs of slowing down, and Dallas has now rebuilt the offensive line around him. Fans of offensive line play were treated to Martin and Tyron Smith — who shifted from left to right tackle upon his return from injury — working on combo blocks near the end of the season. No matter how the Cowboys align their front five in 2023, Martin will remain Mr. Reliable.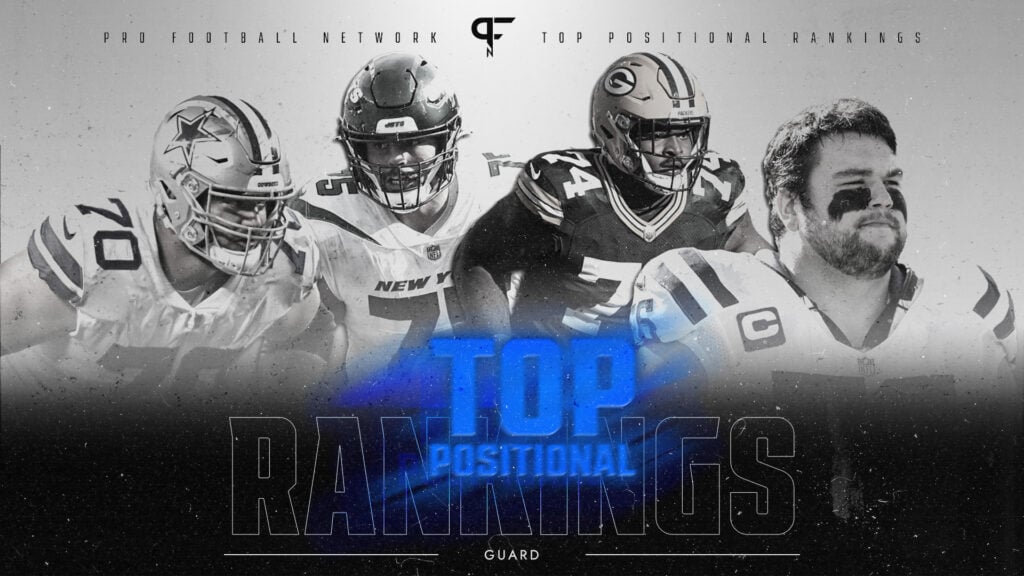 Guard Rankings 2-10
2) Joel Bitonio, Cleveland Browns
Joel Bitonio has been a first- or second-team All-Pro in five consecutive seasons. The Browns have one of the best offensive lines in the league, and Bitonio is their most talented player up front.
MORE: Best Offensive Tackles in the NFL
The 31-year-old is an excellent communicator, as evidenced by how he coordinates blocking assignments with his linemates. After starting Browns center Nick Harris went down in the preseason, replacements Ethan Pocic and Hjalte Froholdt both played well, a testament to the benefits of standing next to Bitonio.
3) Quenton Nelson, Indianapolis Colts
The sixth overall pick in the 2018 draft, Quenton Nelson has largely dominated since entering the league, but 2022 was his least productive campaign. Early in the season, Nelson was getting pushed back in the pocket far more frequently than in years past. However, his play seemed to rebound to its usual level over the second half of the season.
With a $20 million annual salary, Nelson is the highest-paid guard in the NFL — no one else at the position makes more than $16.5 million. The Colts might not feel like they're getting their money's worth — given the state of their offensive line as a whole — but Nelson is far from the problem up front.
4) Michael Onwenu, New England Patriots
New England's offensive line was beset by injuries and ineffectiveness last season, and the coaching staff turnover undoubtedly hasn't helped matters. Yet, Michael Onwenu has remained the constant through it all. Per PFF, Onwenu only gave up one sack all season, while allowing just 14 pressures.
The Patriots stole Onwenu in the sixth round of the 2020 draft, and the former Michigan Wolverine's versatility served him well during his first two NFL campaigns as he saw time at both guard spots and right tackle. Last year, Onwenu was finally allowed to stick at one position, with all 1,044 of his snaps coming at right guard.
5) Chris Lindstrom, Atlanta Falcons
The Falcons' offensive line may have been the most improved position group in the NFL last year, and Chris Lindstrom has been an essential part of that effort. The 14th overall pick in the 2019 draft, Lindstrom has always been solid, but he took his game to a new realm this season.
Lindstrom received the attention he deserved in 2022, earning the first Pro Bowl and All-Pro (second-team) nods of his career. As Atlanta attempts to rebuild its roster, they'll need to make Lindstrom — a free agent after 2023 — a priority.
6) Joe Thuney, Kansas City Chiefs
You always know what you're getting with Joe Thuney, and that consistency led the Chiefs to lure him away from the Patriots with a five-year, $80 million deal two years ago. He's been worth every penny through two seasons, and he might be the best pass-blocking guard not named Zack Martin.
Kansas City made significant offensive line investments in 2021, acquiring Orlando Brown Jr. via trade before drafting Creed Humphrey and Trey Smith. Those expenditures have paid off, and Thuney — as the rugged veteran of the group — is the unit's tone-setter week in and week out.
7) Wyatt Teller, Cleveland Browns
The second Brown in our top 10, Wyatt Teller has been an absolute mauler in the run game since coming over from Buffalo in 2019. Nick Chubb is one of the best running backs in football, but he's also been aided by Teller and Bitonio blocking in front of him. Specifically, Teller is probably the best pulling guard in the league.
Teller's development in Cleveland is a testament to Browns offensive line coach Bill Callahan, one of the top OL instructors in the NFL. You don't often see a former fifth-round pick change teams and then become a second-team All-Pro, and Callahan's work with Teller should be applauded.
8) Elgton Jenkins, Green Bay Packers
Elgton Jenkins had been the only pending free agent in our top 10, but the Packers decided to lock him up in December. Green Bay gave the 26-year-old a four-year, $68 million extension that makes him the second-highest-paid guard in the league.
Injuries have cost Jenkins time over the past two years, but his skill set is especially valuable. Since joining the Packers as a second-round pick in 2019, Jenkins played at least one snap at every offensive line position. His ability to play anywhere is an excellent asset, but Green Bay may want to let him stabilize at one spot going forward.
9) Shaq Mason, Tampa Bay Buccaneers
Although he's somehow never made a Pro Bowl in eight NFL seasons, Shaq Mason is one of the best guards in the NFL. The Patriots traded Mason to the Buccaneers this offseason in a cost-cutting maneuver, but New England probably wishes they could have him back.
Tampa Bay's offensive line was an issue this season, as injuries and poor play reduced the unit from elite to average (at best). Yet, Mason was a steady presence amid a year of upheaval. For the cost of only a fifth-round pick, the Buccaneers couldn't have been happier with his production.
10) Alijah Vera-Tucker, New York Jets
Alijah Vera-Tucker went on injured reserve in Week 7 after suffering a torn triceps, but he's done enough in his two-year career to rank inside the top 10 NFL guards. After a solid rookie campaign in 2021, AVT stepped up his output this year while displaying notable versatility.
MORE: Offensive Line Free Agency Rankings 2023
Vera-Tucker moved from left guard to right guard over the offseason to accommodate free agent addition Laken Tomlinson. Then, AVT started one game at left tackle in place of the injured George Fant before shifting to right tackle in Week 5. He was above average at all three spots, giving the Jets options for 2023.
Top Guards Remaining
11) Trey Smith, Kansas City Chiefs
The Chiefs likely expected to find an immediate starter when they selected center Creed Humphrey in the second round of the 2021 draft, but they probably didn't think they'd grab another starting interior player in Round 6. Trey Smith, a massive guard at 6-foot-5 and 330 pounds, quickly grabbed a starting spot along one of the NFL's top offensive lines and hasn't looked back.
12) Brandon Scherff, Jacksonville Jaguars
The highest-paid right guard in the league, Brandon Scherff is still incredibly explosive as he enters his 30s. Scherff played alongside a rookie center in Luke Fortner last season, and he consistently looked for opportunities to help the young pivot in pass protection. He may have to do the same for a new right tackle in 2023 if Jawaan Taylor leaves via free agency.
13) Landon Dickerson, Philadelphia Eagles
Landon Dickerson was an absolute beast in his final collegiate season, winning nearly every offensive lineman award while winning a national championship with Alabama. Dickerson hasn't missed a beat since he was forced into the Eagles' starting lineup in Week 3 of his rookie season. His presence could become even more critical if Philadelphia center Jason Kelce retires this offseason.
14) Kevin Zeitler, Baltimore Ravens
Kevin Zeitler will enter his age-33 campaign having never made an All-Pro or Pro Bowl roster, but he's arguably been the best second-tier guard in the NFL over the past decade. He's rarely missed action while spending time with the Bengals, Browns, Giants, and Ravens, and he adds a high floor to whichever unit he's playing on.
15) Isaac Seumalo, Philadelphia Eagles
The first pending free agent guard on our list, Isaac Seumalo could land a significant contract after gaining national attention as the Eagles' starting right guard. Injuries cost him time in both 2020 and 2021, but Seumalo started all 17 games last season as Philadelphia boasted the best offensive line in the NFL.
16) Nate Davis, Tennessee Titans
Like Seumalo, Nate Davis will hit the open market in March, and given that he's only 26 years old, he could be in line for a nice payday. The former third-round pick has typically been better in the run game than as a pass protector, but teams looking for a bully along the interior would be wise to consider adding Davis.
17) Robert Hunt, Miami Dolphins
Robert Hunt played right tackle in his rookie season and dabbled there in 2022, but the Dolphins plan to keep him at right guard moving forward. Through three years, Hunt has been a rare offensive line find for Miami. If he can continue his progression, Hunt, Terron Armstead, and Connor Williams will give the Dolphins a fighting chance up front.
18) James Daniels, Pittsburgh Steelers
Despite entering last year's free agent period as a 24-year-old with 48 starts under his belt, James Daniels somehow only secured an $8.8 million salary on the open market. That deal looks like a clear win for the Steelers, as Daniels helped buoy an otherwise subpar Pittsburgh offensive line while ranking ninth among guards in pass-block win rate.
19) Jonah Jackson, Detroit Lions
Penei Sewell, Taylor Decker, and Frank Ragnow are all high-profile Lions offensive linemen, so much so that Jonah Jackson sometimes gets forgotten. Injuries cost him five games last season, but he's powerful enough to stonewall defenders in both the pass and run games. Given how much Detroit already has invested in its OL, Jackson could hit the open market next spring.
20) Austin Corbett, Carolina Panthers
Austin Corbett looked like an early-round bust before being traded to the Rams in 2019. He developed into an above-average starter at right guard, then left Los Angeles for a new contract with the Panthers. Corbett was exceptional in 2022 before tearing his ACL in Carolina's regular-season finale. That injury could jeopardize his availability for the start of next season.
21) Alex Cappa, Cincinnati Bengals
The Bengals wasted no time in attempting to improve their offensive line last offseason, making Alex Cappa their first free agent addition just seconds after the market opened. Cappa was a stabilizing at right guard all season long before injuring his ankle in Week 18. His absence in the playoffs, especially against Chris Jones and the Chiefs in the AFC title game, was felt immeasurably.
22) Ezra Cleveland, Minnesota Vikings
One of the more athletic guards in the league, Ezra Cleveland is a devastating blocker in space. Fresh off the best season of his career, Cleveland is now eligible for an extension with the Vikings, who have assembled an all-homegrown offensive line. Cleveland is a player on the ascent.
23) Cody Whitehair, Chicago Bears
The longest-tenured player on the Bears' roster, Cody Whitehair has been a stalwart since entering the league in 2016. Capable of lining up anywhere along the interior, Whitehair has spent the last two seasons at left guard. He missed five games with a knee injury last year and has been mentioned as a potential cut candidate, but Chicago should retain him for at least one more year as it continues to rebuild its line.
24) Ben Powers, Baltimore Ravens
Ben Powers isn't all that exciting, but he's sound — and that's what most teams are searching for in guard play. He's been a smart blocker in Baltimore's run-heavy scheme, starting 29 games over the past two seasons. A pending free agent at age-26, Powers should be coveted on the open market.
25) Dalton Risner, Denver Broncos
A center and tackle in college at Kansas State, Dalton Risner has played exclusively at left guard since joining the Broncos as a second-round pick in 2019.
MORE: Top 100 Free Agents in 2023 
He's not an elite talent, but he's been a consistent presence along an otherwise below-average Denver line. Risner's durability will get him paid in free agency.
26) Laken Tomlinson, New York Jets
Jets fans may have been a little disappointed in Laken Tomlinson last season after Gang Green gave him $13.3 million per season as a free agent. Tomlinson struggled outside of the friendly confines of San Francisco's offense, but he also was forced to deal with a rotating cast of characters playing next to him at left tackle.
27) Damien Lewis, Seattle Seahawks
Damien Lewis is one of the more underrated guards in the NFL. He's gotten better each season, especially as a pass blocker. Last year, Lewis worked between a rookie left tackle (Charles Cross) and a new center (Austin Blythe). Following Blythe's retirement, Lewis will need to get familiar with a new pivot in 2023.
28) Teven Jenkins, Chicago Bears
Teven Jenkins' rookie season was a disaster. A back injury forced him to miss most of the year, and he started just two games. But the Bears moved Jenkins to guard during the 2022 preseason, and he experienced a total resurgence. He's much better playing in a phone booth than he was on the edge.
29) Quinn Meinerz, Denver Broncos
At this point, Meinerz might be the only member of the 2022 Broncos offensive line guaranteed to return next season. A third-round pick out of Wisconsin-Whitewater in 2021, Meinerz has displayed incredible physicality over 22 career starts.
30) Jon Runyan Jr., Green Bay Packers
Jon Runyan Jr. comes from a good lineage, as his father was a longtime NFL offensive lineman with the Titans, Eagles, and Chargers. A 33-game starter over the past two seasons, Runyan played at left guard in 2021 before splitting his time between the right and left sides last season. Amidst a season of offensive line reconfiguration in Green Bay, Runyan was a consistent presence.
31) Zion Johnson, Los Angeles Chargers
Expected to be a plug-and-play starter after being selected 17th overall in 2022, Zion Johnson wasn't exactly that. He flashed at times, but he also struggled with more powerful interior defenders. Johnson receiving an All-Pro vote was egregious, but it'd be surprising if he doesn't show more in his second NFL campaign.
32) Matt Feiler, Los Angeles Chargers
Johnson's veteran guard teammate, Matt Feiler, didn't fare much better last season. But he has a five-season track record as an average-or-better guard. He's 30 years old and could be released this offseason, but Feiler should still have a few seasons left of starting-caliber play in him.