No non-quarterback position is more talented or valuable than the NFL edge rusher. Fandom is rabid, and it comes out most when discussing quarterbacks and pass rushers.
Recently, we've seen a rash of absolute aliens enter the league as pass rushers, and many of them end up on this very list later on. They come in all shapes and sizes, but each is an exceptional athlete in their own right. When it comes to size-relative athleticism, no positional group boasts the type of freaks the EDGE group can.
Production is important for pass rushers, but sacks alone are only a single piece of the puzzle.
Check out our other top positional rankings here: QB | RB | WR | TE | OT | G | LB | DT | CB | S | K
Who's the Best EDGE in the NFL?
Fans of their respective teams will probably tell you there is a right answer — and three incorrect answers — to this question. Nick Bosa, Myles Garrett, Micah Parsons, and T.J. Watt could all be considered by someone as the best pass rusher in the NFL. Each has their argument, but in the end, it all comes down to preference.
And many "film guys" who make a living watching and discussing the sport have the same answer.
Myles Garrett is the best EDGE in the NFL. If you were to ask 10 hardcore All-22 watchers, there is a very good chance that seven of the 10 agree. One may prefer Parsons, another Watt, and the final one Bosa.
Over the past three seasons, no player has accumulated more sacks than Garrett. But if we go back four seasons, Watt has more. Sacks are undoubtedly influential when discussing the productivity of a pass rusher, but it's only a single variable in the discussion.
Style matters. Being impressive when you win matters. Racking up coverage or low-quality sacks is not the same as beating Tristan Wirfs up the arc with a ghost move in two seconds, for instance. Hitting an Allen Iverson crossover before immediately blowing past the center is the sort of theatrics that gets the people going!
The 270-pound pass rusher is far more explosive and flexible than he has any business being. The fact that he's heavy, lean, and flexible should prove to everyone that big doesn't inherently mean stiff. But Garrett was built in a lab.
EDGE Rankings 2-11
In any given season, any of the following three pass rushers could be flipped whichever way. There are multiple unique skill sets among them and an abundance of talent and productivity to boot.
2) Micah Parsons, LB, Dallas Cowboys
By the end of the season, Parsons will be at the top of this list, should he remain healthy. He is already the most valuable defensive player in the NFL.
DPOY is awarded to the most traditionally productive player on defense, but production and value are different conversations. Think of how the OPOY and league MVP are oftentimes different players.
MORE: PFN's NFL Player News Tracker
Parsons' -0.43 EPA difference when on vs. off the field is by far the most significant difference among the top four players on the list.
What makes Parsons arguably the most dangerous defensive player on the planet is the unbelievable strength he possesses at his size and his ability to teleport to ball carries. At 250 pounds, there are only a few times throughout the course of a 17-game season where he is not the fastest player on the pitch.
"The missile knows where it is at all times. It knows this because it knows where it isn't. By subtracting where it is from where it isn't, or where it isn't from where it is (whichever is greater), it obtains a difference or deviation. The guidance subsystem uses deviations to generate corrective commands to drive the missile from a position where it is to a position where it isn't, and arriving at a position where it wasn't, it now is."
Parsons was an absolute menace against the New York Giants offensive line. Despite a heavy dose of double teams, Parsons still got a sack on the night and added five additional pressures. But the attention needed to simply slow him down allowed other Cowboys defenders to prosper.
3) T.J. Watt, OLB, Pittsburgh Steelers
Watt is the grinder of the group. Not everything he does is pretty, but his production is unquestionable. But while Watt has outproduced Garrett in the past, he's actually now slowly closing the gap on Garrett, and it has little to do with his pass-rushing ability.
Watt's grown into one of the most consistent run defenders on the planet over the past few seasons. Despite lacking elite size for the position, he's found creative ways to improve his consistency defending his assigned gap.
It was awesome to see Watt be one of the few Steelers defenders to show up against the 49ers. Now, he didn't particularly have a tough assignment rushing against Colton McKivitz, but his usual tenacity and technical prowess got him home three times up the arc on speed rushes.
4) Nick Bosa, DE, San Francisco 49ers
The absurdity of the position group is best exemplified by the reigning DPOY coming in at No. 4 on the list. All four are unbelievable talents.
Bosa finished the year with the most sacks and tied for most pressures. Few draft evaluations were as simple as his. He left Ohio State as nearly the same player his brother was, and Joey had already been a huge NFL success.
The youngest Bosa held out for a contract extension this offseason and did not practice this summer. With a week remaining before the season's commencement, San Francisco got a deal done. Bosa then played 35 snaps against the Steelers and looked right at home with four pressures on the night.
5) Maxx Crosby, DE, Las Vegas Raiders
Maxx Crosby might be the most fun pass rusher to watch in the league because he's an arc-rushing savant. Nobody rushes up the arc like Maxx Crosby.
He's a master at making himself a small target on the outside, and he pairs impressive explosiveness with just the right amount of bend and technical soundness. While most of the league's best pass rushers were highly regarded coming out of College, Crosby was not. He is one of only two pass rushers inside the top 11 that were drafted outside of the third round.
Crosby's efficiency dipped in 2022, but it's because he was practically playing on an NBA team as the only point guard on a team full of bigs. He played 129 more snaps than the next-closest edge defender. But Crosby has also rounded himself into a devastating run defender, which is what gives him the edge over our next pass rusher.
Week 1 offered another example of Maxx Crosby's unbelievable abilities. He played 63 defensive snaps, a pace that would put him just below his 1,082 defensive snaps from a season ago. He finished with six total pressures while once again proving he's become one of the league's best run defenders as well.
6) Haason Reddick, OLB, Philadelphia Eagles
The NFL game continues its speed revolution. Haason Reddick is more powerful and a better run defender than he is perceived to be. But he is not on the level of the top tier.
While we've seen outstanding pass-rush productivity from Reddick over the past three seasons, playing on an Eagles defensive front filled with all-stars certainly helped keep him free more often than not. Reddick's 16 sacks last season were tied for second in the NFL, and his 68 pressures were good for ninth-best.
Reddick began his NFL life as an off-ball linebacker because… well… while Maryland does crabcakes and football, the Cardinals play hybrid players out of position (shoutout to the Steve Keim era of drafting in Arizona). They only played him on the edge after a Chandler Jones injury, and to nobody's surprise, he was an incredibly productive pass rusher.
Reddick underwent thumb surgery in mid-August, and he hasn't seen the kind of pass-rushing productivity we've become accustomed to seeing from him through two games. However, it is a very long season.
7) Joey Bosa, DE, Los Angeles Chargers
If the list was purely based on natural talent, the eldest Bosa would be right near the top. Unfortunately, we haven't seen him get the same type of opportunities that the other top rushers have managed because Bosa has missed somewhat significant time in four of his seven NFL seasons.
And then he got hurt again.
Austin Jackson had a pretty good day defending against the eldest Bosa in Week 1. Bosa ended up with four pressures on the game, but we entered that contest thinking that could be the key to a Chargers defensive victory.
And then he got hurt again.
8) Matthew Judon, OLB, New England Patriots
Matthew Judon is easy to find. The Patriots' OLB wears bright red long sleeves underneath his uniform, but seeing him doesn't help pass protectors block him.
The NFL doesn't love shorter players unless they have great length to pair with the underwhelming height. Judon may only be 6-foot-3, but his nearly 34-inch arms and packed-together frame make him and incredibly powerful player. Judon deploys outstanding violence in his hands, and his technical prowess helps him dissect blocks with precision.
The New England Patriots had a great game plan against the Eagles' rushing attack in Week 1. Part of that was Matthew Judon's ability to keep Jalen Hurts contained on read-option looks. But he also made his mark with six pressures and a sack.
9) Za'Darius Smith, DE, Cleveland Browns
Za'Darius Smith and Garrett team up to create the most terrifying of pass rush duos in the NFL. Smith also fits into the mold of the more old-school 270-pound rusher, making the duo quite large relative to most also. But despite that size and far less natural athleticism than Garrett, Smith has been consistently productive for a long time.
Players without ridiculous get-off must be able to win inside, outside, and through blockers. Smith's hands allow him to work inside and outside, and his power and length allow him to win through the face of offensive linemen when he wants to win with power.
The 31-year-old pass rusher had himself quite the debut for Cleveland in Week 1. His presence alongside Garrett made each of their jobs easier, and Jim Schwartz's deployment of the two was sublime.
10) Brian Burns, DE, Carolina Panthers
Nobody bends like Burns. He can duck underneath the smallest table in an IKEA, and it makes him a menace to offensive tackles. Few pass rushers are more aesthetically pleasing than Burns.
It's fair to see Burns as this generation's Robert Quinn. Neither are the greatest run defenders in the world, but their burst and bend strike fear in the hearts of opposing tackles. But speed and bend alone do not consistently produce results, as is evidenced by Quinn's inconsistent NFL production.
The No. 0 may not look quite right on Brian Burns, but if he keeps making splashes in the backfield the way he did against Atlanta, he could step out there wearing No. 867-5309, and he'd make it look good.
The same kind of burst and bend we're used to seeing resulted in three pressures and two sacks against the Falcons. While three pressures may not seem like much, consider that he only had 17 pass-rush opportunities because Arthur Smith is a troll.
11) Von Miller, OLB, Buffalo Bills
Von Miller has been one of the best players in the NFL for most of his career, and he wasn't slowing down much at all before being lost to an ACL tear in Week 12 of the 2022 NFL season. He begins the year on PUP, but that's just fine because Buffalo needs him for January, not September.
Although many before him utilized the "ghost" move, Miller has helped to popularize it. Derrick Thomas and Robert Mathis were great NFL players, but the age of social media has popularized this mental and physical attribute.
Starting on PUP means we won't be able to update with his performances. However, what he showed when healthy a season ago more than makes the No. 11 spot on this list right for the veteran pass rusher.
Top EDGEs Remaining
Lists are always a double-edged sword. They let you acknowledge and appreciate the best in the game, but there are always plenty of names left off that are outrageous talents in their own right.
12) Danielle Hunter, DE, Minnesota Vikings
Danielle Hunter is used far too often as an example during the league's NFL Draft process. Production in college and the NFL are never 1:1, but college production does seem to correlate relatively with NFL production most times.
Hunter had 12.5 sacks in his age-22 season. He posted just 4.5 in two college seasons. Hunter is the exception to the rule. Although 2021 was cut to only seven games, he quietly got back on track in 2022 and was playing some very good football after starting off somewhat slow.
Hunter was menacing against the Eagles' offensive line. He spent most of his time playing opposite of Jordan Mailata, and the athletic phenom ended with three sacks and six pressures to his name. A sack in the first game against Tampa Bay gives him four through two games.
13) Rashan Gary, OLB, Green Bay Packers
Rashan Gary needed a ton of seasoning before he was ready to cook at the NFL level. He was about as raw as a pass rusher could be coming out of Michigan. However, the 6-foot-4, 277-pounder posted one of the best NFL Combine performances of all time.
Gary played like a man possessed against a gloomy Bears offensive line in Week 1. Despite being on a severe pitch count, Gary tallied five defensive pressures. He rushed Justin Fields 10 times. Winning half of the time like that on the defensive line is unheard-of stuff. The young rusher looks 100% after his ACL rehab.
14) Trey Hendrickson, DE, Cincinnati Bengals
Trey Hendrickson doesn't make sense. It's impossible to have a worse aesthetic than Hendrickson. He doesn't wear gloves, he wears No. 91, and he insists on wearing sleeves the same color as the team's uniforms.
Despite all of that, he's one of the smoothest pure NFL pass rushers. And that smooth-flowing nature is undeniably cool… on everyone but him. Hendrickson's amassed 171 pressures since becoming a Bengal, proving his flashes of pass-rushing production in New Orleans were no fluke. Look good, feel good, play good is a lie.
The Browns moved the ball on the ground with relative ease against the Bengals in Week 1. Despite the weather slopping up the game, Hendrickson's pass-rushing prowess was once again on full display. His sack was less impressive than the pressure he had on a cross-chop and rip up the arc against Jedrick Wills, which is not bad competition.
15) Demarcus Lawrence, DE, Dallas Cowboys
Lawrence is one of the best run defenders in the league. He deploys violent and accurate hands paired with good length to dissect blows on the edge. However, he is far more than simply an edge setter. His 44 defensive stops were second in the NFL for the position, making him one of the best playmakers against the run also.
Lawrence may deserve a higher ranking, but like with interior defenders, it's hard to truly crack a list of greats if you can't consistently affect the opposing passer. While Lawrence has proven a talented pressure player, his sack totals have been lackluster at best since 2019.
He started the season strong against the New York Giants, but Lawrence has always found weighted success against that franchise throughout his career.
16) Khalil Mack, DE, Los Angeles Chargers
Mack is an outrageous technician and gifted athlete who has long been one of the best overall edge rushers in the NFL. He's a stout run defender with incredible pass-rushing chops.
Mack, but mostly the rest of the Chargers' defense, must get their stuff together before that unit becomes the laughingstock of the NFL. Mack finished with six pressures and flashed some nice speed-to-power, but his more significant impact came on a few strong run-defending reps.
17) Sam Hubbard, DE, Cincinnati Bengals
Ohio is a blue-collar state, and Sam Hubbard is the definition of a blue-collar player. He has very little flash in his game, and he's played second fiddle on his own team dating back to college.
But Hubbard is uninspiringly good at football, and in the past two seasons, that flashless talent has resulted in a spike in pass-rushing productivity, which is something that we were never really sure we'd get from Hubbard in the NFL.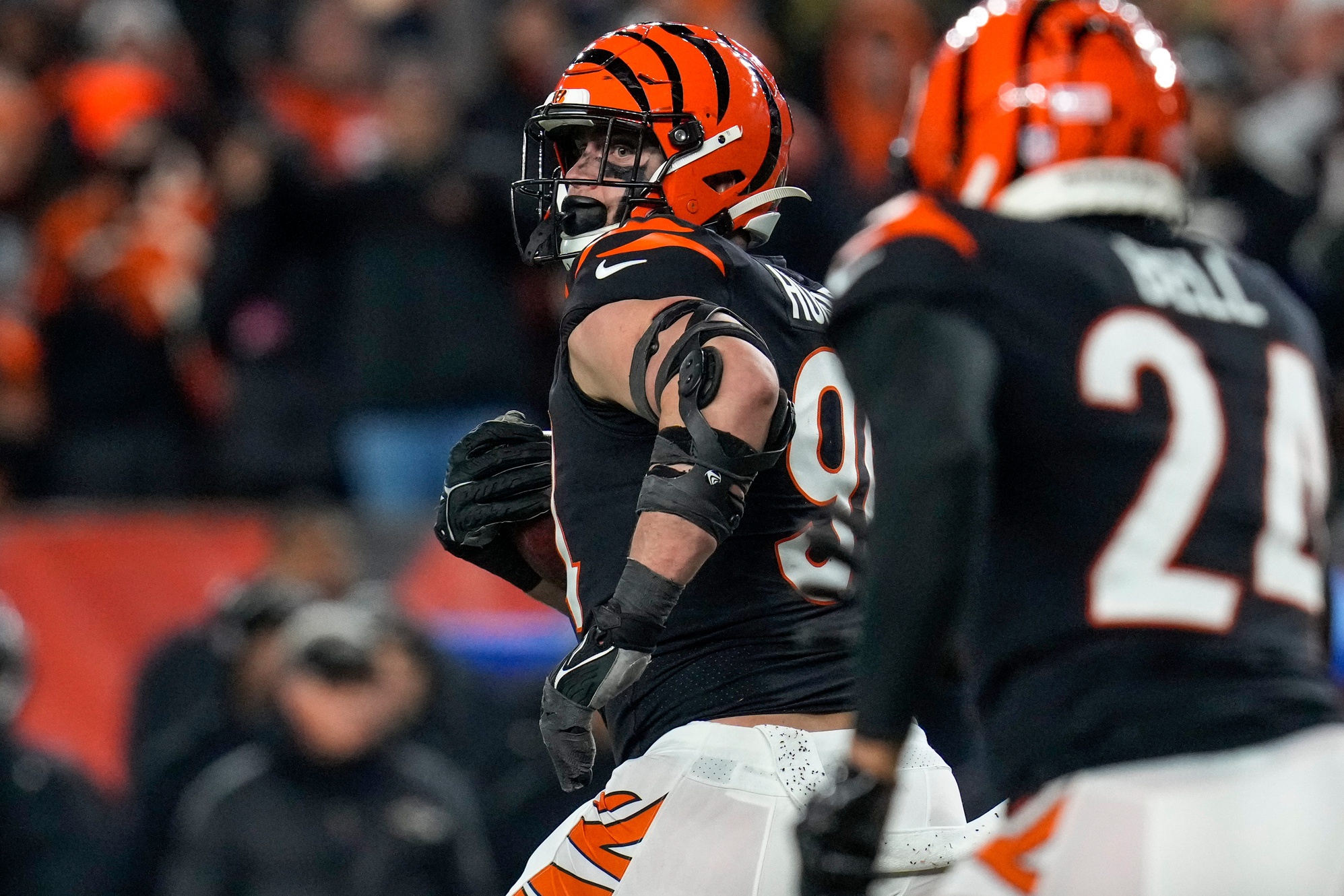 Not unlike Lawrence, Hubbard is one of the most underrated NFL defensive ends. Like Lawrence, Hubbard is a difference-making run defender, and in 2021 and 2022, his productivity as a pass rusher reached new heights.
18) Denico Autry, DE, Tennessee Titans
We rarely ever see a tweener find more career production playing better after the age of 30 and after a shift in philosophy putting him on the outside of opposing tackles instead of inside. Autry plays with violent and accurate hands and surprising explosiveness for a player his size.
What Autry and Arden Key did against the Saints offensive line in Week 1 should be studied by military strategists. Autry finished with seven pressures and two sacks on the day (half-sacks are bogus).
They had Trevor Penning in hell on earth for 60 minutes. The violence and accuracy in his hands have no wavered with age, and his lateral mobility remains absurd for a very large exterior rusher.
19) John Franklin-Myers, DE, New York Jets
John Franklin-Myers is an incredible anomaly. The Stephen F. Austin product has been arguably the most underrated defensive player in the NFL since 2020. At 280 pounds, there is simply no way he should be as productive as he is off the edge, particularly because he lacks the kind of alien explosiveness and bend of traditionally productive defensive ends.
But many offensive tackles are not used to anchoring against 280-pound rushers born with the "run through your face" gene. Franklin-Myers also possesses one of the most devastating hump moves in the game, and he can be a menace against the run and pass.
Myers put together a diabolical performance against the Buffalo Bills on Monday Night Football. Like Autry and Key, Myers found success attacking Spencer Brown to the tune of eight defensive pressures and a sack. He bullied Brown back into his passer on multiple occasions.
20) Jaelan Phillips, OLB, Miami Dolphins
As an NFL Draftnik, it's always nice to see your "pet cat" succeed at the NFL level. Jaelan Phillips was the best pass rusher in a class of underwhelming talent, and that likely warped his perception heading into the league. But he's already proving why we should have all seen this coming at the college level.
Phillips' versatility makes him a very dangerous weapon. He's already a good run defender with an advanced pass-rush plan. He finished the season with 70 pressures, tied for sixth among all edge defenders. But what's most impressive about Phillips is the versatility he brings as an OLB.
It didn't take long for him to find his footing in 2023. He posted seven pressures and a sack against the Los Angeles Chargers. Towards the end of the Chargers game he had Trey Pipkins in an absolute blender. He strung together rushes like he was crocheting.
Unfortunately, he appeared to injure himself during practice on Friday and is now questionable for the Sunday Night Football showdown against the Patriots.
21) Cameron Jordan, DE, New Orleans Saints
Mickey Loomis has kicked the can down the road another year. The Saints are going for broke with an aging but talented roster in a bad division.
We refuse to believe that we won't get a bounce-back year from Jordan in 2023. He still plays with outstanding power on the edge, and his ability to defend the run is very much alive and well. Jordan didn't win in 2022 as often as we're used to seeing, but the entire front line in New Orleans struggled at times.
Jordan helped the Saints' defensive front bully a bad Tennessee offensive line. Despite seeing a heavy dose of help coming his way, the wily old pass rusher still managed five pressures on the night while being his usually dominant self against the run.
22) Montez Sweat, DE, Washington Commanders
Before Montez Sweat, we had never seen a DE prospect run a 4.41. Yet, Sweat did this at 260 pounds. And that never becomes any less shocking to see written down.
We've seen our fair share of ridiculous athletes at the position, particularly over the past few seasons. But none of them have run the way Sweat did. And his seven-second three-cone drill was proof he's not only a straight-line athlete.
Having 36-inch arms helps Sweat both as a pass rusher and run defender. And his explosiveness and length allow him to consistently collapse the pocket. He may not always win pretty, like against the Arizona Cardinals, but his athleticism and tenacity make him a weapon on late-developing plays.
23) Alex Highsmith, OLB, Pittsburgh Steelers
Playing as many snaps as Alex Highsmith does is a double-edged sword. On one end, he's able to accumulate a ton of production simply because he gets more opportunities than most of his peers. In 2022, only Crosby, Hutchinson, and Burns played more snaps than Highsmith.
The downside is that his efficiency takes a hit because it's incredibly hard to be consistently effective as a pass rusher when you're gassed. But because the Steelers refuse to give their two pass rushers a break, it makes what Highsmith provides on his side of the pass rush so incredibly valuable.
Highsmith had a quiet day against the 49ers, but that doesn't hinder his outlook on the list of best pass rushers. The Steelers keep their pass rushers to a side, no matter what. Highsmith is the right outside linebacker. That meant 45 snaps against arguably a top-five NFL player.
24) Shaq Barrett, DE, Tampa Bay Buccaneers
Despite Barrett's somewhat undersized nature and reputation as a pass rusher, he is far more well-rounded than he's given credit for. He's a sturdy run defender who has dropped into coverage over 500 times in his career. And while nobody would confuse him for Pat Surtain, he's been sufficient in space.
Barrett spent about a quarter of the Buccaneers pass-rushing reps in coverage against Minnesota. While he is definitely a sufficient coverage defender, his greatest value comes from his ability to pin his ears back and rush the passer.
25)  Aidan Hutchinson, DE, Detroit Lions
The 2022 NFL Draft's second-overall pick is going to be a very solid player for a really long time. To make this list as a rookie is incredibly impressive, given how many talented edge defenders are in the league.
Hutchinson had a fun day against the defending Super Bowl champions in Week 1. He and Jawaan Taylor had themselves quite a battle on Thursday Night Football. Hutchinson finished the day with seven pressures.
He didn't sack Mahomes on the night. That's a task easier said than done. But he did hit him a few times throughout the course of the game, and it feels like the 23-year-old might be ready to take the next step in his development.
26) Josh Sweat, DE, Philadelphia Eagles
The Eagles' pass rush was the best in the NFL in 2022, and Josh Sweat certainly did his part. The 25-year-old came into his own this past season, posting career-high marks in pressures and sacks. Sweat was a favorite of many a draftnik back in the day because his flexibility and hands are stupendous.
Christian Darrisaw missed the Vikings' Week 2 outing against Sweat and the Eagles. The results were catastrophic. Oli Udoh didn't really stand a chance against the flexibility and hands Sweat has up the arc.
Josh Sweat (@SweatyJ_9) with the cross chop/club. Finishes with a short rip & gets the strip sack. If you beat the hands, you beat the man! #passrush #flyeaglesfly pic.twitter.com/NLd9J5wcn6

— DLineVids (@dlinevids1) September 15, 2023
We've all met the club-and-rip, and this was a variation of that. His patience and ability to control Udoh's outside strike with his left hand allowed the right to come through cleanly on the club. From there, it was all about his ability to flatten the corner, which he did easily.
27) Gregory Rousseau, DE, Buffalo Bills
Gregory Rousseau is an interesting study. He is a long-limbed pass rusher who fits into an older era of football while remaining productive in the faster modern game. Rousseau was immediately a better pro than he was a college player, but Buffalo's defense isn't one to necessarily utilize the versatility he provided in college, either.
He's a bit hidden on a ridiculously talented Bills depth chart that features four former first-round picks and two second-rounders. In another situation around the league, Rousseau may be even more highly regarded as a pass rusher.
28) Arden Key, OLB, Tennessee Titans
The Titans could very well have three different rushers on this list in the near future, depending on how Harold Landry integrates back into NFL play after missing all of 2022. Key tied Franklin-Myers for the most pressures through one week of NFL play (8).
He has always been a very nice complementary piece that comes in and plays on obvious passing downs. And despite being small even for an exterior rusher, he has consistently flashed on the interior as a quarterback hunter. But he has only once played more than 500 snaps during a season, and that came as a rookie for the Raiders.
How will he hold up over the course of a 17-game season if he's asked to play more on running downs — and more in general?
29) Josh Allen, OLB, Jacksonville Jaguars
While we're all still waiting for this Josh Allen to take the next step like the other Allen did with the Bills, Jacksonville's version is proof that a pass rusher doesn't need a laundry list of pass-rush moves to be a menace off the edge.
Allen has good length and is very explosive, which allows him to really flourish by converting speed to power. He's still learning the finer points of playing the position, but while Allen hasn't had the sack production he produced as a rookie, he has become a better pass rusher in that time.
MORE: 2023 NFL Team Schedules
The best thing about Allen has to be the strides he's made as a run defender. He fills out his 260-pound frame well, and he should continue to improve and mature as a player as the situation around him improves.
Allen had one of the most productive games of his career. Allen finished with three sacks and four pressures against the Colts, but his biggest contributions came against the run. He finished with six defensive stops while also looking solid in coverage.
30) Kwity Paye, DE, Indianapolis Colts
Imagine a refrigerator with arms extending into your chest on the edge of the offensive formation. At 6-foot-2 and over 260 pounds, that's exactly how Kwity Paye sets the edge. He pairs an impressive frame with outstanding explosiveness, which allows him to stun blockers as a run defender with consistency.
The pass-rushing productivity is still ironing itself out, but Paye has become one of the tougher edge-setters in the league. His sack against Jacksonville may not have been the fastest recorded this week, but the power he displayed on the rep should raise everybody's eyebrows.
31) Josh Uche, OLB, New England Patriots
Reddick comes to mind at first glance after watching Josh Uche's burst off the edge. That explosiveness is an incredible weapon for the Patriots' defense. All Uche needs is more opportunities. But they may never truly come.
The league has become incredibly specialized in recent years. Some of the most productive players in the NFL today on a snap-by-snap basis may never average 40 snaps a game throughout the course of their career. We might see that with Uche.
This man-made LANE JOHNSON punch air on a pass rush in Week 1. His lateral agility is top-tier, and his usage on obvious passing downs allows him to be creative in his attack. As a pass-rushing specialist, he might become the best.
32) Will Anderson, DE, Houston Texans
The Houston Texans gave up an extortionate amount of draft capital for the right to select Will Anderson Jr. with the third pick in the 2023 NFL Draft. The move has been widely criticized since, and for good reason.
But through just one NFL outing, Anderson may be good enough to make everybody forget about all that draft capital. He wasn't as flashy at Alabama as other rushers have been over the years. However, few were as consistently solid as Anderson. He paired high-end ability with outrageous consistency.
He finished with five pressures, five defensive stops, and a sack against the Ravens. Houston got an absolute monster with that pick.