There is one week of the year where you can find just about every football guy around in one singular place. That is Reese's Senior Bowl week in Mobile, Alabama, where hopeful college seniors (and certain juniors) come from all around for a week of practice and then a game as they try to raise their stock before the combine and their pro day.
And while each player that will be going to Mobile has their unique skillsets and merits as to why they received their invitation to the prestigious event, each of them is coming into Mobile with that same goal in mind. Last year we saw Terry McLaurin and Deebo Samuel light up Senior Bowl week and boosted their stock up significantly. The year before, it was Baker Mayfield that got the rise in his stock that jumped him up to the first overall pick.
This is a part of the process where interviews and first impressions can start, and these risers can continue this momentum to Las Vegas. Thus, with the draft landscape set to change profoundly after next week, here are some risers and sleepers that could boost their stock in Mobile.
Oklahoma QB Jalen Hurts
Few guys have more to gain in Mobile than former Alabama transfer and Sooners quarterback Jalen Hurts, who had more questions arise as the season went on. After a solid start to the year, Hurts seemingly fell off a cliff once Big 12 play hit its full stride.
With a rough game against Iowa State but also the master of a comeback against Baylor, it is undeniable that it was a roller coaster ride for Hurts this season. The questions he has to answer? Can he prove that he is comfortable with the mental aspects of the game, specifically when the picture changes from pre-snap to post-snap? But more importantly, can he show that he is a super accurate quarterback? There are flashes of Hurts throwing dimes but others where he blatantly misses guys. That will be where he can make his strides in Mobile.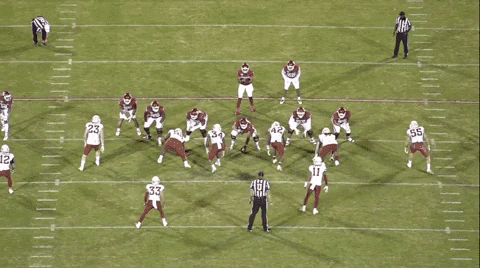 When you can make plays like this happen not just once on film, but multiple times throughout the season, and then combine a good week in Mobile showing your inconsistencies might be less of a worry than they were thought to be, you can rise quickly and fast. For Hurts, to already have elite athleticism for a quarterback and thus be able to do magical things out of structure is going to be a big boon already. But now he has an opportunity to parlay his exciting attributes into something even more.
Ohio State IDL Davon Hamilton
Maybe the most unheralded member of that loaded Ohio State defense was a rotational defensive lineman that is only now getting the hype that he truly deserves. Davon Hamilton only registered six sacks on the season, but when you watch the film of his limited playing time, you come away asking how he did not end up with even more than that.
When you want an interior guy, you are always going to look for explosiveness, versatility, pad level, and hand usage, and Hamilton has all four of those traits. Combine that with some nasty power and a good bull rush, and you have an exciting prospect who could outplay his draft position.
He and Tyler Biadasz faced off twice this year, and Hamilton dominated the matchup both times. This rep is just one example of that matchup and where he won. A great bull rush due to remarkable speed-to-power conversion and good pad level. Should Hamilton have an impressive week, he could jump into the Top-75 pick conversation.
Appalachian State ILB Akeem Davis-Gaither
Wow, I have no idea how to describe what I see in Akeem Davis-Gaither. The guy looks like a safety but could probably play the strongside linebacker if he wanted to at the next level. He will need to bulk up, though, and to allow his stock to rise, he will need to show up at the Senior Bowl around 220 pounds. And then if he can prove with that added weight that he is a fluid mover and coverage stud that he was on film at Appalachian State, Davis-Gaither could start moving into the Day Two conversation.
There are just rare guys like Davis-Gaither, who rarely show up in drafts. He is a wholly unique but modern player that built for the NFL but will undoubtedly face those size and weight questions from NFL teams.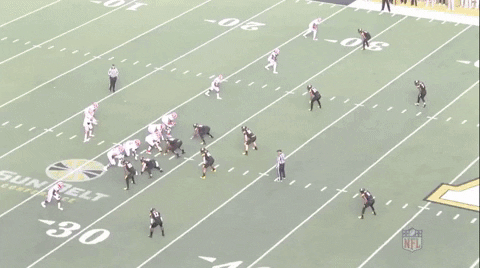 When you can make plays like this and carry receivers up the slot to layout and make a heck of a pass breakup, you are going to have fans in NFL rooms. With the emphasis on coverage linebackers, should Davis-Gaither put in a strong process, he is going to be one of those surprise Top-100 picks.
Georgia Southern CB Kindle Vildor
This is a guy who just a stick of dynamite working out there on the outside for Georgia Southern. Kindle Vildor is a guy that I dubbed 'Mini-Jaire' in reference to Green Bay Packers cornerback Jaire Alexander.
Why? Vildor plays with that same streak of swagger that Alexander did at Louisville. He is known for being extraordinarily chirpy, and I love that attitude that he carries with him every time he steps onto a football field. Not just because he sets the tone, but because it bleeds over into his play. Vildor goes at everyone he can and plays extremely physical, even going as far as to hold Tee Higgins, Justin Jefferson, and Ja'Marr Chase in check for most of the game. That is an awe-inspiring feat in its own right.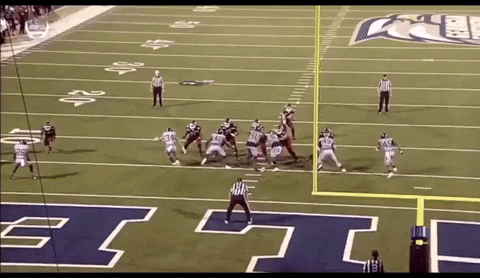 The fact that he lets up little to no contested catches with his 5'10" frame is even more impressive. His quickness and ball skills show up there as to why he has found so much success. Vildor is an excellent nickel prospect for the next level, and with a good week against some of the top receivers, you can bet Vildor is going to rocket his stock.
Wyoming ILB Logan Wilson
Put me on the record for this prediction, but Wilson is going to be the biggest winner from this upcoming week in Mobile. There is about zero buzz on this guy because he played for Wyoming, but if played for a Power Five team, Wilson would be talked about as a surefire Top-100 pick and perhaps even more than that.
He has some of the best instincts I have seen from a linebacker thus far on the year as he keys in on pulling guards and other blocking schemes incredibly well. That bleeds over into his coverage skills with excellent route recognition skills. This is a guy with four interceptions on the year, and his high football IQ is a big reason as to why he has that. But his athleticism is another thing, too, which makes him a top-flight coverage linebacker coming into the league.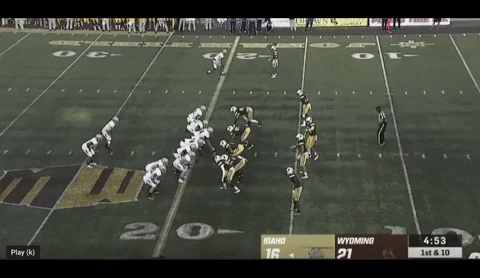 Then there is simply the aggressiveness and range in the running game. Wilson put up absurd tackling production at Wyoming, and while tackles are not a fantastic stat, Wilson was around the ball on every play possible. This is a guy who I believe is going to show out, have a great week, and perhaps get picked as high as the second round.
Houston OT Josh Jones
This tackle is a people-mover. There is no other to describe what I saw when I watched Josh Jones play at Houston this past season. A four-year starter on that offensive line, Jones is an athletic marvel. Guys his size should not be moving as well as he does, but Jones can reach the second level with ease and pull with fluidity.
In his pass sets, Jones has an aggressive mentality and proves that pass protection is not passive at all. He will bury free blitzers into the ground and shows off some imposing strength in his punches and when he drives with his legs. The issues arise when you come to his hand timing and his pad level. He does get too aggressive and wants to get on a block too early and get beat as well. That is why he will need this week a lot, because should he show out in the one-on-one matchups, Jones can rise into the first round.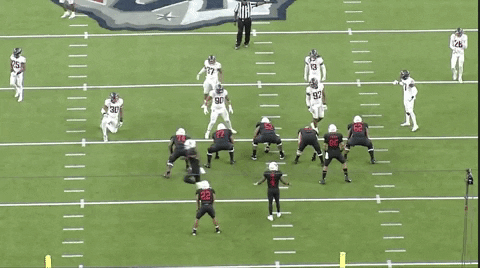 This is a guy who does this every game. He is an absolute freight train and will be a big difference-maker for some team and could have an Andre Dillard-like rise this draft season starting at the Senior Bowl.
Texas A&M WR Quartney Davis
Essentially what I will say about Davis is he runs excellent routes, has fantastic releases, good after the catch ability, and yet still can climb the ladder and make contested catches if he so happens not to be able to separate. But that is a rare occasion for a guy that shows off effortlessness in his routes and separates at will. Now, I hear that Davis could legitimately run a 4.3 40-yard dash. This is a guy who was track champion in High School and ran a 10.8 100m dash as a Senior Bowl in High School. That alone would skyrocket his draft stock.
However, in Mobile, Davis has a massive shot to show just what a technician he is. If he dominates these defensive backs in the one-on-one drills, we could be looking at this year's Terry McLaurin or Deebo Samuel. He has drawn Stefon Diggs comparisons for a reason. Davis is a jack of all trades that is a dangerous player on any given play.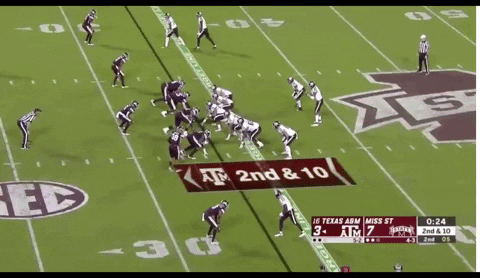 This screen play is just an example of what he can do after the catch. The guy can scoot and make guys move on top of that. Keep an eye out of Davis this week, I think he ends up being a guy that rises, and to me, he is the best receiver in Mobile.