The 2024 East-West Shrine Bowl continues to hit the road this fall as the college football season enters Week 2. Shrine Game Director Eric Galko was kind enough to sit with the PFN Scouting Team and delve into which 2024 NFL Draft prospects he and the Shrine Bowl scouts will focus on in Week 2.
There are three games that the Shrine Bame is focused on more than the rest, and we're diving into our thoughts on the key senior prospects in each matchup.
Shrine Bowl CFB Week 2 Game Preview
Texas Longhorns vs. Alabama Crimson Tide
The biggest matchup of the weekend will be a physical battle in the trenches. While it's easy to get excited about how Longhorns quarterback Quinn Ewers will look in his second chance against Nick Saban's defense, the senior crop in this battle is enough to make this a must-watch game.
Texas is especially experienced on its defensive side. A whopping seven defenders landed on the Shrine 1000 before the season. For Texas to pull off this road upset, their veterans must remain poised and make big plays at the right time.
It starts in the trenches. Massive nose tackle T'Vondre Sweat has a lot to play for, as the 6'4″, 345-pounder is already an elite run-stuffer. Holding up against Alabama at what he's good at is notable. Still, it's even more valuable if he can contribute anything as a pass rusher, as the NFL has desperately looked for big bodies who can play three downs.
Alfred Collins flanks him as an EDGE presence but is more of a run-stopper as well. He struggles with his burst off the snap and will hold his own at the point of attack more than threaten blockers with athleticism. Like with Sweat, Collins will only have limited value if that's all he brings to an NFL team.
Linebacker Jaylan Ford is the unit's leader with good closing speed and instincts in coverage. The Crimson Tide are very young along their line, with two seniors, a star in JC Latham, a true freshman, and a sophomore rounding out the bunch. If the Tide can't show grown man strength in the trenches, Ford will wreak absolute havoc all over the field.
The Tide don't have much seniority to rely upon, which isn't abnormal for a program that churns out NFL prospects. Their best senior is likely edge rusher Chris Braswell, who will often see Texas senior right tackle Christian Jones. Both are fringe-draftable players, so that will be an intriguing battle.
One final set of matchups to look for here is how Texas' receivers play against Kool-Aid McKinstry and Co. The Longhorns have physical specimens at the position between juniors Xavier Worthy and Adonai Mitchell and seniors Isaiah Neyor and Jordan Whittington.
Oregon Ducks vs. Texas Tech Red Raiders
At a quick glance, this matchup between Oregon and Texas Tech is nothing special. But remember that Texas Tech starting quarterback Tyler Shough has the chance to exact revenge on his first school, Oregon. It seems like a long shot after Oregon hung 81 last week, but it is college football we're talking about.
The Ducks have an impressive team filled with both veterans and young talent. Senior quarterback Bo Nix anchors their offense, and his top two playmakers are excellent talents. Junior running back Bucky Irving and receiver Troy Franklin are as dangerous as any tandem in the nation.
The Shrine Bowl surely has its eyes on backup running back Noah Whittington, offensive linemen Cornelius Ajani, and guards Steven Jones and Marcus Harper II. Oregon's impressive defense has a few notable seniors to watch as well.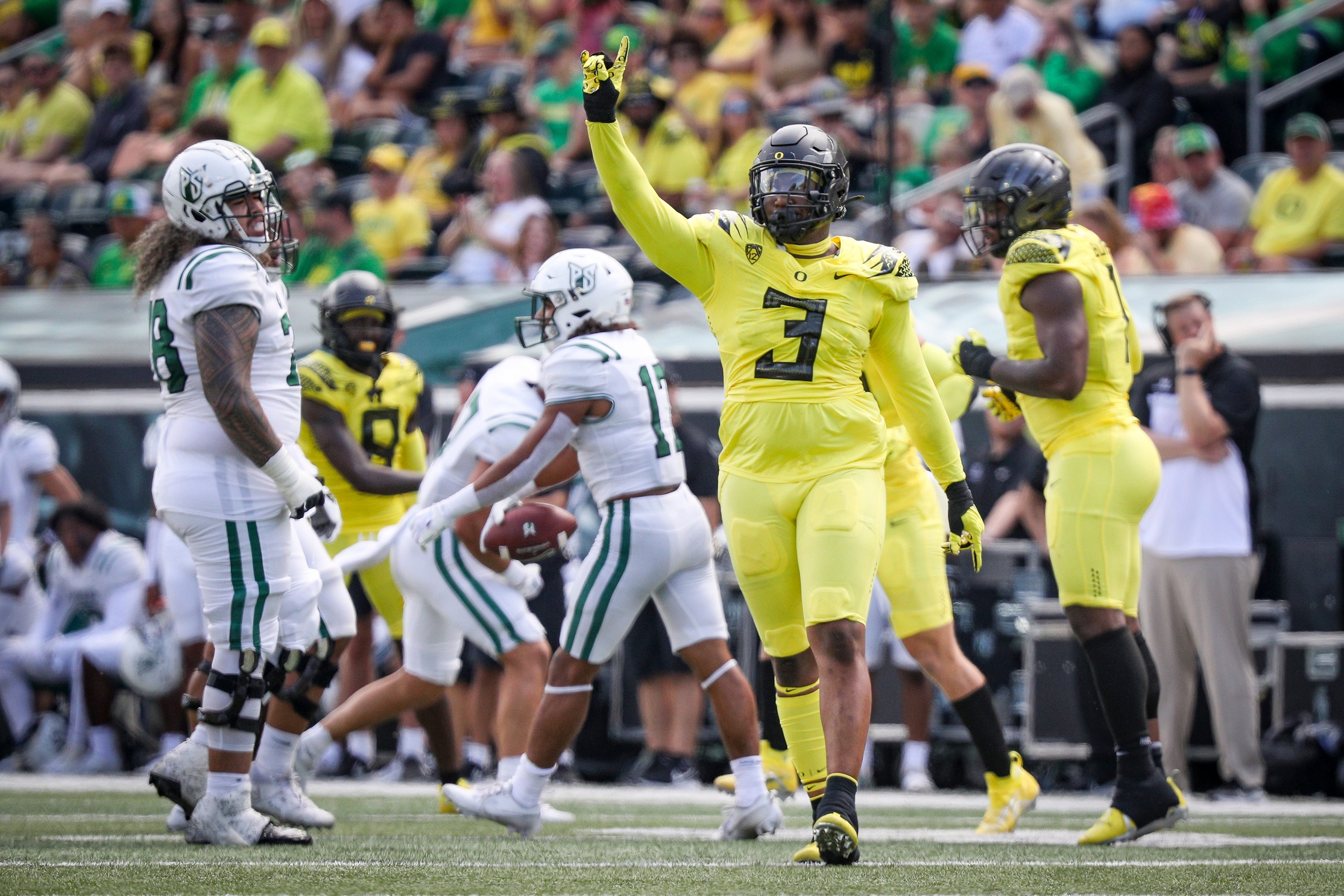 Former five-star recruit Jordan Burch and fellow DL Brandon Dorlus lead the defense. Dorlus is especially impressive, boasting elite NFL size and solid athleticism. Burch is more of a project right now but has the tools to be disruptive as well.
The back seven of the defense has impressive depth that has to be fleshed out. Linebacker Jestin Jacobs is talented but has to prove himself after returning from injury after transferring from Iowa. The secondary has Day 3 prospects like cornerback Trikweze Bridges and safety Evan Williams.
The Red Raiders lack the same type of depth but have talent, too. Receiver Jerand Bradley is only a third-year sophomore, but he's a star. Fellow playmakers Tahj Brooks and Baylor Cupp could be drafted, as Brooks is a tough-nosed rusher, and Cupp is an athletic tight end.
The Red Raiders' defense is more intriguing, though. Cornerback Rayshad Williams and EDGEs Myles Cole and Steve Linton have NFL-level traits. They'll have their limits tested in this matchup, but each could boost their stock significantly with solid performances on the big stage.
Texas A&M Aggies vs. Miami (FL) Hurricanes
It only makes sense that the Shrine Bowl would be focused on a third Texas-based team, considering the event will be held in Frisco, Texas, next year. The Aggies aren't as deep on senior talent, but their headliners are noteworthy. They may have four seniors who will hear their names come off the board in the top 75 picks.
It starts with defensive tackle McKinnley Jackson. The mammoth interior lineman is a run-stuffing beast thanks to elite play strength and hand usage. He could leap to the first round if, like Texas' Sweat, he shows more of a pass-rush prowess this fall.
The other three are cornerback Tony Grimes, receiver Ainias Smith, and right guard Layden Robinson. Smith is well-known as an offensive weapon with the speed to burn as a rusher and receiver. Meanwhile, Grimes transferred from North Carolina and has the measurables of a potential NFL starting corner early in his career.
MORE: FREE Mock Draft Simulator With Trades
Dominating against Miami's veteran line would go a long way in boosting Jackson's value. Thanks to the transfer portal, Miami has two senior linemen: center Matt Lee and left guard Javion Cohen. Cohen, in particular, has an NFL future as a big-bodied presence.
The Hurricanes are swamped with underclass talent on its defense. They could have two first-rounders in defensive tackle Leonard Taylor III and safety Kamren Kinchens. Senior edge rusher Ahkeem Mesidor, defensive tackle Branson Deen, and cornerback Jaden Davis could also fight their way into draftable range.
The offense has two potential risers in quarterback Tyler Van Dyke and receiver Tyler Harrell. Van Dyke has one more year of eligibility remaining but is intriguing with his experience, strong arm, and flashes of good accuracy. Harrell was once one of the most efficient playmakers in the country before tearing his ACL, so his road to recovery will be fascinating to see unfold.
Listen to the PFN Scouting Podcast
Listen to the PFN Scouting Podcast! Click the embedded player below to listen, or you can find the PFN Scouting Podcast on iTunes, Spotify, and all major podcast platforms.  Be sure to subscribe and leave us a five-star review! Rather watch instead? Check out the PFN Scouting Podcast on our Scouting YouTube channel.