College football is a beautiful game, allowing us to watch football from noon to well past midnight each and every week. The high volume of games can be overwhelming, though, and make it hard for devy fantasy football players to understand which games they need to watch to stay ahead of their league-mates. In this weekly column, I provide you with the most important games to watch from a devy perspective.
Week 5 of the college football season puts the 2024 NFL Draft class on full display. There are future fantasy football stars spread throughout this slate.
Looking to make a trade in your fantasy league? Having trouble deciding who to start and who to sit? Check out PFN's Free Fantasy Football Trade Analyzer and Start/Sit Optimizer to help you make the right decision!
Week 5 Devy Fantasy Football Players To Watch
USC at Colorado
Prospects To Watch: Caleb Williams, MarShawn Lloyd, Shedeur Sanders
Caleb Williams (6'1″, 215) is being showcased in a rare noon timeslot for the West Coast superstar. This is your opportunity to see the future top selection shine as a passer and athlete. He has started the season by completing 74% of his 101 passing attempts for 1,200 yards and 15 touchdowns, despite being pulled early from most of his September matches.
USC's offense also features running back MarShawn Lloyd (5'9″, 210) and true freshman wide receiver Zachariah Branch (5'10", 175). Lloyd, in particular, is an under-the-radar prospect in the 2024 class. He has displayed explosiveness and good vision early on this season.
Shedeur Sanders (6'2″, 215) will have a chance to re-enter the first-round NFL Draft conversation this week. USC is a significantly weaker defense than Oregon so Sanders should be able to display his poise and arm talent. Sanders' top target will be Jimmy Horn Jr. (5'10", 170), a twitchy slot receiver who wins with separation and a sharp release off the line of scrimmage.
Florida at Kentucky
Prospects To Watch: Barion Brown, Dane Key, Trevor Etienne
Kentucky's offense features a trio of talented wide receivers.
Barion Brown (6'1″, 166) is known for his athleticism and ability to gain yards after the catch. Sophomore Dane Key (6'3″, 195) has impressed me the most this season; he displays great ball tracking and contested catch prowess.
Tayvion Robinson (5'11", 194) has shown out for the Wildcats as a big-play threat since transferring from Virginia Tech. He's a Day 3 prospect to watch in the 2024 NFL Draft.
MORE: 2024 NFL Draft Big Board
Florida's Trevor Etienne (5'9″, 205) is the player to watch for the Gators. The true sophomore put his burst and downfield rushing ability on display in Week 3 against Tennessee; rushing for 172 yards and a touchdown on 23 carries. Etienne is currently my RB3 in the 2025 class.
Kansas at Texas
Prospects To Watch: Quinn Ewers, Xavier Worthy, Devin Neal
Quinn Ewers (6'2″, 195) is putting together a strong case to be a top-10 selection in the 2024 NFL Draft. The five-star prospect has thrown for 1,033 yards and nine touchdowns while completing 64% of his passes and throwing zero interceptions. Ewers should put his arm talent and clean mechanics on display against a beatable Kansas secondary.
Wide receiver Xavier Worthy (6'1″, 172) is an explosive big-play threat that takes the top off a defense. He will be a top-50 selection in the 2024 NFL Draft and likely a late first-round rookie draft pick. Ja'Tavion Sanders (6'4″, 243) is an athletic, sure-handed prospect that is locked into the TE2 spot in my rookie rankings.
I refuse to stop hyping up Kansas running back Devin Neal (5'11", 210). Neal has great vision, good short-area quickness, and can lower his shoulder to power through a gap. When he puts up a strong performance against a stout Texas front seven, his draft stock will soar.
Take this opportunity to trade for him before the price goes up at around 5:00 p.m. ET on Saturday.
LSU at Mississippi
Prospects To Watch: Jayden Daniels, Brian Thomas Jr., Malik Nabers
Malik Nabers (6'0″, 200) and Brian Thomas Jr. (6'4″, 205) have entered the conversation as one of the best wide receiver tandems in college football. Nabers is your devy star; the future first-round selection is a speedy boundary threat that separates well downfield and displays sticky hands. Thomas Jr. currently projects as a Day 3 selection in the 2024 NFL Draft but his size and handwork give him the potential to rise into top-100 territory.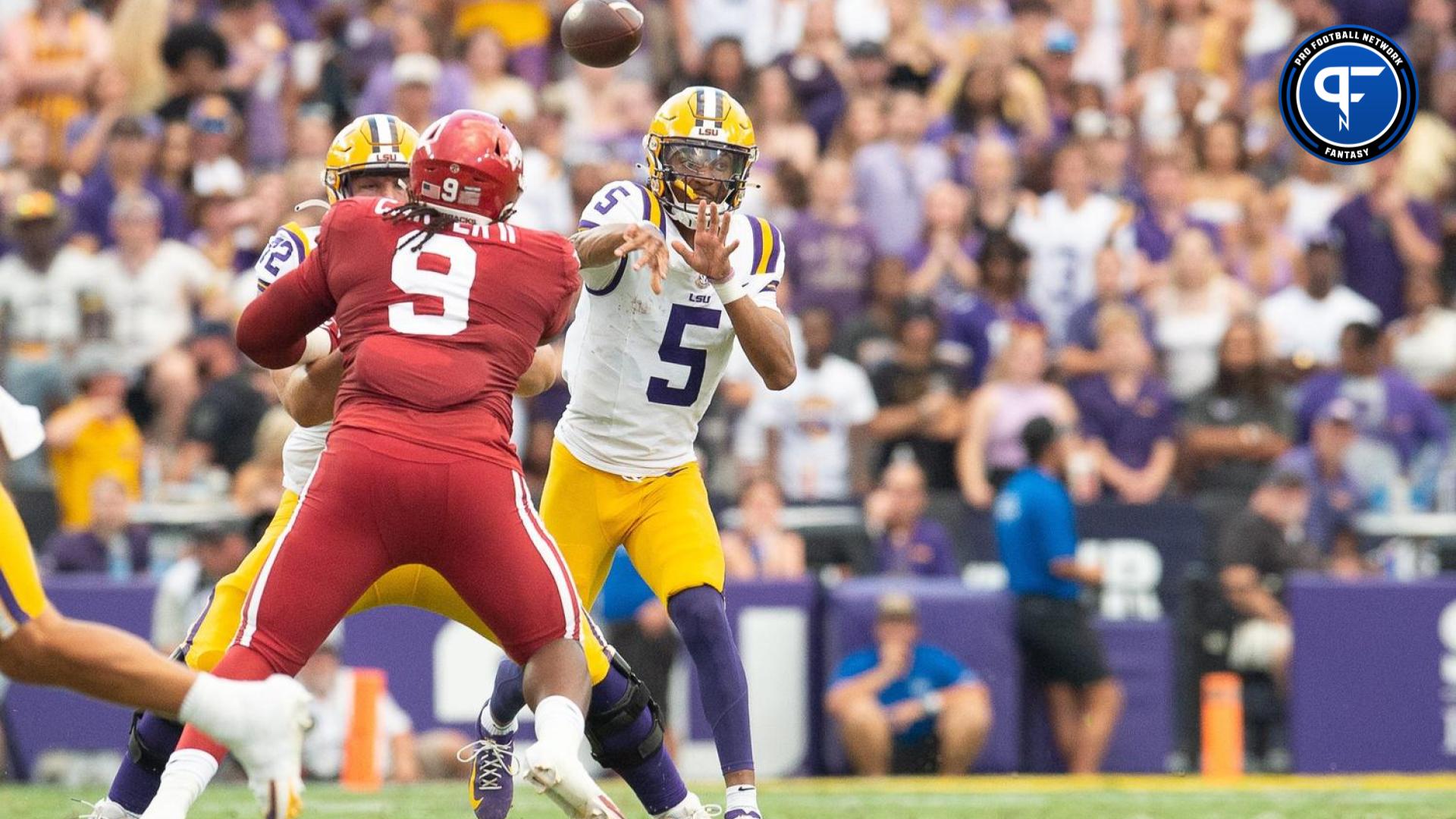 Jayden Daniels has matured into a quarterback who can win from the pocket with arm talent and anticipation. He combines this with the playmaking legs that have gotten him to this point in his career. Daniels has thrown for 1,296 yards and 12 touchdowns through four games, and looks improved week over week. He is a high-end Day 3 prospect in the 2024 NFL Draft.
I discussed Ole Miss running back Quinshon Judkins (5'11", 210) earlier this week. Devy fantasy football managers will be watching eagerly to see if Judkins can rebound against a surprisingly porous LSU defense.
Notre Dame at Duke
Prospects To Watch: Audric Estimé, Sam Hartman, Riley Leonard
Notre Dame will be looking to open the offense up after a defensive battle against Ohio State last week. Quarterback Sam Hartman (6'1″, 210) has shown impressive processing ability and decision-making in the first month of his new offense. Hartman has played his way into the Day 2 NFL Draft conversation.
MORE: Free NFL Mock Draft Simulator With Trades
Audric Estimé (5'11", 217) is a consistent producer who is averaging 7.7 yards per carry this season. He is the exact type of Day 3 prospect I want to target late in my 2024 rookie drafts. Junior Jayden Thomas (6'1″, 220) and true freshman Jaden Greathouse are the two wideouts to watch.
Duke's Riley Leonard (6'4″, 212) captured the hearts of college football fans when he led Duke to a Week 1 upset of Clemson. This will be the dual-threat quarterback's first prime-time game since then. NFL scouts will be assessing Leonard to see if his mechanics, arm talent, and accuracy can match his ability to beat defenses on the ground.
South Carolina at Tennessee
Prospects To Watch: Spencer Rattler, Xavier Legette, Dylan Sampson
The NFL is higher on Spencer Rattler (6'1″, 217) than you are. Rattler has always had arm talent and mobility, but this season he looks poised under pressure and has improved considerably as a decision-maker. Rattler was once considered to be a top 10 overall NFL Draft selection. He hasn't rebounded that far, but if the NFL Draft happened today I project he would go in the top 75.
Senior wideout Xavier Legette (6'3″, 227) is a quiet riser from the first few weeks of the season. He is averaging 20.6 yards per reception on his 27 catches and has found the endzone three times. Legette has stepped up in the absence of injured star Antwane Wells Jr. (6'1″, 208) who may be back to full health for this week's big matchup against the Tennessee Volunteers. The pair of Gamecock wide receivers project as Day 3 prospects in the 2024 NFL Draft.
The Tennessee running game has been far more impressive than their passing attack this year. Junior Jaylen Wright (5'11", 210) is a powerful runner who displays good vision between the tackles. Sophomore Dylan Sampson (5'11", 190) is their explosive playmaker who can shoot through a gap to create a big play. You can expect the Volunteers to rely on both of them to control the pace of play in a must-win game.
Washington at Arizona
Prospects To Watch: Tetairoa McMillan, Michael Penix Jr., Rome Odunze
The Huskies offense is a must-watch until further notice. Michael Penix Jr. (6'3″, 215) is shredding defenses with his arm strength and clean pocket mechanics. You'll want to get your eyes on Penix Jr.; his talent vs. injury history will be debated a lot leading up to the 2024 NFL Draft.
MORE: Top QBs in the 2024 NFL Draft
Rome Odzune (6'3″, 215), who I wrote about earlier this week, is getting all of the attention in this wide receiver room. Junior Jalen McMillan (6'1″, 192) is a sure-handed, crisp route runner who should be an early Day 3 NFL Draft selection in 2024. Sophomore Ja'Lynn Polk (6'2″, 204) is a big-play threat that shouldn't be forgotten about in the shadow of his teammates.
Arizona's Tetairoa McMillan (6'5″, 210) is the best wide receiver that nobody is talking about. He is an athletic big man who dominates along the boundary and demonstrates great ball-tracking ability. McMillan is my WR3 in the 2025 class — get him on your radar now.
Listen to the PFN Fantasy Podcast
Listen to the PFN Fantasy Podcast! Click the embedded player below to listen, or you can find the PFN Fantasy Podcast on iTunes, Spotify, and all major podcast platforms.  Be sure to subscribe and leave us a five-star review! Rather watch instead? Check out the PFN Fantasy Podcast on our Fantasy YouTube channel.