We've got two weeks in the books. Some situations have gained clarity, while others are getting more cloudy. Below is your ultimate cheat sheet: A resource to use for all things related to fantasy football as you look to make this the best week of your season so far! A version of this article can be had over at our PFN Fantasy YouTube channel on Friday afternoon as Kyle Yates and I preview every single game.
Have questions? Don't hesitate to check out our PFN Consensus Rankings or hop into the PFN Discord, where all of our analysts are regularly active!
Trivia Question: What WR has more yards after the catch than DeAndre Hopkins has receiving yards this season? If you find the answer here in the Week 2 Cheat Sheet, you're eligible to win a giveaway from Pro Football Network! Find the answer, then scroll down all the way to the end of the article to enter!
Looking to make a trade in your fantasy league? Having trouble deciding who to start and who to sit? Check out PFN's Free Fantasy Football Trade Analyzer and Start/Sit Optimizer to help you make the right decision!
New York Giants at San Francisco 49ers
Spread: 49ers -10.5
Total: 38
Giants implied points: 13.75
49ers implied points: 24.25
Quarterbacks
Daniel Jones: "Danny Dimes" checked every box fantasy football managers could possibly ask for in the Giants' comeback win over the Arizona Cardinals last weekend, and that was great to see. The former Duke Blue Devil totaled 321 pass yards and two touchdowns through the air and nine carries for 59 yards and a touchdown on the ground. But by "great to see," I mean for October.
New York's final game of September comes on short rest against one of the elite defenses in the league without their top play-maker. San Francisco has allowed just two touchdown passes on 101 attempts this season, and they have coughed up under six yards per pass in both weeks to open the season. Jones is a top-15 QB the rest of the season – just not this week.
Brock Purdy: For the first time in his career, Purdy didn't come through for fantasy managers. Even on a down week, a rushing touchdown helped his fantasy box score. If a swing pass to WR Deebo Samuel goes a few inches forward instead of a few inches backward, we are talking about another 18+ point fantasy day.
I like Purdy over Jones if you're picking a QB in this game to play, but I'm not sold on either being viable in anything but the deepest of leagues.
Running Backs
Saquon Barkley: New York's star exited late last week with an ankle injury after only tallying 23 touches for 92 yards and two touchdowns. While he avoided serious injury, he is still expected to miss three weeks. Make sure he is OUT of your Week 3 lineups
Matt Breida: Kyren Williams posted 100 total yards and two scores against this 49ers defense last week, leaving the door open for hope in this spot. That said, Breida doesn't have a double-digit carry on his resume since December 2020.
I expect that streak to end this weekend, but leading this team in rushing attempts doesn't mean he is anywhere near starting lineups. You can roster Breida if you'd like, but I just don't see him being anything more than "in case of emergency" depth.
Christian McCaffrey: Stopping McCaffrey is borderline impossible. He played every single offensive snap last week against the Rams and has opened the season with consecutive games in which he had 20 carries, a 50-yard rush, and three catches.
The floor/ceiling combination of McCaffrey cannot be matched by any skill player in the game.
Elijah Mitchell: We had some hope that Mitchell could carve out a Flex-worthy role in this offense, but that is nothing but a pipe dream at this point. Talk in San Francisco is that the team will look to give McCaffrey a breather now and again, which is something that should get Mitchell on the field.
That's a start, and he remains roster-worthy due to my trust in Kyle Shanahan – just don't expect standalone value.
Wide Receivers
Darius Slayton: Slayton saw six targets and narrowly missed a 40-yard touchdown in a game that was more encouraging than his stat line (three catches for 62 yards) suggests.
The thought process remains the same here – Daniel Jones' downfield completion rate has increased each season of his career, and Slayton is a one-trick pony. He continues to have one-week spike potential, but that role might be disappearing.
Jalin Hyatt: The rookie saw only a pair of targets, but when they result in 31- and 58-yard receptions, can we really argue? This is who he is.
MORE: New York Giants vs. San Francisco 49ers — Same Game Parlay Picks and Predictions
The 6'0″ burner, who is averaging 18.9 yards per catch and had 15 scores last season at Tennessee, is unlikely to hold consistent value at any point this season. That said, as bye weeks kick in and injuries begin to pile up, an upside profile like this becomes more interesting.
Isaiah Hodgins: The targets are spread thin in New York these days, which is something that makes all pieces of this pass game risky. Hodgins totaled 40 yards and a score on his five opportunities – a nice showing in a good matchup.
If I had to bet on which WR will lead this team in targets the rest of the way, Hodgins would get my money but don't take that as me saying I expect him to be viable on any sort of regular basis. The distribution of looks in this pass game is simply too variable for me to ever rank one of these receivers inside the top 40 at the position.
Deebo Samuel: Cue the eyes emoji. For the first time in 670 days, Samuel posted a game with at least five catches, five carries, and a touchdown. Ironically, the last time he did it was also against the Rams. From the nine targets and the 11 touches to the creative play call to get him the ball in space in the red zone, everything we saw on Sunday was encouraging. Sell.
Samuel hasn't been efficient as a receiver during the Purdy era, and while the rushing dynamic is valuable, it becomes dangerous if his fantasy value hinges on it. I said this last week with Brandon Aiyuk, and I'll say it whenever we get the inevitable big TE George Kittle game: Moving on from these San Francisco weapons following a big game is savvy.
The volume through the air for this offense is not high enough to consistently support three options, and that has me always looking to cash in these chips. Samuel is a top-20 receiver for me in this matchup, and I'm confident I'm either 10 spots too low or 10 spots too high. I'll embrace variance at my Flex spot – not as my WR2.
Brandon Aiyuk: Aiyuk has been ruled OUT for Thursday night football, so make sure you're adjusting your lineups accordingly. Samuel and George Kittle moved up a spot apiece at their respective positions – remaining in the same tiers they were prior, but with slightly greater target expectation and thus a slightly elevated floor.
After a massive Week 1 in Pittsburgh with eight catches for 129 yards and two touchdowns, Aiyuk was quiet on his six targets, with just 5.8 fantasy points, because, of course, he was. Whether you like Aiyuk over Samuel or vice versa, there is no denying the risk that comes with considering either a weekly option.
Aiyuk was a top-five WR in Week 1 and finished outside of the top 50 this past week. Split the difference, and that is likely where Aiyuk finishes the season, but it's going to be a bumpy ride. Personally, I prefer consistency in both fantasy football and in life. I'm not one to order steak or go to the beach when there's a risk of rain. I avoid risk, and I avoid receivers like Aiyuk (and Samuel).
Tight Ends
Darren Waller: I've been impressed with what we've seen thus far from Waller as he battles through this hamstring issue, and I see no reason to expect any dip moving forward.
This is a tough matchup for the Giants as a whole, but at this position, Waller's usage is enough to land him inside my top eight at the position, regardless of the matchup.
He has a 20+ yard catch in both games this season, and with a 69.2% catch rate two games into his Giants career, the connection with Jones seems to be just fine. He's my preferred tight end in this game and my TE6 for the week.
George Kittle: Through two weeks, the 49ers have 60 points scored, and Kittle has totaled 7.9 fantasy points. That could easily be had on a single 14-yard catch, and that is what Kittle has done for the elite offense through two entire games.
We preached it in the PFN Fantasy Discord this summer that Kittle's path to failure at his ADP was concerningly clear, and we've seen that up to this point. Even with his struggles, the upside for a big week is there, and that will keep him inside my top 10 at the position every week.
Copy and paste the analysis for Aiyuk last week and for Samuel this week. You wait for a big game and then attempt to get out of the Kittle business – even if you have to take 90¢ on the dollar. I'd rather have an RB or WR with a consistent role and have to stream the TE position than have Kittle and a risky RB/WR.
Tennessee Titans at Cleveland Browns
Spread: Browns -3.5
Total: 39.5
Titans implied points: 18
Browns implied points: 21.5
Quarterbacks
Ryan Tannehill: On a week where he scored on his only rush attempt and completed 83.3% of his passes, Tannehill was still not a top-15 fantasy QB. That should tell you all you need to know.
You're losing ground on the competition if you're starting him in a Superflex league, and that's hard to do. He's on the short list of QBs that I won't have on my radar, regardless of the matchup, when bye weeks begin to kick in.
Deshaun Watson: Watson, the stoppable force who had as many touchdowns as interceptions and recorded a completion rate under 56%, faces the very movable force of the Titans' pass defense, which has allowed 300 passing yards in both games this season after a shaky 2022.
In 2023, I'm always going to back the offensive player in a spot like this – the rules are simply set up that way. With Nick Chubb out for the season, Cleveland may not have a choice but to put more on Watson's plate, and if he's going to get 40-45 opportunities, I'm in on him as a top-12 QB.
Full disclosure: Starting Watson comes with plenty of risk. I'm optimistic for a breakout game, but there is certainly a world where both of these teams melt the clock, and this is a low-possession game that results in zero fantasy value for those not named Derrick Henry.
Running Backs
Derrick Henry: As long as the Titans are playing these nip-and-tuck games, such as the one-point loss in Week 1 or the three-point OT win last week, Henry's fantasy floor is among the highest in the game. He racked up 28 touches over the weekend, and while he was far from efficient, it was 95 total yards and a score – standard stuff for the "Tractorcito."
Am I worried that against one of the worst running defenses, the Chargers, he averaged just 3.2 yards per carry – a number that dips to under 2.4 if you remove one outlier run?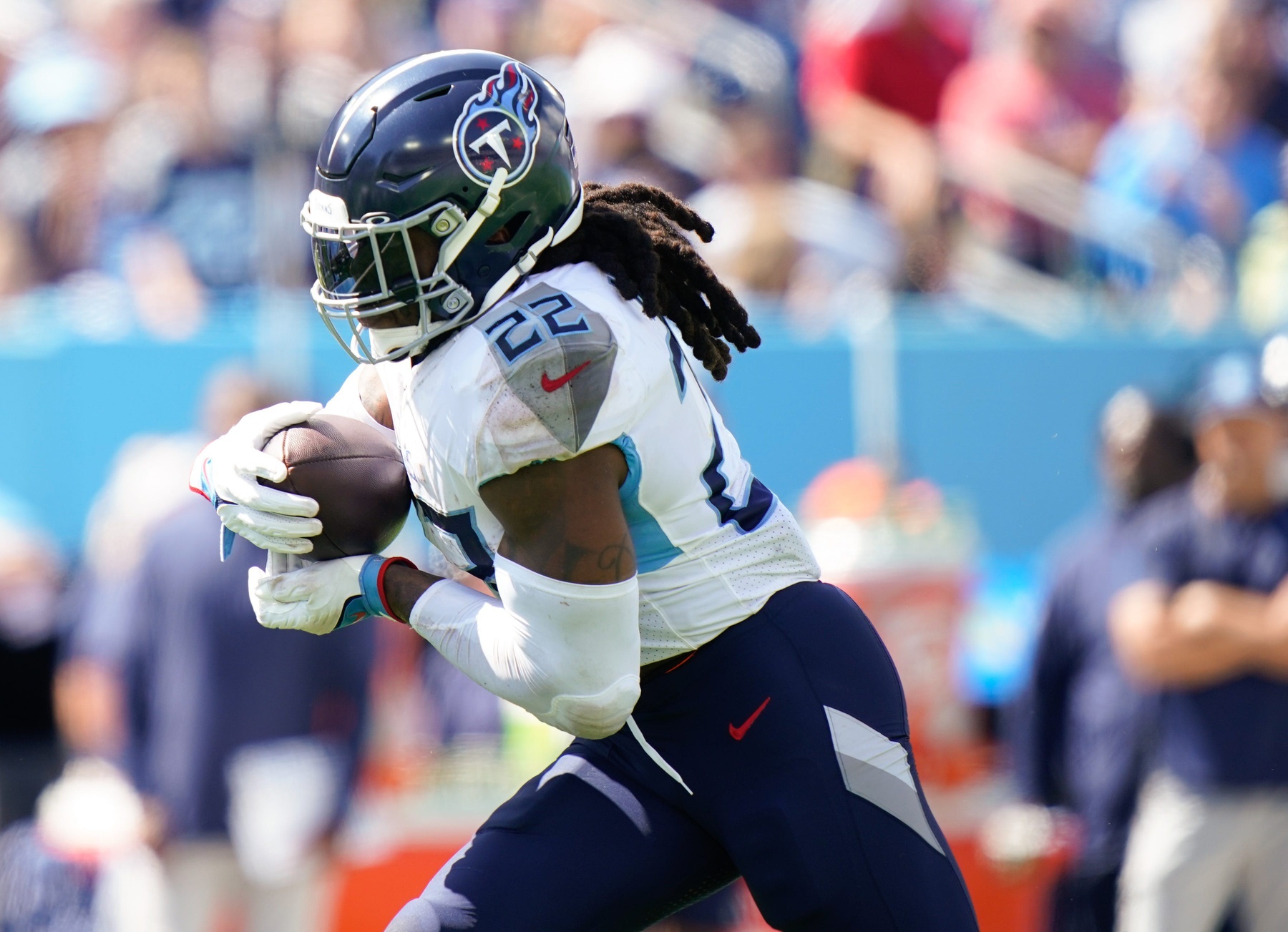 A little bit, but Henry has always been a volume play, and with seven targets through two weeks, his fantasy value isn't in real danger as long as the game is close.
Don't forget that we should get a highly productive version of this man when it matters most in Weeks 14-17. He'll be playing at Miami, vs. Houston and Seattle, and traveling to Houston, as well.
Tyjae Spears: His 10 touches last week against the Chargers were good to see, and I don't think it's a fluke when the games are tight. The Titans simply don't want to put their fate in the hands of Tannehill. Can you blame them?
MORE: Fantasy News Tracker
Spears' 14 touches this season have picked up 83 yards, and he has a 14+ yard carry in both games. As impressive as that is, playing behind Henry has him valued as nothing more than a nice handcuff in our world.
He's a poor man's version of Atlanta Falcon Tyler Allgeier – the RB behind an elite back in a run-centric offense. Allgeier has a season of lead-back production on his resume, and that's why I prefer him of the two, but neither will be ranked as a fantasy starter for me while the star atop the depth chart is active.
Nick Chubb: As a reminder, Chubb suffered a significant knee injury on Monday night and will miss the remainder of the season. You can safely drop him in all redraft formats. If you need help with a roster question – be it a trade, a waiver wire add, or anything else – check out our PFN Fantasy Discord or swing by our PFN Fantasy YouTube channel on Sunday morning!
Jerome Ford: OK, so you just spent a bunch of FAAB or burned a top waiver priority on acquiring Ford. Now what?
You have a viable Flex option on your hands. In a better matchup, he'll be a RB2, but this is a tough spot. The Titans were the best run defense on a yards-per-carry basis last season and currently rank second this season. Ford showed out in a relief spot last week in Pittsburgh with 19 touches for 131 yards and a touchdown and should see the vast majority of carries in this backfield.
My concern here is his lack of a role in the passing game. When thrown into action last week, he hauled in three of four targets – something I need to see more of before projecting it. Ford averaged more than 10 carries per catch during his collegiate career, which makes him a one-dimensional back in a tough matchup.
Wide Receivers
DeAndre Hopkins: In a game that went to overtime against an iffy defense, no player on this team saw more than five targets. Such is life in this offense. Tannehill looked much better this week than last, but even a "good" version of him is not fantasy-friendly.
Hopkins is a good bet to lead this team in targets on a regular basis, but not every team target leader needs to be in fantasy lineups. I'm treating him in a very similar fashion to Atlanta's Drake London – an ultra-talented player whose situation prevents him from holding consistent value in fantasy.
Treylon Burks: For me to put a receiver on my radar, I want a reasonably clear path to seven-ish targets. Either that, or he has to be a part of an absurdly efficient offense. I think we can agree that the Titans certainly don't check that second box, and when it comes to the first, Burks has a total of seven targets this season.
The 70-yard catch against the Chargers was good to see, but we aren't talking about the most sustainable of plays in a Tannehill-led offense. Outside of that play, his six targets this season have netted 24 yards and no scores.
Burks is a talented player and a fine dynasty stash, but counting on him to break out this season isn't wise. If you want to take a flier occasionally in your DFS lineups, I'm OK with it as your only exposure to him in fantasy.
Amari Cooper: The veteran receiver aggravated a groin injury on Saturday ahead of their Monday nighter in Pittsburgh, but he battled through the injury and produced in a nice way with seven catches for 90 yards on 10 targets.
It was an exhibition in receiver talent – sharp routes and contested catches. He did it all, and that has him as a top-20 receiver this week for me, as long as his health sustains.
Elijah Moore: If Watson irons things out as a passer, Moore is the player set to benefit the most. He has turned his 16 targets into just 79 yards this season. These numbers have made him unusable up to this point.
The WR position is a deep one, and that has Moore ranked outside of my top 35, but I do think there's appeal in this spot. The Browns have handed him the ball three times and continue to look his way on short passes. They clearly want him to emerge as the WR2.
I like the idea of floating out a buy-low trade offer ahead of this game. It's a good way to get cheap exposure to a Watson bounceback.
Donovan Peoples-Jones: Peoples-Jones is a 6'2″ receiver who rarely comes off the field in an offense with upside and should be someone we target. The profile and 15.8 yards per catch stat over his career are intriguing, but with 19 yards this season, it's tough to justify rostering him – let alone starting him.
That said, I am keeping Peoples-Jones at the end of my bench. I'm not cutting ties. I'm too loyal to the idea of him being a thing in this offense. If Cleveland airs the ball out more moving forward, the snap share should translate to fantasy production sooner rather than later.
Tight Ends
Chigoziem Okonkwo: I'm not confident in the quality or quantity of targets when it comes to Okonkwo. We all fell in love with the athletic profile during his strong run last season, and the talent is still there, but the situation just isn't one that can maximize it.
With Hopkins soaking up targets at a high level, there simply isn't enough meat on the Tennessee bone to roster Okonkwo.
David Njoku: Njoku has caught six of seven targets this season, a level of efficiency that is interesting when facing a defense like Tennessee.
I have him ranked as a fringe top-10 player at the position with the thought that Watson gains confidence by way of short-to-intermediate passes – something that should allow Njoku to flirt with 10 PPR points.
Atlanta Falcons at Detroit Lions
Spread: Lions -3
Total: 46.5
Falcons implied points: 21.8
Lions implied points: 24.8
Quarterbacks
Desmond Ridder: Ridder let his hair down a bit in Week 2 by completing more passes (19) than he attempted in the Week 1 win (18.) The aggression looked good on him, as he finished with 276 cumulative yards, a pass touchdown, and a rushing touchdown.
As good as last week for the second-year QB, he's still a below-average QB2 in Superflex formats. He has the talent around him to produce numbers like this on occasion, but head coach Arthur Smith isn't in the business of routinely giving him 42 opportunities (passes and rushes), and that means games like this are the exception – not the norm.
Jared Goff: With the Lions averaging 32.9 PPG at home since the beginning of last season, Goff needs to be penciled into starting lineups whenever playing in front of a supportive crowd.
He has thrown multiple touchdown passes in six straight home games, a streak he easily extended last week against the Seahawks by completing 28 of his 35 attempts for 323 yards and three touchdowns.
Green Bay signal-caller Jordan Love only completed 14 passes against these Falcons last week, but three of those resulted in touchdowns. Goff distributed the ball around in the loss last week by targeting four different players with at least six targets, showing the willingness to take what the defense gives him.
I have Goff in the Joe Burrow/Kirk Cousins pocket passer tier this week, which results in a fringe top-10 ranking. Personally, I feel good about starting him over Dak Prescott and Geno Smith in this advantageous spot at home.
Running Backs
Bijan Robinson: It's rare for a rookie to come in and assume a rock-solid role, but that's exactly what we have here. Last week against the Packers, Robinson accounted for just 42.2% of the Falcons' carries, a rate that would be concerning if he was on any other team. But he's not. He's on Atlanta, and in this system, that meant 19 carries!
Robinson is as good as advertised and is a top-five option at the position for me. I love his rushing floor, and the fact that he's earned 11 targets (10 catches) on this conservative offense is nothing short of amazing. He's the RB1 in dynasty formats.
Tyler Allgeier: Due to him having 34 touches through two weeks, fantasy managers are flirting with the idea of Allgeier being a Flex option. I'm still not there. I understand that the touch count is encouraging, but Robinson figures to be the first option in scoring situations, and that caps Allgeier's weekly projectable upside.
He didn't see a single target in Week 2, something I expect to happen more often than not based on how Atlanta's offense is structured. Without a versatile role or a path to valuable touches, Allgeier's ceiling isn't high enough for me to recommend him as a Flex play. He's on the outside looking in at my top-30 running backs in Week 3.
David Montgomery: The former Bear had been an absolute workhorse (37 carries) for his new employer prior to suffering a quad injury that will take "a couple of weeks" to heal. At under four yards per carry and with just one target, Montgomery had yet to show much in the way of upside. But the sheer volume made him a nice start in both instances.
Montgomery's a clear hold while he recovers. However, the role he has enjoyed thus far might not be his for long.
Not only is there the threat of Jahmyr Gibbs taking advantage of this opportunity, but there's also the schedule. If Montgomery were to miss the next three weeks, he comes back for road games in Tampa Bay and Baltimore. If you have Montgomery, he's a big reason you've had success, but it might not be until November before we feel good about him again.
Jahmyr Gibbs: We're getting close to a Gibbs breakout, but an underwhelming seven carries (17 yards) gives you one more week to potentially buy low. All signs point to the Lions wanting to explore what the rookie can do, and with Montgomery now sidelined, the door is wide open.
Yes, Montgomery was the featured guy prior to his injury, but look a little closer. Gibbs had a pair of touches on Detroit's first five offensive plays and led the team in targets (nine). Detroit seems to be handling him with kid gloves, and I get it, but that luxury is one they no longer have.
Gibbs is a top-15 back for me this week. The Lions average 32.9 ppg at home since the beginning of last season, and he should be a big part of the fun this weekend!
Craig Reynolds: Reynolds was the one getting immediate work over Gibbs following the Montgomery injury last week, and he's worth a stash in deeper leagues for the potential of him becoming a first-and-second down back for Detroit.
Consider me skeptical. I think it's more likely than not that Detroit had a plan for Gibbs last week, and Reynolds' usage was more a way of staying true to that plan than anything.
Reynolds made his NFL debut in 2019, and his next touchdown will be his first. He'll get some work, but plugging him into the Montgomery role and keeping Gibbs at his current usage rate would be coaching malpractice. I don't think the Lions make that mistake, and I'm suggesting you don't. Reynolds is nothing more than speculative roster depth for me.
Wide Receivers
Drake London: Crazy, isn't it? The Falcons let Ridder drop back a few times, and London produced 15.7 fantasy points. What a world!
The super sophomore accounted for 31.6% of Atlanta's catches against the Packers and caught six of seven targets (Ridder on all other throws: 52% complete). I think there's a decent chance Atlanta's game script looks similar this week as they stay in the NFC North. However, there's obvious risk in this team going back to the 18-pass plan from Week 1.
When you combine the risk of Week 1 with the reward of Week 2, London is a fringe top-30 receiver for me this week. That makes him an average Flex play and one that I prefer over Allgeier when it comes to fringy Falcons in this spot.
Amon-Ra St. Brown: Cramping sidelined The Sun God for parts of the Week 2 loss against the Seahawks, and yet, he still went over 100 yards. The Lions are looking for creative ways to get him the rock (misdirection flip play on fourth down), making him an alpha receiver in our game.
The Falcons' defense was gashed by Jordan Love last week, a game in which the Packers were without their top two offensive weapons. St. Brown is locked in as a top-10 receiver every week, and he has "best fantasy receiver for the week" potential when the Lions play at home in a favorable spot like this.
Josh Reynolds: Reynolds was an afterthought this summer, but he's reached double-digit half-PPR fantasy points in each of the first two weeks this season and is working his way onto rosters.
Against the Seahawks last week, he turned six targets into 66 yards and a pair of scores, one of which came on the first drive, with Goff clearly happy to look his way from the jump.
I'm still skeptical that Reynolds can be counted on. I have him as the fourth-most feared Lion in the passing game (St. Brown, Gibbs, and Sam LaPorta), and he's outside of my top 40 receivers this week.
Tight Ends
Kyle Pitts: Old man Zach Ertz had eight targets and 56 yards in Week 2, a stat line that nearly mirrors what Pitts has produced for the season (eight targets for 59 yards). You don't need me to tell you the story here: High pedigree player with per-catch upside playing in an offense that refuses to maximize what he does well.
Pitts is the cashmere sweater in the famous "Red Dot" episode of Seinfeld. He's an expensive product with a single flaw that makes him undesirable. Like the sweater in that episode, Pitts has the potential to be a short-term fix with a big week here and there. But the Red Dot that is this grounded offense is always going to be seen upon further examination.
Pitts is a fringe top-15 tight end for me this week and more a part of the TE streamers conversation than someone who needs to be a weekly starter.
Sam LaPorta: While Pitts is a presumed starter turning streamer, Detroit's rookie is going in the reverse direction. LaPorta has a pair of five-catch games to open his career with just one of his targets hitting the ground, a level of efficiency that puts his PPR floor at a usable level.
Of course, the fact that the strong volume has resulted in just 102 yards is not ideal. The per-catch upside is very limited, and that means the floor is a low one if the efficiency dries up. Detroit does need a secondary pass catcher next to St. Brown, and with that in mind, I'm comfortable in labeling LaPorta a top-12 option at the position.
New Orleans Saints at Green Bay Packers
Spread: Packers -2
Total: 42
Saints implied points: 20
Packers implied points: 22
Quarterbacks
Derek Carr: With one touchdown pass through two weeks (69 attempts), Carr has underwhelmed those who have rostered him in deep or Superflex leagues. Buy!
I'm not calling Carr an elite option because he's not, but better times are ahead with Alvin Kamara's return coming. With that in mind, Carr could get moving in the right direction in the final week without his star RB in the mix.
The Packers have played Justin Fields and Desmond Ridder this season, so their raw defensive numbers against the pass look fine. I'm not sold, however.
MORE: Fantasy Football's Week 3 Burning Start/Sit Questions
Darnell Mooney hauled in a 20-yard TD against Green Bay in the season opener, and not one, not two, but three different Falcons had a 24+ yard reception against them last week.
As his career has progressed, Carr has improved his downfield efficiency, and this is a good spot to flash that. He's not a top-12 QB for me in annual leagues, but he is a strong DFS GPP play.
Jordan Love: Through two games this season (both on the road and without his presumed WR1), Love is averaging just over 1.37 fantasy points per completion. That number could be even higher if not for a pair of 40+ yard defensive pass interferences last week. Want context on that number?
2022 MVP Patrick Mahomes: 0.86
2021 MVP Aaron Rodgers: 0.85
2020 MVP Aaron Rodgers: 0.98
So either Love is the best QB ever to play the game, or some regression is coming his way. I'll never tell you what to think, but I do feel strongly that one of those options is far more likely than the other.
Love should be a reasonably easy sell in Superflex formats. He's taken advantage of two nice matchups and doesn't have to apologize for that, but given that we've yet to see him fail, this is lining up to be a good spot to cash in a chip. I don't believe Love has much of a path to be viable in 1QB leagues, even with this hot start.
Running Backs
Jamaal Williams: A hamstring injury forced Williams out of Week 2, burning fantasy managers who needed a big performance to end their week.
No, I'm not bitter. Why do you ask?
Prior to getting dinged up, Williams was again the featured back, leaving a large hole in this offense with him being ruled OUT for this week (and being placed on IR). With Kamara due back next week, fantasy managers don't need to wait this injury out in leagues with shallower benches.
Kendre Miller and Tony Jones Jr.: With Williams out this week, maybe you add Jones to prevent an RB-needy team from getting a starter, but he's not someone I would entertain starting. Miller is roster luxury. The talent is there, just not the opportunity. If you have the space, go ahead and stash. Play in a shallow situation, don't worry about it.
Alvin Kamara: Just a friendly reminder that Kamara's suspension ends after this week. The Saints play three viable rush defenses in his first three games back, but a healthy Kamara is more than capable of producing in the pass game.
If the team with him in your league is 0-2 and desperate, it wouldn't hurt to float a lowball trade offer out there.
Aaron Jones
A hamstring sidelined Jones for last week, just his fifth missed game in the past 4+ seasons. He pulled up lame after a long touchdown against the Bears in Week 1, but no reports out of Green Bay seem to suggest that this a long-term issue.
He is nearing a return, but will NOT take the field today against the Saints. Remove him from your lineups and bump up A.J. Dillon to a top-20 play as well!
AJ Dillon
Another situation where the surgery was a success, but the patient died on the table. With Jones out, Dillon handled 78.9% of the Packers' RB carries in a game where they trailed for only 29.8% of their offensive snaps. Process-wise, you couldn't have asked for much more.
Result-wise (6.8 fantasy points), you could have asked for plenty more. Despite the poor showing, Dillon is once again penciled in as a starter for me in all formats with Jones missing another game.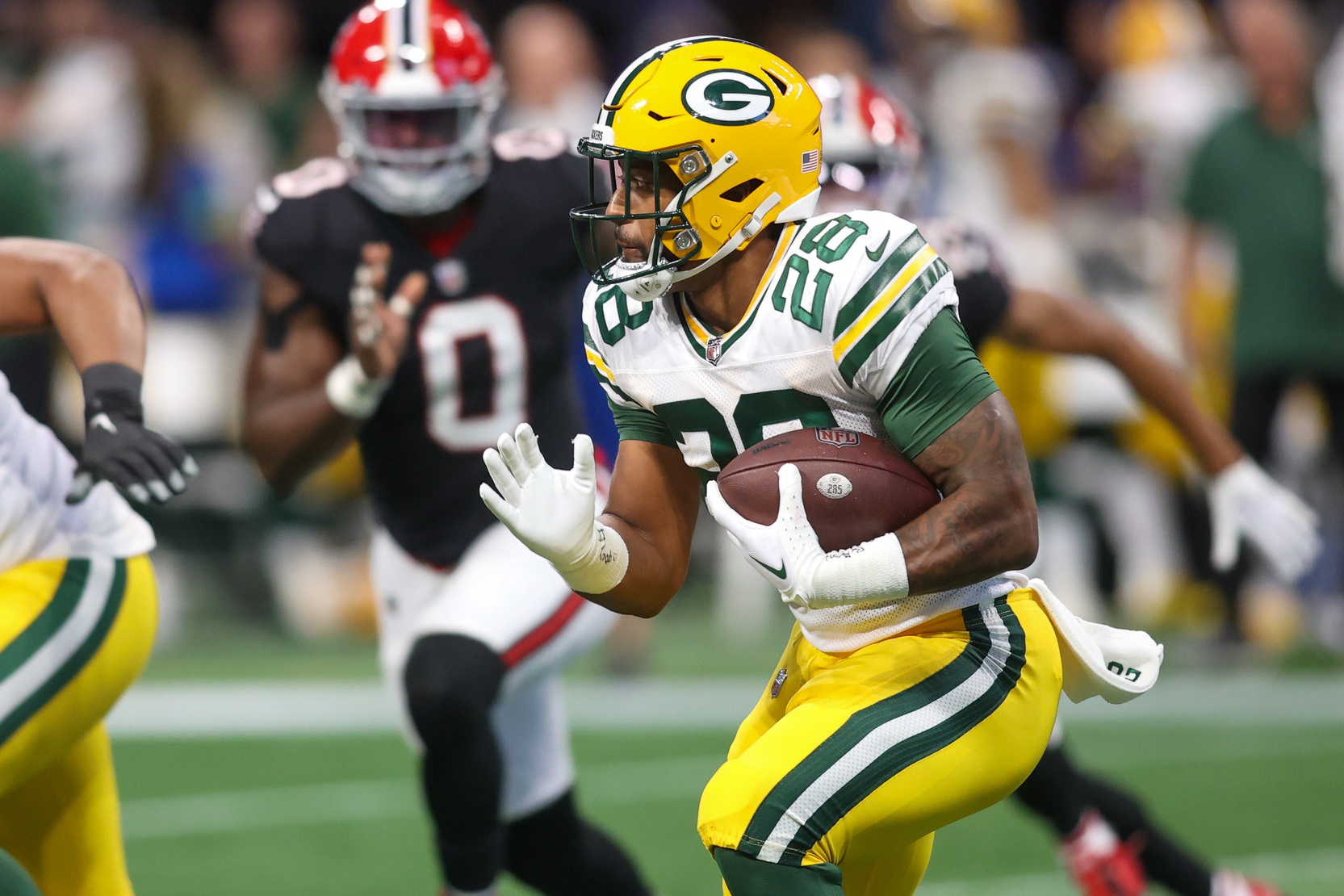 Wide Receivers
Chris Olave: There might not be a receiver who has finished outside the top 12 at the position in both weeks this season that I have more confidence in than Olave. He has seen double-digit targets with a 40-yard catch in both games this season and goes through stretches where he looks downright unguardable.
With Michael Thomas earning targets at a nice rate and Rashid Shaheed demanding help over the top, defenses aren't going to be able to allocate the needed resources to slow Olave for long. He gets the Packers this week and the Buccaneers in Week 4. He's finishing as a top-five receiver in one of those games. Get ready!
Rashid Shaheed: With a 40+ yard grab in both games this season (and five of his past seven dating back to last season), now are you willing to side with me that Shaheed is a perfect fit for what Carr and this Saints offense wants to do?
His 4.3 speed combined with Carr's soft touch on those deep balls is tough to defend for 60 minutes, and I expect we see more of the same in this spot.
The Packers were among the worst defenses at defending the deep ball last season, and it's a flaw that has yet to be fixed. Darnell Mooney beat them for a 20-yard score (all air yards) in Week 1, while three different Falcons had a catch gaining at least 24 yards against Green Bay last weekend.
The Carr-Olave-Shaheed triple stack is penciled into my DFS prep, and I feel good about the burner being a viable Flex play in annual leagues. I have Shaheed over Thomas in my ranks, as the upside is simply too much to ignore.
Michael Thomas: While it's true that he has yet to finish a week as a top-35 receiver, the 17 targets Thomas has earned this season are encouraging. He's never going to be a big-play option (his yards per catch have trended down throughout his career), but those high percentage targets add up.
I prefer to attack the Packers vertically, which is why I have Thomas behind Shaheed this week. However, I do think he's a reasonable buy-low option. More productive days are ahead for Carr, and high-floor receivers like Thomas tend to be underrated by the fantasy industry.
Christian Watson: A hamstring injury has the potential to be a lasting issue, so be careful in assuming that we see 2022 Watson in his 2023 debut. He will be my highest-ranked Packers pass catcher any week in which he is active, though you need to acknowledge the downside.
Through two weeks, Love has been spreading around passes in a low-volume pass game. With just 52 passes thrown through two games and an aDOT that ranks well below average, Watson will be a Flex option when he returns, but that will NOT be this week as he has been ruled out for another game.
Romeo Doubs: With Watson out, Doubs has been able to pick up just 56 yards on eight targets through two weeks. The two touchdowns in Week 1 were nice, but his inability to earn targets in this spot is concerning.
Could Watson's return open things up for Doubs? It's possible, but that's not happening this week and I don't have confidence that Doubs will be given enough chances to produce viable numbers in this spot.
Jayden Reed: Did you know that Reed leads Packer pass catchers (WR/TE) in receiving yards this season? That's damning with faint praise — this team has five players with 40-86 receiving yards — but it's a fact.
He's coming off of a multi-TD game and was a popular add off of waiver wires this week (four catches for 37 yards and the two touchdowns).
Rostering Reed is fine, and I like that Green Bay was creative in getting him some looks in close, but the second of his scores was a defensive miscommunication, and he's not yet an asset you can realistically play (regardless of Watson's status).
Tight Ends
Juwan Johnson: With Thomas back to earning targets on those short throws, the role that we hoped Johnson would assume is no longer there for him.
Through two weeks, Johnson has turned eight targets into just 49 yards, 27 of which came on a single grab against the Titans in Week 1.
I still like the athletic profile, but even I can't say he's a top-15 option while Thomas is active. You can move on from Johnson and play the TE streamer game (this week, I prefer Gerald Everett and Jake Ferguson to Johnson).
Taysom Hill: Hill saw his number called on a semi-regular basis last week in Carolina (nine carries, two targets, and one pass). That's cute, but it's not something I expect to continue.
Hill was the solution for Williams exiting early, in my opinion, not someone who was actively inserted to the pregame script.
The TE position doesn't require much to be viable, and if Williams were to sit out this week, Hill would jump into my top 15 at the position and be my preferred tight end in this game. If I'm streaming the position, I'm adding Hill now and pivoting on Sunday if Williams is active.
Luke Musgrave: As mentioned, Love is spreading the ball around, and that's just not the formula for a rookie TE to produce on a regular basis. Through two weeks, he has seven targets, and if not for a poor snap play in Week 1 that resulted in the Bears' defense abandoning their coverage responsibilities, Musgrave would have just 38 receiving yards.
He could be a spot starter in the right matchup, but this isn't that. I have Musgrave out of my top 15 tight ends, and I think you can find more production on your waiver wire.
Denver Broncos at Miami Dolphins
Spread: Dolphins -6.5
Total: 48
Broncos implied points: 21
Dolphins implied points: 27.5
Quarterbacks
Russell Wilson: We saw glimpses of Russ cooking, but that Hail Mary at the end does make the boxscore a bit deceiving (308 yards and three touchdowns on his 18 completions). He now has five touchdown passes (66 attempts), a total he didn't reach until mid-October last season (193 attempts).
Before that last-second miracle, Wilson connected with Marvin Mims on a pair of bombs and ran for 56 yards. Week 2's stat line was a work of art — a work of art that nets you nothing in Week 3. Was it good to see? Sure. Does it mean I'm ranking him as a top-15 player at the position this week? It does not.
Week 2 was his fifth career game with 300 pass yards and 50 rush yards (third since the beginning of 2015). I need to see more vintage Russ before even entertaining the idea of playing him. I understand the optimism surrounding him in a Sean Payton offense in a game where the Denver Broncos will need to score, but I'm not willing to go there.
Tua Tagovailoa: His 12.3 fantasy points on Sunday night was a little underwhelming but not surprising. As great as his supporting cast is, you have to understand the floor that is in play for pocket passers (nine carries for eight yards this season).
From last weekend, I was encouraged by Tagovailoa's accuracy (70% completion rate). If he is displaying touch alongside a top-five aDOT at the moment, there's no decision to be made: he's starting for you every week he is healthy.
If you roster Tagovailoa and aren't 100% sold, you're holding tight for another month before testing the trade waters. The Miami Dolphins face the Philadelphia Eagles, New England Patriots, and Kansas City Chiefs ahead of their Week 10 bye. If you're going to cash in this chip, let him beat up on the Giants and Carolina Panthers in Weeks 5 and 6 first.
Running Backs
Javonte Williams: The talent is no secret, and with him working his way into a feature role, the breakout is coming. Are you ready?
In Week 2, Williams ran for only 44 yards, but the writing's on the wall. He out-carried Samaje Perine 12-to-1. Jaleel McLaughlin scored the five-yard touchdown on Denver's first drive — I'm not reading into it. That came during a weird, Sean-Payton-is-trying-to-get-cute segment of the game plan: four straight run plays by four different players. Bizarre.
Maybe I'm overthinking this, but the Broncos have plenty of high-powered offenses coming up on the schedule (Dolphins, Bills, Vikings, and Chiefs twice over the next two months), and they are going to emphasize the run game in an effort to keep those units off the field.
Williams is a strong RB2 for me this week, and I think his value in the trade market right now is as low as it'll get for the rest of the season.
Samaje Perine: With 12 touches in the season opener, we were hopeful that Perine could work into a Flex role alongside a recovering Williams. That's not how things looked last week, though he does have four targets in both games. Could that fringe Flex role emerge if/when Denver goes into a ball-control style against these elite offenses?
It could happen, and combining that with Williams' risk profile means that Perine needs to remain rostered in all formats. He's not a top-35 running back for me this week, and that'll likely be the case moving forward, given my optimism on Williams.
Raheem Mostert: Before the game, Mostert (31 years old) said he feels like he's 25 due to the lack of early career usage, and he certainly looked the part in the Sunday night win over the Patriots. He ran for 121 yards with two touchdowns, a performance that was punctuated with a 43-yard score that proved to be the game-winner.
Last week, he accounted for 81.8% of Dolphin running back carries in De'Von Achane's debut, a level of usage that makes him a roster lock until otherwise noted. His ceiling is capped by his lack of involvement in the passing game (three targets this season) on a team that wants to air it out, but as long as he is the featured back on the ground, he'll be in my top 20.
The Broncos coughed up 87 yards and a pair of scores to Brian Robinson Jr. last week after a strong showing in Week 1 against Josh Jacobs. Denver profiles as an average matchup, and with a team-implied total in the upper 20s, I'm starting my Dolphins with confidence.
De'Von Achane: A two-touch, nine-yard performance wasn't anything to write home about, but rostering Achane was never about how he'd look in September.
Stashing the rookie out of Texas A&M (double-digit touchdowns with over 1,100 yards in each of his final two collegiate seasons) is a long-term play, given the fragility of all involved in this backfield. Nothing has changed on that front: keep Achane on your bench.
Salvon Ahmed: Is he going to hold value himself? Probably not, though I won't count out any player attached to an offense like this with injury-plagued RBs ahead of him on the depth chart.
That said, he looked explosive on his limited opportunities against the Patriots (six touches for 41 yards with a 10+ yard gain both on the ground and through the air). He doesn't need to be on rosters right now — he's a name to remember as the season wears on should these historically fragile players struggle to stay on the field.
Wide Receivers
Jerry Jeudy: In his season debut, Jeudy earned five targets and picked up 25 yards. Reporting out of Denver seems to suggest that he made it through the game without any health concerns, and that is really all we were asking for. I expect the rust to linger into this week (outside of my top 30), though I do believe better times are ahead.
If you roster Jeudy, I'd be less concerned with how Jeudy looks this week and more concerned about how Wilson looks. If he builds on the step forward he took in Week 2, Jeudy will be comfortably inside my top 30 this time next week with the Bears on the docket.
Courtland Sutton: Sutton has caught 75% of his targets this season and led the team in targets (seven) during Jeudy's season debut. That is encouraging, and it gives you a chance to sell him if you can after two productive weeks. We know that Jeudy's involvement is only going to increase with time, and after Week 2's showing, how could Marvin Mims not begin to get more run?
Pair that with a run game that I expect to improve moving forward, and Sutton's path to fantasy viability is a thin one. The receiver position is a deep one across the NFL and I think you can do better in terms of either targets or per-play upside than Sutton. That train of thought has landed him outside of my top 35 receivers this week, and I am not comfortable starting him.
Marvin Mims Jr.: Seven routes isn't the way most receivers go about producing a top-20 week (19.3 fantasy points), but it's exactly what this explosive rookie (19.5 yards per catch during his career at Oklahoma) did against the Commanders. If he can work his way on the field and convince Payton to go with three-receiver sets, he profiles as the perfect stash that you can play in specific spots.
He's the receiver that will rise the most in Denver if Wilson proves to have found the fountain of youth. His skill set isn't that of a weekly asset, but as injuries pop up and bye weeks take over, the game-break stylings of Mims become appealing for depleted rosters that are big underdogs.
Tyreek Hill: Even after a "down" performance in New England, Hill remains on pace for his 2,000-yard season. We know the big-play potential is there every time this man takes the field, but his ability to use his speed to separate in close (2-yard TD) impressed me last week.
He earned a 31% target share last week — don't worry about the low yardage total. Hill is an elite fantasy option in all formats, and that's not going to change.
Jaylen Waddle: The Dolphins are not the 49ers. That is, I believe they can sustain two receivers on a consistent basis. They are top five in receiver target share through two weeks, and as long as these two stars are healthy, that's going to continue.
Waddle was the victim of a cheap shot late in Sunday night's win and will MISS this game. Make sure to have him out of lineups this week: concussion protocol seems to be taking 7-10 to pass through, so I'm putting him on the positive side of questionable for next week.
Tight Ends
Durham Smythe: Ultimately, he doesn't matter in most formats. That said, this offense doesn't have a third pass-catching option, and Smythe has three catches in both games this season. I'm monitoring.
If you're streaming the TE position, you ideally want a piece of a strong offense, and maybe Smythe simply being on the field in Miami can put him on the streaming radar with time. Not yet.
Los Angeles Chargers at Minnesota Vikings
Spread: Chargers -1
Total: 54
Chargers implied points: 27.5
Vikings implied points: 26.5
Quarterbacks
Justin Herbert: I'm not selling any Herbert shares at the moment, but I will admit that my eyebrow is raised. Yes, he threw for 305 yards and two touchdowns against the Titans last week. Dig a little deeper.
His aDOT remains lower than I had hoped with Kellen Moore joining this coaching staff, and those short targets just don't carry the upside that we put on Herbert's shoulders.
Consider this: Since Week 7 of last season, just 3.1% of Herbert's passes have resulted in scores, down quite a bit from the 5.9% rate he sustained over his previous 20 games.
This is a great spot for him to take those shots downfield and come through on the potential that we all think he has. Herbert is my QB4 this week and is a strong DFS target in a triple-stack lineup structure.
Kirk Cousins: With 44 pass attempts in both games this season and over 30 completions in six of his past eight games overall, the volume floor for Cousins is simply impossible to ignore. You can nitpick the skill set (no rushing upside) or the stat padding that came late last week, but Cousins simply churns out quality fantasy weeks on a consistent basis.
Could his pace slow when the Vikings play teams that aren't interested in getting into a shootout? Yeah, it's possible, but with Justin Herbert and Patrick Mahomes on the other sideline in two of the next three games, Cousins' fantasy value is stable in the short term.
Running Backs
Austin Ekeler: In the season-opening loss to the Dolphins, Ekeler did what Ekeler does: 20 touches for 164 yards and a touchdown. An ankle injury resulted in Ekeler sitting out last week, just his second DNP in his past 41 regular season games, and without a timetable, fantasy managers should be making alternative plans.
Joshua Kelley: It's almost like you can't plug in a running back and expect him to assume 100% of the void left by Austin Ekeler. Go figure. Kelley's Week 2 performance (13 carries for 39 yards with zero receptions) let fantasy managers down in a big way.
He had over 81% of the rushing yards by Charger running backs last weekend, and that is what you were betting on. Your process was right, and that is what matters. The Vikings are fresh off of giving up a career night to D'Andre Swift and are vulnerable all over the field.
Kelley's profile holds value, no matter the result from last week. He's a solid Flex play in a much more advantageous matchup for his specific skill set than the position he was in last week.
Alexander Mattison: Mattison was scripted out of last week's loss to the Eagles with Minnesota trailing for the majority of their offensive snaps. While the Vikings' willingness to abandon the run game, Mattison's floor is lower than fantasy managers would like, but with 10 targets through two weeks, there are some signs of hope.
I remain bullish on the value that this role in this offense presents, and this week could be proof positive of that. The Vikings could well look to lean on the ground game more than normal due to the opponent. The Chargers not only boast an elite offense that Minnesota will want to keep sidelined, but they also have a leaky run defense that gives up plenty of chunk plays.
Mattison has yet to really impress (25 touches this season, just one of which gained 10+ yards), but that has a decent chance of changing with the extended week to prepare for this matchup.
Wide Receivers
Keenan Allen: Age is nothing but a number. You know what? 37.7 is also a number, and that is how many fantasy points the 31-year-old Allen has through two weeks, hauling in 14 of 19 targets in the process.
The veteran receiver has a reception of 35+ yards in consecutive games for the first time since December of 2019 and seems to be loving life in this Kellen Moore offense. We knew he'd have a stable value, but the upside is found money and has him pushing the top 10 at the position until otherwise noted.
You could certainly argue that Herbert's best football is ahead of him this season, and if that's the case, Allen could well be a league winner given his ADP this summer. You're locking him in weekly and loving the foundation he provides.
Mike Williams: We've yet to see Williams get loose for a big gain (yet to have a 25-yard catch) in this Kellen Moore offense, but seeing one-third of the targets against the Titans (83 yards) is what we love to see. In this setup, all you can ask for is a volume of opportunities, and he certainly got that last weekend.
Is Williams the WR1 in Los Angeles? Not at the moment, and he doesn't have to be. In this system, Herbert is going to thrive with time, and Week 2 certainly won't be the last time both Allen and Williams clear 12 fantasy points. I expect the floor (when healthy) to be higher than in years past, making Big Mike a weekly lineup lock.
Justin Jefferson: The WR1 in fantasy delivered an 11-catch, 159-yard performance against the stingy Eagles that shut him down last season — and he left points on the field! He was an inch away from a touchdown before fumbling over the pylon, a 6.1-point swing.
Jefferson crossed 5,000 receiving yards last week in his 52nd career game, tying Lance Alworth for the fewest number of games needed to reach that milestone. Opponents know what is coming and they simply cannot stop him. We are looking at the top player in our game moving forward and for the foreseeable future.
Jordan Addison: It's not sustainable, but 2.6 fantasy points per target is a hell of a start to a career. The rookie has scored from distance in both games, including a 62-yarder in Week 2 against the Eagles, and he simply looks like he belongs. He won't be a lineup lock for me until he starts earning more targets than K.J. Osborn, but if you drafted Addison, you have to like the direction this is headed.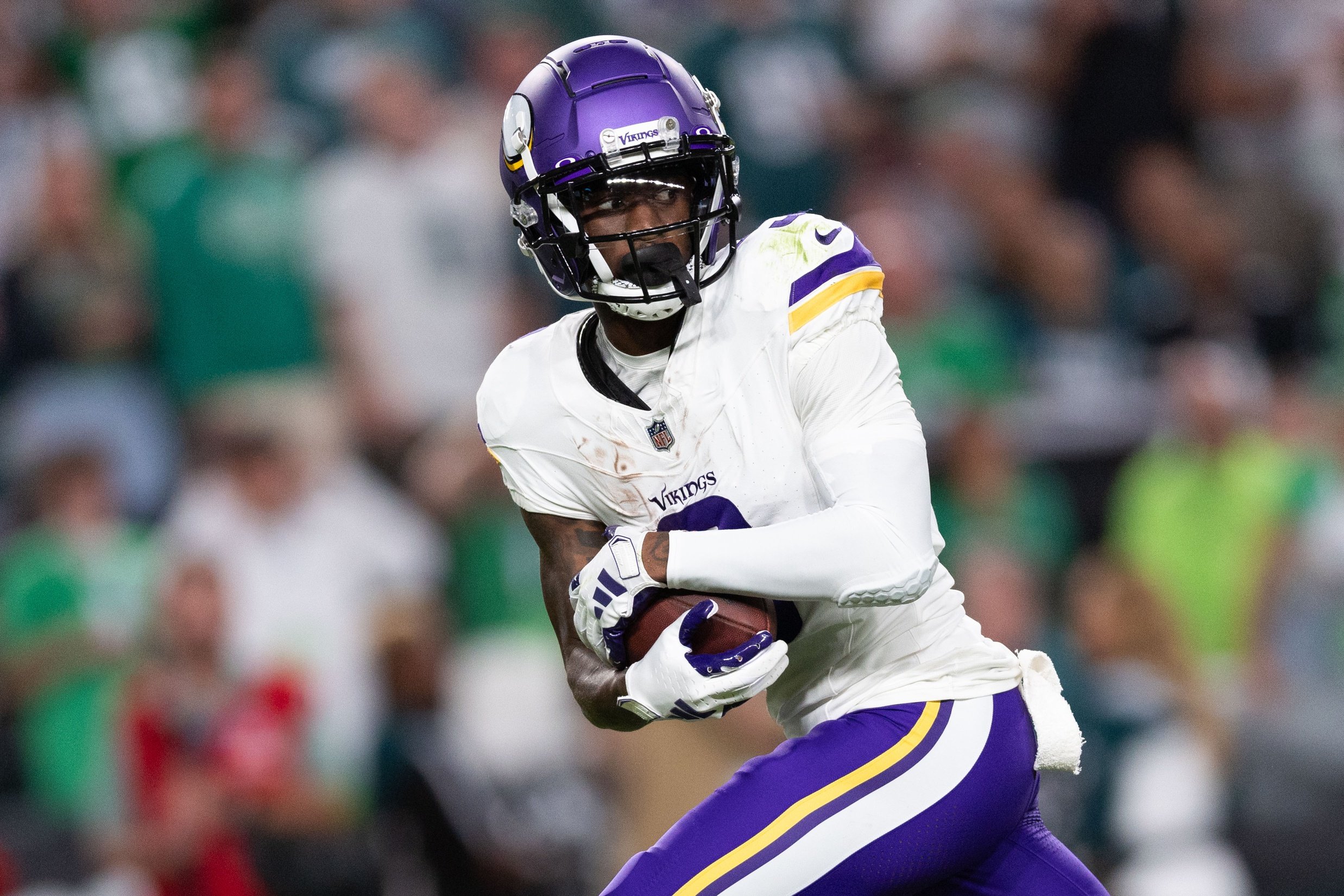 You can consider Addison a weekly Flex candidate right now, and it wouldn't shock me in the least if we are talking about him as a top-25 option during a favorable stretch over the final month of the regular season.
K.J. Osborn: The sheer volume of this passing attack (88 attempts) has resulted in Osborn earning six targets (three catches) in consecutive games, but don't read too much into that. Very few offenses can sustain four pass catchers on any sort of regular basis, and with Addison looking good, Osborn's path to mattering in standard-sized leagues isn't there, barring an injury.
Tight Ends
Gerald Everett: Everett is on the Week 3 TE streamers radar, and it's not because of his 47-yard Week 2 performance. The Vikings allowed Dallas Goedert to catch six of seven targets last week, and that level of efficiency in a high-scoring environment is viable at the tight end position.
Everett is a cheap way to bet on Herbert. I bet Herbert to lead the league in passing yards this summer, so you know I have faith in his ability to air it out. With the Vikings and Raiders coming up over the next two weeks, Everett should be considered a top-10 tight end in the short term.
T.J. Hockenson: Jefferson is the unquestioned alpha on this Vikings offense, but the trust Cousins has in Hockenson is valuable. He scored twice in the loss to Philly last week, and while the touchdown potential was nice to see, it's the high percentage targets (15 catches on 17 targets) that elevate his floor to the level of elite.
Of course, we'd like to see a higher yardage total (101 yards), but there's little complaining you can do about a tight end that is going to give you a positional edge over most of your league.
New England Patriots at New York Jets
Spread: Patriots -3
Total: 36.5
Patriots implied points: 19.8
Jets implied points: 16.8
Quarterbacks
Mac Jones: We discussed Jones and this entire Patriots offense on Tuesday's Trade Targets podcast, and it was a good conversation that was proof that reasonable minds can see the exact same situation in a very different way.
Jones has thrown over 40 passes in both games this season, doubling his career count of such games in the process. Even with all of that volume last week (31 completions), he finished as QB24. Reminder — there are only 32 teams in the NFL.
For the season, Jones is averaging 5.7 yards per pass. That means that producing reasonable fantasy numbers is going to be nearly impossible if/when the volume regresses. Now, I will say that he completed 75.8% of his passes against the Jets last season, but he also took six sacks in each game.
I'm expecting this to be a defensive blood bath (something an opening projected point total of 36.5 points confirms) and actively looking to avoid any exposure.
Zach Wilson: As much as I'm talking down Jones, he is my QB1 for this game. After what the Jets coaching staff was labeling as a "great week of practice" for Wilson, he threw three interceptions and threw for only 170 yards in a game that featured a 68-yard Garrett Wilson touchdown.
Wilson completed just 46% of his passes against the Pats last season, and I think we see similarly hideous numbers this week. Find someone better in two-QB leagues for this week. Like, literally any starter. Wilson is my QB32.
Running Backs
Rhamondre Stevenson: The early season Stevenson production is all a matter of how you decide to read it.
Optimist: he has been a top-20 running back both weeks and has caught all of his targets.
Pessimist:

he's yet to finish better than RB17 and hasn't had a 20-yard run in 11 of his past 12 games (12 yards is his longest run this season).
I see both sides, though I will admit that I lean on the pessimistic side. In 31 carries against the Jets last season, he gained just 97 yards — and that includes a 35-yard burst. He was able to maintain fantasy value by leading the Pats in receiving yards in both of those games, but that's a dangerous way to live.
At the end of the day, Stevenson's role is enough to justify starting him, and his lack of upside is enough to complain about. With committee backfields and starter injuries, Stevenson deserves to be started, I'd just caution against counting on him being much of a difference-maker.
Ezekiel Elliott: I run a Tuesday Waiver Wire live stream (1:00 p.m. ET every week), and the question was raised about dropping Elliott and/or Dalvin Cook. Neither veteran in this game has shown us much juice, and I think both are very much on the chopping block.
I said that Zeke would be my first cut of the two, and I feel good about that. He didn't see a single target last week, leading me to believe that the seven he saw in Week 1 was an aberration and not a complete misread on my part.
Elliott scored over 40% of his fantasy points during his last two seasons in Dallas inside the red zone, but he's yet to make much of a dent in that space for the Pats. The reason I wanted to keep Cook over Elliott was due to my "what if" projection.
What if both of these backs were elevated to the RB1 in their respective offenses? In that event, I have more faith in Cook, and, in my opinion, he has a clearer path to that actually occurring due to Breece Hall's 2022 ACL tear.
Breece Hall: We were worried about what would happen if/when the Jets got punched in the mouth with Zach Wilson under center, and those worries were proven legitimate in Week 2 in Dallas. The relentless Cowboys defense held NYJ RBs to 24 yards on just 10 carries (Hall: four carries for nine yards), part of which was a result of the game script, but also the Cowboys daring Wilson to beat them.
He couldn't.
The Cowboys' defense is among the best in the game, so I'm not overreacting, though the risk of investing in this offense is real. The Jets couldn't move the ball against the Patriots last season (38 carries for 110 yards), making this a tough rebound spot.
Hall's explosive potential combined with my belief that the Patriots aren't capable of scripting the Jets out of the run game has him ranked as a RB2 for me this week, with the understanding that any piece of this offense carries risk.
Dalvin Cook: If you roster Cook, it's a good sign that he was featured on the second drive of the game. He got three consecutive carries, and while the team had to punt, the early usage is a giveaway that this team wants to keep both backs fresh with a consistent rotation.
The bad news, of course, was the flow of this game. The Jets barely had the ball (under 18 minutes of possession), and that is going to make sustaining one back, let alone two, nearly impossible. Cook remains worthy of a roster spot (out-snapped Hall 16-15), even if there's no way to feel good about playing him in the short term.
Wide Receivers
Kendrick Bourne: Is he my highest-ranked Patriot receiver? He is. Does that make him worth a Flex flier in deep leagues? No.
His already having 20 targets is good to see, but he's yet to turn one of them into a 20-yard gain and averaged a pathetic 3.2 yards per target on Sunday night against the Dolphins. If you want to be different in a DFS setting, use this stat to help you sleep Saturday night:
Jakobi Meyers earned a 32.2% target share for the Patriots against the Jets last season, providing hope that Jones will simply lock onto Bourne in this spot.
Like I said, you're only going in that direction if you're trying to be different. In season-long fantasy, we are playing a game of mean projections, and more often than not, Bourne is going to struggle in this spot.
JuJu Smith-Schuster: We are going on three seasons since the last time we saw Smith-Schuster produce in a fantasy-friendly way, so why is he still rostered in the majority of leagues? I mentioned how pass-heavy New England has been thus far, and yet, Smith-Schuster has turned 13 targets into 61 yards.
He wasn't a touchdown threat last year in Kansas City, why would anyone think that would change as a part of this offense? Forget starting Smith-Schuster, I'm not hesitating to cut ties in favor of a player whose profile has boom potential.
DeVante Parker: In his season debut, Parker led the Pats in catches (six) and receiving yards (57) against the Dolphins. Great. Even in 2023, not every offense has to have a viable fantasy receiver, and this offense is a prime example of just that.
The Patriots have three WR3s on this roster, and expecting any of them to excel as a primary target simply isn't playing the percentages.
Garrett Wilson: We all can agree that Wilson is an elite talent, but you let me know when "talent" is a statistic that your fantasy box score rewards. Now, we did see the ability shine through on the 68-yard catch-and-run last week, but we also saw this team unable to manufacture more than one other completion to their promising star.
If you want to bet on talent and Flex him, I won't stop you. I'm not supporting you (he's my WR31), but I get it. Heck, as a man of the people, I'll even give you a note to make you feel better about being stubborn with your second-round pick.
With Zach Wilson under center in their last meeting, he caught six of seven targets for 115 yards. The Wilson-to-Wilson connection was efficient, and that confidence could lead to an absurd target share this week, given that all other Jets had a 51.9% catch rate in that game.
Wilson has been fantasy's 22nd-ranked receiver in each of the first two weeks this season, and if you can get WR22 value for him in a trade, I'd take it (for reference, that's the Mike Evans/Zay Flowers range for me)
Tight Ends
Hunter Henry: I remain skeptical of this New England offense as a whole, but even a curmudgeon like me can't deny that Henry's been a key part of this offense, and that has allowed them to overachieve. He's been a top-two performer at the position in each of the first two weeks and has my podcast host victory lapping.
Good for him. And good for you if you listened to him this summer. No one is asking you to give any points earned by Henry back, but you need the volume of this passing game to sustain if he's going to continue to produce starter numbers.
Henry had a 20-yard catch in both games against the Jets last season. The problem? Those were the only two targets he earned across those two games. I need to see a few more weeks of him being a featured part of this passing attack and further proof that he is going to continue to see targets in scoring position on a consistent basis.
One. That is the number of seasons since 2017 in which Henry has caught more than five touchdown passes in a season. One. The catch and scoring rates are likely to decline sooner than later, something that has me trying to get out of the Henry business while his value is peaking.
Buffalo Bills at Washington Commanders
Spread: Bills -6.5
Total: 44
Bills implied points: 25.3
Commanders implied points: 18.8
Quarterbacks
Josh Allen: We saw the Allen we've come to know and love last week against the "defense" of the Raiders, as he completed 31 of 37 passes for 274 yards and three scores.
With all of the success through the air, he only picked up seven yards on the ground, capping his fantasy upside a little bit. But we know the rushing will be there, so it was good to see him get on track with that cannon attached to his right shoulder.
This is a big spot for Allen. He's been miserable on the road as of late, something worth noting not just for this week but because in Weeks 12 to 17 (five games), he plays three road games, and the two home games come against strong defenses (DAL and NE)
Last five road games:
Yards per pass: 6.2
Touchdown passes: 7
Interceptions: 8
Allen did enough last week to retain his Tier 1 status at the position for me, though I do want to see him do it again in this spot against a Commanders defense that allowed Russell Wilson to throw for 308 yards and three scores (even without the 50-yard Hail Mary, Wilson looked comfortable in taking shots against this defense)
Sam Howell: Assets like Howell are how you win Superflex leagues. He's finished inside the top 15 at the position both weeks this season and was impressive with his arm in a tough spot against the Broncos last week (27 for 39 for 299 yards and two TDs).
Nothing he does is overwhelming, but he doesn't have many flaws either. He's mobile enough to demand some attention (rush TD in Week 1 vs. AZ), and his weapons offer enough upside to give him 300-yard potential in the right spot.
This Bills defense is a tough matchup, and I expect Washington to try to control the tempo, so Howell isn't a top-15 play for me this week, but don't sleep on him moving forward if you play in a league that allows you to start multiple QBs — he's going to continue to produce viable numbers more often than not.
Running Backs
James Cook: Often, when people say "trust the process, not the results," they are referring to a player who underachieved but projects better moving forward.
That's not the case here. Cook's touch count (21) and fantasy production (17.9 points) were the results you want, but the process is in question. Buffalo lived inside Las Vegas' 30-yard line last week, and here is how their play-calling in that spot looked early on:
Pass
Latavius Murray run
Pass
Pass
Pass
Josh Allen QB sneak
Murray 4-yard TD run
Well, that's not ideal. Nor is a Gabe Davis 2-yard touchdown reception, or a cheap Damien Harris 1-yard score late. Cook holds the volume role in an elite offense, and that's awesome, but with the bulk of his opportunities coming between the 20s, the upside is more capped than most with a profile like this.
Don't get me wrong, I like Cook and have him ranked as a fine RB2 this week. He's going to be productive more often than not, I just worry that by banking on efficiency, his path to dud games is more likely than those he is generally ranked around.
Brian Robinson Jr.: Robinson was one of the biggest stories last season for his recovery from a gunshot wound, and this season his play is what has him in the headlines. I could tell you that he has been a top-15 running back both weeks, and that fact is impressive. In my opinion, how he has produced those numbers is the story more than the pure numbers.
We entered this season evaluating Robinson as something of a plodder. A hard-nosed runner with a one-dimensional skill set and limited per-touch upside. That simply hasn't been the case through two weeks.
He has scored over five fantasy points as a pass catcher in both games, and last week against the Broncos, he had a 20-yard gain both on the ground and through the air.
He holds a 35-to-5 touch advantage over Antonio Gibson since Gibson lost a fumble in the red zone in the season opener, and he deserves to be started in all formats, even against a Bills defense that shut down the Raiders' ground game last week (Josh Jacobs: nine carries for -2 yards).
Antonio Gibson: Does he still need to be rostered? Half of his yards this season came on a single catch, and his role just isn't what we assumed it would be. The talk this summer was that he would be J.D. McKissic-plus — that is, a reliable target share with some work in the passing game.
Instead, he's an afterthought on the ground and splitting the opportunities in the passing game with Robinson. I wouldn't blame you if you wanted to look elsewhere for roster depth.
Wide Receivers
Stefon Diggs: I mentioned the road struggles for Allen of late, but his WR1 has remained a superstar in spite of it. Diggs has at least seven grabs and a touchdown in three of his past four road games and should continue to be viewed as one of the very best to do it.
Gabe Davis: We got a flash last week of what makes Davis so tempting. He led the team in targets (seven) and receiving yards (92) while scoring during an Allen scramble that saw Davis work back and give his QB a place to put the ball. He now has eight touchdown catches in his 12 career games with at least four receptions, making him a strong option in any game where we can project volume his way.
I'm just not sure this is one of those spots. The Commanders were beaten on a few long balls last week, but their overall profile hints at a tough team to rack up opportunities against.
In the win over Denver, Wilson completed just 56.3% of his passes and held the ball for nearly 34 minutes. If this is a low time of possession and low completion percentage game for Allen, Davis is going to struggle.
MORE: Fantasy Football Updated Rest-of-Season Rankings Week 3
Those Allen road numbers above have sapped Davis of the "reward" portion of his "risk-reward" profile. It's been over 11 months since the last time Davis cleared 45 receiving yards on the road, though it should be noted that he salvaged some value last season outside of Buffalo, as 18.2% of his catches resulted in scores.
That rate, of course, is unsustainable, so rolling with Davis is kind of like eating wings without a solid napkin plan: it could be the food highlight of your month, but it could also be a messy situation that you regret. Davis ranks outside of my top 35 receivers this week.
Terry McLaurin: We were nervous about the matchup with Patrick Surtain II last week, and that largely proved sharp. That is until McLaurin's fantasy day was made with a late 30-yard TD. We went from right to wrong on a single play, and that is how this game works sometimes. I stand by the general process that got us to a McLaurin fade last week.
This week, in theory, should be something similar. Tre'Davious White is an All-World defender who is capable of erasing players from the stat sheet. But wait. Teams this season have been able to get creative and get their WR1 efficient looks against the Bills.
Week 1: Garrett Wilson (11.9 fantasy points) catches all five targets
Week 2: Davante Adams (17.4 fantasy points) catches 6 of 8 targets
Both of those options are the top pass catcher on their team playing with a QB that isn't going to put up massive numbers — they both produced. Now, I do think McLaurin is slightly less talented than those options. I also feel good about Washington's secondary option in the passing game being better than what the Jets or Raiders threw at Buffalo.
He's not a fade for me this week like he was last, but he's outside of my top 20, and I will again be going to his explosive teammate if I'm rostering one Commander receiver in DFS this weekend.
Jahan Dotson: Dotson was the target of Howell's first two passes and three times on the first drive, feeding into the idea that the WR2 facing Denver is a must-play. Once the scripted portion of the game plan ran its course. However, Dotson was unable to earn opportunities.
After that first drive, the big play threat saw just two targets and finished with 22 yards. The dud was ugly, but I am a believer in the process, and that process will remain similar in Week 3 where Tre'Davious White is likely to spend time in the shadow of Davante Adams.
We are talking about an electric playmaker whose team wrote into the game plan in a significant way last week. I'm willing to bet on that profile, and it's one that I think carries over to this weekend. Dotson is a strong Flex option for me and a player I will again be rostering in DFS.
Curtis Samuel: The appeal of Samuel was that of a weapon more than a pure receiver. Like a poor man's version of the Samuel who resides in San Francisco. As it turns out, that's a tough role for most to sustain, and with just two carries through two weeks, this Samuel doesn't need to be rostered. He has a 100% catch rate this season and has just 13.2 fantasy points to show for it.
Tight Ends
Dalton Kincaid: Patience young grasshopper. With time, I think the rookie may sneak into my top-10 at the TE position, but not until he starts earning targets at a higher rate than Dawson Knox. Last week, the duo split 11 targets, and Knox was the one catching the touchdown pass.
Kincaid has impressed, don't get me wrong. Streaming the TE position is hard enough as it is, I'm avoiding a committee situation if I can. Keep an eye on the usage rates of these two – once Kincaid gains the edge, he's not giving it back!
Logan Thomas: Thomas suffered a concussion on his TD reception in Week 2 and is unlikely to suit up this weekend. With eight targets in Week 1 and a touchdown last week, Thomas should be on the radar for TE streamers when he is cleared to return.
Houston Texans at Jacksonville Jaguars
Spread: Jaguars -9.5
Total: 44
Texans implied points: 17.3
Jaguars implied points: 26.7
Quarterbacks
C.J. Stroud: Dynasty managers have to love the fact that Stroud is being given the ability to learn on the fly. He has thrown 91 passes through two weeks and has yet to throw a pick, both are encouraging signs for those with a long-term investment in the rookie.
You could argue that he is a creative bye-week filler in the right matchup if you play up the angle of this team routinely playing from behind, but until we get to that point, he's well off of annual radars.
Trevor Lawrence: Lawrence was a few receiver toe taps away from a big Week 2 against the Chiefs, but no luck. If you drafted Lawrence, you might be a touch underwhelmed with the early returns – relax.
He has 20+ rushing yards in both games this season (including a designed run in the red zone last week) and has shown the willingness to feed all three of his primary receivers. With Evan Engram, this roster is built for Lawrence to succeed at a high level, and I think he's a great trade target.
This Texans defense is better than they get credit for, and they locked up Lawrence last season (zero TD passes on 68 attempts). That, however, was a different offense that lacked a true alpha receiver. I expect Calvin Ridley to open up the passing game much like Michael Pittman did against these Texans last week, and that has him firmly inside my circle of trust at the QB position.
Running Backs
Dameon Pierce: Entering this season, I wasn't sure that it was possible to describe someone as a "poor man's James Conner," but here we are. Pierce has the volume that Conner possesses, but he plays for a team that ranks bottom-5 in RB target share. That's a big time for a team that is routinely playing from behind.
Fun fact: 122.6% of Pierce's rushing yards last season came after contact. I don't care who you blame for his slow start, the fact of the matter is that I'm not sure it gets better. On 31 opportunities last season against the Jags, he managed just 113 yards.
He isn't a must-start and ranks just outside of my top-25 at the position this week. His next top-35 finish this season will be his first, so while I'm down on him, I may not have him low enough!
Devin Singletary: I was skeptical about Pierce's value all summer long, so why waste time on his backup? With 12 touches through two weeks (39 yards, 0 TD) on an offense that looks stuck in the mud, the juice isn't worth the squeeze on Singletary.
There just isn't enough upside to chase here, even if Pierce were to go down. I'm comfortable moving on from Singletary to chase opportunities just about anywhere else. If there's a receiver in Kansas City or Baltimore that is available, green light. Heck, I'd rather take a chance on the Texans WR room than hang onto Singletary.
Travis Etienne Jr.: Like Lawrence, I'm very much listening to what Jacksonville told us last week instead of hyper-focusing on the underwhelming 5.2 fantasy points.
Etienne's role in the loss to the Chiefs was nothing short of elite, as he handled 87.5% of Jaguar RB touches. That role alone is enough to flirt with RB1 status before you dive into the matchup, so when you realize that the Texans have allowed three rushing scores in each of their first two games, you begin to understand why I have Etienne as a top-10 option this weekend.
As if that wasn't enough, Etienne piled up 108 yards and a score on his nine carries in the Week 17 win over these Texans last season. With injuries to Saquon Barkley and Nick Chubb, not to mention Christian McCaffrey, Josh Jacobs, and Joe Mixon all off the DFS main slate, Etienne will be a building block for me in that space.
Tank Bigsby: There were whispers this draft season that Bigsby could hold standalone value this season or even overtake Etienne for the lead job in this high-powered offense. After a zero-opportunity game (12 snaps), that certainly seems to be a long shot at this point.
There still is value in holding onto him given his path to work on a strong offense should something happen to Etienne, but you can stop wishing to cast a weekly role onto the rookie – ain't happening.
Wide Receivers
Robert Woods: The 31-year-old has reeled in six catches in both games this season, but what is the realistic upside? The volume and consistency are nice to see, but if I'm going down the WR ranks, I want access to a ceiling that this veteran simply no longer has.
Even with the usage, Woods isn't a player who needs to be rostered in anything but deeper-than-average leagues.
Nico Collins: The former third-round pick has been a top-30 receiver in each of the first two weeks, and while some luck has played into that (I'm not 100% sure his touchdown last week came on a pass intended for him), it's hard to argue with a profile that includes 20 targets this season and a 25-yard grab in both games.
I entered this season wanting no part of this Houston offense, operating under the assumption that they'd be conservative with a rookie under center. While the offense isn't one I'd label "potent," they certainly haven't been shy about airing the ball out.
Collins is approaching Flex territory, and while he's not there yet for me (WR40), he's certainly live if you're dealing with injuries or need some upside.
Tank Dell: The rub on Dell is his size profile and the lack of success of that build in the NFL. Long-term, I tend to agree with that evaluation, but there is some potential to chase as long as Houston is passing at this high of a rate.
In Week 1, two Texans reached 10 targets, and last week, three of them saw at least nine looks. Dell is a spark plug who is more than capable of making plays with the ball in his hands. I prefer Collins to Dell and have neither ranked as a starter, though this is a passing game to take a chance on in DFS if you're looking for cheap targets.
Calvin Ridley: After lighting the Colts on fire in Week 1 with production early and often (101 yards and a TD), Ridley was held in check by a Chiefs defense that might just be better than we give it credit for (4.2 fantasy points on eight targets). Don't worry.
Ridley is the lone consistent target earner in this receiver room, and that's going to pay off more often than not as Lawrence continues to level up. You drafted him to play him every single week, and I've seen nothing that would make me approach him any differently.
Christian Kirk: After being targeted on just three of Lawrence's 32 passes in Week 1, Kirk was targeted with the first pass of the game and paced the team with targets before Jones (knee) left injured.
His 11-catch 110-yard performance proved to me that he is a matchup play and that Week 1 just wasn't a spot the team viewed as advantageous for his slot role. A receiver opposite of Ridley has produced top-20 numbers at the position in each of the first two weeks, and while I'm not projecting that trend to continue, I do think that role will hold consistent Flex value.
With Jones ruled out, Kirk finds himself as a top-24 receiver for me, ranking ahead of bigger names like Chris Godwin and Terry McLaurin who find themselves in difficult matchups.
Zay Jones: Jones injured his knee last week and is considered day-to-day. Even with the injury resulting in missed snaps, Jones nearly produced a second straight big game. He had a pair of near-toe-tap TDs and was missed on another end-zone target.
This race for the WR2 role in Jacksonville is going to be one to watch on a weekly basis, but for Week 3, it's pretty straight forward as Jones was officially ruled OUT heading into the weekend.
Tight Ends
Dalton Schultz: He saw seven targets in the loss to the Colts in a Texans offense that seems destined to be playing from behind with regularity. He's an underwhelming option, but if we are talking 45.5 passes from Stroud per game, Schultz's opportunity count is going to land him in the TE streamer conversation.
He's not a must-roster option for me, I'd rather play the matchups weekly and chase an option with more scoring equity.
Evan Engram: Engram caught at least five balls in six of eight games to end last season and has done so in both games this season, solidifying himself as a member of Tier 3 among fantasy tight ends, a label that puts him in lineups every single week.
Am I thrilled that he has just one touchdown over his past eight games? Of course not, and to be honest, I'm not sure that changes any time soon with the presence of three viable receivers and a versatile running back room, but the usage at this position is more than serviceable. He's going to keep you competitive most weeks, and given the dropoff at this position, that's a major plus.
Indianapolis Colts at Baltimore Ravens
Spread: Ravens -7.5
Total: 45.5
Colts implied points: 19
Ravens implied points: 26.5
Quarterbacks
Anthony Richardson: With great power comes great responsibility. Through one game and two possessions, the rookie had accounted for four touchdowns (one pass and three runs) and emerged as the type of high-floor signal-caller who is capable of winning leagues, given the limited draft capital he carries this summer. Heck, the Colts have started both games in a pass-heavy script — they want Richardson to have the opportunity to show out.
On the second of his early rushing scores against the Texans (both 15+ yards), Richardson's head bounced off the turf, and he was removed with a concussion. It was reported on Friday that he will not be starting this game.
Gardner Minshew: He's a fun player and a heck of a back-up option, but this Colts team isn't loaded with playmakers, and Minshew's skill set isn't one that can overcome that the way Richardson can. He doesn't hold standalone value for most leagues, but he can elevate Michael Pittman a touch and that'll be reflected in our PFN Consensus Rankings.
Lamar Jackson: Baby steps. Rome wasn't built in a day. Slow and steady wins the race. Use whatever saying you want, the point is all the same: the fantasy product of Jackson in this Todd Monken offense is going to be worth your patience.
He's completed over 72% of his passes in both games this season and added 12 rush attempts against the Bengals, a usage level that puts him in a position to be the top-scoring QB in all of fantasy when things go just right.
The accuracy is something that I'm encouraged by. In Week 1, he didn't have Mark Andrews. In Week 2, he had Odell Beckham leave early, along with Zay Flowers trying to find his role, with Andrews returning as the go-to target.
I have Jackson as my QB5 for the week and truly believe he has the upside to lead the position in scoring on Sunday.
Running Backs
Zack Moss: There are a handful of running backs that hold a true workhorse role on an offense with limitations, and Moss proved worthy of being included in that tier last week by handling all 18 running back carries for the Colts.
In addition to a few angry runs, Moss hauled in all four of his targets, showing us that he is capable of producing in a variety of ways. I have him ranked near the top of the "nice role on a bad team" running backs: ahead of Dameon Pierce and James Conner.
Trey Sermon: Sermon was elevated to the active roster following the release of Deon Jackson and while I don't think he matters much in the box score this week, he's a nice "free of charge" add prior to kickoff. Moss handled every single touch in this backfield a week ago, a role the team clearly doesn't want him to hold on a consistent basis.
Sermon played in Shane Steichen's offense last season, making him an option to work into the carry mix in short order.
Gus Edwards: We feared that this would be close to a 50/50 committee situation, rendering both backs useless. Edwards was able to produce thanks to a short TD and efficiency, but our train of thought was accurate: the carries were split, and Edwards' touchdown came after Justice Hill failed to score from a yard out.
Edwards has a track record of efficiency and should continue to be a strong per-carry option in this spread-out offense. Neither RB, however, offers much potential as a pass catcher, and that caps just how high they can climb in the ranks.
I felt good about Edwards over Hill following the injury to JK Dobbins, and while I still have it ranked that way, I feel less good about it than I did a week ago. Edwards is hovering around RB30 this week, making him a Flex option for deeper leagues.
Justice Hill: He out-carried Edwards in both the first quarter (5-4) and the game (11-10), though his efficiency isn't on par with what we've come to expect from The Gus Bus. Hill did appear to be the preferred option in the passing game, and he did get the first crack at the goal line work after punching into two such carries in the season opener.
Hill should be on rosters, given he is very much in the mix for the lead role on an explosive offense that isn't getting their starter back this season. But with him being ruled OUT this week, make sure you're elevating Edwards a touch and removing Hill from your flex spot in deeper formats.
Wide Receivers
Michael Pittman Jr.: I'm not sure his value changes in a big way if Richardson plays or sits. For the season, he owns a 30% target share (ranking ahead of Justin Jefferson) and is set to be a target vacuum in an offense that lacks secondary options.
He has eight catches in both games this season, and two very different fantasy box scores are proof of just how fickle production can be in an inconsistent offense. In Week 1, only six receivers outscored him, and in Week 2, despite catching the same number of passes, he was WR46.
I'm splitting the difference and have him ranked as a strong Flex option in all formats. He carries some risk, but the potential reward is well worth it.
Josh Downs: The third-round pick has 12 targets through two weeks, but he's managed just 67 yards. He is an interesting dynasty stash in dynasty formats, given his potential to grow with Anthony Richardson more than he is someone poised to matter in redraft leagues.
You can make better use of a roster stash than using it on an undersized rookie in a below-average passing offense.
Zay Flowers: Did we get over our skis with the big debut? After posting a 48% target share in Week 1, Flowers saw just 8.3% of the first-half targets last week, his first action with Mark Andrews active. Of course, the true expectation is somewhere between those two results, though he pretty clearly looks like the WR1 in this offense.
His racking up 155 yards from scrimmage through two career games is one thing, but the style in which he has done it is what has me encouraged. He has three rush attempts, a few screens, and one bomb reception. It's not rare to see a rookie excel in very specific situations but to see one showcase the ability to do it all from the get-go is special.
Flowers is safely inside my top-30 at the position and approaching WR2 status. He's the real deal and facing a defense that has allowed 20 fantasy points to a receiver in each of the first two weeks this season (Calvin Ridley and Nico Collins).
Odell Beckham Jr.: Beckham was targeted early, accounting for 28 of Lamar Jackson's first 57 passing yards, but he was ruled out for the game in the third quarter after suffering an ankle injury. The injury isn't expected to prevent him from suiting up this week: but I'm still not interested.
He's not a fantasy starter at full strength until we see consistent usage, and with Nelson Agholor stepping up in his absence last week, the target outlook is underwhelming.
Nelson Agholor: The Beckham injury left a target void in this Todd Monken offense, and the veteran stepped his game up (five catches for 63 yards and a score). This team is going to put the ball in the hands of Jackson, and with that comes the need for a third pass catcher alongside Mark Andrews and Flowers. Could that be Agholor?
It's unlikely, he hasn't caught 50 balls in a season since 2018, but not impossible. For his career, one of every 10.8 Agholor catches has resulted in a score, a rate that makes him an interesting bye-week filler when we get to that point. He's nowhere near starting lineups at the moment, though I don't think this is the last time we hear from the former first-round pick.
Rashod Bateman: We are talking about a very low-volume option that isn't even carrying the per reception upside that we thought we knew he had in his bag (53 yards on six catches this season). With Beckham banged up, he had a chance to earn more chances – instead, it was Agholor who doubled him up in the target department and hauled in a touchdown.
Tight Ends
Mark Andrews: If there was any risk about the injury that cost him Week 1, slowing his start to the 2023 season, fuhgetaboutit. In his season debut, Andrews earned a 24.2% target share and found the end zone for the first time in over 11 months.
As good as Flowers looked in Week 1, Andrews assumed the leading option for Jackson, something I don't see changing any time soon. You're playing him and not thinking twice about it in all formats.
Carolina Panthers at Seattle Seahawks
Spread: Seahawks -6
Total: 42
Panthers implied points: 18
Seahawks implied points: 24
Quarterbacks
Bryce Young: An ankle injury will keep Young out of the starting lineup this weekend with the Panthers electing to go the cautious route with their young signal caller.
Andy Dalton: The Red Rifle is set to start for the Panthers this week and I expect the offense to function a bit differently as a result.
This has very much been a conservative unit with Young under center, presumably in an effort to not overload the rookie. A veteran like Dalton should be able to handle the entire playbook and with that in mind, the Panther pass catchers got a slight tick up in my Week 3 rankings.
Geno Smith: Smith turned in a QB8 finish against the Lions last week, showing off everything that made his 2022 breakout possible.
78.1% completion rate
328 pass yards
20 rushing yards (including a 15-yard run)
In what figures to be a positive game script, I have Smith ranked as my QB11. He threw for 264 yards and three scores when these teams met last season, a stat line that I think is achievable on Sunday. In that game, he didn't do anything fancy, he just fed his stars (Metcalf/Lockett: 52.8% target share).
At this moment in time, there are eight trustworthy fantasy quarterbacks. If you don't have one of those guys (I currently have Kirk Cousins at the end of that tier), Smith in this matchup should be on your radar.
Running Backs
Miles Sanders: Even if he looks fast wearing a single-digit number, he's yet to show us much in the way of explosion (39 touches and none of them have gained more than 13 yards). While big plays and touchdowns will be tough to come by for Sanders, the fact that you can count on him for 16-20 touches is enough to land him in your starting lineup.
I find it unlikely that he wins you your week, but he's just as unlikely to be the reason you lose. The Panthers ran for 223 yards and two scores in the upset win in Seattle last season, something that should give them confidence entering this matchup.
Kenneth Walker III: He didn't look great against the Lions last week (16 carries for 29 yards after his first carry gained 14). Zero concerns. We feel confident in his raw talent, and I'll happily continue to bet on that, given the usage he is getting.
It is clear that Zach Charbonnet is not a threat to Walker's fantasy value at the moment, and as inefficient as he was, he did bail you out with a pair of short TDs. He's averaging 17 touches per game, and if he gets there in this spot as a big favorite, a top-10 week is very much in the range of outcomes.
Zach Charbonnet: If you're a Charbonnet manager, you can be encouraged that he opened the second drive last week as the lead back. That doesn't happen in these single RB backfields, but Seattle hardly used him otherwise.
I'm holding him as Walker insurance if I have him, but if you have shallow benches and need more current upside, cutting ties with Charbonnet isn't out of the question.
Wide Receivers
Adam Thielen: The veteran saw a team-high nine targets against the Saints on Monday night and cashed in with a WR18 finish – on your bench. Technically you made the wrong call in benching him, but there's nothing that supports him being a consistent option (WR88 in Week 1 at ATL), and I'll be benching him again this week.
He's going to score his fair share of touchdowns because that's what he does. That said, this passing game lacks quality and quantity, making all pass catchers on this roster more risk than reward.
Jonathan Mingo: I'm encouraged by the target earning (13 this season), as that is a skill that often takes time to develop. The early success in that department, along with a quarterback he can grow with, make him a reasonable dynasty bye after a slow statistical start.
For annual leagues, don't worry about this rookie. He's yet to finish a week as a top-75 receiver, as those 13 targets have picked up just 43 yards.
DK Metcalf: He was inches away from a touchdown last week, but he was instead tackled on the goal line, hurting his ribs in the process. He went on to miss some snaps, and we can guess that they were giving him a problem upon returning.
Metcalf hasn't been a top-20 receiver in either week this season – I'd bet on that changing sooner rather than later. He turned five catches into 71 yards and a score against these Panthers last season, a stat line that pretty much mirrors what I'm expecting this week.
Tyler Lockett: You guys let me know when the league figures out how to slow down Lockett.
Until I see otherwise, I'll just assume he's always open and that Smith will see him a handful of times per game. He scored the game-winning touchdown last week as a part of an impressive eight-catch, 59-yard, two-TD performance. A fifth straight season with 1,000 yards and eight scores seems more likely than not, production that will land him as a WR2 for me just about every week, no matter the matchup.
Jaxon Smith-Njigba: With a pair of finishes outside of the top-60 at the position, JSN isn't in a spot to be considered a weekly option, while Metcalf and Lockett are both healthy. His talent is real, and that gives him roster value as the rare insurance receiver behind Seattle's stars.
For those in deeper formats, if there was a week to roll the dice on him, this could be it. He's earned 5+ targets in both games this season, and we saw Marquise Goodwin post a 5-95-1 line as the WR3 in this offense against Carolina last season.
Tight Ends
Hayden Hurst: Hurst saw his target share drop from 18.4% in Week 1 to 9.1% last week, a rate of involvement that simply isn't enough to matter in this low-octane offense. Tight ends have caught 8 of 9 targets against the Seahawks this season, giving us some efficiency upside here, but without reliable volume, Hurst is easily outside of my top 15.
Chicago Bears at Kansas City Chiefs
Spread: Chiefs -12.5
Total: 47.5
Bears implied points: 17.5
Chiefs implied points: 30
Quarterbacks
Justin Fields: Might the Chiefs' defense be solid? I expect this to be a classic "fantasy guy vs. football guy" spot. A spot where Fields looks overmatched and is moving around the pocket like he's fresh off of the dizzy bat challenge that you sometimes see between innings at a minor league baseball game – and produces enough fantasy points to land in the top 10 at the position.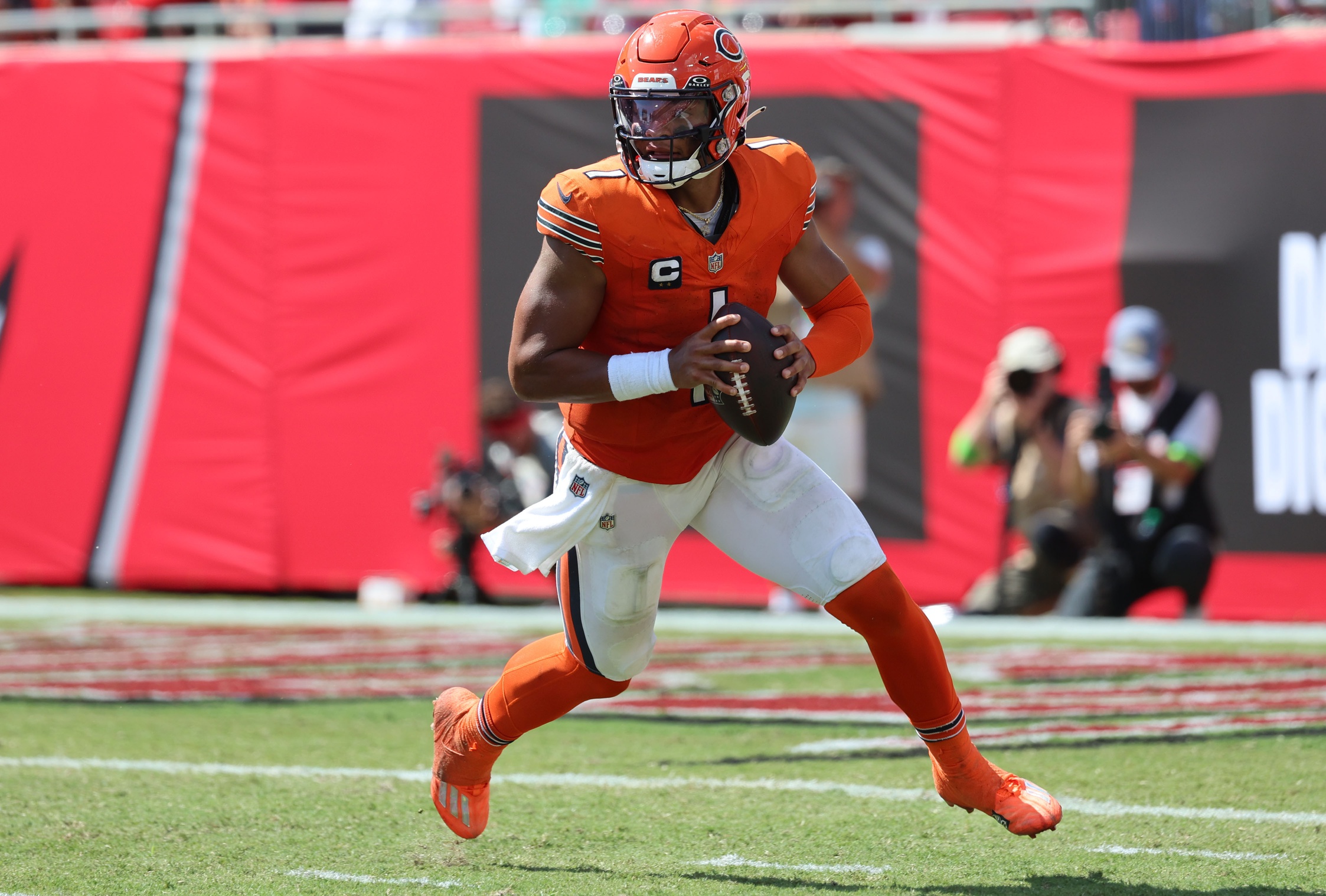 The passing has not progressed like we had hoped (60.6% completion rate with more interceptions than touchdowns), and there are many advanced stats to suggest a bounceback is imminent. That said, he has over 5.5 points with his legs in 11 of his past 12 games, elevating his floor to a nice level in our game.
With the Bears being huge underdogs and the Chiefs likely to live in the Chicago backfield, this isn't as bad of a fantasy spot as it is a real-life spot.
Patrick Mahomes: With his completion percentage down, his yards per attempt down, and an interception in both games, I could understand someone saying that Mahomes has stumbled out of the gate. Imagine "stumbling" and posting a pair of top-12 finishes at the position (QB5 through two weeks in total points). This dude is different.
He has at least 30 rushing yards in both games and is averaging 40 passes per game. He's Patrick Mahomes, so he shouldn't need a big game to remind us just how good he is, but against a Bears that has struggled to contain Jordan Love and Baker Mayfield through two weeks, a Mahomes takeover week is certainly possible.
I'm not sure how long we get this level of rushing production (he usually saves it for the playoffs), but it's providing the type of elevator to his floor that is missing from his WR core. Mahomes is locked and loaded in all formats and is a more than reasonable pay-up option in the DFS streets.
Running Backs
Khalil Herbert: We've got a multi-faceted problem on our hands in Chicago. This is beginning to look like a committee backfield that lacks volume. That's what we call a worst-case scenario: you can't move on from either involved back, but you also can't play either with any confidence.
Herbert was one of my guys this preseason, and I still think he is the most valuable RB on this roster, but that's like picking your dentists – it's going to be an unpleasant situation, even with the best dentist you could ask for.
Anyway, Herbert has yet to post a top-20 week, and that's because the opportunity just isn't there. The Bears have 30 rush attempts from their running backs as a collective this season, a number that wouldn't even rank in the top 10 if every single one of them went to one guy.
I don't have a Chicago back in my top 30 this week, and the way this is going, Week 3 probably won't be the last time I say that.
Roschon Johnson: All summer long, Derek Tate was putting the airs in the tires of Johnson, and it would appear that he was onto something. He scored a touchdown and saw seven targets in the Week 1 blowout loss to the Packers, and with D'Onta Foreman being a healthy scratch in Week 2, Johnson turned his six touches into 42 yards.
Let's not go overboard. The concerns I raised for Herbert still very much apply to Johnson. With that said, the Bears league-leading 32.8% running back target share is interesting for Johnson's long-term profile.
Isiah Pacheco: The script did Pacheco no favors in Week 2, and that's part of what needs to be considered when plugging in Pacheco. Against the Jags, the Chiefs ran 25 first-half plays: 21 passes, two Mahomes runs, one McKinnon carry, and one Pacheco carry.
Better times are ahead. First of all, the Chiefs have scored a total of 37 points this season. They got past that number in not one, not two, not three, but four individual games last season. Even with the offensive struggles, Pacheco has been about eight feet away from 12 additional fantasy points (tackled inside the 3-yard line in both games).
I want to bet on this offense, and Pacheco is a good way to do that in the trade market. He's my RB22 in this spot as a heavy home favorite.
Jerick McKinnon: With five touches this season, McKinnon no longer needs to be rostered. If the usage starts to tick up, we can have that discussion, but much like the first 2.5 months of last season, he's an afterthought in this offense.
Wide Receivers
DJ Moore: It's not easy to click on a pass catcher in this offense right now, but I have Moore as a top-25 player this week due to what the team told us early in their Week 2 loss. Each of Fields' first two passes went to Moore, and they each gained over 30 yards.
The bad is obvious: Fields doesn't know where the ball is going when it leaves his hand. That downside was realized after the encouraging start, with Moore managing just 40 receiving yards the rest of the way. The Chiefs' defense has been solid, but with volume on the side of Moore more than normal due to the projected game script, he's in my lineups this weekend.
Chase Claypool: Claypool leading the Bears in targets last week (three catches for 36 yards and a TD) was not on my bingo card, and guess what? It won't be moving forward. I'm skeptical about this offense sustaining two pass catchers, and, at best, Claypool is option No. 3. Don't overreact to the volume last week.
Skyy Moore: With a pretty nine-yard TD and a 54-yard gain courtesy of the magic that is Mahomes, Moore rebounded nicely from the ugly Week 1 performance against the Lions.
I need to see consistency before giving Moore anything more than a passing glance when setting my starting lineup. There is certainly room for a receiver in this offense to carve out a role that matters in fantasy, we just don't have any tangible proof that any of them are capable of earning targets regularly.
Moore checks in as my third-ranked receiver in Week 3 with that surname and is outside of my top 40.
Kadarius Toney: I'm interested because the Chiefs are interested. They have handed Toney the ball in both games this season to go along with five targets. The issue is that his 10 targets have netted 36 receiving yards.
Toney is the owner of a low-aDOT, low-volume role – that's not fantasy-friendly, I don't care who the quarterback is. Mahomes hit 11 different players with a pass in the first half, further proof that he has no interest in featuring any WR. He ranks outside of my top 50 at the position this week, a spot I expect him to occupy more often than not.
Rashee Rice: The talented rookie has yet to reach 30 receiving yards in a game this season, something of an accomplishment in a Mahomes-led offense. I have no doubt that he will deliver a few useful weeks this season and is a dynasty buy, but redraft managers don't need to be holding out hope for Rice to break out any time soon.
Tight Ends
Cole Kmet: With 13 targets through two games, Kmet is showing us that he can earn looks, and his 69.2% catch rate proves that his type of route is rare in that Fields can offer catchable targets consistently. If you want to use a pass-heavy projected script as a way to justify Kmet as a GPP punt play, I'm OK with it, but he doesn't matter in annual leagues.
Travis Kelce: The GOAT has scored in each of his past four games and looked just fine in his season debut against the Jaguars. The touchdown he scored came on a Mahomes scramble, reminding us that the non-verbal connection between these two is second to none. Kelce should still be viewed as the favorite to lead the position in fantasy points for the season.
Dallas Cowboys at Arizona Cardinals
Spread: Cowboys -12
Total: 43
Cowboys implied points: 27.5
Cardinals implied points: 15.5
Quarterbacks
Dak Prescott: Prescott played a good football game against a solid Jets defense last week. That's a fact. Completing 31 of 38 passes is impressive against anyway, and it was great to see following a low usage Week 1.
Another fact: Prescott was QB17. It was his first 30-completion game since November 2021, and it required 42 minutes of possession for him to get there. I simply don't trust the volume. Dallas' first three plays last week went the way of Tony Pollard, and that is going to be the formula moving forward.
The floor isn't awful, especially as a big favorite in this spot, but the ceiling isn't high enough for me to put him inside my top 12.
Running Backs
Tony Pollard: He picked up 109 yards on 32 touches against the Jets, and I'm more encouraged by the last number than I am encouraged by the first.
I mentioned the fact that Pollard had 75 air yards in 2022 after posting -24 for his career prior. The Cowboys began to explore what he could do as a route runner as opposed to just a catcher of swing passes, and it paid off. Through two weeks, he's doing it all and getting as many touches in scoring position as anyone in the league.
Tony Pollard currently leads the NFL in expected touchdowns (3.0) and carries inside the opponent's 5 yard line (4).

— Mike Clay (@MikeClayNFL) September 18, 2023
"I feel like he's definitely built for it"
That's what Mike McCarthy had to say following the heavy usage in Week 2, and with the belief of his play-callers, a healthy Pollard is a top-three running back the rest of the way.
James Conner: With at least 19 touches in each of his past six games (42 this season), Conner owns a nice floor. The per-play upside is limited, but volume often pays the bills at the running back position, and that is what will keep Conner as a viable Flex option every single week he suits up.
Even without a reception last week, Conner was able to post a second consecutive top-25 finish. He's not exciting, and this offense isn't going to do much to help him, but the ability to pencil him in for 10-12 half-PPR points holds value.
He's again a fine Flex play, even in a tough matchup, ranking ahead of team spot starters like Matt Breida/Tony Jones and both backs in true committee situations like what we have in Chicago and Baltimore.
Wide Receivers
CeeDee Lamb: Against the Jets, the Cowboys kept Lamb on the move, and he was simply unguardable. He caught 11 of 13 targets for 143 yards, flashing his skill on all sorts of routes. He has a 30-yard catch in both games this season and is soaking up high-percentage targets to elevate his floor in the process.
He has now been held out of the end zone in three straight games, matching his longest streak from last season. Without the aid of a touchdown, Lamb is fantasy's WR11. He's on the list of receivers that are capable of leading any week in fantasy points, and there's a chance this is one of those weeks.
Brandin Cooks: Cooks suffered a sprained MCL in the season-opening win over the Giants and missed last week as a result. It's unclear exactly how long this injury will keep the veteran sidelined, and a compromised version of Cooks isn't worth your time.
Heck, I'm not sure a healthy version of him is ever going to crack my top 30 at the position. There is role upside that he has access to in an offense we trust, and that's enough for him to remain rostered, but you shouldn't consider him for your starting lineup until we see proof of consistent usage.
Michael Gallup: With Cooks sidelined, Week 2 was Gallup's chance to prove to us that he is worth a roster spot. He failed. Miserably. Yes, the matchup with the Jets is a tough one, but he earned just two targets, ranking sixth on the team (one catch for three yards).
At this point, Gallup is closer to the fourth pass catcher than the second that we thought he had an outside chance to compete for – if you're still holding onto him, you can move on.
Marquise Brown: He posted a 34.5% target share in Week 2 and even found the end zone. With those two boxes checked, you'd expect the receiver to put up top-10 numbers for the week – not so much. In a week that you could argue was a ceiling outcome, Hollywood was fantasy's 26th-best receiver.
If that's the best-case scenario, I'm not sure how Brown is considered for starting lineups. I have him easily outside of my top 40 receivers, behind risk-reward options like Gabe Davis and Donovan Peoples-Jones, who at least have the hope of paying off optimism with a single reception.
Michael Wilson: Dynasty managers need to have their eye on this 6'2", 213-pound rookie out of Stanford (16.1 yards per catch in his final season with the Cardinal) who led the Cardinals in receiving yards last week. He caught all three of his targets for over 15 yards. This offense isn't built to give him much of a chance at sustained value this season, but don't write him off as a long-term project.
Tight Ends
Jake Ferguson: With seven targets in Week 1 and a score last week, Ferguson is approaching top-10 status. Prescott is looking his way in close (missed him on another scoring opportunity in Week 2), and without a bonafide second option in this passing game behind Lamb, expecting 5-7 targets weekly is reasonable.
My volume concerns for this passing game carry over to the rookie tight end, but we are talking about a position that requires so little to be viable. Ferguson is my TE12 this week and is on the list of streaming options I prefer to Kyle Pitts.
Zach Ertz: The 30.5% target share through two weeks is nothing short of remarkable. Calling it sustainable is a completely different claim and not one I'm willing to make.
The hyper-usage has him as a fringe tight end in a two-week sample that saw many of the elite options battle an injury. If this is the best-case scenario, I have no interest in sticking around for the inevitable decline. Ertz ranks outside of my top 15 at the position. I'd rather roll the dice on Taysom Hill this weekend.
Pittsburgh Steelers at Las Vegas Raiders
Spread: Raiders -2.5
Total: 43
Steelers implied points: 20.2
Raiders implied points: 22.8
Quarterbacks
Kenny Pickett: His Week 2 performance was very much like that of Zach Wilson, a comparison you never want to be a part of. It was a very ordinary day despite a long touchdown pass to George Pickens, and I'm officially worried about him leading an offense that I had a lot of faith in this summer.
Gone is Pickett's desire to run. Last season, Pickett had a 10+ yard run in the majority of his starts, and this season, he has fewer rushing yards than I do. With Diontae Johnson on injured reserve and the lack of versatility, I fear that Pickett is now a low-end QB2 with limited upside, even in a primetime matchup.
Jimmy Garoppolo: I think Jimmy GQ is a fine NFL quarterback – that doesn't make him a fantasy football option. He has just 50 pass attempts through two weeks and offers next to nothing on the ground, so his rightful home in standard leagues is on the waiver wire.
His contribution to the fantasy world? We saw him feed Jakobi Meyers in the Week 1 win, and 33.3% of his throws went Davante Adams' way this past weekend. I'm comfortable with him providing value to his receivers: don't confuse that with him having much in the way of fantasy value himself.
Running Backs
Najee Harris: We may have stumbled into evaluating Harris' fantasy value correctly. This summer, we thought he'd struggle to sustain value despite volume, and we cited his lack of explosion as one of the primary reasons.
Well, he has a 20-yard carry in consecutive games for just the second time in his career, but the volume is gone (19 touches this season). That said, we play a weekly game. My concerns throughout the entire season very much remain, but Harris is a top-15 running back in this advantageous matchup.
Buffalo running backs racked up 178 yards and two scores against these Raiders last week. With the Steelers even more focused on the ground attack than the Bills, Harris is a lineup lock for me (and a sell-high option should a big day happen) against a team he totaled 95 yards against with a team-high nine targets last season.
Jaylen Warren: With six targets in both games, Warren is slowly seeing his touch rate increase and has upped my confidence in him taking over this backfield with time. "With time" is the key portion of that evaluation. Harris is still the lead man in this backfield at this moment, and he should be the one to take advantage of this spot.
Warren remains my favorite of team RB2s (I have him ranked over Roschon Johnson, Dalvin Cook, Samaje Perine, etc.), but in the scheme of my overall rankings, he's a low-end Flex play.
Josh Jacobs: When we kick this game off, it will have been 300 days since we last saw Jacobs break off a run of more than 20 yards. Forget a 20-yarder, Jacobs ran for -2 yards last week against the Bills. He saved you with five catches for 51 yards, but the offensive line concerns are a serious concern moving forward.
My projected usage for Jacobs keeps him as a low-end RB1, but I will certainly admit that he is trending in the wrong direction (not a top-25 RB in either week), The Raiders managed just 39 offensive snaps a week ago, something that should bounce back (fewest in a game over the past five season).
Assuming that is the case, and with the WR injuries, Jacobs should be able to reward his loyal fantasy managers in this spot.
Wide Receivers
Diontae Johnson: Johnson labeled himself as day-to-day in the middle of last week while the team suggested he'd miss upwards of a month. This is a good reminder that players are almost always more optimistic in their recovery than the teams are.
Before the Monday nighter last week, Johnson was placed on IR and will thus miss four games. The Steelers have their bye in Week 6, meaning Johnson's best-case scenario is a return to action in Week 7 against the Rams.
This isn't a bad buy spot if you have the roster space: Pittsburgh is going to have to score during the fantasy playoffs (IND, CIN, SEA), and that could lean toward Johnson's fantasy value peaking at the right time.
George Pickens: In the first game of Johnson's absence, Pickens earned 10 targets, good for a 34.5% share. That is all sorts of impressive for a receiver with per-target upside like that of Pickens, and that is why I have him ranked as a top-25 receiver in this matchup.
Against the Black and Silver last season, Pickens hauled in all five of his targets, the last of which was a game-winning touchdown in the final minute. Of course, we cannot count on the 71-yard catch-and-run splash play from Week 2, but banking on the combination of big play potential and target count is more than enough to land him in your starting lineup.
Davante Adams: All signs point to Adams being OK following being evaluated for a concussion after Week 2's loss in Buffalo. In that tough matchup, he finished with six catches for 84 yards and an opening-drive touchdown, again proving that stopping him for four quarters is among the tougher tasks in the sport.
As hard as it is, it's not impossible. The Steelers proved that last season. Despite seeing a 30% target share when these two teams met, he gave fantasy managers just 2.5 fantasy points. With Jakobi Meyers likely back, the number of resources devoted to slowing Adams should be lesser and that has him in my top-15.
Jakobi Meyers: Josh McDaniels brought Meyers into his offense for a reason, and that reason was evident in the season-opening win in Denver (nine catches for 81 yards and two scores). The slot machine missed last week due to a concussion he suffered late in Week 1, and the hope is that he will be fully ready to go for this one. Assuming that is the case, Meyers should be considered a viable Flex option against a Steelers team that is traveling on a short week.
Hunter Renfrow: He filled in for Meyers (concussion) last weekend and saw nothing outside of a single target on Vegas' third-to-last play in a blowout loss in Buffalo. He scored against the Steelers last season, but he seems to be off the radar this season, and with him unable to earn looks last week, there's no reason he needs to be rostered in any format.
Tight Ends
Pat Freiermuth: In Freiermuth, we have a perfect picture of what the backend of the tight end position is and why it is so frustrating. There is essentially no upside in his profile, but he is a threat when the Steelers are in close and one single catch could make him a top-12 producer at the position (see Week 1, TE9). If he fails to make that catch, he's useless (see Week 2, TE51)
He led this team in catches (seven) and receiving yards (66) in Week 16 against the Raiders last season. He caught 87.5% of his targets, while his teammates posted a 67.9% rate in that game. He's a fringe top-12 option for me with a floor as low as anyone on your radar.
Philadelphia Eagles at Tampa Bay Buccaneers
Spread: Eagles -4.5
Total: 45.5
Eagles implied points: 25
Buccaneers implied points: 20.5
Quarterbacks
Jalen Hurts: Hurts surprisingly doesn't have a 15-yard rush through two weeks, but with a pair of goal-line scores and a 71.4% completion rate, his fantasy profile is that of a Tier 1 signal caller who carries a higher floor than any other player at the position.
The dominating effort of D'Andre Swift last week limited the number of chances Hurts had to produce through the air, but a volume performance like that from this backfield is not something I believe sticks. If I'm right, Hurts' best is yet to come. If I'm wrong, it may not matter because he is the beneficiary of the most dominant play in professional sports.
Hurts has more avenues to fantasy glory than any other quarterback on planet Earth. That has him atop my Rest of Season Fantasy Football Rankings.
Baker Mayfield: The two-week profile of Mayfield is encouraging: 34 attempts in both games, 14 rush attempts, and 50% of his targets have gone to a pair of elite play-makers.
He has finishes of QB13 and QB18 on his 2023 resume, a level of production that will be tough to match against this Eagles defense. Yes, they are a banged-up bunch, but you're getting too cute if you want to consider him as an option in anything but two-QB formats.
Running Backs
D'Andre Swift: Swift was nothing short of special on Thursday night against the Vikings: 31 touches for 181 yards and a touchdown. The box score was amazing, and the fact that 64.3% of his carries gained at least four yards supports just how consistently productive he was in the feature role.
The Buccaneers have Vita Vea plugging the middle of their strong run defense, and that's made opponents lean to perimeter runs/passes. Swift is more than capable of producing on the perimeter, but without a locked-in touch count and the per-touch production in question, Swift ranks just outside of my top 20 at the position.
Kenneth Gainwell: After getting 81.8% of Eagle RB touches in the season opener, a rib injury held Gainwell out of the Week 2 win over the Vikings. D'Andre Swift went bonkers in his absence, leaving us with a confusing situation moving forward.
On the bright side, Philadelphia has gone with a featured back system, something that we feared would never happen. Of course, with two different RBs being featured and productive, the reliance on a single back could be a thing of the past.
A less than 100% healthy Gainwell is outside of top 30 at the position – you can find a better floor/ceiling combination to round out your Week 3 fantasy football lineup.
Rachaad White: White was essentially thrown into the end zone for a touchdown by a lineman last week, but hey, all touchdowns count for our purposes. Against the Bears, he totaled 103 yards on 22 touches, reminding us just how valuable volume can be.
After a brutal Week 1 performance where he failed every advanced metric, he maximized his touches and looked good in Week 2. His true skill set is likely somewhere in the middle, and that is good enough given his role to be considered a viable Flex play (20.5 touches per game with a 100% catch rate) in this tough spot.
Wide Receivers
A.J. Brown: We saw some emotion shown from Brown on the sidelines last week against the Vikings, presumably for a lack of involvement. Could this be a squeaky wheel situation against an overmatched opponent?
Hurts worked to get him involved last week, and the duo even had a touchdown called back, so it's not as if Brown is far from high-level production. I still consider him the 1a option in this passing game and have zero reservations about his value moving forward.
Need a little more comforting after a dud Week 2? I'm here to please. Following his first sub-40-yard performance last season, Brown proceeded to score five times over his next three games, a stretch that included his best effort of the season (36.6 fantasy points vs. PIT). Better times are ahead for those who invested early in Brown, and those better times aren't far off in the future.
DeVonta Smith: Watch the Eagles play football, and you'll be convinced that Smith runs differently than us mere mortals. The 63-yard touchdown he scored against the Vikings on Thursday night seemed as if he was gliding, and it certainly wasn't the first time this speed demon ran away from the defense.
He's scored in both games this season and seen at least eight targets in 12 of his past 14 games: He's blending into the perfect mix of quantity and quality when it comes to targets.
This Buccaneers pass defense scares just about no one, leading me to believe that Philadelphia opens up their offense more than what we saw last week and allows both Smith and Brown to produce in a major way.
Mike Evans: It has become clear that Evans' skill matches up well with the strengths of Mayfield, and until we see something change, he should be locked into fantasy lineups.
He has a long touchdown in both games this season, and the volume (12 receptions) helps elevate his floor. He has caught six passes in consecutive games to open this season, something he did only once all of last season. Evans has been a top-15 receiver in both weeks this season, and while I have him ranked just outside of that for this week (WR20), he remains fantasy-viable in a tough spot.
Chris Godwin: That's now 17 straight games with at least five catches and in full-PPR, that puts his floor at a reasonable level, but that's all he is right now. A floor play to consider if your roster is otherwise loaded. Even with the consistent involvement, his next top-40 finish this season will be his first.
The injuries to the secondary of Philadelphia could allow Godwin to pile up the receptions in an efficient manner if Mayfield is willing to take the easy completions, and that is why I have him ranked as a viable Flex option. It won't be pretty, but a stat line in the neighborhood of seven catches for 65 yards has value.
Tight Ends
Dallas Goedert: After failing to haul in his only target in Week 1, Goedert saw four early targets on Thursday night and was clearly a part of the game plan. He finished Week 2 as the Eagles leader in both targets (seven) and catches (six), though the fact that not a single one of those receptions gained 10 yards is a bit concerning.
He's the third most likely player to catch a touchdown on an offense that prefers to run when in close, so the ceiling here isn't what we are looking for. Goedert is attached to an elite offense and plays a shallow position, a combination that will land him in my top 10 every week, but if he finds a way to have a big game soon, his stock is one I'd consider shorting while the price is high.
Cade Otton: He caught all six of his Week 2 targets which was impressive, but not a single one of those catches gaining more than nine yards is further proof that the ceiling simply isn't high enough to consider him in even the deepest of leagues.
Los Angeles Rams at Cincinnati Bengals
Spread: Bengals -3
Total: 43.5
Rams implied points: 20.3
Bengals implied points: 23.3
Quarterbacks
Joe Burrow: Burrow's efficiency is frustrating on all levels, given the talent he has by his side (72 passes for 304 yards this season). I remain skeptical of this Rams defense, so if word comes out that Burrow is reasonably healthy, he gets one more week of my faith.
Running Backs
Kyren Williams: How can you not start him? His role alone (52 routes and a 98% snap share last week) puts him inside the top 25, and his ability to cash in when close has him sitting as my RB16 for the week.
I don't love that he doesn't have a 10-yard run yet this season, but the lack of per-carry rushing upside is offset by his fluid route running (TD on a screen pass last week, LAR didn't have a running back touchdown reception once in 2022).
He's been a top-10 running back in each of the first two weeks this season, and it doesn't seem like a fluke. Plug him in and embrace the value of volume and versatility.
Cam Akers: Akers could be on the move sooner than later. It's clear that his days in Los Angeles are done, and even if should he land on a team without clarity atop their RB depth chart, Akers is a waste of a fantasy roster spot right now.
Joe Mixon: This offense getting on track would go a long way toward helping Mixon produce the top-10 numbers that I thought he was capable of this preseason and the top-10 production that I have him penciled in for this week.
Even with Cincinnati's struggles, the veteran back has seen five targets in both games, a role that gives him elite upside. He has a 10-yard rush and a 10-yard catch in both games this season, something he didn't do a single time in the prior 15 games he's played in. He's a great buy-low right now and should be started with confidence in all formats.
Wide Receivers
Cooper Kupp: Savvy fantasy football managers might be asking themselves: Should I trade for Kupp? I made the case earlier this week that it is a way to give your roster league-winning upside!
Puka Nacua: An oblique injury landed him on the injury report ahead of Week 2. It didn't matter. The rookie racked up 15 catches on 20 targets, breaking the record for catches through two career games. He's "get open in a phone booth" shifty off the line of scrimmage, and Stafford clearly trusts his current WR1.
Of course, how long Nacua will hold that WR1 label is anyone's guess. Will Kupp return when first eligible off of IR? Will the league adjust to the skills he has shown up to this point?
For the purposes of Week 3, Kupp's status isn't a factor. It's impossible to ignore what the rookie is doing (40% target share, consecutive weeks as a top-10 WR), and he needs to be starting in all lineups until we have a reason to pivot.
I don't care what your scoring structure is, 35 targets through two weeks is insane usage that carries a high floor, given the types of routes Nacua runs. The oblique injury is not believed to be too serious, but it is clear that he has not fully recovered. Check back over the weekend for the updates (should you be waiting until Monday night to make a decision?) and check out the Sunday stream on the PFN Fantasy YouTube Channel.
Also, congratulations on finding the answer to our trivia question from the introduction! Nacua does indeed have more yards after the catch this season than Hopkins has receiving yards! Enter our giveaway here!
Tutu Atwell: What he's doing has been underappreciated due to the success of Nacua, but we are talking about a player who has at least 12 points in both weeks and has racked up 13 catches.
It is certainly possible that we misevaluated this offense, but Atwell producing on a consistent basis would mean we completely air-balled. That's certainly possible, but I'm not ready to call the 5'9" Atwell a locked-in asset just yet.
Undersized receivers have flashed before, but it's rare that they are able to sustain value. He's outside of my top 40 at the position this week – I'm willing to be wrong again.
Van Jefferson: I'm old enough to remember when we all thought the Kupp injury would elevate Jefferson to a point where he needs to be rostered in all leagues. Yeah, that's not the case. Stafford has thrown the ball 93 times this season, and Jefferson has a whopping 33 yards to show for it.
There is no reason he needs to be rostered in any league: This role just doesn't carry enough of a ceiling.
Ja'Marr Chase: The fantasy numbers are worse than the on-field play has suggested. Chase has yet to finish as a top-45 WR this season, but he nearly had a score last week on an end zone target.
We've had a two-year sample of Chase paying off targets in a significant way (1.21 fantasy points per target), so I'm willing to forgive an ugly two-game stretch (0.71). If you had the confidence to select Chase in the top five of your draft this summer, you're smarter than worrying about consecutive duds.
Should Burrow sit, however, the math changes. Jake Browning averaged just 6.2 yards per pass attempt this preseason and if he is under center this week, Chase will fall just outside of my top-25 at the position.
Tee Higgins: Burrow hasn't had many moments through two weeks, but the good moments we saw from him last week directly benefited Higgins (eight catches for 89 yards and two scores). Higgins struggled to open last season and then was a consistent fantasy asset until he laid an egg in Week 17 last season. Lock in Higgins, the Week 1 donut was nothing but an aberration.
As I detailed with Chase, should Burrow be a no-go, Higgins' rank plumets. In a Browning led offense, Higgins projects outside of my top-35 at the position.
Tyler Boyd: The eight targets (six catches for 52 yards) were good to see last week against the Ravens, but him earning a target share north of 20% isn't something I'm banking on.
He is a professional receiver and will be an ok bye week filler when the time comes. There's value in that. There just isn't a path to consistent usage when both Higgins and Chase are healthy, even if/when Burrow returns to top form.
Tight Ends
Tyler Higbee: The target share ticked up from 7.9% in Week 1 to 12.7% last week against the 49ers, a number that remains too low to be considered a viable option.
MORE: Fantasy Football Cut List Week 3
Our hope was that he would earn targets at a high rate with Kupp out like he did last season, but it is clear that the presence of Nauca is directly taking food off of Higbee's plate. He won't be ranked as a starter for me most weeks – you can do better by joining the TE streamers.
Irv Smith Jr.: Better times are ahead for this Bengals offense, but with three receivers ahead of him and Joe Mixon's usage, there isn't much of a path to him offering much in the way of upside. If he can remain healthy and Burrow finds his form, maybe we are looking at a bye-week filler for those tough weeks – nothing more.
Cheat Sheet Week 3 Giveaway!
Did you find the answer to our trivia question? If you missed it, here it is – what WR has more yards after the catch than DeAndre Hopkins has receiving yards this season? Enter your answer below for a chance to win a gift card to Fanatics!
Listen to the PFN Fantasy Podcast
Listen to the PFN Fantasy Podcast! Click the embedded player below to listen, or you can find the PFN Fantasy Podcast on iTunes, Spotify, and all major podcast platforms.  Be sure to subscribe and leave us a five-star review! Rather watch instead? Check out the PFN Fantasy Podcast on our Fantasy YouTube channel.