Welcome to the Start/Sit Optimizer. Every week, fantasy football analysts, including those here at PFN, are inundated with start/sit questions. Here, we will highlight five of the most popular start/sit decisions and provide a little more in-depth analysis of who to start.
Looking to make a trade in your fantasy league? Check out PFN's Free Fantasy Football Trade Analyzer to help you make the right decision!
Who Should You Start in Fantasy Football This Week?
Kirk Cousins or Daniel Jones?
The Start/Sit Optimizer at Pro Football Network is comprised of our Consensus Rankings. It says to start Kirk Cousins by a pretty wide margin.
Cousins and Daniel Jones were the top-scoring quarterbacks in Week 2. This is a very fair question to ask of two guys who just had what may be their best games of the season.
Ultimately, it comes down to the matchup. Cousins has a home matchup against a Los Angeles Chargers defense that cannot stop anyone through the air. Jones has a road matchup against what may be the best defense in the league (San Francisco 49ers) on a short week.
There will definitely be weeks where Jones is the better start than Cousins. Week 3 is not one of those weeks.
D'Andre Swift or Jerome Ford?
Apparently, I like to make this as difficult as possible for myself. I could've chosen a much easier question to answer. Yet, here we are.
Entering Week 1, the biggest unknown in the NFL was what the Philadelphia Eagles would do with their backfield. We got our answer — it was Kenneth Gainwell. Then, he got hurt.
Entering Week 2, the biggest unknown in the NFL was what the Eagles would do with their backfield. We got our answer — it was D'Andre Swift. And he put on a show.
Swift carried the ball 28 times for 175 yards and a touchdown. He really should've scored three.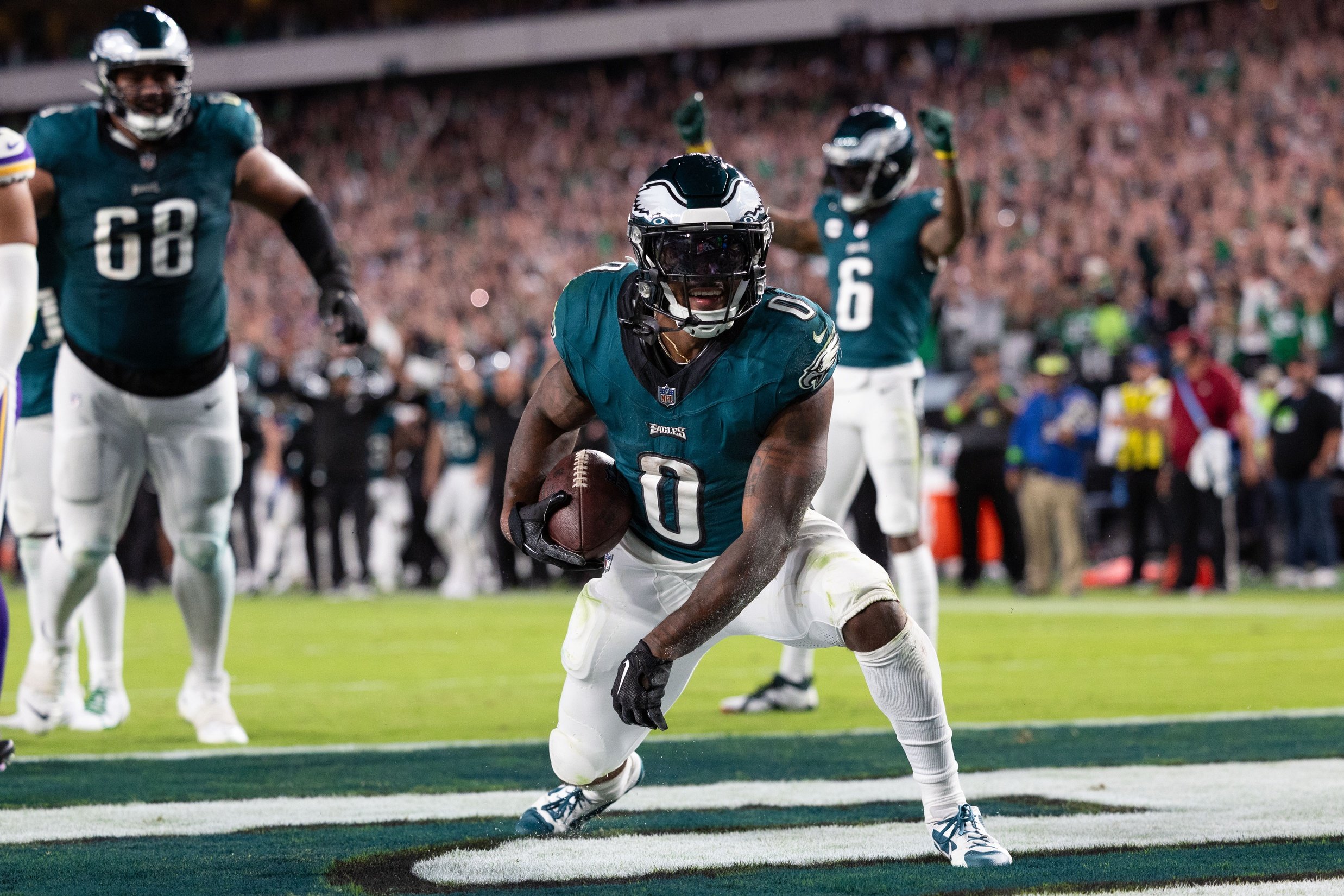 If Gainwell is out in Week 3, this is easily Swift. At the very least, we know how the Eagles will deploy their backs with Gainwell out. But if Gainwell plays, we still don't know what the split will look like.
Based on Week 2, we can be reasonably confident that Jerome Ford is the lead back for the Cleveland Browns. It remains to be seen who they sign for roster depth. It could be a veteran like Kareem Hunt again or Leonard Fournette. It could just be a warm body to put on the back of the roster in case of emergency.
The Tennessee Titans are a pass-funnel defense. They can't stop the pass, but they are elite against the run. Swift also has a tough matchup against the Tampa Bay Buccaneers, but they are not as imposing as the Titans. The Start/Sit Optimizer says Swift. And I agree.
DJ Moore or Zay Flowers?
This one couldn't be closer in the Start/Sit Optimizer. DJ Moore edges out Zay Flowers by the slimmest of margins. I agree that this is one of the toughest start/sit decisions of the week for those of you out there who have to make it.
Moore is coming off a huge week where he caught six passes for 104 yards. Flowers had a big Week 1 but only had four catches for 62 yards in Week 2.
This week, the Baltimore Ravens get the Indianapolis Colts at home, and the Chicago Bears travel to Kansas City. Both have favorable matchups for different reasons. The Ravens get a weaker pass defense, while the Bears will likely see more pass volume while trailing.
Much like the Start/Sit Optimizer, I have Moore one spot ahead of Flowers in my rankings. Based on that, I would start Moore. However, it truly is a toss-up.
Jerry Jeudy or Brandon Aiyuk?
Before Jerry Jeudy strained his hamstring, he was consistently going ahead of Brandon Aiyuk in fantasy football drafts. After Aiyuk's amazing Week 1 performance, fantasy managers would never have considered starting Jeudy over him in Week 2. However, Aiyuk came back down to Earth with just three catches for 43 yards.
Jeudy made his season debut, but it couldn't have been less impactful. Despite being on the field for 68% of the snaps, Jeudy saw just five targets, catching three for 25 yards.
MORE: 2023 Dynasty WR Rankings
The 49ers have a soft matchup against a very uninspiring New York Giants defense. The Denver Broncos will be on the road against a beatable Miami Dolphins secondary.
It's a tricky spot because Jeudy could easily explode after his slow start. Aiyuk is the better player, but he will always be subject to the whims of a loaded 49ers offense.
The Start/Sit Optimizer says Aiyuk, though, and I agree. I am going to need to see more from Jeudy and less from Aiyuk before I swap the two in my weekly rankings.
Kyle Pitts or Sam LaPorta?
I am going to be perfectly candid with all of you: I chose this start/sit dilemma because I assumed the Start/Sit Optimizer would spit out Kyle Pitts as the clear start, and I would finally get to say I disagree with it. Welp. The Start/Sit Optimizer has yet to disappoint. Not even once.
This is so clearly Sam LaPorta. He may be a rookie, but his role in the Detroit Lions offense is fantastic. He's played 82% of the snaps each of the first two weeks and seen a healthy 11 targets. LaPorta basically has a solid 7-8 point floor, and if he ever scores, he will be a top-three tight end.
MORE: Fantasy Player News Tracker
Meanwhile, Pitts is lucky to even see a 70% snap share. LaPorta has more receptions in each of his first two games than Pitts has in both of them combined.
For years, we've been hearing about how Pitts is a unicorn, and he's really a wide receiver. Well, where is it? Maybe it's time to stop blaming the Atlanta Falcons offense and start looking at the player himself.
Given the state of the TE position, Pitts is still as viable as any random back-end TE1, but LaPorta is the clear start over him in Week 3.
Raheem Mostert or Chris Godwin?
I finally did it! I found an answer from the Start/Sit Optimizer that I disagree with! The optimizer says to start Chris Godwin. With the greatest respect, I disagree.
Godwin's volume has been solid through two weeks. He's caught five passes in both of his games for 51 and 58 yards, respectively. Godwin is a safe floor play. He will never fail you, but absent the few weeks he manages to find the end zone, you're likely getting no more than WR3 production.
Raheem Mostert is the clear lead back in what may be the best offense in football. He's seen a 73% snap share each of the first two weeks. While that may drop when Jeff Wilson Jr. returns, that's not happening in Week 3 (or anytime soon).
Mostert just carried the ball 18 times for 121 yards and two touchdowns. He's scored in each of the first two games of the season and is the clear goal-line back.
This week, the Miami Dolphins get the Broncos in Miami. The Broncos just got gashed by Brian Robinson Jr. for 87 yards and two touchdowns. It's another smash spot for Mostert.
On the other hand, Godwin faces off against a tough Eagles defense. Although they struggled against Justin Jefferson and Jordan Addison last week, it is too soon to call this a favorable matchup. With Mike Evans still the clear WR1 in Tampa Bay, give me the bankable volume and touchdown upside that comes with Mostert in Week 3 lineups.
Listen to the PFN Fantasy Podcast
Listen to the PFN Fantasy Podcast! Click the embedded player below to listen, or you can find the PFN Fantasy Podcast on iTunes, Spotify, and all major podcast platforms.  Be sure to subscribe and leave us a five-star review! Rather watch instead? Check out the PFN Fantasy Podcast on our Fantasy YouTube channel.