Over the next 12 months, you're going to hear the name Paris Johnson Jr. a lot. Switching to left tackle for the Ohio State Buckeyes ahead of his junior season, the 6'6″, 315-pound offensive lineman is set to be one of the top players at his position should he declare for the 2023 NFL Draft. The impact on the field is obvious. However, it's the impact he's making off the field through the Paris Johnson Jr. Foundation that is truly impressive.
The Paris Johnson Jr. Foundation is impacting lives across Ohio
Football has the power to unite. It has the power to bring together communities, families, people of every background, creed, race, religion, gender. On a late Friday afternoon in May, football has brought together me — a college football and NFL draft analyst based in the UK — and one of the best offensive linemen in all of college football. We're thousands of miles apart, but we're united by football. Yet, Johnson knows football opportunities aren't all created equally. It's one of the factors that drives the Paris Johnson Jr. Foundation.
"We serve underprivileged young athletes," Johnson begins with an undeniable passion in his voice. "Those athletes are people who want it as bad as I do, they want to reach the highest level. Some families don't have enough to sacrifice so they can go to a camp, or get the newest cleats that fit their feet right, to get the speed training. It's the same game that we all love. But sometimes it's different experiences, and I don't think that's fair."
Sacrifice is an important word to the ethos of the Paris Johnson Jr. Foundation. While the non-profit organization works to serve those underprivileged young athletes whose parents might not have the time or resources to sacrifice for their success, the foundation also exists to serve those who make the ultimate sacrifice.
"I've always been passionate about veterans." Johnson explains. "I have so much respect for veterans. It's easy to say it, but words are just words. Our team tries to find a way to give back to those people who have arguably made the second greatest sacrifice on earth. Those people shouldn't have to worry about the basic necessities when they come back home. They should be taken care of by the people that they protected."
The foundation of a foundation
As one of the top players at one of the nation's top football schools, it's easy to imagine that the Paris Johnson Jr. Foundation began as the offensive tackle found fame on the college football field. Using an elevated societal position to help others is nothing new. However, Johnson displays a maturity beyond his years. The foundations beginnings can be traced back to St. Xavier High School in Cincinnati where Johnson was involved in numerous volunteer schemes. One such experience fueled his desire to make a difference.
"My perspective changed, and I grew even more passionate for veterans after an event in high school. We volunteered at the Special Olympics. Just seeing how strong they were, how tough they were, hearing their stories and their stories about other disabled and homeless veterans and how hard it can be to take care of the basic necessities, it really changed my perspective."
Johnson shared a story with me about meeting a veteran on the street on a cold day. The man was praying for consecutive cold days, to be able to gain access to local housing facilities. The following day, when it was sunny and warm, all Johnson could think about was how that veteran would have to spend another night on the street. The fuel for the Paris Johnson Jr. Foundation is easy to find. The motivation to help make a difference from a young age came from a source much closer to home.
"You don't have to wait until you're in the NFL," Johnson recalls the words of his mum, Monica. "We can start a foundation now. You don't have to wait to give back. Maybe, that's something that you can be a voice for and you can talk about both areas [underprivileged young athletes and disabled and homeless veterans]. It was my mum who helped take it from a conversation and turn it into a reality."
The work of the Paris Johnson Jr. Foundation
What began as a conversation in a car turned into a reality with a lot of hard work and paperwork. As a high school student who had class, practice, games, and recruiting to juggle, Monica — "she was my rock" — was the catalyst to get the foundation off the ground. However, like football itself, getting the Paris Johnson Jr. Foundation established has taken a huge amount of team work between mum, son, and "an amazing board."
They also have a team of over 30 volunteers. The results have been astonishing already. Since the inception of the Paris Johnson Jr. Foundation, they've been able to raise over $10,000 in a multitude of ways. That money has helped over 100 disabled and homeless veterans. Furthermore, the foundation has impacted the lives of over 350 disadvantaged student-athletes.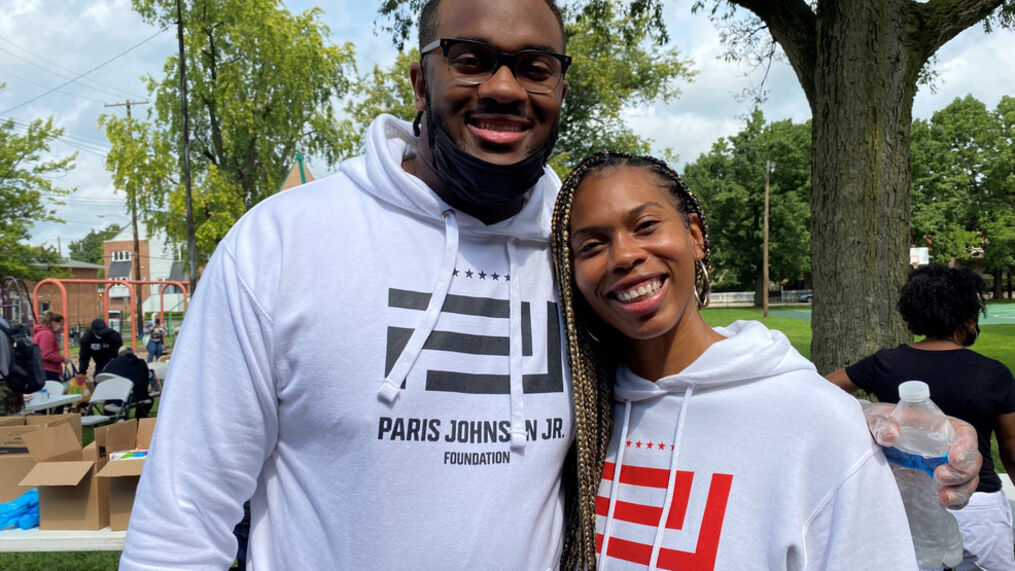 "We were able to send a couple of kids to attend football camps, being able to attend the camp for free, which was awesome. We held an event in Columbus with homeless veterans where they were able to get food, water, blankets, and groceries."
The foundation has also been able to provide Christmas presents for children in need in Columbus. They've been able to support the Cincinnati VA Hospital with both funds and appearances from the Ohio State offensive tackle. Alongside teammate Harry Miller and the Mission for Nicaragua, the Paris Johnson Jr. Foundation is working towards providing 200 beds for 100 children in Nicaragua so they don't have to sleep on the floor.
Benefitting from Name, Image, and Likeness regulations
The Paris Johnson Jr. Foundation has relied solely on donations and fundraisers to provide support to disadvantaged student-athletes and disabled and homeless veterans. However, the much maligned changes to how student-athletes like Johnson can profit from their Name, Image, and Likeness (NIL) has given the Ohio State standout the ability to help contribute from his own pocket.
"The first thing I thought of when I knew this was coming was 'this could accelerate the growth of our foundation'," Johnson tells me about the impact of NIL. "I've been able to have deals with companies where a group can fundraise money to buy certain things to give to the veterans. Giant Eagle donated groceries and put them together in baskets to give out to everybody. I can do things in exchange for a donation. It's been a great way to use it in a different capacity.
"There's a lot of players in my locker room that have dreams of being able to support the causes that they love. There's a lot of guys who want to start their own foundations. I feel like Name, Image, and Likeness makes it a lot easier to jump into. It opens a door for more players. It's a cool thing that we can use it to highlight other things. I think people would love to be involved in that."
At a time when NIL is causing coaches to go to verbal war with each other, and where the impact it is having on college football has caused consternation from other coaches, Johnson provides a perfect example of how everything in life can be used for positivity if you just direct your attention, your focus, and your energy towards making a difference.
The future for the Paris Johnson Jr. Foundation
"It's the little things that people don't have to do that go a long way, those are the things that you remember, you know?" Johnson remembers every person that sacrificed the time or resources to help him get to where he is now. From his mum, to his uncle, Willie Anderson, Floyd Walker, and a handful of people, those who helped him have shaped a desire to help others. The Paris Johnson Jr. Foundation is the result of that.
While we spend a lot of time talking about what the foundation has achieved so far, the future is exciting. There's a very real chance that Johnson is a first-round pick in the 2023 NFL Draft should he choose to declare at the end of this season. With that comes both financial opportunity and also the additional time to be more hands-on. It's an opportunity that the Ohio State offensive tackle is excited for.
"I'm excited because I'll be able to be a lot more hands-on. I'll have money of my own to be able to help out. That's what I told myself I wanted to do. If I take half the money that I spend at Chick-Fil-A, it could do a lot," Johnson laughs. "I want to continue to establish good relationships here in Ohio, then God willing, wherever I play I want to continue to help.
"To be able to give back, not only with the veterans that I'm passionate about but to be able to help a kid through something. Everybody plays football for different reasons. Whether it be to keep them off the streets that could potentially lead to bad decisions or inspire them to be better than me someday."
Big dreams and big goals
"Once I get involved long enough, it would be really cool to change someone's life around. I have really big dreams and big goals. I'd love to be able to acquire a property and to let people live there for free to give them the fair chance that they should have come back with," Johnson says of the veterans he wants to be able to help in the future.
"In my mind, I'd love to be able to do that. Right now, I'm just focused on the moment. How I can impact someone's day, someone's week. How can I give someone a meal they don't need to worry about? I'm looking forward to the day I can see someone at the beginning and the future and see that complete change."
The dreams and goals for the future are substantial. While Johnson may not have seen the full circle impact at work just yet, there's over 450 disadvantaged young athletes and disabled and homeless veterans whose lives the Paris Johnson Jr. Foundation has touched. His impact on the football field is set to be significant this season. However, his off-field impact will be significant for years to come.
You can find more information on the Paris Johnson Jr. Foundation here. If you'd like to donate towards the foundation's work helping disabled and homeless veterans and underprivileged youth athletes you can do so via PayPal here. You can also mail donations to: Paris Johnson Jr Foundation, P.O. Box 46215, Cincinnati OH 45246-0215.
Listen to the PFN Scouting Podcast
Listen to the PFN Scouting Podcast! Click the embedded player below to listen, or you can find the PFN Scouting Podcast on iTunes, Spotify, and all major podcast platforms.  Be sure to subscribe and leave us a five-star review! Rather watch instead? Check out the PFN Scouting Podcast on our Scouting YouTube channel.