The Cincinnati Bengals couldn't quite pull off the upset in Super Bowl LVI. Despite their defeat, wide receiver Tee Higgins produced great statistics. However, the advanced metrics reveal that his performance wasn't as impressive as you might expect.
Tee Higgins had excellent statistics in the Super Bowl
Cooper Kupp might have been the MVP, but Higgins was the most productive receiver in Super Bowl LVI. He caught 4 passes for 100 yards and the Cincinnati Bengals' only 2 touchdowns, one from Joe Burrow and one from Joe Mixon. Those are great numbers, and a casual glance at them suggests that Higgins was a superstar on the biggest stage.
Higgins' advanced metrics were unimpressive
Despite his excellent production, Higgins' advanced metrics don't paint him in as positive a light. To show what I mean, let's turn to the Offensive Value Metric (OVM). The OVM is a grading system created by the (Bx) Movement to measure how much of a player's statistical production they were actually responsible for.
In the Super Bowl, Higgins earned a grade of 21.17. That was the worst received by any wide receiver in the game. And yes, that includes Rams WR Ben Skowronek, who had a rough game himself, including dropping a pass that led to an interception.
Despite his extremely noticeable failings, Skowronek earned an OVM grade of 22.32, suggesting that he was still a more effective wide receiver than Higgins, though not by a significant margin.
As much as Higgins filled the stat sheet in the Super Bowl, every other player at his position was more effective than he was.
The numbers behind his grades
You might wonder why Higgins' performance wasn't as effective as the box score might suggest. To explain, we'll have to look at the advanced metrics involved in calculating his OVM grades.
Let's start with the positives. Higgins was highly effective in producing yards after the catch, averaging an impressive 10.7 yards per reception. According to the NFL's statistical projections, that number was 8.3 yards higher than expected.
Both those numbers were the highest in the Super Bowl by wide margins. And it's fortunate for Higgins they were; otherwise, his grade would be truly awful.
Because as good as he was once the ball was in his hands, everything Higgins did before that point was underwhelming.
Seperation was key to his low OVM grade
Higgins was given the second-most cushion of any receiver in the Super Bowl, at an average of 8.3 yards when targeted. Despite that, he averaged the lowest amount of separation, a paltry 1.5 yards, the worst in the Super Bowl and poor even by Higgins' standards.
He was one of the worst receivers in this category during the regular season at 2.3 yards.
As a result of his low separation, Higgins only caught 57.14% of his targets. That percentage was higher than some other players in the Super Bowl earned. However, by the standards of an NFL wide receiver, that is relatively low.
In short, while Higgins' post-catch production was excellent, getting to the point where he could use his skills in that area was extremely difficult.
The Los Angeles Rams' defense clearly affected Higgins
Of course, the Rams' defense deserves some credit here. Higgins was a much more effective receiver during the regular season, earning an overall grade of 29.61.
That's not a spectacular grade, ranking 53rd out of 98 qualifying wide receivers. Still, it's a fair sight better than what Higgins earned in the Super Bowl.
Comparing Higgins' Super Bowl grade to his weekly performances
To get a better sense of how Higgins' performance in Super Bowl LVI compared to his yearly performance, let's look at his weekly grades.
You can see his grades from each week of this past season in the chart below, marked by the black dots. For comparison, the yellow line represents the league average grade for wide receivers from the regular season.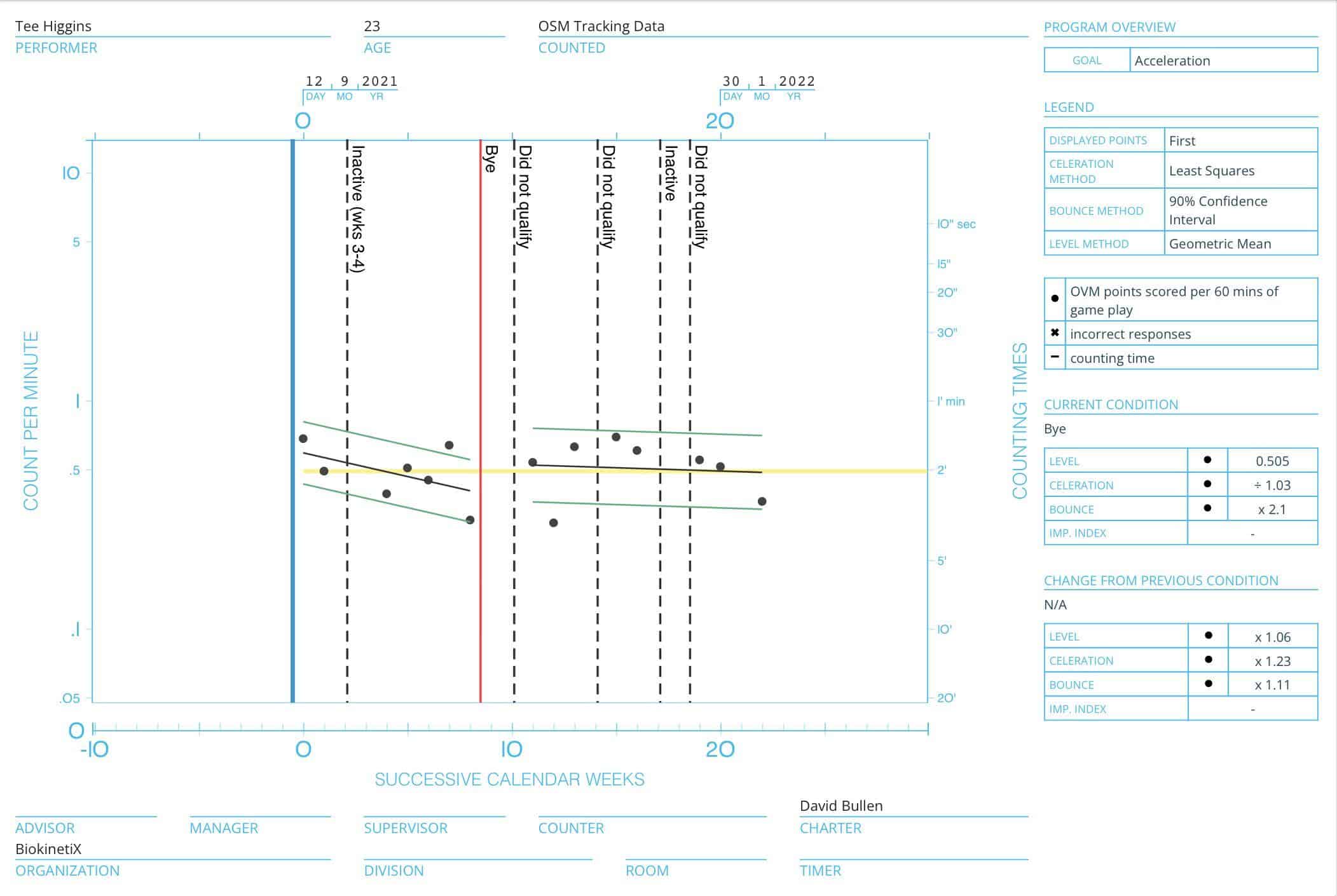 Higgins had quite a few games well above his average. Yet, his overall grade was held back by a number of subpar games. Interestingly, Higgins was performing reasonably well going into the Super Bowl. He graded above his average and the league average in the two previous playoff rounds.
Unfortunately, he couldn't maintain that level of play and had one of his worst outings of the season in the biggest game of the year.
The Cincinnati Bengals needed more from Higgins
Higgins' performance in the Super Bowl is the classic case of a player who was productive statistically, but the way they earned those statistics was highly inefficient. The fact is, not every player who fills a box score is actually playing at a high level.
And in Super Bowl LVI, Higgins was outperformed by every other player who caught a pass for either team. This was a game where Cincinnati really could have used an elite performance from Higgins. But despite what the stat sheet showed, they simply didn't get one.