In the blink of an eye, we're a quarter of the way through the 2020 NFL season, and trends are starting to emerge around the league. Russell Wilson and Patrick Mahomes are still elite. Josh Allen seems to have taken a massive step forward in his development. No lead is insurmountable when playing the Atlanta Falcons. And the Cleveland Browns may have two of the best running backs in the league.
Nick Chubb is the established leader of the corps. The young running back from Georgia has finished in the top 10 in rushing yards both years in the league, and is well on his way to another top 10 performance this season. His counterpart, Kareem Hunt, has seen a resurgence in Cleveland. While splitting time with Chubb this season, Hunt has provided the Browns with the perfect complement in the backfield.
Unfortunately for the Browns, running the ball is about to get more difficult. Chubb suffered an MCL injury that is going to keep him on the shelf for the next several weeks. Hunt has been dealing with injuries of his own, and being able to rotate running backs is critical to keeping him healthy.
The Browns depth at running back is going to be seriously tested throughout the next five to six weeks. What do the Browns have with D'Ernest Johnson and Dontrell Hilliard, and what can Cleveland expect going forward?
[sv slug="mocksim"]
D'Ernest Johnson RAS breakdown
Johnson went undrafted in the 2018 NFL Draft and signed with the New Orleans Saints as an undrafted free agent before eventually finding his way to Cleveland. The former South Florida product put up a very poor RAS grade, likely contributing to his undrafted status.
Related | Brett Rypien's RAS can help show Denver how to use him
RAS, or Relative Athletic Score, is a way for us to use the athletic testing NFL Draft prospects undergo at the NFL Combine or their Pro Day to compare and contrast their athletic abilities against their peers.
Each player is graded on a 1-10 scale, and the scores are compiled together to come up with a total composite grade. Scores above 8.0 are considered "Elite." Scores between 5.0 and 7.99 are considered "Good" while those that fall below 5.0 fall into the "Poor" category.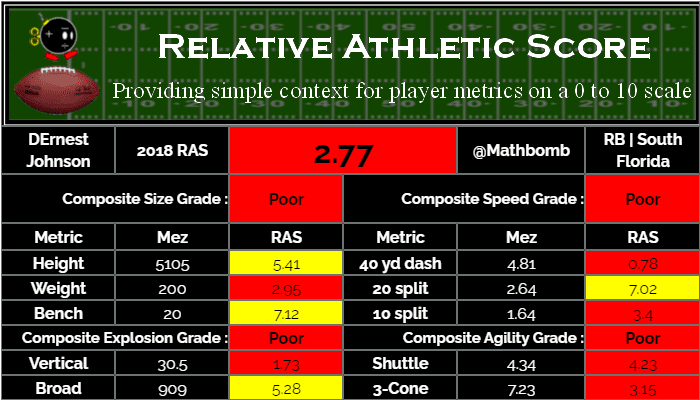 With an overall RAS grade of 2.77, Johnson falls squarely into the "Poor" category from an athletic testing standpoint. That score puts him inside the bottom ⅓ of running backs all-time since 1987, at 882nd out of 1218. Johnson's speed scores were particularly poor, with his 40-yard dash time (4.81) falling inside the bottom 100 all-time at 94th.
Speed was a stand-out score, in the worst sense of the word, but every aspect of Johnson's testing was poor. He achieved "Poor" marks in each of the four composite areas: Size, Explosion, Speed, and Agility. His best score — 20 reps in the bench press — was only good for a 7.12 grade, falling outside the top 300 RBs of all-time at 333.
Dontrell Hilliard RAS breakdown
In stark contrast to his Browns running back counterpart, Hilliard did very well in his athletic testing. An undrafted free agent in the 2018 NFL Draft, Hilliard achieved a RAS grade on the low end of the "Elite" category at 8.06. Hilliard got poor marks in the size category just like Johnson but was able to achieve "Good" marks in each subsequent category.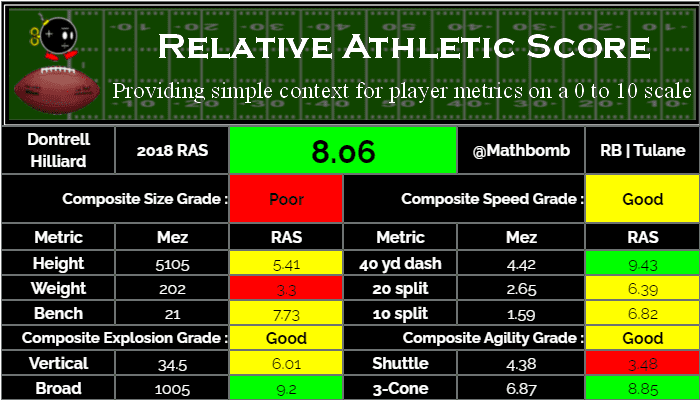 The broad jump and 40-yard dash are where Hilliard really shined in his testing. With a broad jump of 10' 5" and a 40-yard dash time of 4.42, Hilliard scored above 9.0 in each test. His marks were good enough to place in the top 100 RBs of all-time in each category, placing 96th and 70th, respectively.
Adding in a 3-cone time of 6.87 for a RAS grade of 8.85, and it was more than enough to offset poor marks in Hilliard's weight (202 pounds for a 3.3 RAS) and the shuttle drill (4.38 seconds for a 3.48 RAS).
Browns running backs outlook going forward
Being able to run the ball effectively is pivotal in Brown's head coach Kevin Stefanski's offense. That's not going to change with Chubb's injury. Despite losing one of the best running backs in the league, the Browns should still be effective, thanks in large part to their offensive line. Even with the Chubb injury on Sunday, Cleveland ran the ball for more than seven yards per attempt.
Despite having the significantly poorer RAS grade, Johnson is the back who led the way on Sunday in Chubb's absence. Johnson led the team with 13 rushing attempts and was largely able to make the most out of each attempt. Contrary to his RAS grade, Johnson showed a lot of wiggle on his runs and was able to power through arm tackles. He proved he can be effective and deserves to split the load with Hunt.
Related | Cedrick Wilson another Cowboys receiver to outperform his RAS
Hilliard was the least effective of the Browns running backs on Sunday, albeit with a limited sample size. Hilliard was only given five rushing attempts on Sunday and only turned his carries into 19 yards, averaging less than four yards per carry, despite a RAS that seems to indicate an ability to do more with the ball.
Hunt is going to be the main running back for the Browns going forward. He's earned that right with his past performances in the league, along with what he's been able to do splitting time with Chubb this season. That said, Cleveland made it clear on Sunday that they're going to be committed to the run with or without Chubb, and they're committed to keeping Hunt fresh and healthy.
Johnson is going to be first in line, and a larger part of the Browns offense going forward. Sunday showed he's got more to him than his testing showed. It's a small sample size against a team that had no film on him, which is something to keep in mind. That said, you have to like what you saw from the former fisherman.