Cedrick Wilson was the unlikely star performer in the Dallas Cowboys' Week 3 loss to the Seattle Seahawks, becoming their latest wide receiver to outperform their Relative Athletic Score (RAS) and make a significant impact.
Wilson's two-touchdown showing was not enough to propel the Cowboys to victory as they went down 38-31 at CenturyLink Field; however, his emergence seemingly served to give Dallas another viable option at a position where their depth is arguably the best in the NFL.
The Cowboys have succeeded in collecting contributors at wideout partly by letting the board come to them in the case of CeeDee Lamb, but also by being willing to bet on players who do not test as elite athletes in the pre-draft process. Wilson's efforts at the 2018 Combine did not point to a player who could be a difference-maker at the next level, yet his breakout display was another reminder that elite athleticism is not always necessary for receivers to excel in the pros.
[sv slug="mocksim"]
Wilson's so-so RAS attributed to his fall
Dallas was able to wait until the sixth round to select Wilson, son of former San Francisco 49ers and Pittsburgh Steelers wide receiver Cedrick Wilson Sr.
Wilson fell to the penultimate round of the 2018 draft despite a stellar collegiate career at Boise State, where he had 2,640 receiving yards and 18 touchdown receptions in two seasons, topping 1,500 yards in 2017.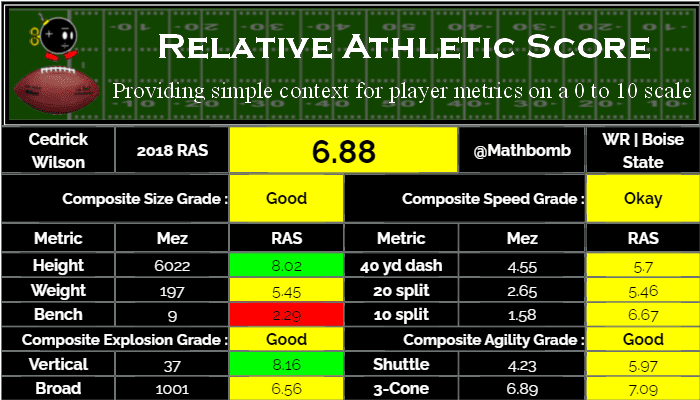 His testing is likely to have been a factor in Wilson's slide down the board. Wilson received a RAS of 6.88 out of 10 for his Combine workout. He did not earn an elite score in any of the four composite grades, though his size and his performance in the drills that measure explosiveness and agility did at least provide some reason for encouragement.
The Cowboys obviously saw enough to end his wait to be selected, picking him three rounds after taking Colorado State wideout Michael Gallup.
Dallas spent a day-two pick on Gallup despite his mediocre RAS of 5.89, with that decision spectacularly vindicated by a 1,000-yard season in 2019.
CeeDee Lamb proved himself a more impressive athlete in this year's pre-draft process but did not reach the elite threshold in terms of his RAS. Like Gallup, Lamb also hasn't needed long to hit the ground running and already has a 100-yard game to his name.
Amari Cooper, whom the Cowboys traded for in 2018, is an exception with his RAS of 8.57 but the rule of thumb in Dallas appears to be that athletic testing is an afterthought when it comes to the receiver position.
They have reaped the benefits of that line of thinking as Gallup has excelled in one of the league's premier offenses, and Lamb has already shown signs of doing the same.
Related | Cedrick Wilson and Michael Gallup shine in Cowboys loss
It was Wilson who stepped up in Week 3, though, and he followed the example of his teammates in the receiver room by maximizing the physical traits he does have to prove he can be a target on whom Dak Prescott can rely in the 2020 season.
Wilson's unexpected emergence adds to Dallas' explosive offense
Though Wilson's 40-yard dash in the Combine did little to improve his RAS, he did demonstrate decent burst with a split of 1.58 seconds in the first 10 yards.
That ability to quickly get up to top gear shone through on his first touchdown against Seattle, Wilson taking full advantage of a mismatch with K.J. Wright by using a delayed-release and then easing by the Seahawks linebacker, with his size allowing him to shake off an attempted touchdown-saving tackle and get into the endzone.
The second score was more about body control and flexibility. His 3-cone time of 6.89 seconds hinted at a player with the fluidity in his lower body to turn efficiently, and that was exactly what he did as a 42-yard connection from Prescott pulled the Cowboys back within eight points in the third quarter.
Wilson, who gained easy separation from Shaquill Griffin on the crossing pattern, adjusted to the velocity of a throw from Prescott that arrived extremely quickly and turned downfield in the same movement before relying on that burst again to pull away from the trailing defenders for the score.
By the fourth quarter, Wilson clearly had the trust of Prescott, who turned to him on a final drive on which the Cowboys came up short.
Wilson again showed off the agility in his lower half as he whipped his route back towards the sideline to get space from the defender and pick up 14 yards to briefly keep Dallas' hopes alive.
Related | Terry McLaurin vs. Michael Gallup: A RAS comparison
At 1-2, the Mike McCarthy era in Dallas is not off to the smoothest of starts. However, Wilson's five-catch, 107-yard effort was a bright spot last Sunday, and, if he continues to perform to that level, the Cowboys will unquestionably have the deepest receiving corps in the NFL.
Yet, given the number of mouths to feed, it is up for debate how much of a role he can expect to enjoy in the coming 13 games.
Competition for targets may stunt his growth
With Cooper, Gallup, and Lamb ahead of him, Wilson is way down the pecking order in the list of weapons for Prescott, who can also look to Ezekiel Elliott out of the backfield and has not been shy about targeting Dalton Schultz in the wake of Blake Jarwin's season-ending injury.
Still, the lack of resistance the Dallas defense has shown so far in 2020 could aid Wilson in terms of his snap count. Two of Dallas' three games this season have been shootouts, and the Cowboys have played from behind in both.
Should that trend continue, the Cowboys will likely spread things out on a regular basis, meaning more playing time for Wilson in four-receiver sets.
The evidence from last weekend suggests he can thrive in such formations with the attention defenses have to give to the top three receivers on the Dallas depth chart.
Wilson's ability to prove his display against Seattle was not just a one-off will impact his ability to nail down a sustained role. Still, the Cowboys must be extremely encouraged by what they saw from the third-year wideout in Week 3.
The Cowboys' draft record at receiver indicates they place little importance on Combine and pro day testing and, while it is always prudent to add elite athletes, what they hope will prove a breakout game from Wilson is their latest reward for looking beyond the physical gifts when selecting pass-catchers.