The San Francisco 49ers are not a complicated bunch. Their season in 2023 will come down to keeping a single QB healthy from the three they should have ready at the top of the roster in September and how much of a drop-off, if any, there is from DeMeco Ryans to Steve Wilks. San Francisco 49ers OTAs will be the first time we get eyes on these developments in 2023.
2023 San Francisco 49ers OTAs Preview
Brock Purdy isn't ready to throw a football yet. That is a widely reported fact that we won't be bothering with as a storyline because everyone should have expected this. From the start, his timeline to begin throwing was June.
The most recent QB news revolves around Trey Lance's trip to visit QB guru Jeff Christiansen, who also works with Patrick Mahomes. But the idea of Sam Darnold finally being in an insulated situation must be tantalizing for fans and the 49ers coaching staff as well.
But the 49ers' defense may be the most significant storyline. Can Wilks keep the momentum that San Francisco has had since the back half of 2021 going into 2023?
Trey Lance's Throwing Motion and Soreness
Christiansen has extensive knowledge about throwing a football, and he's coached college and pro players for years. He claims it usually takes a day to diagnose mechanical deficiencies in a passer, but with Lance, it took four days.
"He was able to get such a better base in these last two months that I think Trey is the best that we've (seen) him right now," Shanahan said earlier this month. "Yeah, we've got to get into OTAs and practice, but when you watch his feet, his timing, how he's throwing the ball, he's in such a better place now than he was last year at this time."
MORE: San Francisco 49ers 2023 Schedule
But Lance's mechanical issues not only affected his ability to be consistently accurate but his ability to keep his elbow healthy. Quarterbacking is unlike pitching in the sense that QBs don't really have to take days off from training as pitchers do. At least, they aren't supposed to. But Lance dealt with fatigue in his arm last offseason, and that needed to be addressed.
Christiansen and Lance worked together. Lance watched and practiced alongside Mahomes, and everyone is happier with the product they see passing now. The young QB has a snappier delivery, more repeatable accuracy, and no soreness issues.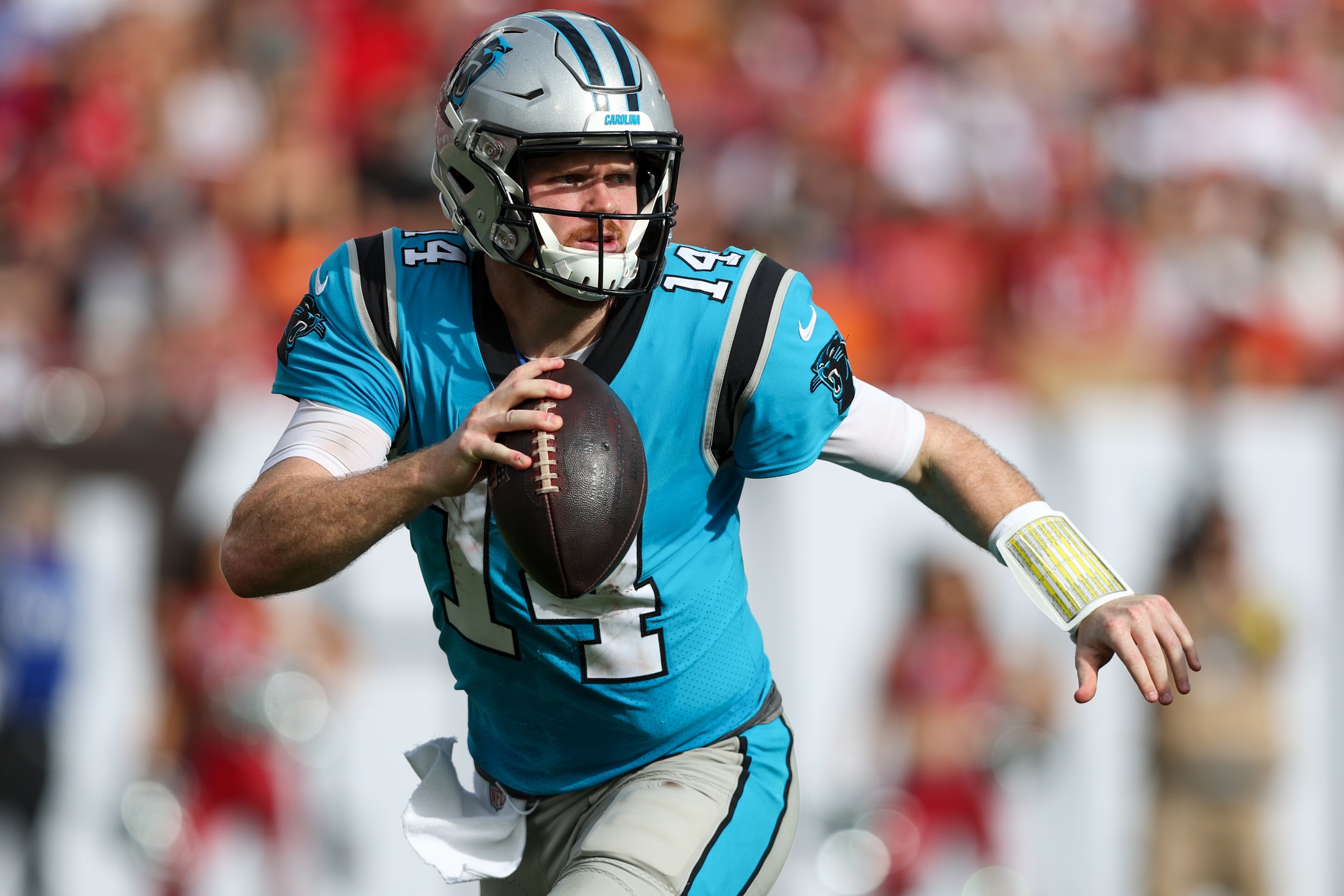 Can Sam Darnold Revitalize a Disappointing Career?
The thing about the 49ers is that keeping quarterbacks healthy and on the field isn't really their strong suit. Jimmy Garoppolo never could stay healthy as a Niner, and the team lost both Purdy and Lance to serious injuries a season ago.
That means even if the 49ers end up with Purdy and Lance as the top two passers heading into September, Darnold must get reps and be ready to hear his number called at some point before December rolls around.
Shanahan's offense is as QB-proof as an offense could get. Between scheme and weapons at the passer's disposal, there is little that the 49ers cannot accomplish with underwhelming talent at the position.
Darnold has not been put in a position to succeed throughout his five-year career. By the time the Jets had turned things around organizationally after dumping Adam Gase, Darnold was already broken, and they had moved on to Zach Wilson.
On the flip side, if Darnold can't show something in San Francisco, it likely wasn't meant to be.
Can Steve Wilks Keep the Defensive Momentum Rolling?
Over the past two seasons, the 49ers' defense ranked fifth in EPA per play. They ranked inside of the top 10 in dropback and rush success rates and EPA. They've been a stout defense from top to bottom with no apparent weaknesses. But they also had an elite play-caller in Ryans to bouy what at times was an underwhelming cornerback room.
While the 49ers' crop of CBs has improved in recent years, it remains the weak spot on their defense. Good safety and slot play have played a big role in the success of their secondary, and losing Jimmie Ward as he followed Ryans to Houston won't help that cause.
But a trio of Talanoa Hufanga, Tashaun Gipson, and Ji'Ayir Brown should make for one of the more intriguing groups in the league. The 49ers' defensive production will ultimately come down to situational play-calling from Wilks and the health of the unit.
There likely won't be too many schematic changes from a season ago. The 49ers coaching staff has done this for a long time, and they have a lot of miles together on the field.
Defensive success comes down to playing instantly without playing thoughtlessly. Familiarity is key. Keeping things the same was important, which is why Wilks didn't bring over his own defensive staff.
MORE: 2023 Defense Rankings — Where Do the 49ers Land? 
"I think you have to embrace the success that they've had here," Wilks said. "I think it is a foundation that we all agree we wanted to keep, and I think it is an opportunity as we go through the process, which we already have, to try to tweak things a little bit. I still think there's room for improvement. If you talk to the players, they would tell you the same."