After managing 13 regular-season wins in 2022, the San Francisco 49ers' campaign came to an abrupt end in the NFC Championship Game. Quarterbacks Trey Lance, Jimmy Garoppolo, and Brock Purdy all suffered injuries, forcing the 49ers to turn to fourth-stringer Josh Johnson for much of the title tilt. With a still-uncertain situation under center, how will San Francisco navigate its 2023 schedule?
San Francisco 49ers Schedule and Opponents
Week 1: at Steelers
FOX | 1 p.m. ET (Sunday, Sept. 10)
Week 2: at Rams
FOX | 4:05 p.m. ET (Sunday, Sept. 17)
Week 3: vs. Giants (TNF)
Amazon Prime | 8:15 p.m. ET (Thursday, Sept. 21)
Week 4: vs. Cardinals
FOX | 4:25 p.m. ET (Sunday, Oct. 1)
Week 5: vs. Cowboys (SNF)
NBC | 8:20 p.m. ET (Sunday, Oct. 8)
Week 6: at Browns
FOX | 1 p.m. ET (Sunday, Oct. 15)
Week 7: at Vikings (MNF)
ESPN | 8:15 p.m. ET (Monday, Oct. 23)
Week 8: vs. Bengals
CBS | 4:25 p.m. ET (Sunday, Oct. 29)
Week 9: BYE
Week 10: at Jaguars
FOX | 1 p.m. ET (Sunday, Nov. 12)
Week 11: vs. Buccaneers
FOX | 4:05 p.m. ET (Sunday, Nov. 19)
Week 12: at Seahawks (Thanksgiving)
NBC | 8:20 p.m. ET (Thursday, Nov. 23)
Week 13: at Eagles
FOX | 4:25 p.m. ET (Sunday, Dec. 3)
Week 14: vs. Seahawks
FOX | 4:05 p.m. ET (Sunday, Dec. 10)
Week 15: at Cardinals
CBS | 4:05 p.m. ET (Sunday, Dec. 17)
Week 16: vs. Ravens (Christmas)
ABC | 8:15 p.m. ET (Monday, Dec. 25)
Week 17: at Commanders
FOX | 1 p.m. ET (Monday, Dec. 31)
Week 18: vs. Rams
TV, Time, and Date TBD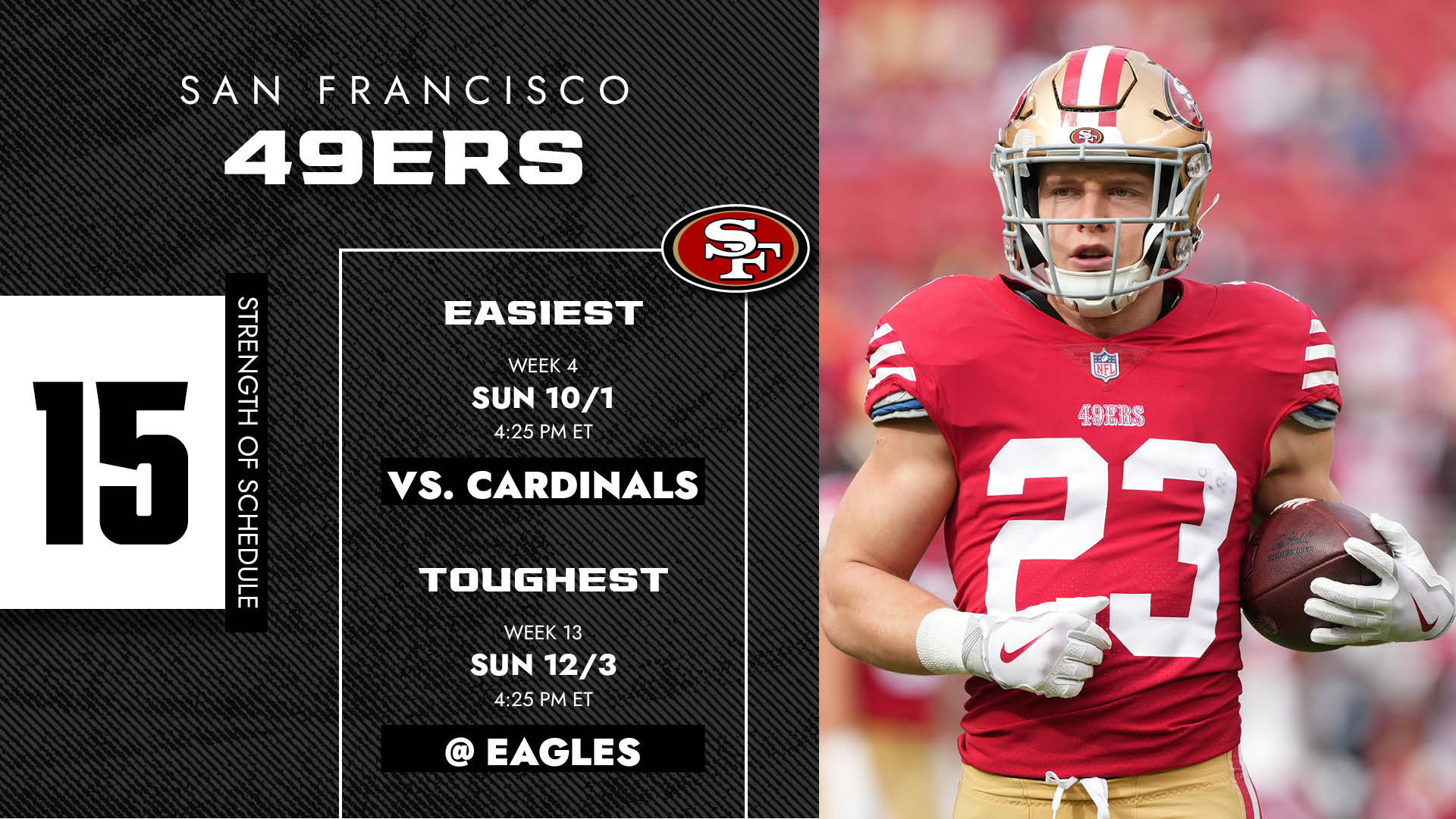 San Francisco 49ers Strength of Schedule
Based on 2023 win total projections, the 49ers project to have the 10th-hardest NFL schedule next season. As usual, San Francisco will play each of its NFC West rivals at home and on the road. They will also face the entirety of the NFC East and the AFC North.
MORE: FREE NFL Mock Draft Simulator (With Trades)
Additionally, the 49ers will play the two remaining NFC teams that finished in first place in their respective divisions: the Minnesota Vikings and Tampa Bay Buccaneers. Lastly, San Francisco will round out its schedule by playing the Jacksonville Jaguars, who finished first in the AFC South in 2022.
Looking at PFN's Strength of Schedule, which takes more than just win totals into account, the 49ers currently have the 18th hardest schedule in the league.
San Francisco 49ers Record Prediction
Purdy, last year's Mr. Irrelevant who shined after being forced into late-season action, is expected to be the 49ers' starting quarterback once he recovers from the torn UCL he suffered in the NFC Championship Game. But because he may not be ready until midway through September, other QBs on San Francisco's roster will have a chance to step up.
Lance, who began the season as the 49ers' starter before going down with a season-ending ankle injury in Week 2, has a chance to fill in while Purdy is on the mend. However, he won't be guaranteed the job and is expected to share first-team training camp and preseason reps with free agent addition Sam Darnold.
While their quarterback situation is up in the air, the 49ers still boast one of the best offenses in the NFL. Few teams can rival San Fran's skill-position package of Christian McCaffrey, Deebo Samuel, Brandon Aiyuk, and George Kittle, and the club should be able to overcome the loss of right tackle Mike McGlinchey, who signed with the Broncos in free agency.
On defense, new play-caller Steve Wilks will take over for former defensive coordinator DeMeco Ryans, who left to become the Texans' head coach. The 49ers' defense is as talented as ever, having just added standout defensive tackle Javon Hargrave to a front seven that already includes Nick Bosa, Arik Armstead, Fred Warner, and Dre Greenlaw.
Kyle Shanahan has proven his scheme can overcome any turnover under center, and there's too much talent on the 49ers' roster to project them to take a step back. San Francisco will benefit from playing the cellar-dweller Rams and Cardinals four times next season. Given the overall weak state of the NFC, San Francisco should be able to post at least 12 wins in 2023, even given its relatively tricky schedule.
Projected Record: 11-6