The NFL is wildly popular no matter the matchup.
If you're here, you likely knew that already. Nonetheless, one fascinating data point to drive that home is the fact that a Thursday Night Football game between the 4-9 Los Angeles Rams and the 5-8 Las Vegas Raiders last December garnered a shade under 10 million viewers, per The Athletic.
Yes, many pigskin enthusiasts religiously tune into whatever football is available to them. Even when it's Baker Mayfield and Derek Carr desperately clinging to starting jobs in a meaningless late-season ball game.
But certain matchups definitely garner more attraction and anticipation. Sometimes it's just due to the quality of the competitors. But in certain rivalry games, records go out the window altogether.
The Top 5 Rivalries in NFL History
That said, oftentimes, both teams involved are quite good. Many rivalries are born out of two heavyweights jockeying for position year after year.
Sometimes, that leads to mutual respect. More often, it leads to widespread animosity. Once a rivalry is fully established, there tends to be a healthy mix of both.
And those are the matchups we intend to highlight here today.
Rivalries of recent ilk that warranted brief consideration included the Cincinnati Bengals vs. the Kansas City Chiefs and the San Francisco 49ers vs. the Los Angeles Rams. As fiercely as those matchups have been contested of late, however, they simply don't have enough history behind them.
Honorable mentions include the Seattle Seahawks vs. the San Francisco 49ers as well as virtually every NFC East/AFC North pairing that didn't quite make the cut.
In composing these rankings, we gave consideration to the length of the rivalry, the level of animosity between foes, and how evenly matched their contests traditionally are.
5. Dallas Cowboys vs. San Francisco 49ers
We kick off our rankings with a historic rivalry that has enjoyed something of a recent reboot. The Cowboys and 49ers regularly clashed for conference supremacy all throughout the 70s, 80s, and 90s. In fact, the two teams have squared off in nine different postseasons, including six times in the NFC Championship Game. On five of those occasions, the winner of their playoff bout would go on to win the Super Bowl.
Those postseason contests led to many fond (and some not-so-fond) memories for fans on both sides. Niners fans still reminisce about Joe Montana's dart to Dwight Clark in the back of the end zone to win the 1981 NFC Championship, a reception commonly referred to as "The Catch." Jimmy Johnson's famed rallying cry of "How Bout Them Cowboys?" was born as a result of Dallas' 1992 NFC Championship triumph over San Fran.
After a few years as playoff afterthoughts, both teams have become regular postseason attendees once more. And their proclivity to one another remains. San Fran and Dallas have squared off in the last two playoffs, with the Niners squeaking out one-score wins both times. San Fran's pair of playoff victories actually knotted the all-time series up at 19-19-1.
4. Pittsburgh Steelers vs. Cincinnati Bengals
The Steelers and Bengals have been divisional foes for over 50 years now. But due to the matchups being historically one-sided in Pittsburgh's favor, the rivalry between the two ball clubs only really kicked into high gear during the last 20 or so years. It all started with a low hit from Pittsburgh defensive tackle Kimo von Oelhoffen.
Von Oelhoffen's late hit on Cincinnati quarterback Carson Palmer in the 2005 AFC playoffs (whether intentional or not) led to a torn ACL/MCL for the promising young quarterback. It turned the tide in a game that Cincinnati players and fans felt was theirs to win and altered the team's future trajectory as well. Not to mention it led to many unsavory accusations of von Oelhoffen's character.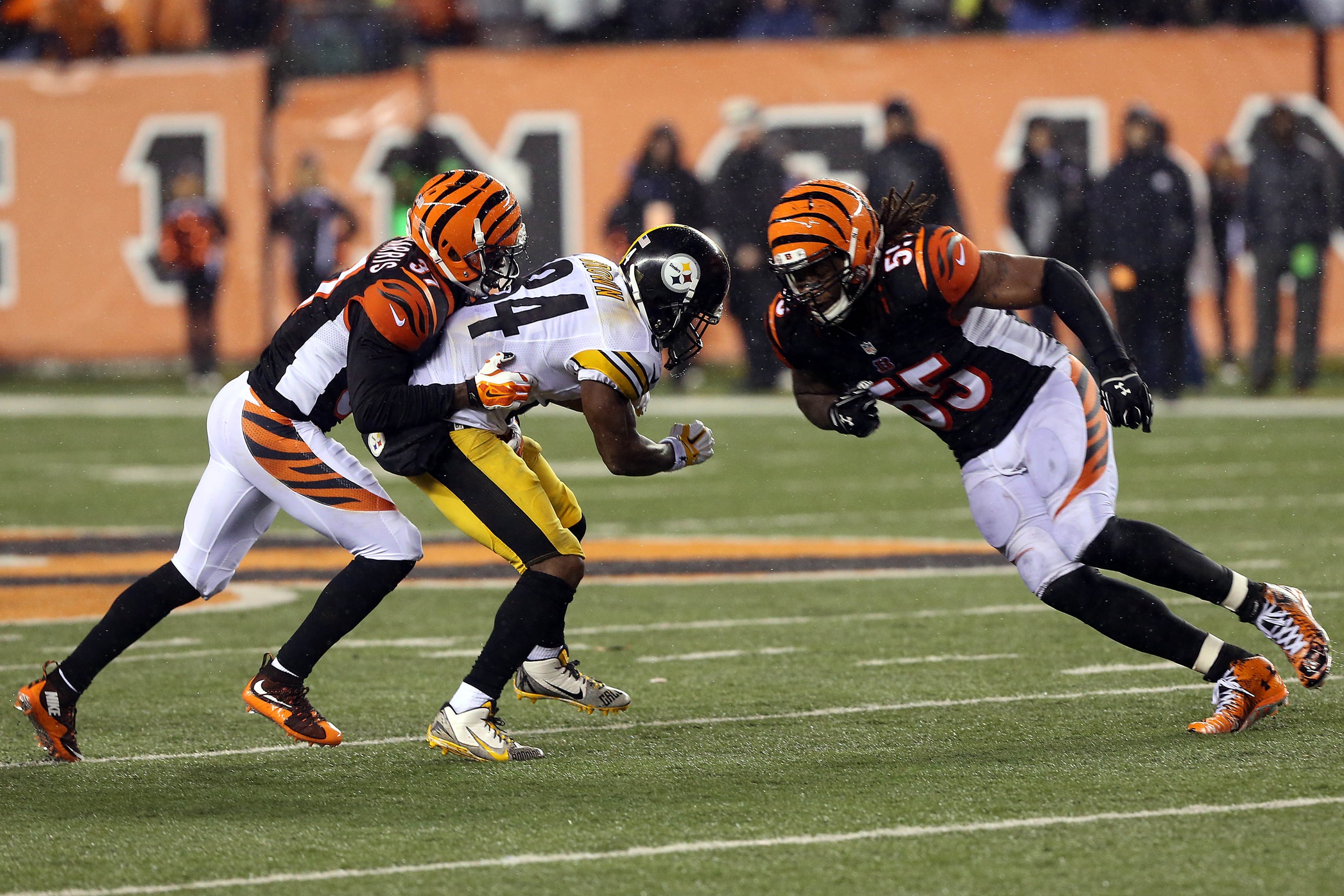 The rivalry stagnated for a time, with Pittsburgh regularly beating up on or breaking the hearts of otherwise formidable Bengals squads in the 2010s. But the animosity between the two sides ratcheted way up when Vontaze Burfict emerged as a menacing force in the middle of Cincinnati's D.
The games became consistently brutal, dirty affairs. Le'Veon Bell, Antonio Brown, and Ryan Shazier all suffered career-altering injuries against Cincinnati. JuJu Smith-Schuster became a hero in Pittsburgh for decleating Burfict. Joey Porter (then a coach), Burfict, and Pacman Jones collaborated on one of the wildest endings in NFL playoff history. And that's just the tip of the iceberg.
The violence has cooled down some in recent years, but there's still no love lost between these two teams. See Ja'Marr Chase give Minkah Fitzpatrick the double bird for evidence of that.
3. Green Bay Packers vs. Chicago Bears
It'd be near criminal to omit the NFL's oldest rivalry from a list such as this. In a similar vein, it can't earn the top spot because of how lopsided it's been of late. As Aaron Rodgers so astutely pointed out during a more-recent-than-it-probably-seems touchdown celebration, Green Bay has owned Chicago of late. In fact, Green Bay holds a jarring 48-19 head-to-head advantage over the Bears since the onset of the 90s.
That makes it all the more surprising to learn that Green Bay's all-time edge in the series is a measly 10 games at 105-95-1. They had to dominate over three decades split between Brett Favre and Aaron Rodgers to create any distance between themselves and the Monsters of the Midway.
Sure, recent Bears highlights are all, depressingly, Jay Cutler and Mitch Trubisky. But once upon a time, the Bears, buoyed by the likes of Walter Payton, William Perry, Richard Dent, Mike Singletary, etc., were a fearsome force in the NFL. They still get their day here, even if most readers don't remember it firsthand.
2. Philadelphia Eagles vs. Dallas Cowboys
Truthfully, this list could be comprised entirely of NFC East rivalries, and most football enthusiasts likely wouldn't bat an eye. The "Beast" is perhaps the NFL's most historic division, and there's plenty of bad blood between the quartet of teams that call it home. But that only serves to illuminate what is perhaps the division's most heated rivalry.
The Eagles and Cowboys have combined to win eight of the last 10 NFC East Championships — almost always with the other providing their fiercest competition. At this point, it's surprising when the division doesn't come down to a late-season game between the two.
They're natural rivals. Philadelphia is, historically, a blue-collar, working man's city. And their blueprint for winning often imitates that fact. The Birds rely on hard-running offense, stifling defense, and a chip-against-the-world mentality to notch victories. The glitzy, glamorous Cowboys, meanwhile, have the white-collared owner, the world-renowned cheerleaders, and, typically, a marketable star under center — as well as the star at midfield.
The Cowboys have the all-time edge at 73-55, fitting for the "kid who has everything" persona many attribute to Dallas. But the Eagles have proven plenty pesky for them over time. Whether it's Eagles fans cheering a severe injury to Michael Irvin or Cowboys fans celebrating Dak Prescott crushing green hearts in overtime, there's no love lost in this feud.
1. Pittsburgh Steelers vs. Baltimore Ravens
What Steelers/Ravens lacks in legacy, it more than makes up for in competitiveness. And violence. These two teams have been at each other's necks virtually ever since the Ravens joined the NFL in 1996. They've amassed a combined 15 AFC North Championships since the division's inception in 2002. And they've almost always had to go through one another to get there.
Urban legend has it that notorious Steelers tough guy Joey Porter sought out notorious Ravens tough guy Ray Lewis at Baltimore's team bus after a 2003 contest, feeling disrespected after Lewis mocked his trademark sack celebration. There was bad blood before then, but this is the moment many refer to as the origin of this now-storied rivalry.
In the two decades since, there are unforgettable moments aplenty. There was Ravens linebacker Bart Scott leveling Steelers quarterback Ben Roethlisberger, as well as Haloti Ngata shifting the quarterback's nose. Ravens fans likely fondly recall Torrey Smith's late game-winner back in 2011.
On the Black and Gold side, Steelers fans won't soon forget Ryan Clark's collision with Willis McGahee or Troy Polamalu's pick-six to clinch Pittsburgh's ticket to Super Bowl 43. On the other side of the ball, Pittsburgh fans have a moment to cling to as well with Antonio Brown's game-winning immaculate extension.
The Steelers have the all-time series advantage at 33-25. But there's no more glaring case of "throw the records out the window" than in Baltimore vs. Pittsburgh. There hasn't been a game decided by more than one possession since 2019. And that, above all else, is what makes it the NFL's best rivalry.